Return to Running
I'm done with rehabbing the fracture and I'm back to running every day.
It feels like it was never injured. The return to running plan I followed called for walking at a brisk pace for 30 minutes with no pain, building up to a brisk walk for 60 minutes with no pain, and then running every two days at least 1 minute per mile slower than the pace I was at before the injury. In the two day interim was a rest day and a cross training day.
I got impatient and tried running every other day, which was dumb.  I felt soreness and some pain in the exact spot of the fracture so I immediately returned to the plan of only running every two days and I was golden from there. No problems.
The only issue is I lost my cardio fitness during the 8 weeks I wasn't running. If you have ever wondered at what point you lose fatigue resistance and cardio fitness, I can tell you it definitely happens at 8 weeks if you're not doing any cross training during that time. I was out of breath and sore just at a 12 minute per mile pace for a few weeks.  Fitness loss is for real so unless you want to start from scratch I'd highly recommend pool running or some other doctor approved cardio while you're grounded from running.
For cross training I took up yoga. I know what a hard work out is, I ran 12 half marathons in 2016. My distance runner buddies, I am here to tell you that yoga is a hard work out.  I had no idea. We do cobra, dolphin, cat/cow and downward dog poses. Working our way through the animal kingdom leaves me sore in my upper arms, quads, and core the day after some of these work outs.
While my intent was only to do yoga during the rehab I continue to go even though I'm fully healed.  I'm uncoordinated, not flexible, not strong, and a touch ADD. The yoga helps with all of these things.  Way more strength is required to do yoga than I had guessed. If you're near Pelham, NY I highly recommend Radiate Yoga.  The instructors there are nonjudgmental towards this weak little duckling's struggle in classes but at the same time firm on making sure I'm doing all I'm capable of in class.  I love it. They offer a 6 am Rise & Shine class so you can get your yoga on before the day starts, that's one of my favorites.
Below are screenshots documenting the workouts during my rehab plan. Classes are the yoga classes. I missed recording a few on there but all of the walks and runs are recorded.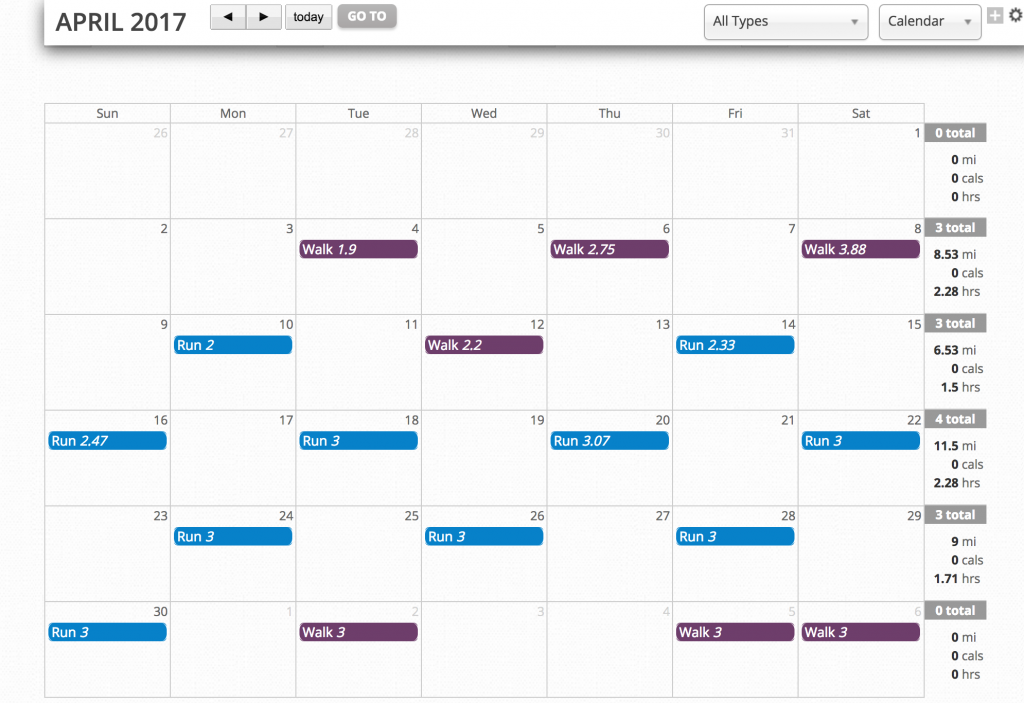 The Hard Stuff
June 13th 2017 would have been my brother's 37th birthday.  He loved him some Patron Tequila. So my mom, dad, and I planned to do tequila shots on his birthday in his memory.*
On May 20th 2017 I lost my dad.
It was a hard time on a few levels. It was my dad.  Nobody will love you more than a parent and it's such a unique relationship.  There is nobody like your dad. He took me to volunteer at NASCAR races in Talledega (in exchange for volunteering we got to walk through the garages, meet drivers, and took home parts of destroyed cars including a tire and part of a car hood that I brought home 🙂 ), to Star Trek conventions, and to the gym with him.
When we were looking through photos for the service I looked at this one and realized I'd lost 50% of my family in ten months. It's just mom and I now.  I'm very lucky to have a wonderful husband, in-laws, extended family (including some really awesome cousins and my favorite Uncle G) and friends.  I don't mean to imply that I'm entirely alone or anything, I'm not. I'm surrounded by an incredible support system. But this was my family.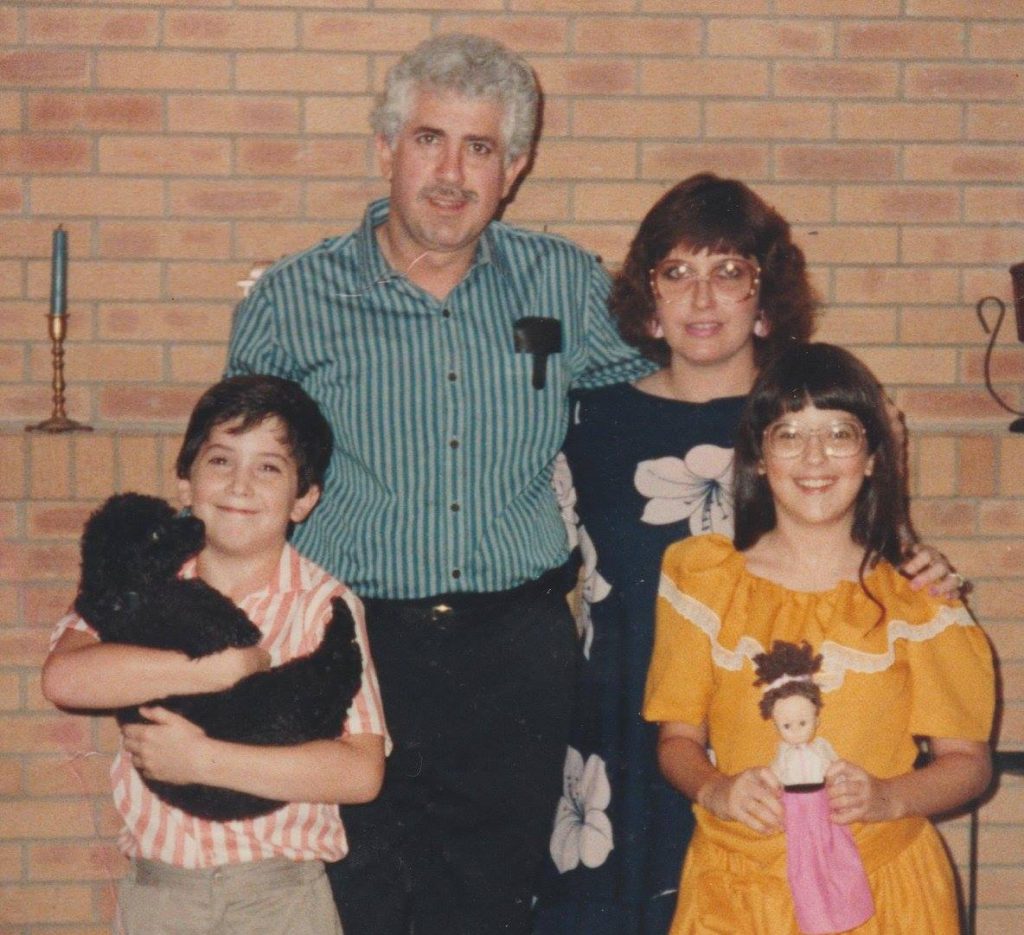 After my dad passed I took a week off to feel all of the feels.  That helped. It also helped that so many people came out to the service.  If I'm being honest, I had been dreading the service because I did not want to cry in front of people. I was worried the water works were going to come on and that I would not be able to turn them off. But there were so many kind friends that came out, it was like salve to the wound. High school classmates I hadn't seen in 20 years showed up. One friend is very ill and came out oxygen tank, feeding tube and all. I only teared up a few times at the service and once was with her. She'd never even met my dad and she had tears in her eyes about his passing and that made me tear up! The empathy and compassion was just amazing and it meant so much to me that people wanted to come out and pay tribute to my dad. It really did. He was a special person.
I am very thankful that before he passed I got to give him a public acknowledgement. My employer ran a blog profiling me as part of a Women In Tech series and I got to talk about my dad a bit. Dad loved being mentioned in it.  I was so glad I got to talk about the impact he had on my career and to let him know that, I had no idea that two months later he would be gone. If you're interested in that blog you can find it here .
It took this long to write this blog post because I hate crying and this makes me cry :). I wasn't about to let Father's Day go by without doing this though.
I am feeling more normal and back to my old self now. After dad passed I was  fatigued, so much so that I thought I was sick. Physically I'm not the strongest person in the world but I normally have a ton of energy. Hence all the distance running. But it felt like somebody had taken my battery out. I also had two dizzy spells, I stood up and felt like I'd been spun round and round in a chair. I thought I was ill. So I made an appointment with my doctor.  I told her I'd googled and thought I must have a thyroid problem and she said no, you do not have a thyroid problem. Consulting Dr. Google is never a good idea really-Dr. Google told me I had tendonitis but it turned out to be stress fracture-but I do it anyway. A blood work up and physical exam showed I'm in perfect health.  The fatigue and dizzy spells were just caused by stress/emotions of the last month or two. I had no idea stress could manifest itself physically in this way. My doctor told me I'd had some extreme changes in a short period of time and to just give this some time, that all of the pieces would fall into their place.  Amazingly, just hearing that made me feel a lot better.  It was a free pass (doctor's orders in a way) to cut myself some slack, which I have hard time doing. A few days after I heard this was emotions and I stopped being so hard on myself I had my energy back.
My mom is doing very well, better than I would be in her shoes.  She's a role model and inspiration. Mom was a caretaker for my dad for so long that she wasn't able to do all of the things she wanted to do.  One of those things was to join Not One More Alabama because she doesn't want anyone to go through what happened to my brother and if someone is going through it, she wants to help. Not One More is a group to provide support to families impacted by addiction and to provide education to reduce drug use.
Mom's been brave and outspoken on the prevalence of drug use in Alabama, the statistics, and how it impacts families.  Her first activity with the group is participating in the End Heroin HSV Walk in Huntsville in September.  I wish I could be there to walk beside her, I am so very proud.
This is starting to get a little long, but I can't end this without giving a shout out to my girls.
Left to right- me, Leslie, and Crystal aka Bubbles (because she is so very bubbly)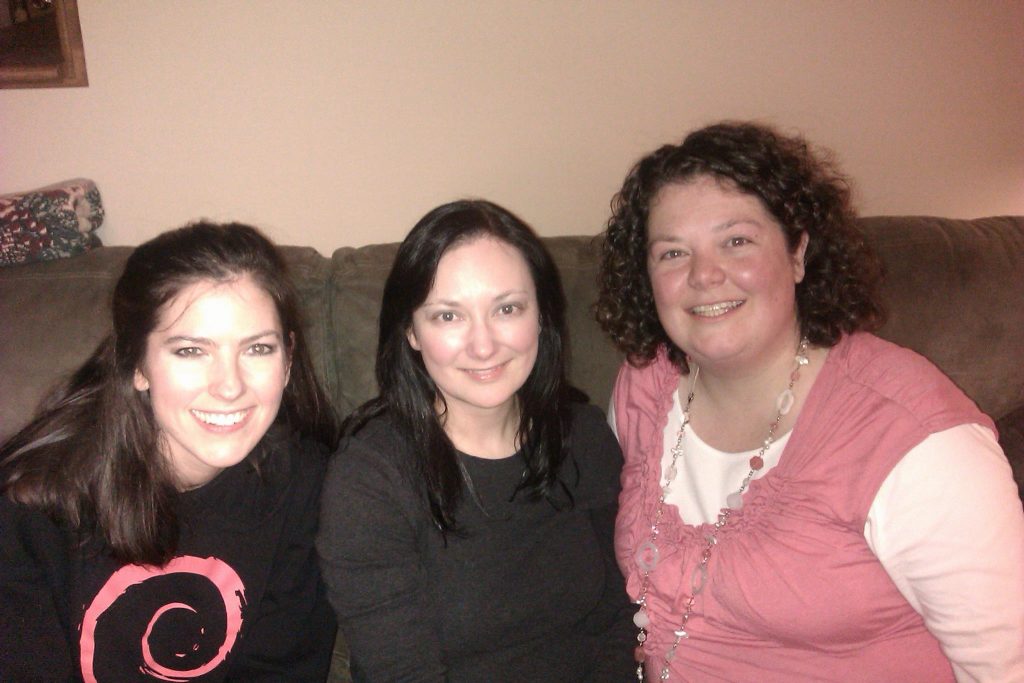 Leslie and I have been friends since law school and I met Crystal through Leslie. They are my ride or die buddies.
They made my move to New York a little easier, knowing they were there if my parents needed anything.
Leslie has run to the hospital to check in on my dad after his car crash and reassure me that he looked okay, brought protein drinks to the funeral home when my brother passed because I wasn't eating much and took me off to a break room to chug them down before the service, and helped me pick out things of my brother's that brought back memories. She was the one who got me from the airport after my dad died.
Some of my best times with Crystal aren't something I should publicly talk about, they were that good of a time. You know it is a good time if you think it best you don't speak of it.  I told Crystal that some people made me start tearing up because they looked like they were about to cry or they were looking at me like they thought I was about to cry, but Crystal has this infectious smile that makes me smile. Like a yawn is contagious, except in her case it's her smile that is contagious.
Crystal is an accountant by trade and a photographer as a hobby, but a very skilled hobbyist. Crystal took family photos as a gift, including the one of dad and I below. I'm so very thankful I have these, they were our last family photos with my dad and my brother.
In race/walk news, Kevin and I start training for the Avon 39 in a few weeks  and I'm on the hunt for some 5ks  to run before the Pelham Half Marathon in November.
* We did wind up marking the occasion. My brother's best friend T.J. brought a bottle of tequila over to mom's house and did a shot with her. I have video of this and her expression after she does the shot is hilarious.  Mom, like myself, is not a hard alcohol person and her expression made that abundantly clear. If I could figure out how to upload the video I totally would.  I did a shot too, my first ever.  I wish Brian had been more of a wine guy but it was alright.  After I posted about it on Facebook a couple of others also did tequila shots that night or had margaritas with tequila in it and toasted to Brian. So it was a good night celebrating him :).