Well maybe not that many, but I would walk a lot.
I wanted to give an update on how things are going since my better half and I are a little over a month into our Avon 39 training and 8 weeks away from marathon day.
Here's snapshots of training so far- walks are pure training under our training plan and runs/classes I do on top of training. "Generic" is me being lazy and not changing the title to walk after the Garmin imports to MapMyRun.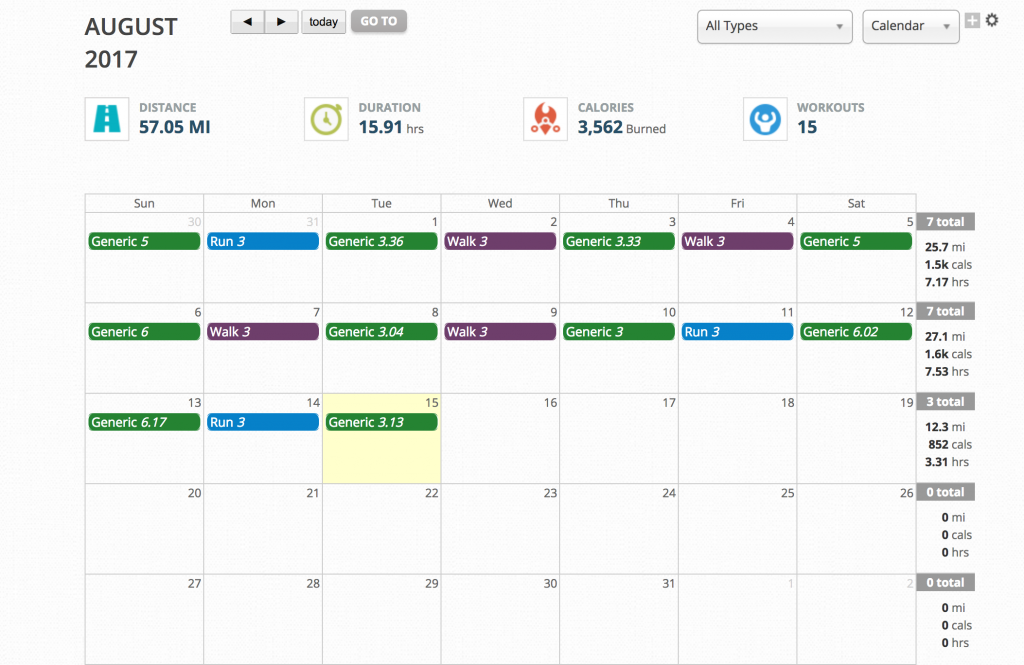 Originally I thought I could train to run the Pelham Half in November on top of training to walk the Avon 39 marathon in October.
That plan is now scrapped because the place where the fracture was ached a tiny bit, it was too much mileage too soon.  Training to walk a marathon doesn't prepare you to run a half and training to run a half doesn't prepare you to walk a full.  So,  I've scaled back on the running. I'll be serving as a volunteer at the Pelham Half and I'm looking forward to participating in a different capacity!
Kevin and I are following this training plan for the walk. The mileage is roughly the same as if we were running instead of walking a marathon, it's just broken out differently since walking takes a lot more time than running. Instead of one long run over the weekend the distance is split over Saturday and Sunday.
We usually do our weekday walks in the neighborhood before work. Pelham is a very walkable village lined with sidewalks.
Weekend walks are on the Bronx River Pathway. There are different of how long the path is, but it's between 10.5 to 12 miles of mostly wooded trail that's unbroken and continuous with the exception of a 1.5 mile break that's scheduled to be connected by the fall of 2018.
                                    Here's Kevin walking along the pathway this weekend.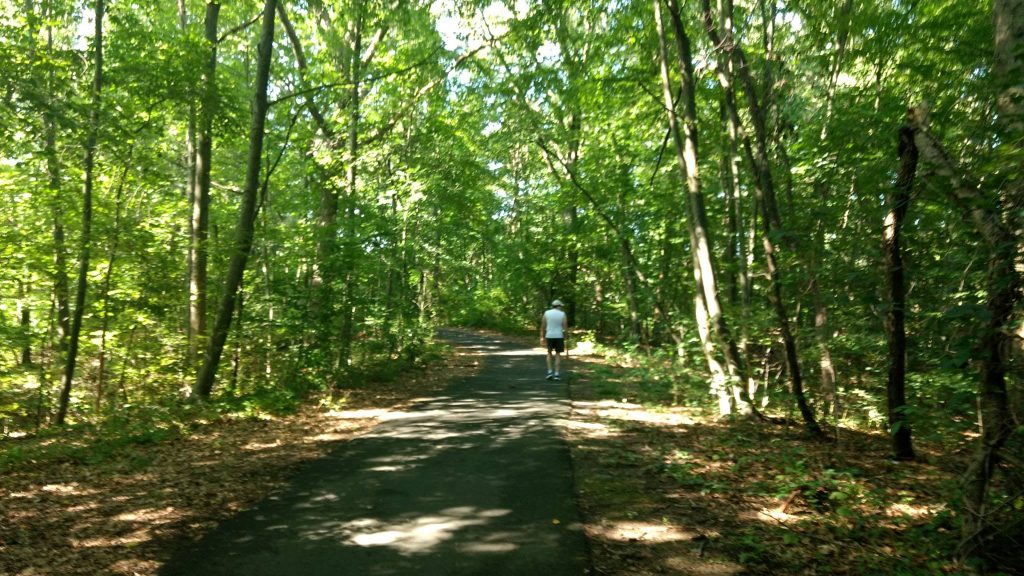 Here's a couple of other pictures from along the route.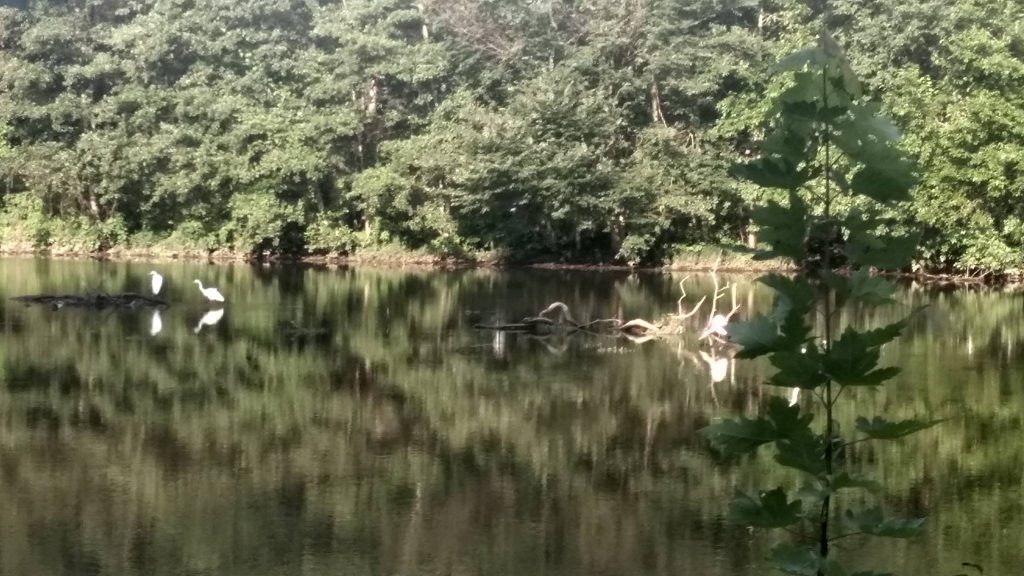 I swear it wasn't me. Somebody else with a cat stencil and a can of black spray paint graffitied cats in random places along the path. Is it wrong that I like it?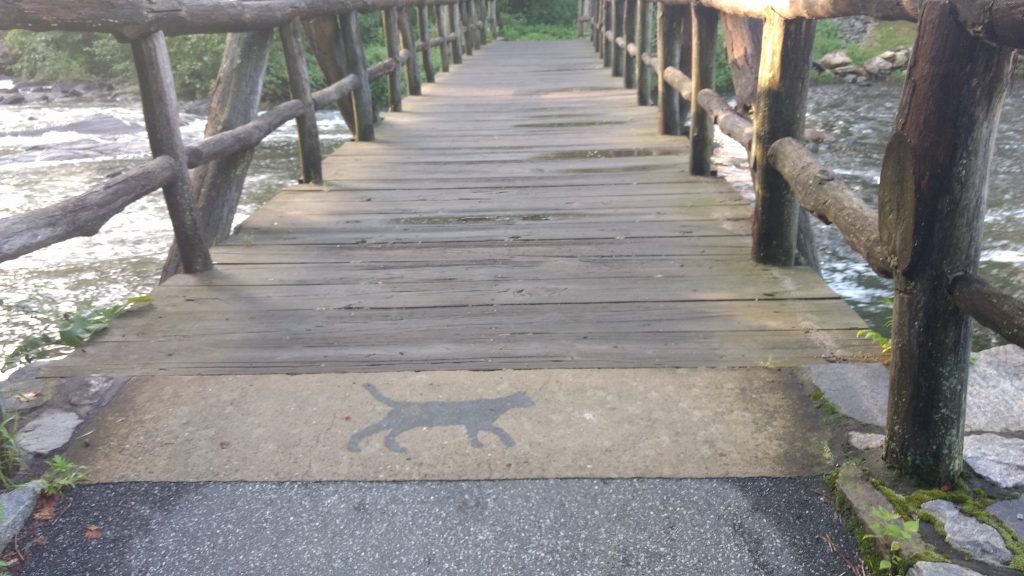 Not surprisingly the pathway is a favorite among local distance runners. Run groups leave water bottles along the way.
Kevin and I take a break at the half way point on our long walks. I took the opportunity to snap a selfie.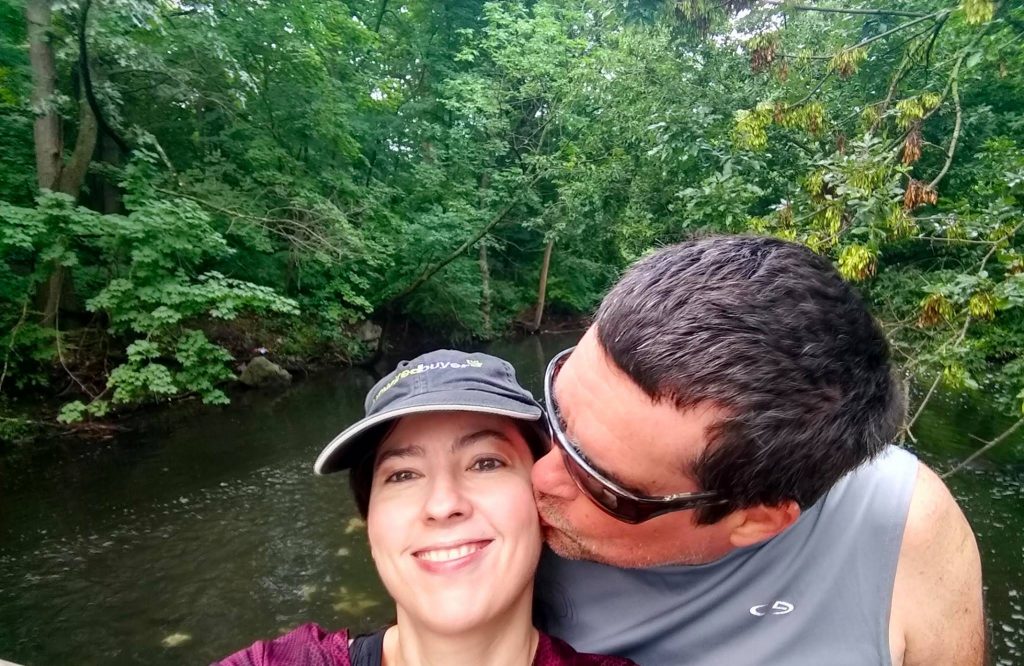 At the half way point on another long walk I entertained Kevin with my new yoga skills. This is Tree pose.  It took me months of off and on infrequent practice to both get into the position and hold it.  For awhile I was falling tree. Timber! No longer. I'm a stable tree.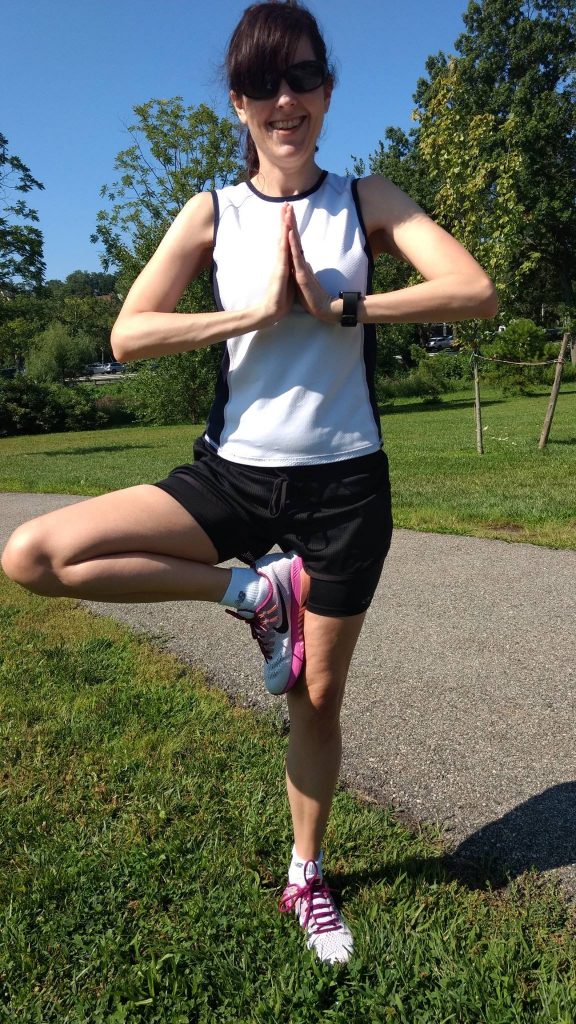 Lately I've been working on the poses that are hardest to do, practicing over and over. Now that I have tree conquered my next poses to master are boat (right now I'm sinking boat), plank, and triangle. Triangle isn't too bad but I do struggle. Boat and plank are crazy hard for me.  Click on the links if y0u're curious what the heck these poses look like. I try to hold the poses for at least 5 slow breathes.
We're heading to Portland, Oregon this weekend to go to a former coworker's pig roast/eclipse viewing party. We'll be walking 13 miles over the weekend which will be a little tricky with our flight schedule, but we'll get it done. Walking around a new place is the best way to see it!
The fund raising part of Avon 39 is also going well.  I'm at 50% of goal so far!  If you're FB friends with me or a coworker you're probably tired of hearing about this so skip the below, it is a repeat of what you've already heard a million times :).
Give it to me straight, what exactly does my donation do?
$5,000 provides crucial lab equipment to support scientific research to learn how to prevent breast cancer
$2,500 links a low-income individual with vital breast health screening and diagnostic care via an Avon Patient Navigator
$1,800 supports my full fundraising commitment to participate in AVON 39 and helps a high-risk patient access genetic counseling and referral
$1,000 provides legal support to a metastatic breast cancer patient as they take steps to ensure security for their children
$750 supports a nurse-led support group for breast cancer patients as they undergo treatment and care
$500 provides training to a mammography technician to ensure the highest quality, most accurate scan
$250 connects a medically underserved patient to a screening mammogram
$125 allows a young breast cancer survivor to connect with other survivors and learn crucial information about their health, fertility and prevention of recurrence
$100 ensures that a low-income breast cancer patient has childcare during chemotherapy
$50 offsets the cost of a patient's transportation to-and-from oncology appointments
That's all great, but I donate to other causes in support of breast cancer treatment/research. Why should I donate in support of Avon 39?
I'll tell you why. I have been accused of having horrible musical taste. I do not, there is absolutely nothing wrong with either Nickelback or Toby Keith. For a donation of $25 I'll buy the song of your choice and add it to my playlist on marathon day. If we both have great taste and I already have the song you can pick another one. I will buy WHATEVER song you ask, so long as it's available on iTunes. It could something awesome like some Eye of the Tiger to pump me up or something really lame like the Best of Barney (yeah- that purple dinosaur remember him?) Or it could be a song that means a lot to you. If would be great if you could share the reason for the song choice, but if you don't want to that's cool too.
I've got a very diverse playlist so far and I love it because was put together by people I love. I'll think of each of you when I listen to your song(s) on walk day!
I maintain a current list of songs chosen by donors and the reasons behind the song choices here.