I've been looking for some downtime to write an update and finally found it.  I'm on a 2 hour layover in Ronald Reagan Washington National Airport en route to Alabama.
There aren't a lot of things I love about airports and flying, but these cookies are one of them.  I know everyone makes fun of airline food, but I love these things. I look forward to the Biscoffs every time and I will raid the food/beverage cart for them if left unattended.
Kevin and I are in the taper phase of our Avon 39 training with only a 6 miler and 3 miler left to go before we walk our marathon on October 14th. It feels great to have put in the work and now all that's really left is to enjoy the day.
Here's a snapshot of the work outs, Avon 39 training plus a few runs/walks/yoga classes I threw in. "Generic" means "Walk." I haven't figured out yet how to have the walking imports from the Garmin imported as "Walk." "Class" means "Yoga Class."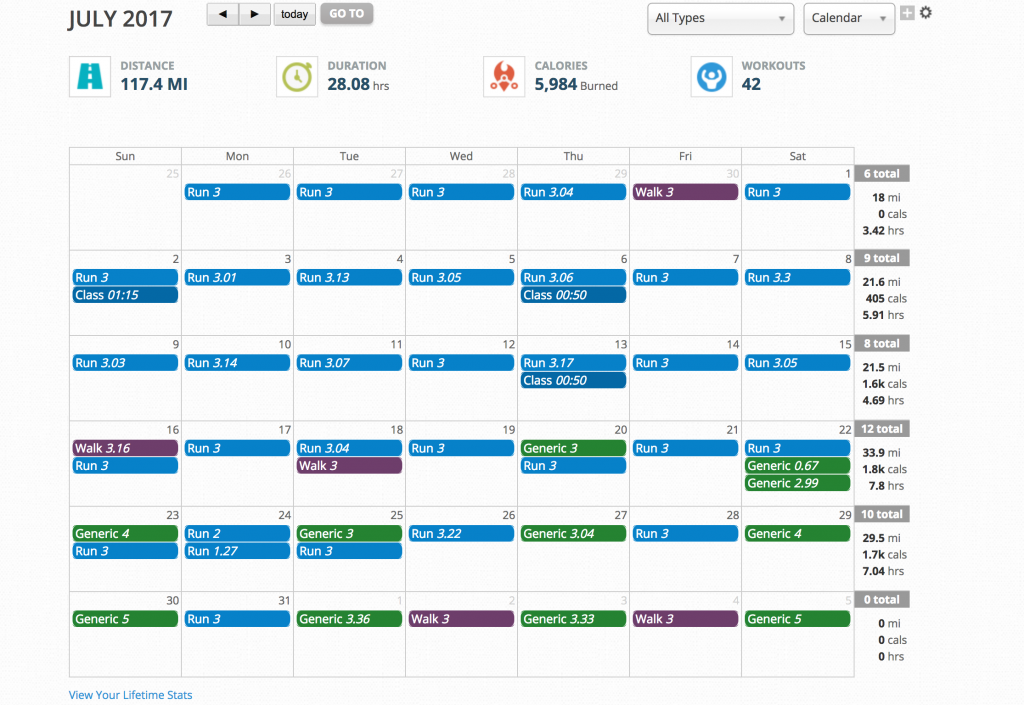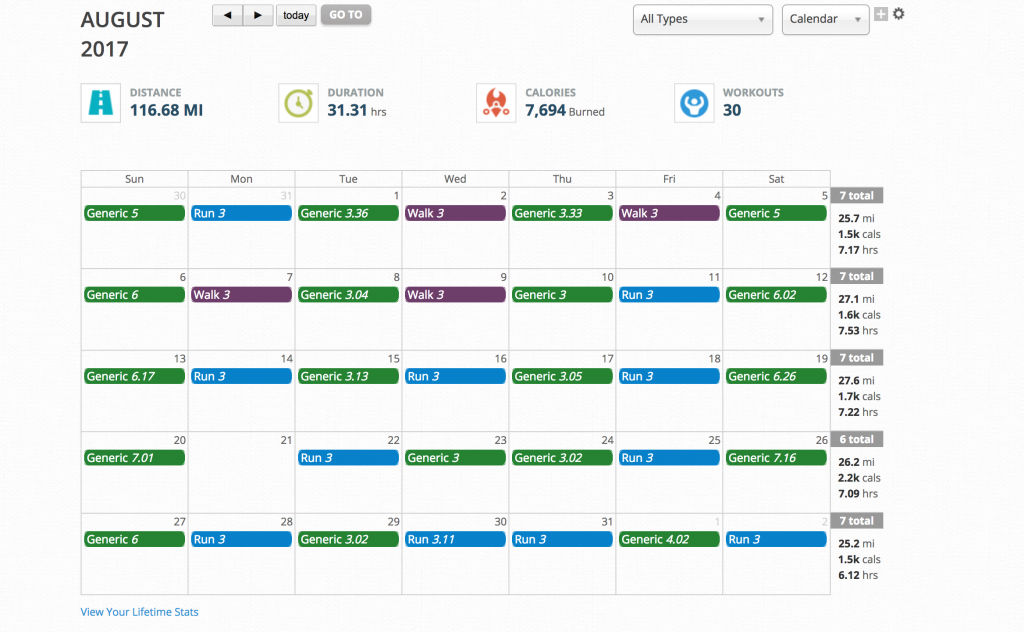 The most recent walk was at 6 am this morning. It's hard to get motivated to walk at airport o'dark but listening to the donor songs got me energized.
I listened to some songs I'd never heard of until you guys asked me to put them on my playlist and have some new favorites now! Can't Stop The Feeling by Justin Timberlake is one of them.  If you like Happy by Pharrell Williams, you'll love this song! Kevin had a more adventurous walk.  He is traveling and was on a hotel treadmill doing his 6 miles at 3.8 mph when the power at the hotel went out.  He was only .25 from finishing too.
My foot is doing A-OK.  It's been uncomfortable infrequently off and on, almost certainly because I was overdoing it with the bonus runs on top of the Avon 39 training.
I've always backed off immediately when I felt discomfort in the spot where the fracture was and it resolves itself with rest/lower mileage. I was supposed to go running with coworkers this week while I'm in Alabama but decided to play it smart and actually follow the taper plan, which means no running and only a 30 minute walk or two.
My fund raising goal to raise funds for breast cancer treatment and research was met and then some, I appreciate each and every one of you guys so much!  I listen to the songs you chose when I train and think of the people behind the songs.  I feel like I'm walking with each of you when I listen to your song(s).  Julie was a nurse and I hope she knows that she is still taking care of people through donations made in her name towards the cure for breast cancer. You can find the current playlist and reasons for the selections here .
It's been great walking with this guy. We've both enjoyed getting outdoors more than we've ever been since moving up north and it's nice to not be glued to the electronics (I'm guilty of this more than Kevin.)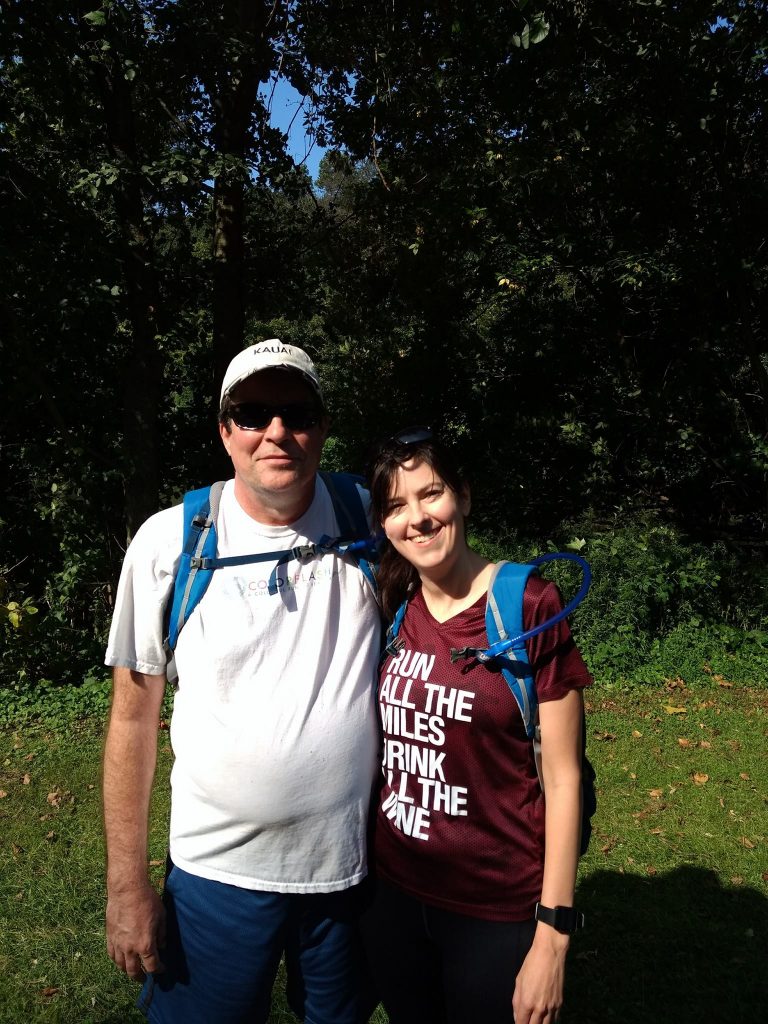 We talk a lot, mostly about what we're going to eat when our walk is done. They say hunger is the best sauce and a simple bagel with cream cheese has never tasted so good as the bagel I had after we walked ten miles yesterday morning.
It's also been cool seeing new things during our walks. A couple of weeks ago we walked to the Kensico Dam Plaza and saw The Rising.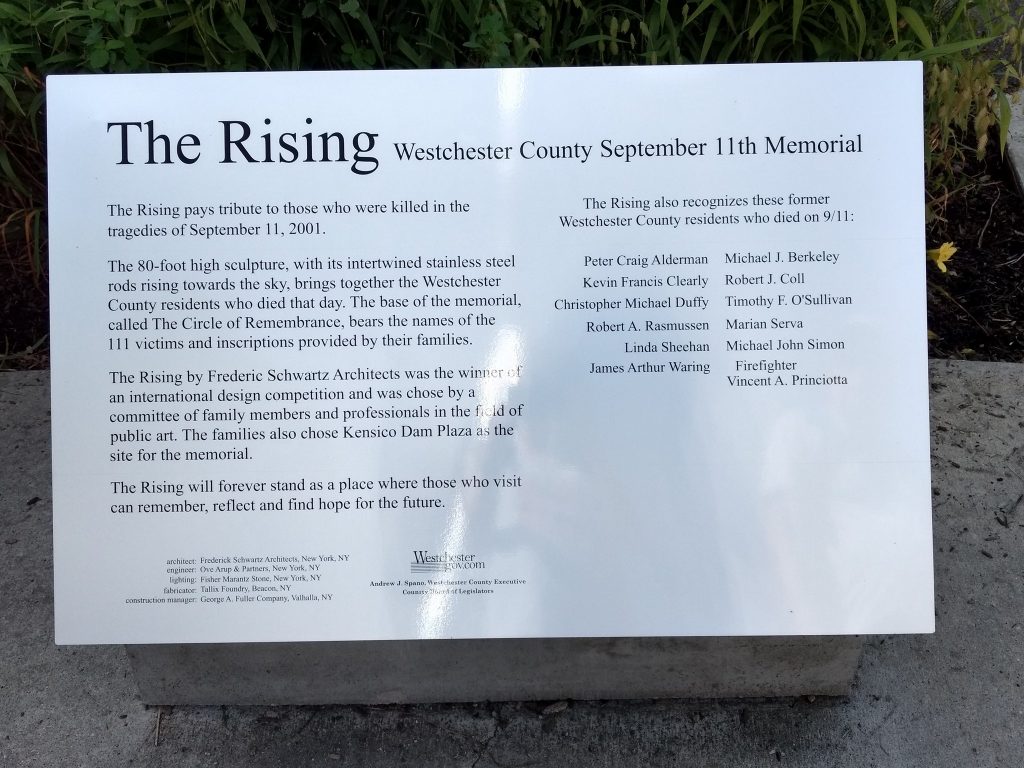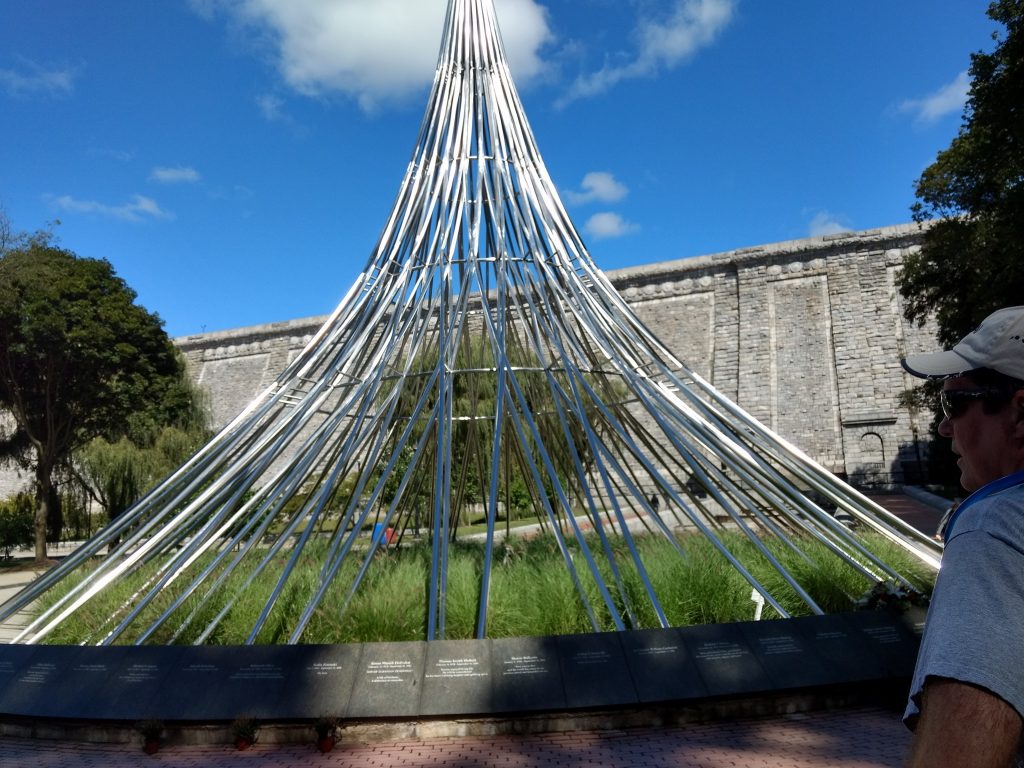 As you can see from the photo of us above, we got some new gear.  When I ran the Wineglass Marathon I considered a CamelBak but opted to use a hydration belt instead because the Camelback seemed too bulky. But the Avon marathon is a walking marathon. We'll be on our feet a looong time.
So we bought two Cloud Walker 18s.
They're lightweight, hold 2 1/2 liters, and you can fit everything you need in them. Kevin and I put together our list of what we'd need with us on Avon 39 day- extra socks, extra tshirts, band aids, GU, Nuun, light weight jacket, phones, keys, etc.- and did a test run, packing the bags full for our 10 miles on Saturday to see if we needed to make any adjustments for the actual event.  No adjustments necessary.
This is Kevin filling the bladder of the CamelBak.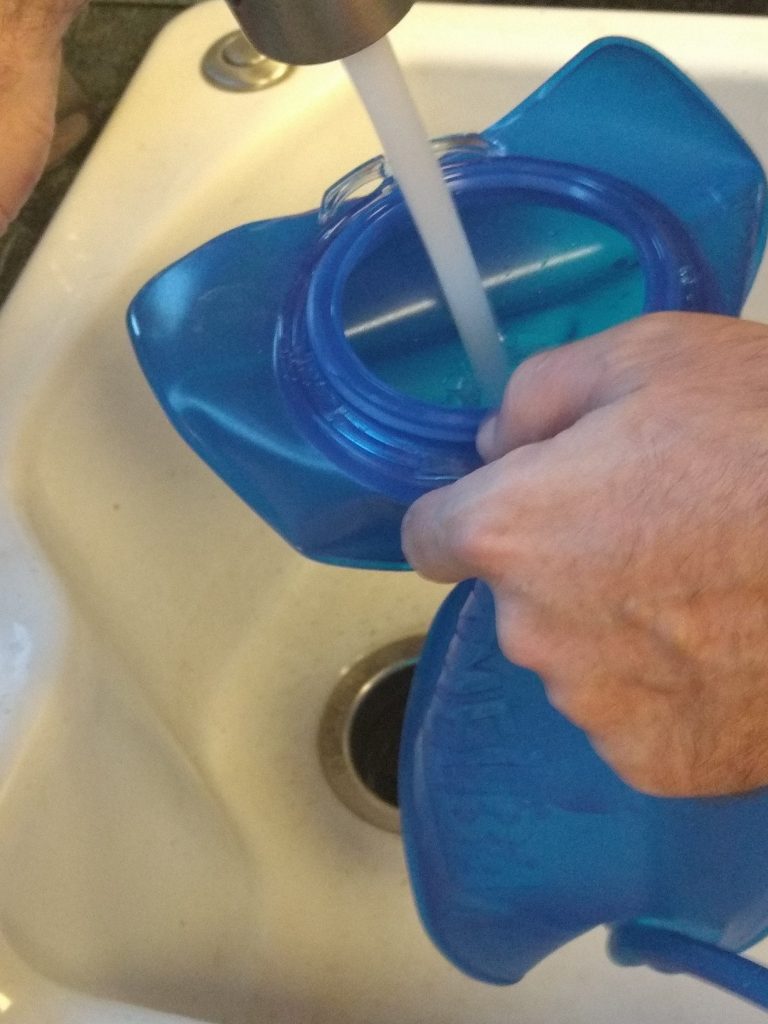 He drops in 1 or 2 Nuun tablets  , seals it up, drops the bladder in the backpack, and off we go. The Nuun tablets were recommended by a coworker of mine who competes in ultramarathons and 100 mile trail races over a 3 day period. I figure if Nuun can get him through 100 miles they can get Kevin and I through 26.2.  I'm not a fan of sport drinks because they tend to be high sodium, so I usually have coconut water on the morning of my races and water during the event, but again with this being a walking marathon I knew I needed something more.
Nuun comes in oversized circular tablets that look a bit like like giant Smarties candies.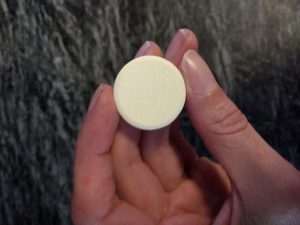 You're supposed to use 1 tablet per 16 ounces of water.  Since we're putting 1-2 tablets in 85 ounces the taste is barely noticeable.  I can't give you a recommendation on taste because of that, but what I can taste does not offend me. We're using the Tri-Berry and Grape flavors.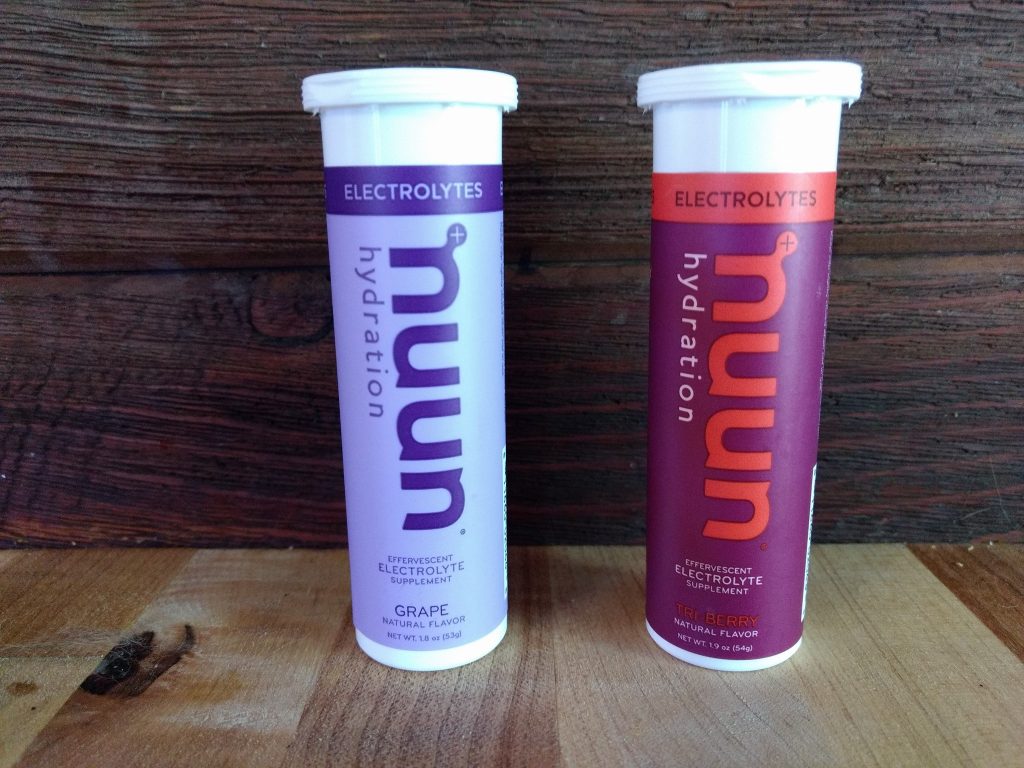 This is what the filled CamelBak bladder looks like. I'm a thirsty person and I usually drink the whole thing, even if we're just on a 6 mile walk in cool weather.
I also bought an assortment of GUs.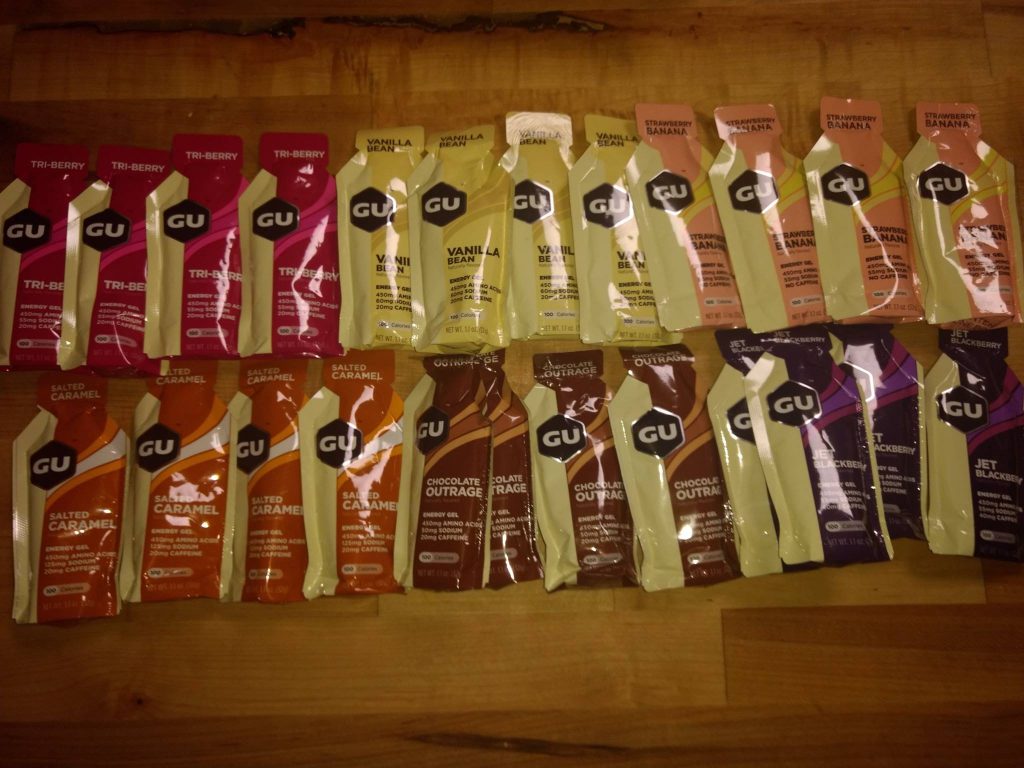 They each have differing sodium levels, amino acids, and caffeine depending on what you need in the moment.
Holy Sodium Batman! Let me get my CamelBak ready to re-hydrate after this GU. This was way too salty for me and I was already bouncing off the walls from two cups of coffee. I couldn't finish it.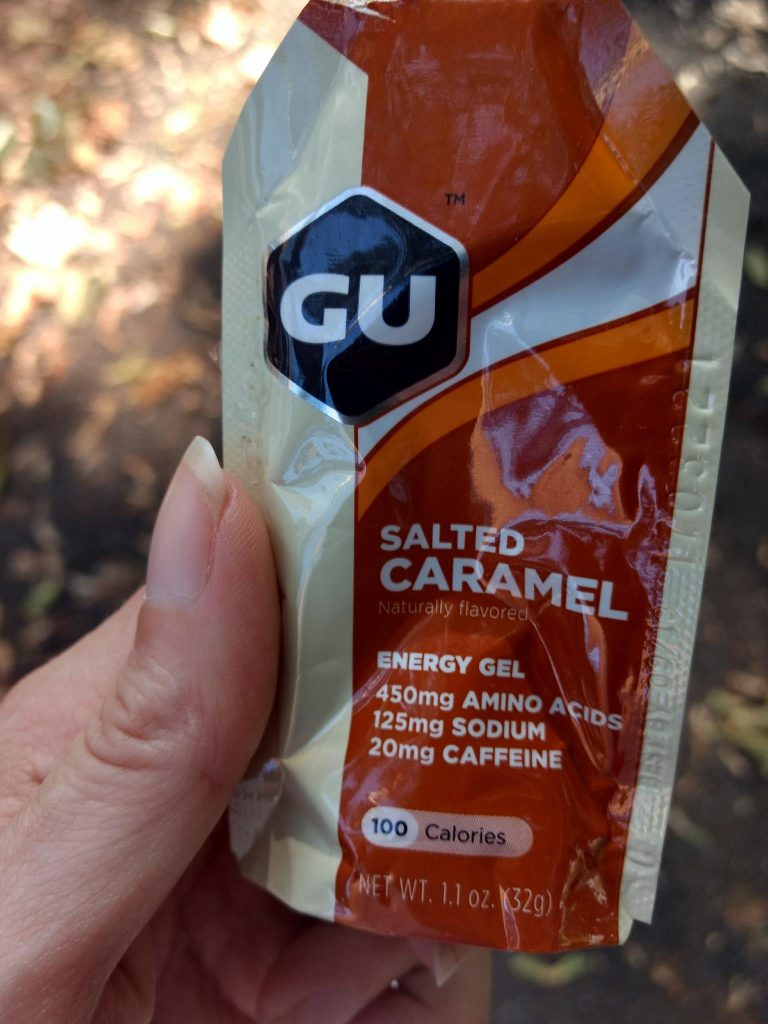 I found one of my favorite flavors in the Strawberry Banana one. It tastes like banana taffy and only had 55 mg sodium. I didn't taste the strawberry in it at all.
The last piece of equipment/apparel we're buying are alternative wedding bands.  As you probably know, when you run or walk any sort of serious distance in the heat your hands swell. At least mine do and we discovered that Kevin's do as well. My wedding ring feels like a tourniquet when I run. So I bought a silicone Qalo wedding band a few years ago. I love it, but I accidentally bought it a size too small. So I'm getting a larger size and I'm getting one for Kevin also.
That's it for now. While writing this blog I've listened to a couple of flights, including mine, get shuffled around. Why? Because the planes are too hot to board. No joke. It is 102 degrees here today ya'll.  Alabama will probably feel like autumn compared to this. When we landed the flight crew asked us to pull our shades down to try to keep the aircraft cool but I guess that only helps so much.