On October 14th, 2017, after 3 months and many miles of training, Kevin and I participated in the Avon 39 Walk to End Breast Cancer.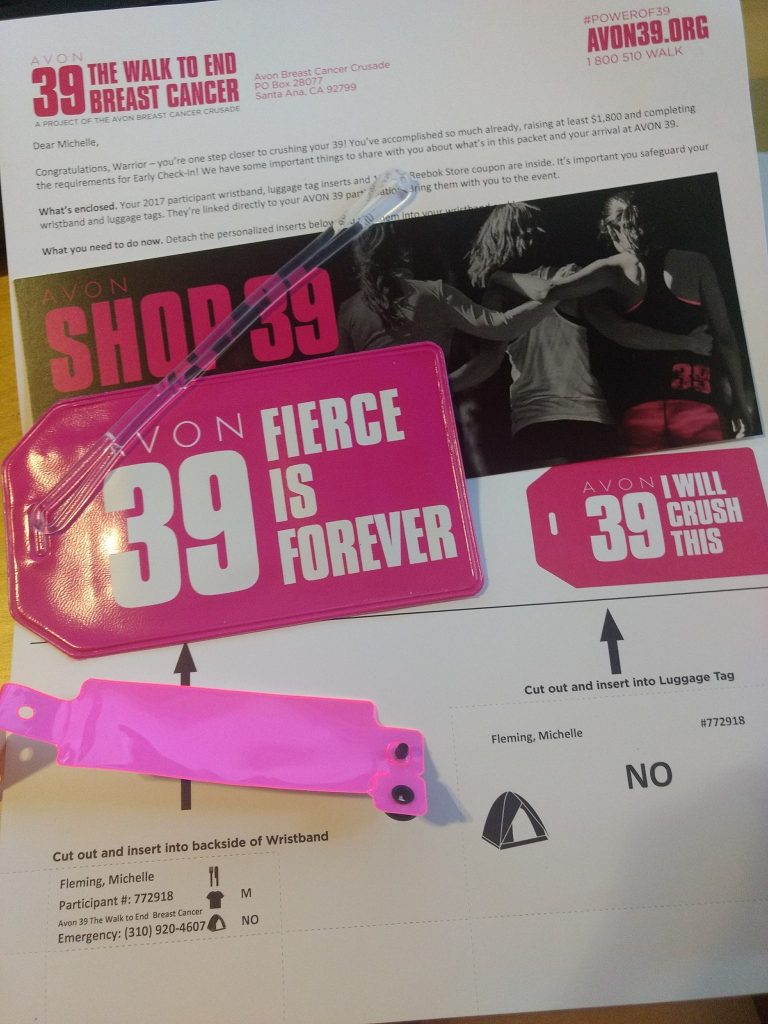 It was an incredible experience, the best part was having trained and participated alongside Kevin.
We were turning the idea over of giving the walk another go in 2018, until we read the news this morning that after having hosted the walk for over a dozen years and raising over 646 million Avon has chosen to end the walk.
They'll be announcing a new fund raising program in Spring 2018 but as of the date of this blog haven't given any details on the nature of it. Kevin and I are both very thankful we participated when we did because it was a blast, minus some organizational issues that prevented us from finishing- more on this later.
The Friday morning before the walk Kevin and I packed our trusty Nike duffel bag because we were spending the night in NYC since it was such an early start the next morning.  Kevin took the bag into work with him (he works in Manhattan).  I worked most of that day and then hopped a train to meet Kevin for dinner.
We went to a great Italian restaurant for dinner, Felida.
Felidia is owned by Lidia Bastianach,  host of the PBS television show Lidia's Italy and a cookbook author. The food was good, too good, and I wound up eating a bit much but after all we did plan to walk a few miles the next day ;). We also imbibed in some wine.  Traditional wisdom says no alcohol the night before a distance event since it dehydrates, but I have a history of performing really well when I've had a glass of wine the night before (two P.R.s)  and I wasn't about to jinx that.  Kevin was on board with this superstition.
While we were eating someone came over to check on us and Kevin recognized her immediately from the television show- it was Lidia's daughter Tanya! It turns out she works at the restaurant.
After dinner we went to Kevin's office to pick up the duffel bag and walk to the hotel, with a quick stop at Lush.
When we got to the hotel we discovered two things. First, there was no coffee maker or coffee in the room. What the hell.  Second, I forgot my cell phone charger…
The lack of a charger explains why there are so few pictures or Facebook posts from that day. I had to preserve my battery, particularly after having used my phone all day Friday.
I think I have a new superstition as this was the first long distance event where all I had was a tiny paper cup of coffee and this also was my first DNF (or would have been if the race tracked times- we didn't even wear bibs much less chipped bibs).  Always drink plenty of wine the night before and coffee the morning of!
We were up at 4 am on marathon day. We had a refrigerator in the hotel room, so the night before Kevin had run to a convenience store to get yogurt and juice for breakfast.  We ate in the hotel room, packed up, left our duffel at the front desk, and boarded the bus to the start line.
Early, so early.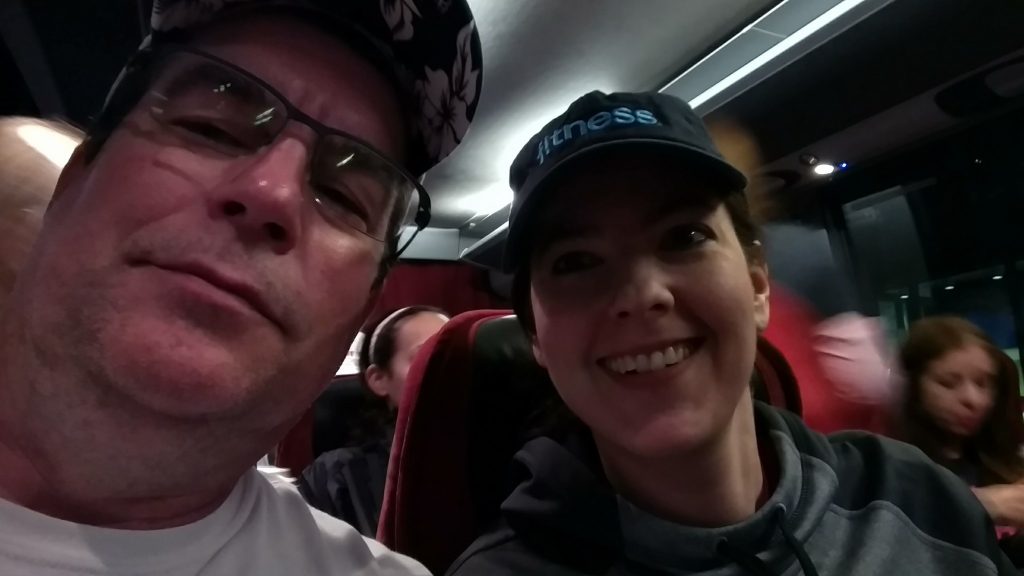 We arrived at Pier 97 for the start. It was dark, a little chilly, and sprinkling.  But…they had coffee.  It was only a small paper cup of coffee but it was enough to get me somewhat alert. I dreamed of a large caramel macchiato all day though. All. Day.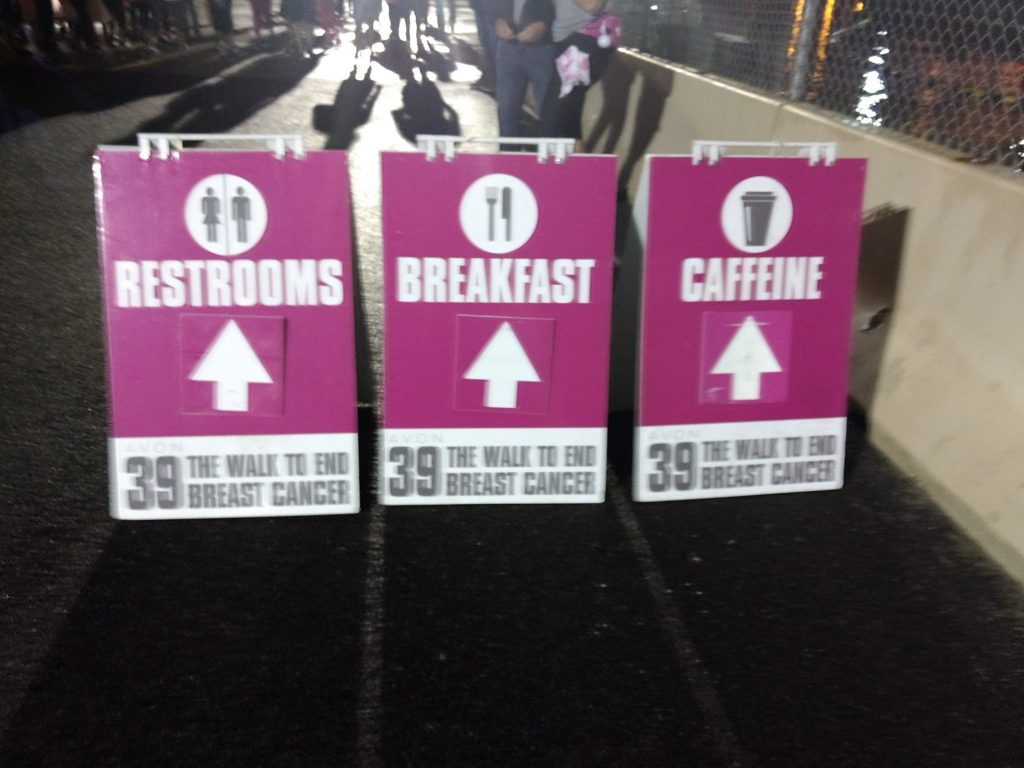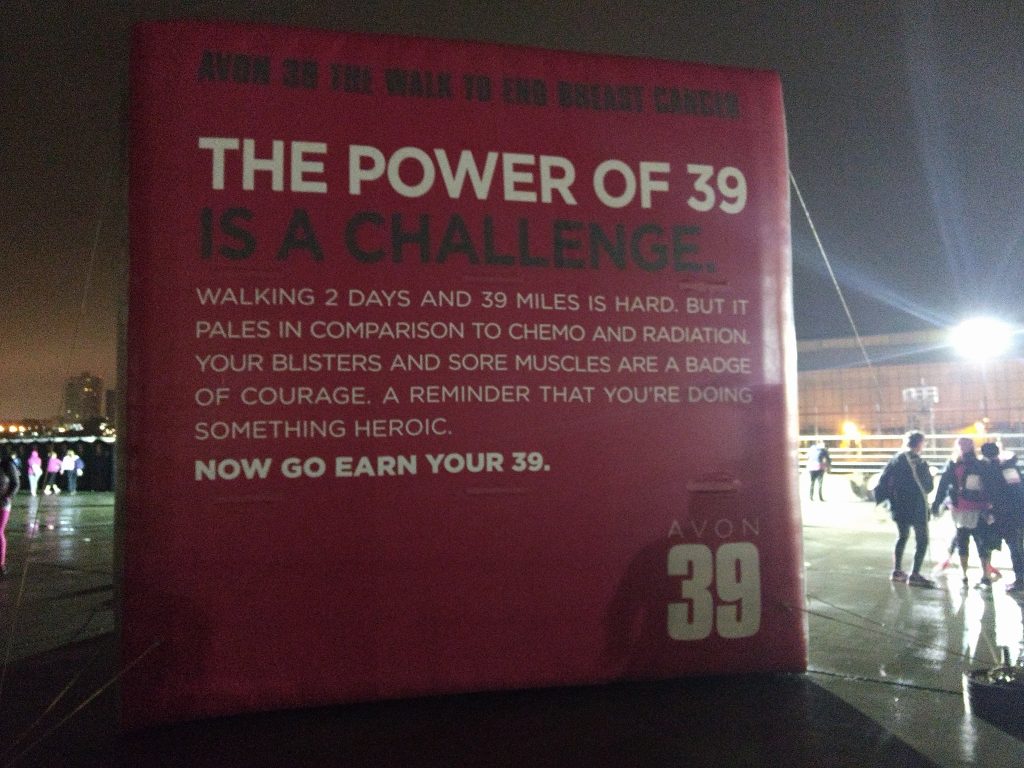 A few walk ambassadors shared their stories during the opening ceremony.
One of the speakers at the event was uninsured, with a strong family history of breast cancer. Avon 39 donations funded her mammogram? which caught her cancer. She was only 25 years old. Avon 39 also funded a Patient Navigator to help her get the care she needed. The donations you guys made to Kevin and I for  was enough to pay for the same testing and care for another patient. It means so so much that we could do this and do it in Julie's name. Julie was a nurse and I think she would like to know that she is continuing to take care of people through the funds raised in her name.
The speaker had suffered a recurrence and was currently going through treatment, but showed up to walk again, just as she did after her first diagnosis. It was pretty incredible to hear and see these walkers out walking the streets of NYC. It's the first time the conversations I've overheard from my fellow participants during a distance event included conversations about ongoing chemo treatments, not just sprains/strains.
The walk started and I hoped to pick up the pace immediately when I heard a guy next to me tell his walking buddy "I have 26 miles worth of stories in me, turn the tape on."
Unfortunately, picking up the pace was not to be. We trained to walk a 16:30 mile but failed to realize that the walk not starting in timed waves meant it was slooooow going. Also, the streets were not closed so we had to stop nearly every block to wait for a green light. It was stop/go, stop/go. Our plan for 2018, before we found out that we had participated in the last Avon 39 walk, was going to be to start at the front of the line so there would be less bottleneck ahead of us.
A few days prior to the race I received an information packet and learned…no headphones! After having done this event I understand why. We were walking through NYC in open streets. We had to watch for traffic, tourists, and residents (including residents pushing strollers) on very narrow sidewalks.
Thankfully, I listened to each and every song while training for the walk and a few of those songs are now favorites on my running playlist.
I would have listened to the songs on my cell during the walk, but the battery was too low.
Plenty of others were playing music though. On mile #2  Kevin and I were behind a group singing along to Neil Diamond's Sweet Caroline.  I've commented a few times that I had no idea so many of my friends/relatives are Neil Diamond fans until the fundraiser. Hearing Neil Diamond, on mile #2 no less, was a sign to me that this was going to be a great day and it was!!!
Then we heard someone playing Walking on Sunshine, another donated song. A little while later, Living on a Prayer, a third donated song!
We also heard (and danced along to) Billy Joel's Uptown Girl and a couple of Pitbull songs.  Nothing helps energize like good music.
We didn't receive t-shirts as part of the walk registration fee, but we did receive something much more useful along the route. Sunglasses. Thank goodness. I'd forgotten mine.
There were so many volunteers along the way, cheering us along. I wish I'd been able to take photos, but there are some great ones taken by others in this Flickr album!
There was a white van, plastered with pink ribbons, and what appeared to be a giant paper mache hot pink bra on top. The driver drove along the route, blasting the horn and cheering us on.
Many of the course marshals dubbed themselves "Scooters for Hooters". They rode motorcycles, decked out in pink ribbons, to the key turning points. There was a really cool white motorcycle flying a white flag with the pink ribbon on it.  I did try a few times to get a photo of that but the timing never worked out.
The volunteers were one of the best parts of the event, there were SO many people giving us high fives, offering us knuckles, granola bars, candy, and encouragement.
There were a couple of big differences between this marathon walk and a running marathon.  First, the aid stations didn't offer cups of water/sports drink. Because this was an hours long event you were expected to bring your own hydration pack or water bottle. The aid stations had gallons of water that they poured into your pack or water bottle.  That was fine because unlike a running event your time isn't as critical so it was fine to stop and actually rest at the rest stations.
In fact, we saw a number of walkers pop into Starbucks and and breakfast places along the way to get drinks and food. Kevin and I elected to keep on walking. Kevin in particular was on a mission. During my distance events I get ahead by picking off people, running past them, and then keeping pace where I stay for awhile before picking off the next person to run past.
Kevin, however, was weaving through the walkers like he was about to be late for his train into work. We were so far behind our goal time because of the crowds that he wanted to walk as fast as possible. I'm grateful he did because even with the pace he was trying to set it was still slow going waiting for bottlenecks to clear ahead of us so we could squeeze past. He walks so fast that on our training walks I sometimes had to do a walk, quick little jog to catch up to him, and walk again routine.
We also learned to stay far away from the mile markers because we got stuck behind people stopping to snap selfies with the miles 1, 2, and 3 markers. Honestly…if my phone had been fully charged I probably would have stopped for a selfie at one of the markers around mile 6 and 13 and then run to catch up to Kevin.
Around mile 7 we had to walk up and then down a few metal flights of stairs to cross a street. The stairs were slippery from the rain and one fellow walker in front of us, not holding onto the handrail, slipped mid-flight and tumbled down. She fell hard.  I was worried she was hurt, but she turned down the first aid offered by volunteers and continued on.
By mile 13 I was reallly wanting a macchiato.   We stopped for lunch, a substantial chicken sandwich on a croissant that was provided by Avon, changed socks (we had a spare set in our backpacks with the thinking being that changing out of sweaty/rained on socks into fresh dry ones would help prevent blisters), and snapped the below selfie.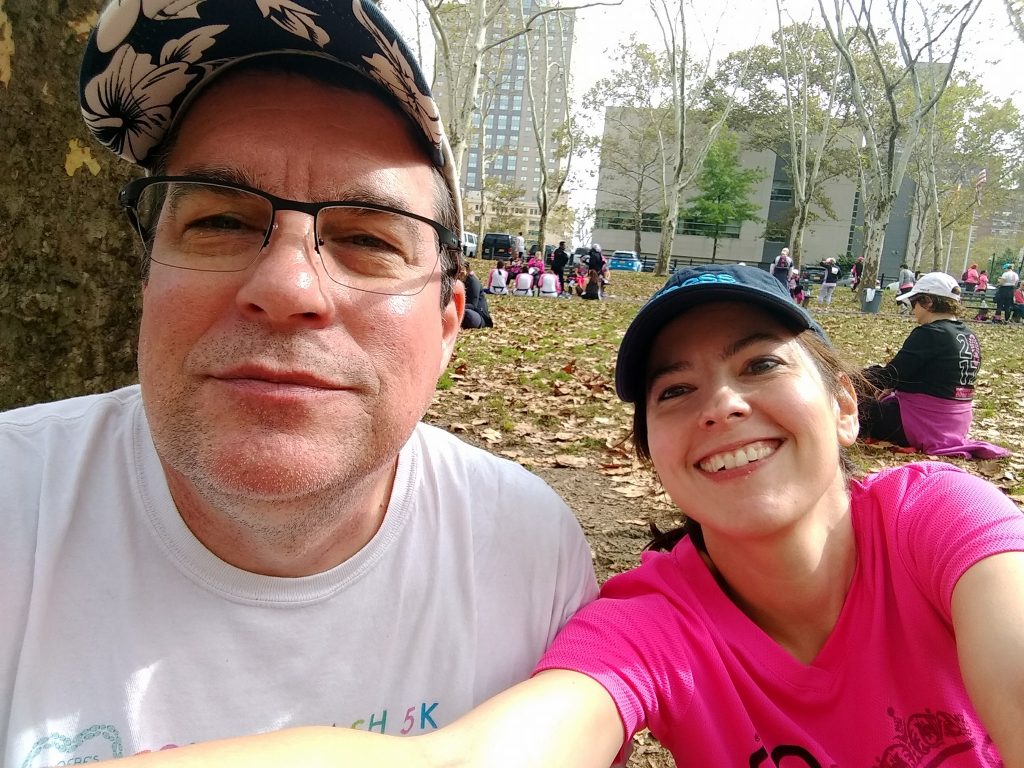 I was feeling good except for the beginnings of what would turn out to be a black toenail and I think I was starting to feel the beginnings of shin splits. I've never had shin splits before.  Kevin was starting to feel some discomfort in his hip.  We touched base and decided it would be a shame to quit, so we kept walking.
We walked through a Hasidic  Jewish community just leaving synagogue and had to weave through those crowds. A couple of them wished us good luck.
We walked over the Williamsburg Bridge which was probably 2 miles including the on and off ramps.  This was monotonous. I felt like I was in a nightmare, trapped on a never ending beige-pink bridge that I couldn't get off. I looked over at Kevin to see how he was doing and he looked like he was on autopilot too.
Around mile 18 I guess everyone was getting cranky because three women nearly got into a fight and Kevin and I were trapped between them.  There were two women that were practically tail gating Kevin and I. I moved a bit to the side thinking they would pass, but they didn't. They hung out where they were and unfortunately started talking smack about walkers ahead of us.
When we came to a red light one of the woman they were talking smack about turned around and said "If you have something to say about me, say it to my face. I know you want to say something. Go ahead."
The two women- who indeed had things to say about her- lied and told her they had nothing they wished to say to her. The lady was scrappy though and said yes, she thought they wished to say something. So say it.  The light mercifully turned green, the smack talkers dropped farther back behind us, and resumed running their mouths about other walkers too far away to hear them.
At mile 19.90 Kevin and I made the executive decision to call it a day. His hip was bothering him enough that we were concerned if we pushed on he would have an injury, my shins were bothering me, and neither of us was having fun anymore.
We used Lyft to get a ride to the hotel to pick up our gear and to get home.  Kevin promptly fell asleep and stayed asleep until the next morning. I made and drank 3 cups of coffee.  I had been dreaming of coffee all day and I did not give a damn that I was chugging caffeine at 5 pm.
This is the Garmin record from our walk or "The Walkening" as Kevin dubbed it.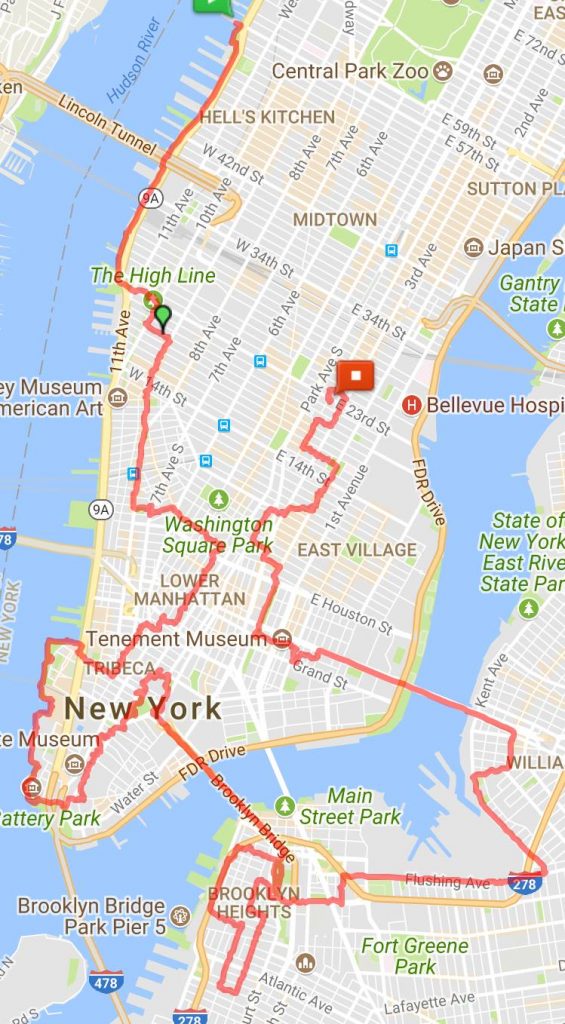 The next day we felt good, tired but good.  One of my coworkers recently ran a 100 mile trail run in 27 hours and he said he felt fine within 2 days of running it and that the key to getting your energy back quickly is taking in enough electrolytes. I don't know about that, I think he is just bionic, but the nutrition plan during the walk definitely helped.
I'd packed GU gels but didn't need them during the walk. I didn't need them because I ate actual food during the event, which doesn't happen at races.  I had that chicken sandwich, an apple, and granola bars and Tootsie Rolls that volunteers handed us. There was also plenty of food at the rest stops along the way.
I stashed the food and candy in a side mesh pocket of the CamelBak and pulled it out when I needed it. The CamelBaks and Nuun tablets worked great, no hydration issues at all even with the humidity that day being 80%.
Injury wise- all I had was the black nail and Kevin was completely injury free. The ache in his hip disappeared after a few days and whatever was going on in my shins resolved itself by the next morning.
If another distance walk comes along we may participate. I personally think the Avon 39 should have made a completely separate event of the Avon 26. They did treat it somewhat as a separate program because there were training programs specifically only for participating in the Avon 26, but they didn't offer any medals to those who only walked on marathon day. To get a medal you had to walk all 39 miles, the 26 miles on Saturday and the 13 miles on Sunday. I think walking a marathon is an accomplishment that deserves to be celebrated on it's own.
In the meantime I have my first race in 12 months tomorrow, the Pelham 10k! I usually run the half marathon but I'm not in shape to do that this year, so the 10k was a good compromise.
I'm undecided on if I'm running a marathon in 2018.  Between the fracture, a nearly month long respiratory infection, and two week bout of crazy laryngitis, 2017 was not my greatest year health wise. So, I may be focusing on getting stronger in 2018 with yoga and easing back into distance running with a few of my favorite half marathons. We'll see.