This past Sunday was half marathon day!
The half marathon was in Central Park so Kevin and I drove up the day before. We'd planned to walk around the course so I could see what the course was like but it took longer than expected to make the drive and check in at the hotel. Because packet pick up ended at 5 pm we had to hustle to the Metropolitan Pavilion to get to the race expo. Pro tip- allow plenty of time to get to packet pick up.
The race expo had plenty of cool stuff but it was not very well organized.  There was lots of attire critical for racing on sale. Things like sparkly headbands and tutus.  There were two speakers at the event; I recognized one of them as Dara Torres right away.  The other was some lady named Deena Kastor. Race t-shirts were available on one floor. I had to go to another floor to  pick up my bib and the race bag was available at yet another location.  The more places you have to go the more likely it is you'll miss picking up needed race materials.
It was only after I left the expo and checked the race's Facebook page later that night that I saw someone post safety pins were not in her bag like they usually are. I checked mine and saw I was missing them as well. No pins, no way to have your race bib on. Turns out the pins were at the expo but in a dish on one of the tables at the expo and no one directed us to them.  Fortunately there was a 24×7 pharmacy near where Kevin and I were staying that had safety pins.  Always bring extra safety pins.
My friend Susan is also a distance runner and we decided to take on this race as Wonder Woman and Batgirl.
Susan and Michelle by day!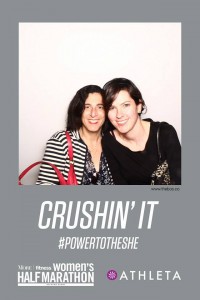 Susan and Michelle when duty calls! More detail on the costumes later.
After the expo we went to dinner at McGee's Pub. McGee's Pub is the inspiration behind the bar/apartment in How I Met Your Mother.  It was good to catch up before the race and Wonder Woman made an early appearance when the guy in the booth behind us kept jostling our booth.  Wonder Woman stood up and tactfully let him know the citizens of McGee's Pub were disturbed by the jostling while Batgirl hid behind her sandwich and let Wonder Woman deal with it.  From then on Batgirl and Wonder Woman had a peaceful dinner while their male non-superhero companions were jostled by the people behind their booth because they had no Wonder Woman to save them.
After dinner we split up, Susan and her husband went to see Rocky the Musical¹ and Kevin and I went to pick up breakfast/after race snacks (we were in Central Park, much cheaper to get our own breakfast items than buy breakfast in the am and it also got us out the door faster the next morning) and back to the hotel.  Kevin spent the night watching Jacques Pepin and I read my Danielle Steele novel and drank as much water and juice as I could handle to make sure I was hydrated.
Kevin and I woke up bright and early at 6:00 am race day. The race started at 8 am and was only about a 15-minute walk away but I am slow in the morning and wanted plenty of time to wake up. Good thing too because we arrived only a few minutes before the start.  By the time we had breakfast, walked down to the pharmacy to buy safety pins² , and got to the race start it was already around 7:45.   Susan and I planned to meet before the race to take some pre-race photos but it took so long to push through the 6,844 other women to the start that by the time I got to the corrals race officials were yelling at us to get in our starting coral.
More on our outfits.  Mine was a t-shirt that came with a cape and bat socks with capes attached to the back. I'd also ordered a black tutu but because I waited to order my costume until the last minute the tutu part of it did not arrive on time. Susan's costume was a t-shirt with a cape, blue tutu with white polka dots and silver wings of speed that threaded through her shoelaces!  The wings were on sale at the running expo and next time I am going to have to get some.
The weather could not have been more perfect for a half marathon. It was 55 degrees and slightly overcast, with just enough sun peaking through the clouds.
I was in the 10 minute corral and it took me about four minutes from when the starting horn went off to get from where I was to the start line. This was partially because so many people in front of me were clearly not intending to run and never had intended to run.  They were out for a stroll.³
Because Central Park was not closed for the race despite race officials best efforts to stop pedestrian traffic there were still walkers and concession stand vendors attempting to cross the stream of runners.  Mid-race one hot dog vendor had the verve to stick his arm out and ask us to stop running so he could wheel his cart across.  Trying to halt a swarm of women trying to finish their race was not happening for him. Eventually all the women yelling got to be too much for him and he retreated.
There were hills. A LOT of hills. This photo pretty much sums up the entire race. I was running up a hill. I was ALWAYS running up a freaking hill. This is both my "I'm running up a hill" and "I'm concentrating really hard" expression. And the woman behind me is wearing the "OMG it is another hill" expression.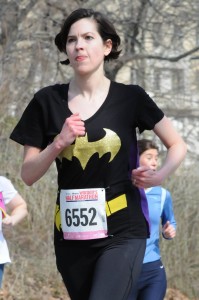 Here I am running up a hill again but I have spotted a photographer and am letting him know these hills are nothing to me. I am like Julie Andrews flitting around on the Swiss Alps. These hills are alive with the sound of music buddy.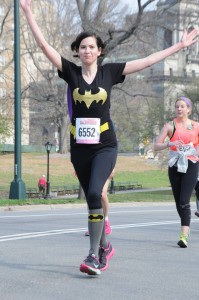 Hydration packs were not allowed at this race.  There were plenty of stands with water and Gatorade though.  Always make sure you read the race rules well in advance so you're training in the conditions you'll race in.  If you're used to a particular sports drink in your runs or constantly sipping water from a hydration pack you might have problems if hydration packs aren't allowed. And whether you're thirsty or not stop at every hydration stand. You'll barely lose time doing this, it's just grab, gulp, and throw your cup down in the road. This is one time when littering is permissible and expected.
Another tip, I said in a previous blog a good playlist makes all the difference in training.  This is a different story in racing.  At some races iPods are not allowed because they are a safety hazard due to the crowd. At this race they were allowed but it was so crowded and the race course so narrow I chose not to bring mine. You have to be paying attention and alert or you'll trip or knock someone down.
Ahoy, it is the finish line up ahead! Here is where we all started pouring on the speed.?
Finish line! Photographer!  Here is another tip for newbies.  They take your photo when you're crossing the line.  Get your pose ready in advance. Here the woman in front of me demonstrates the fist pump pose and in the background you can see me as I prepare to go into the arms in the air woo hoo pose.  Her pose looked way cooler.
Susan and I both PR'd on this crazy hilly course!  I was at 2:14, Susan was at 2:49.  These were our official times but not our "age graded" times.  Deena Kastor appeared back on the scene at the race. It turns out Deena is an Olympian.  In distance running.  She ran this race and they didn't bother to give her a number. Her bib just said "Deena".  She finished in 1:11:38, setting a new U.S. Master's half marathon record. Talk about blowing the curve.
When you cross the finish line these metallic looking wraps are sometimes available.  They're giant pieces of thin plastic with cool race stuff printed on them, good for keeping rain off you if it's drizzling at the finish line or if you're chilled from standing in the wind all sweaty.
At the race end there are always bagels and some kind of fruit. What they don't tell you is there is nothing to go with the bagels and sometimes they've been sitting out awhile.  I don't know about you but the last thing I want when I've just run 13.1 miles is a dry bagel. So I brought my own fruit smoothie drinks and bananas in case I didn't like the fruit they had available. It tided me over until lunch.
Another pro tip-  if you are on the road find out your hotel's check out time in advance and ask for a late check out if you need it.  I've found hotels are very understanding and let you check out late so you can grab a shower and relax a bit if they know the situation. It helps if you wear a Batgirl cape when asking. It is hard to turn down Batgirl. Also, MAKE SURE YOU STRETCH RIGHT AWAY.  If you don't you will pay the piper the next day. And sometimes the day after that. The day after my first half I failed to stretch. That half was on almost flat ground and I was rubber band tight the next day.  This time around I brought my foam roller to the hotel. I stretched out on it immediately when I got back and it made a world of difference. My legs were a tiny bit stiff the next day but mostly they were just tired.
After we left the hotel Kevin and I went to a diner and had breakfast for lunch and then went home.
My husband is a great cook.  For dinner that night he made brandade de morue au gratin (this is French for delicious salt cod and potato mash), roasted Brussels sprouts and toasted baguette slices. And I FINALLY got to have my glass of wine.  I was so happy about this.  I had been on prescriptions of one kind or another for nearly two weeks for my coldmageddon and wasn't able to have alcohol while I was taking them.  Between the glass of wine and the 13-mile jaunt I was out like a light that night.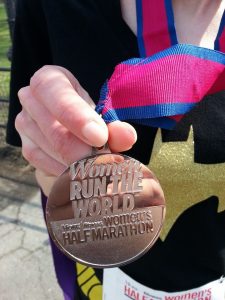 1    Yes Rocky the Musical! It is hard to picture Rocky on Broadway but if there is ever an appropriate time to see it, it is before a half marathon. Because
"It's the eye of the tiger, it's the thrill of the fight
Risin' up to the challenge of our rivals
And the last known survivor stalks her prey in the night
And she's watchin' us all with the eye of the tiger
Risin' up, straight to the top
Had the guts, got the glory
Went the distance now I'm not gonna stop
Just a girl and her will to survive,
Eye of the tiger!"
2 I was the most interesting thing on the streets of NY that morning. But no one, not even the pharmacy workers at the place where I bought my safety pins, gave me a second glance. Even Batgirl needs safety pins.
3 Be realistic estimating your finish time when you register. If you register as expecting to finish at a 10 minute pace and you're at a 15 minute mile you will be frustrated by the women shoving past you and the women will be frustrated at you for having to shove.
? Keep an eye on your time each mile.  Remember the time you see is the time from when the starting gun/horn went off and your official time will be from when the chip in your bib crossed the start line to when it crosses the finish line. So don't freak out when you see a 15 minute time on your first mile. With that in mind you'll probably notice your first mile or two is going to be faster than you expected. Slow down! It's adrenaline that's got you going and it will not last.  Conserve your energy and try to slow down to your normal training pace. The last half of the race, especially the last 3 miles or so, is when you'll want to pour on the speed and race.  Some people call this doing a negative split; your second half is faster than your first. I call it not wanting to embarrass yourself by walking the last part because you ran way too fast at the beginning and ruined your race.