Yesterday I ran the Stratton Faxon Half Marathon in Fairfield, Connecticut.
Packet pick up was at the Fairfield YMCA. No exhibitor expo, no sparkly headbands or tutus, just a couple of tables set up in the gymnasium where you could get your packet.  For anyone who registered before June 1st you could have your packet mailed to you but I failed to register in time.  Once again, safety pins were not included in the bag but were instead in dishes on the table. Kevin spotted them and grabbed a few.  The stuff from the bag, except for the bib,  is below.
The Hole in the Wall gang was founded by Paul Newman as a place for kids with serious illnesses to go and be kids.  It is the main charity for any race in Fairfield County (which is where Paul Newman resided). Anyone committing to raise $500.00 or more for the Hole in the Wall gang had a free entry in the half marathon. I didn't join this time, but am considering participating in something like that in 2015.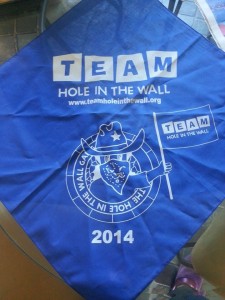 Score. I finally have one of those 13.1 magnets I see on cars everywhere.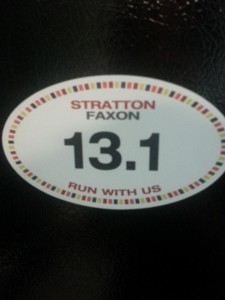 The race was sponsored by Stratton Faxon, a local law firm.  I noticed there was an abundant supply of medics/firefighters/water during this race. Coincidence? Or law firm influence?
No overnight stay was involved this time so the night before the race I went with Kevin to a work dinner he'd scheduled to prepare for a Bloomberg Open Source Day.  It was cool to learn more about what he works so hard on and to hear more about the software project which was to be the subject of the volunteer efforts the next day.
The dinner was at an Italian place in Manhattan called Morso.  It was not chosen with me in mind, but I was excited about it because it meant for the first time I could try doing the traditional big pasta dinner the night before the race to see if it helped me. I had Strozzapreti stuffed with spinach and ricotta with a chicken ragout poured over the pasta.  The pasta itself was great but I had to discretely (cat's out of the bag now if anyone from dinner that night is reading this) spit out a few bones that were in the chicken ragout.  The ragout was excellent aside from the bones in it. Morso needed lesso bones in the ragout.
I do think the pasta loading helped the next day. But for better or worse I also had two glasses of wine with dinner.  I am not a heavy drinker at all, normally I only have a glass every week or two. But I cannot say no to a glass when others are drinking it. Not even when I have to be up at 5:00 the next morning (which I slept past thanks I think in part to the wine) to run 13.1 miles.  And it was Italian food.  Wine is practically a necessity with Italian  food.
After dinner we hopped on the 9:05 train for the 1+ hour ride home and got to the house about 10:20 that night where we crashed. And slept a very deep sleep thanks to the wine and the late night.
We woke up at 6:00 the next morning and had to leave the house at 7:00, which was tough for me because I am slow to wake. Also, it meant less time to hydrate which is even more important when you hydrated with wine the previous night.  Between being sleepy and having a slight headache from the night before I could not resist having two cups of coffee that morning but I forced down a Vitamin Water and a glass of regular water. I wasn't terribly hungry that morning either and we had to get out the door relatively fast so I did not eat a lot, maybe half a bagel. None of this is recommended. But sometimes wine happens.
The race started at Jennings Beach which is only about 7 minutes or so from our house, but because part of the race was in our neighborhood we took the train to avoid problems getting back to the house due to streets being closed off and to avoid the traffic jam.
Here I am at the train station that morning. Let's do this. Let's do this after oversleeping and with a touch of a wine hangover!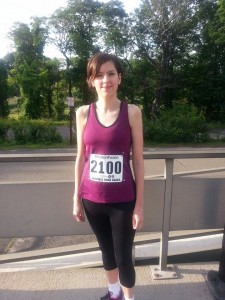 Oh real quick. About the chosen outfit. I did buy a shirt for this race. It is the green one on the left.  The model on Amazon for the black tank top with the same slogan kind of put me off that shirt. I don't want to run like that girl.
However, in preparing for the race conditions I searched for blogs others had done about the race. One girl blogged that it was so hot HER TOENAIL POLISH MELTED.  And so I opted out of the t-shirt and ran in a well ventilated tank top as opposed to my statement piece.
At the train station another runner approached Kevin and I and asked if he could follow us because he wasn't sure where to go. He was very friendly so we chatted a bit and I jokingly asked if he planned to finish in an hour or so. He said YES. I looked in his eyes and realized this man was serious and therefore I needed to take a photo. So I did.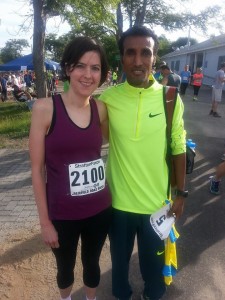 I looked up where bib number 5 finished and he came in 4th place at 1:06:13.  This gentleman's name is Yonas Mebrahtu and he is one of the elite runners. You can read a bit of an interview with him about the race here  .
The race started at Jennings Beach.  This race gets kudos for having lots of beverages at the start, including free miniature smoothies from Robeks.  Kevin saw boxes of pizza being brought in by forklift. No joke. Pizza by the forklift. No dry bagels at this race.
Here are a few shots from just prior to the race.
A negative to this race was the line to the Porta Potties was terribly organized and race organizers did not straighten it out until ten minutes before the race started. They had plenty of Porta Potties but the problem was people formed in two lines instead of forming a line in front of each Porta Pottie.  Everyone was too polite to jump out of line so there we stayed until an organizer rearranged the lines. The back up resulted in the race starting a few minutes late to allow those in line to finish.  However, I guess not everyone decided to wait it out. More on that later. Here is a photo of the line. I waited about fifteen minutes before reaching one and by that point it was only 7 minutes to start time. Visit the Porta Potty early on to avoid this issue.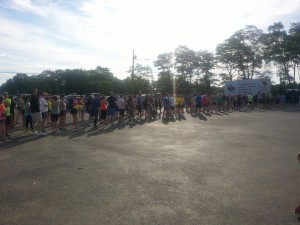 Eventually we were off and running.  Another negative to this race is that they did not organize runners in chutes by predicted finish time.  That resulted in a jam for at least two-three miles of faster people trying to shove past slow people and slow people trying not to get knocked over. Females started in a separate line from the guys and we merged between 1-2 miles in.
This turned out to be the coolest Stratton Faxon half on record. It was in the low 70's.  Good thing because there were a ton of hills and it would have been miserable running those hills in the heat. P.S. To the guy I told "This is my neighborhood, no more hills after this!" only to realize later I was wrong, I was very wrong, I'm sorry. I don't know where I'm going. Ever. Even in my own neighborhood.
This was my first half marathon that was not all female. I picked all female races until now mainly because I like the camaraderie in an all female race. Those runners are your sisters for 13.1 miles rooting you along every step of the way. If you have the opportunity to participate in one I highly recommend it. But to a small extent I also chose all female races because I am very slender and was worried I might accidentally get knocked over if I ran with guys. This was the only race that fit in my training schedule for the full marathon though and so I registered and hoped for the best.
It turns out I did not have to be worried about being knocked over. The main issue was not even on my radar until I ran this race. It turns out men spit. They spit a lot.  I quit running directly behind guys after dodging the third spit bullet.
Also, I noticed one guy stop running and start to climb up a hill into the woods. I was thinking what the heck. What is he doing. Then he stopped, turned his back to the street, and yeah….you can guess what he was doing in those woods. I will give him the benefit of the doubt and assume the line at the Porta Potties left him no choice.
During the race there were a ton of ladders with hoses wound up them so the water would spray over the street on us. A few people stood on their driveway to spray us from their hoses also.  This was much appreciated. (PRO TIP THAT WAS NOT IN ORIGINAL VERSION OF THIS BLOG: Something I forgot to mention in the original blog.  I usually take my phone with me on races to use MapMyRun. In the Central Park race doing that drained the battery before the race was over. So this time I left my phone with Kevin. Good thing too or I wouldn't have been able to run through the spray of the hoses, it have soaked my phone.  Think about that in advance of a summer race when you're deciding what electronics to take with you.) There were also plenty of water, Gatorade and GU sports gel available at stands along the route. I stayed away from the GU because I hadn't trained with it and heard horror stories from others about using it for the first time on the race.  GU is high in sugar and if you're not used to consuming it it can cause an upset stomach.
There was also a lady standing in front of her house and offering us ice cubes. Bad idea. It's not as if we can crunch those down which means if we took them they would eventually have to be thrown on the street which would create a slippery dangerous mess.  I did not see any runners stop to take her ice cubes and steered clear of her myself.
There was plenty of music which is a necessity for me.  And a wide variety of it. There were people beating on African drums, people playing bagpipes, stereos blasting motivational music, and oddly a country band that was fond of Adele. It turns out Rolling In The Deep is excellent sung in a country adaptation.
A large portion of the race was in a residential neighborhood which had signs up for a few days that said to be prepared for delays on this day.  But I guess some people either didn't read or didn't plan. A woman was in her car sitting in the driveway and being held up by a police officer while her husband stood in the driveway and argued with the officer over not being able to pull out of the driveway due to runners going past. I overheard part of the argument. The officer explained he was just going to have to wait for the safety of the runners and the guy said he couldn't wait, he and his wife had to get to work and they would just have to stop the runners.  I'm sure he lost that argument. Read the signs man, read the signs.  Plan ahead.
I was pain free the entire race though I did feel my feet swelling and my shoes getting tight in the end.  I almost always run slow in training but on race day I run as fast as I'm able. I finished with a P.R. at 2:04:40.  That's around a 9:31 pace per mile.  Below is a shot right after the race :). Unfortunately it was taken as a guy was wheeled on a stretcher into an ambulance right in front of me.  Twice during the race I saw ambulances go down the route with their lights flashing.  Sometimes even with hoses and lots of beverage stands people collapse at races of this distance:(. The white fabric around my neck is a cold, wet towel that was handed out to us about a quarter mile from the finish line. A word on the finish line- there was a big banner that looked like a finish line and a few people raced across it and immediately stopped, thinking it was the finish line. It wasn't.  Another note on thinking you are near the finish line- don't listen to the spectators that yell "You're almost there! Finish line is right around the corner!" It never is.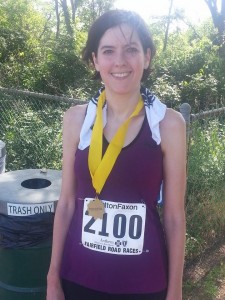 My age group was 30-39 and I came in at #279 out of 665 in my age group putting me within the top 41% in that age bracket.  I was really happy about that especially given that I don't train fast or do extensive cross training.  I look forward to aging into the  40+ age bracket because I think my competition will get lazier with age and I'll move up in rankings. Not to mention I'll be one of the youngsters in that next bracket for a bit.
Every finisher was videoed as they came across the finish line courtesy of a local news station. You can see me finish in the 2:00-3:00 hour group when the clock says 2:05:40 (this was the time from start gun to cross of finish line, not time from when I crossed the start line to cross of the finish line) here . I am not sure what is up with the woman who crossed while holding a baby in her arms. You can't fast forward to where I am so grab a cup of coffee or something for about five minutes.
After the race we came home, cleaned up, and went to a diner to get some lunch.  There was a party at Jennings Beach right afterwards, complete with free massages, but I was ready to go home. The rest of the day was spent mostly resting except for a trip to Pelham (about 40 minutes away) to do some chores related to our soon to be new home.
I woke up this morning only a bit stiff, nothing too bad and it went away after I got up and moving. However, the black toenail from my October race was starting to turn light purple and I paid a visit to the podiatrist this morning to see what could be done.
My podiatrist used to be a distance runner and basically said if you run downhill for long periods of time eventually odds are you are going to get a black nail and this is life and it is fine.  Between my feet swelling from the heat and the hills it was bound to happen. Nothing I could do. I'd clipped my nails the night before and my shoes fit properly.  The podiatrist shaved down the nail to remove the old black part and it looks a lot better. We got to talking about his experience with this half marathon and I told him my finish time. He seemed impressed and asked if I used the "Formula 3" he prescribed last time. I didn't know what he was talking about and thought to myself "Formula 3. Sounds like something I can put on my feet to make me faster. I should have visited a podiatrist long ago". No such luck. Formula 3 is an anti-fungal treatment. My bruised toenail also had a fungus infection going on. It is all kinds of awesome.
And that is it for the race blogs until that race of all races, the marathon in October.