Between the hot and humid summer and my training runs beginning to get longer (over 10 miles) I recently addressed the issue of how to hydrate/how much to hydrate on training runs. Under 10 miles I never needed to have water near me.
Before I started I first did the sweat test to figure out how much water I was losing every hour.  I went into this already knowing I glow a lot (Women, we glow. Men, they sweat).  Here is how the back of my t-shirt looks after a one hour run in the summer.
For those who don't know what the sweat test is here is a basic description.
You pick a day in your training schedule when you can run at your race pace for 60 minutes.  Remember that heat and humidity that day will make a big difference in how much you sweat so consider retesting if the weather is abnormally hot or if your race will be in cooler weather. On the day I did my test it was 67 degrees, 92% humidity.
Before you leave make sure you're hydrated, strip down, and weigh yourself.  Then head out on your run and remember to stay at race pace for a solid hour. When you get back strip down again, re-weigh, take the difference in your pre-run and post-run weight and convert that to ounces.  That's how much you should be drinking every hour. To figure out how much you need to be stopping at aid stations along your race route take that ounces number and divide by 4. That'll tell you how much to drink every 15 minutes.
My test showed I lost 2 and a half pounds of water on my run.  Like I said, I glow a lot. Convert that to ounces and theoretically I should be drinking two of these every hour on long runs.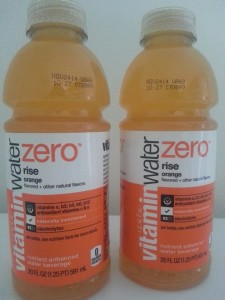 However, that is a LOT of water to be carrying around.  And so I began figuring out what my options were.
My temporary solution was to leave a bottle of water in my mailbox because I loop past the house at least once on my runs.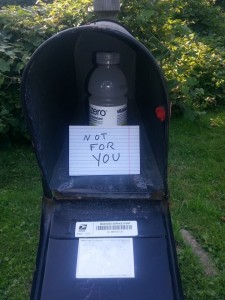 Second order of business was to ask friends their recommendations on hydration belts vs handheld hydration bottles. I wound up going with Nikki's suggestion and getting a Nathan Hydration Belt.  There is a belt with two bottles and one with four bottles. I went with two to start with intending to move up to four if I needed it and if I liked the belt. The belt came in sizes "One Size" and "Berry". I took a chance and picked One Size. It fit just fine.
Today I ran with the hydration belt for the first time.  I didn't experience the problems other reviewers had and honestly some of the reviews left me scratching my head. For example.
One reviewer wrote: "Water bottles contain like a sip amount! The pocket expands but will hold like 1 cliff bar and a gel."  Below is a photo of one of the two bottles. If you fill to the line it is 9 ounces per bottle and could go to 10 ounces.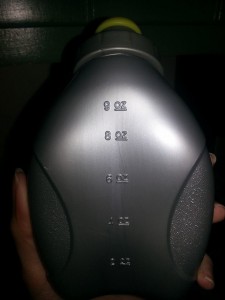 The reviewer needs to run with two Big Gulps from 7 Eleven strapped to her hips.  My Samsung galaxy smartphone fit in one pocket and my I-Pod fit in the other pocket.  If the reviewer needs more space the always fashionable fanny pack is an option.  I rock this fanny pack on shorter runs.  I think secretly everyone admires the fanny pack and wishes they had the nerve to wear one too.
Another reviewer wrote:  "Bouncybouncybouncy. Bounced it right back to it's seller."
You are running with full water bottles. They are going to bounce a bit. Adjust the size if the bottles are hitting you in the nose. Otherwise, deal with it.
Speaking of size, another reviewer wrote "I haven't had any issues with…the belt bouncing. However, I do have the belt as tight as possible in order to fit me, so if you have a very small waist/hips..this may not work for you. For reference I am…a size 0 or 2."  First, I didn't even know there were people smaller than a size 0. Second, Bouncybouncybouncy can probably stand to adjust the size given this review.
Another reviewer wrote "The bottles are too large and if I filled them all the way it would be too heavy." We are in the hydration belt version of Goldilocks.  If you don't want to carry that much water fill the bottles half way and plan a route around water fountains to re-fill if you can.  I did not think the belt was too heavy even with the bottles completely filled though.
Another reviewer asked "Can children wear this belt?"
Someday that child will tell his/her grandchildren "When I was your age I walked to school barefoot and backwards and the distance was so long I had to wear a hydration belt."
Overall, I dug the belt given that it was a necessary evil. The alternative would be to go with a handheld water bottle or plan a route past gas stations (to buy a drink) or water fountains.  I'm clumsy and need my hands free to catch myself when I trip so a handheld water bottle was not an option. I didn't really want to go into a gas station in my very glowy state and in our current neighborhood there are no water fountains nearby.  Our soon to be new neighborhood has a park nearby so I'm hoping there are water fountains there.
Here is a shot of the hydration belt on. It should be turned around the other way of course. I dig the reflective strip on the front, cars will see you coming a mile away.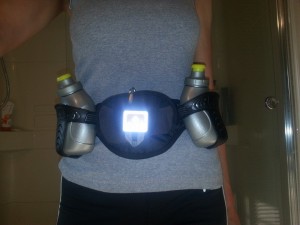 Here is a shot of the belt off.  The other thing I like about this belt is if you adjust it to be smaller you don't have a duck tail of extra material hanging off. The fanny pack has that problem.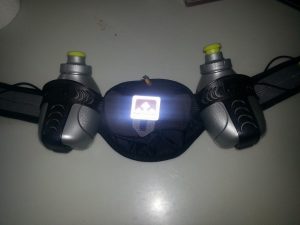 Glow on my friends.