Spoiler alert: I finished my first marathon and took 15th place in my age group! Correction to spoiler alert…I finished the marathon but apparently Auyer Timing had an issue and dropped the "6" from the end of my ranking and this was corrected today…I came in 156 in my age group. Auyer Timing: Making you feel good no matter what your finish time!
Arrival
On Friday night Kevin and I arrived at our hotel in Horseheads, New York where we stayed for the marathon in Corning, NY.  The name Horseheads came from the large number of bleached horse skulls found here. In the town, not in the hotel. In the fall of 1779 military forces had just completed a 450 mile march and their horses were worn out from the long journey. The military decided to say farewell to a number of the sick and disabled horses.  The Iroquois collected the horse skulls and arranged them in lines along a trail. Hence, the quaint name of the city we stayed in.
The reason we were in Horseheads instead of Corning is because we didn't book the hotel until mid-June. Every hotel in Corning was full. We got the very last room in the Fairfield Inn & Suites Elmira Corning. It was only 16 miles or so from Corning so we really lucked out.
The hotel was filled to the brim with runners.  I could identify the runners by their expressions. They all wore the taper tantrum scowl. We were coming off the endorphin rush that goes with distance running and it results in a very distinctive expression. I did not envy the receptionist having to deal with us.
After we checked into the hotel we went to the Expo to pick up the race packet and shop for race necessities. The expo was at the Corning Museum of Glass, just past the gift store. It was a smart sales move to have 6,000 registrants and their families walk through the store to get to the expo. On the other hand, it was a gift shop full of breakable glass and we are runners not ballerinas. I did not witness anyone break anything though.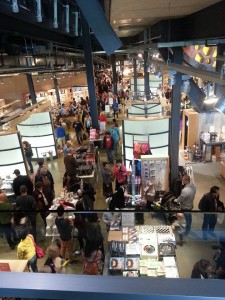 There were no tutus or tiaras, but there were "Make Your Runner a Sign" booths and a physical therapist on hand which I thought was cool.
There was also stuff like this.
Wearing leopard print shorts won't make you any faster.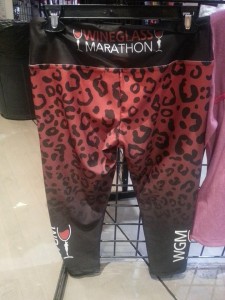 This probably won't either.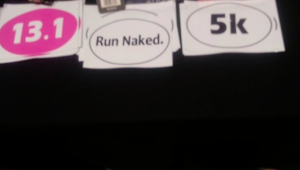 This was stuff from the race packet (minus coupons, some $10 gift cards and stuff like that).  Yeah, champagne came with the packet!!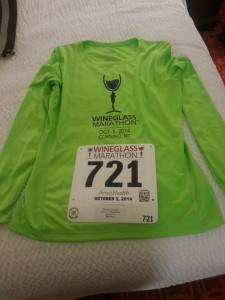 Invisible Running Michelle sips champagne as she runs her marathons.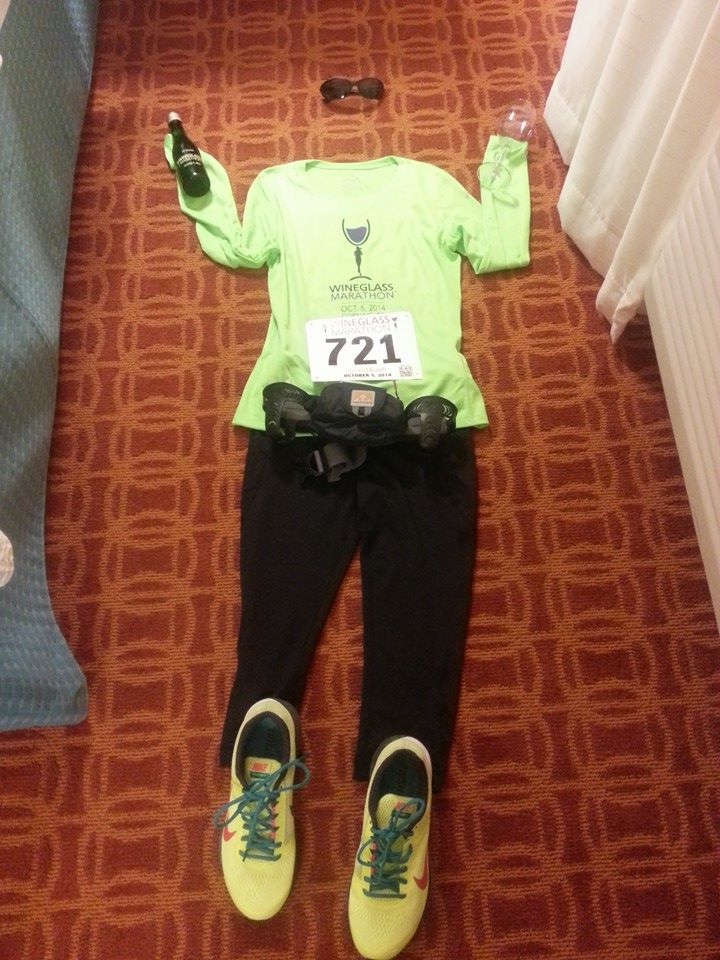 I also picked up some arm warmers at the expo since it was predicted to be 32-33 degrees at the start.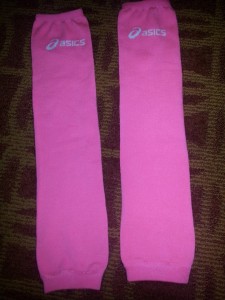 Day Before the Marathon
By noon the next day my cousin Nikki, her husband Darrin, and their son were in town and we met up with them for lunch at Wegman's. The grocery store.  I've never been to a Wegman's before and didn't know what to expect.  It turned out to be an awesome place pre-marathon to have lunch because they had loads of high carbohydrate/protein options. Nikki picked the place and as usual her pick was on target.
After that Nikki and her family went to the expo and Kevin and I visited the Corning Museum of Glass. They offered 50% off both mine and Kevin's admission by showing them my race bib! I took a few photos of the exhibits.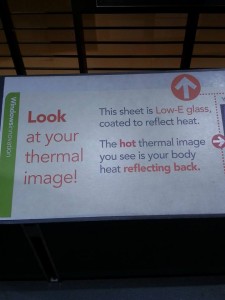 The Human Torch! The dark spot in the middle of my collar was the admission pin.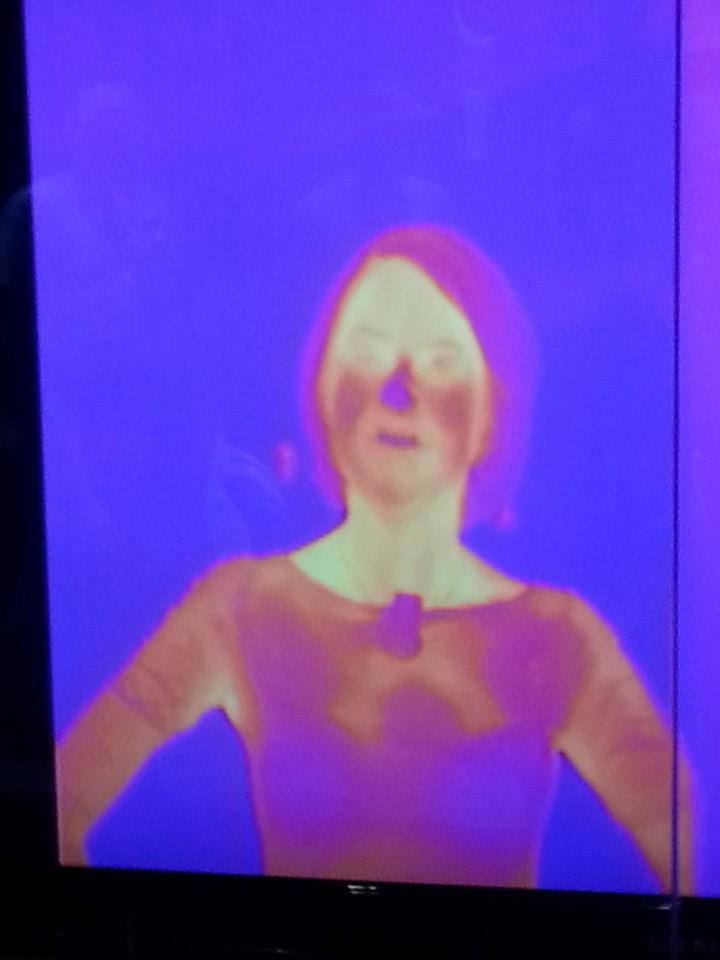 I took this photo because of a good anecdote I have to go with it. Kevin saw the exhibit and mentioned to me this was how the Internet began.  Years ago Kevin and I were in the car on our way home after visiting my dad who had been hospitalized.  I had deep thoughts on my mind and asked how he wanted things handled if he passed before I did. He said "I don't know, I've never thought about it before." After a few moments of silence Kevin then said "If it is possible I think I would like to be converted to a file and released over the Internet." And so these photos capture a very Circle of Life moment going on between Kevin and the information superhighway.
After the expo we went back to the hotel where it was time to download some new music that would keep me going during the race. I went with The Greatest Hits by Shania Twain and Jason Derulo's Talk Dirty. That's a strange combination I know but it's about whatever has a good beat and will keep you moving! On Jason Derulo- my decision to get his album does not condone the douchebag way he broke up with that nice girl Jordin Sparks. But he can sing. Jordin you will find someone better!
Later that day it was time for the pasta dinner and the motivational speech by Sarah Reinerstein.
We walked into the room to the sweet groove of Salt n Pepa's Push It. The music at the dinner was very 90's Homecoming-ish.
The dinner was awesome! Lots of options for both runners and spouses, including gluten free and vegetarian for anyone who wanted those.
The speaker was even more awesome. Holy moly was she awesome. Sarah's leg was amputated above the knee as a child but she is a competitive athlete and Ironman.  She finished the Ironman in just over 15 hours. It is amazing that anyone could have that much energy and endurance.
Sarah shared the story of her first half marathon. She was competing in New Zealand and heard a "clink clink". Sarah looked down to see pieces of the artificial running leg were coming apart. Rather than quit she said "I picked up the pieces of my leg, put them in my fanny pack and kept going!"
And by the way, this running leg cost $36,000.00 and was not covered by insurance. As Sarah said "I had to pay $36,000 for the privilege to run. Makes you feel better about those expensive running shoes doesn't it?"
Sarah also shared the story of one of her role models, Jim MacLaren. Jim had been a competitive athlete at Yale. One day he was riding his motorcycle in NYC, was hit by a car and had to have his leg amputated. He went on to become a marathon runner and an IronMan. He finished a marathon in just over 3 hours on the artificial leg (which pre-dated special running legs so that was an even more incredible accomplishment!!) and finished the IronMan in just under 11 hours. Later on he was competing in the bike portion of a triathlon when a van drove through a closed intersection.  He was hit and became a quadriplegic.  He went on to become a motivational speaker and author before passing away in 2010 at only 47 years old.
Hearing stories like that really puts piddly stuff like bum ankles and…well… anything else at all into perspective! Wineglass did an excellent job picking their motivational speaker and I was so glad I got the chance to hear Sarah's story and Jim's story through her.
After dinner I realized that if the weather was really going to be 32-33 at the start I needed more than just arm warmers and two lightweight shirts. So we went to Target where I picked up some gloves and a headband that would cover my ears and forehead.  Because breakfast at the hotel the next morning wouldn't be served until 7 am (which is when the last bus for the race left, all runners had to arrive by bus) I also bought some oatmeal and Starbucks instant coffee packets to get me going.  Nikki thinks ahead and so she'd called the hotel she was staying at in advance to ask about breakfast. They told her they'd planned on starting breakfast at 7 but told her they'd start it at 5 so the runners could eat. Businesses were very accommodating for runners!
The alarm was set for 4:30 the next morning.
Day of the marathon!
Kevin woke me up with coffee. He is the best husband ever. While he was in the shower I quickly downed a bunch of water to start the hydration process and then I made the oatmeal I'd picked up the night before.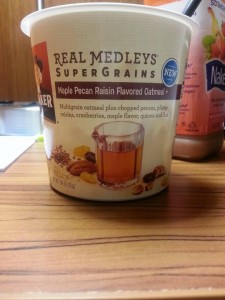 It worked out very well, kept me going. I also had a banana and my go to fruit smoothie. These drinks are great.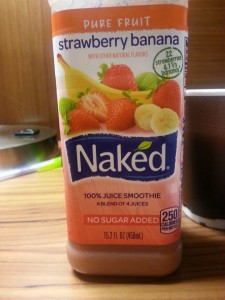 After breakfast I suited up.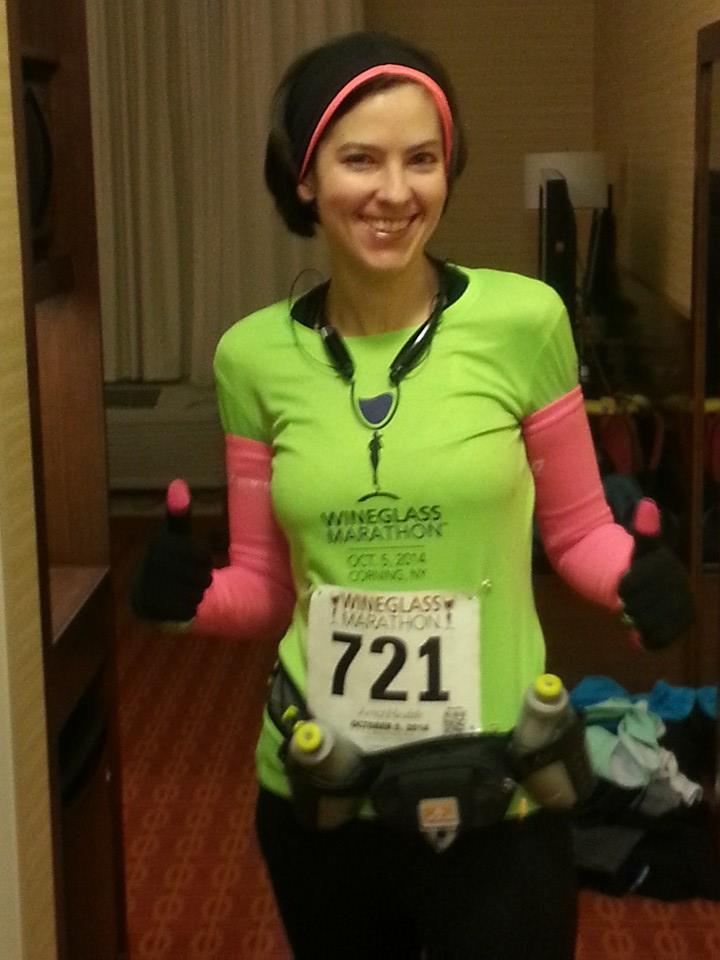 I don't remember doing duck face but I guess it happened.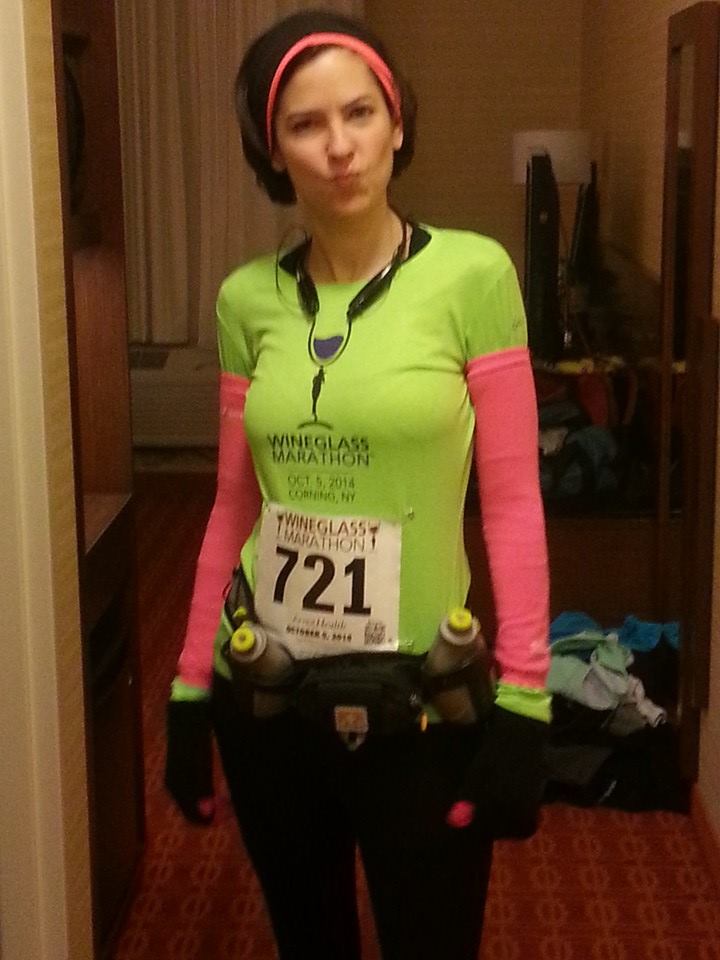 We left the hotel at 5:30 sharp to meet Nikki at 6:15 so we could catch the 6:30 bus.
It was indeed 32 out.  That is really cold. I was so glad to see this bakery/cafe had opened early so we could come in and get warm!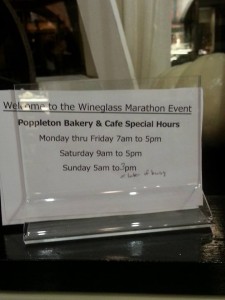 After Nikki texted that she had arrived at the shuttle point we left to meet her. Kevin snapped this right before we boarded the bus. Another spoiler alert. Nikki absolutely killed it with her finishing time, her net time (start to finish as opposed to gun to finish) was 4:06:23!!
The bus took us on a 30 minute ride to the start line which had a garage sort of building open for us and heaters inside.  It was standing room only and packed as close as a game of Twister.
A number of runners showed up wearing bathrobes. I took a photo of one in case no one believed me. Next time I am totally wearing a bathrobe to stay warm. There were also some with blankets wrapped around them. I heard a few people complaining later that the half marathoners got to stay in a gym which had plenty of room for them to sit and spread out. I however was just happy to have a place to get out of the cold. I've been at races before where that sort of planning had not been done and was miserable. I didn't see any breakfast options or drinks available at the start line which was surprising (since a vendor at the expo had said breakfast would be available) and made me glad I had breakfast before I came.
There were pace leaders holding up signs with goal finish times and we lined up according to our predicted pace.  People were doing hokey pokey sort of dances to stay warm out there. My pacer was Pacer Pete for those who wanted a 4:15 finish time. Before I saw the pace leader goals my everything is awesome time was 4:10, this isn't going so well time 4:20, and everything is going to sh*t time was 4:30. I didn't see a 4:10 option so I went with 4:15 as my goal. Pacer Pete advertised that the reason to go with his group was it was a rolling party and he did even splits, no negative splits.  Cue ominous foreboding music at that second part…
Side story, as I was walking up to the pacer a girl in front of me kicked her leg back to do a quad stretch and in doing so kicked me square in the knee cap. I've had surgery on that knee.  As you can imagine any little thing like that just before a marathon is cause for a freak out. I wanted to do and say very bad things at that moment. Instead, being the gracious southern girl that I am when she said she was sorry I said "Bless your heart, it's okay." That means it is most definitely not okay and she should not have been kicking her legs without looking where she's kicking in a crowded area.  She must not speak Southern because she smiled at me as I moved on.
As we waited one of the women in my group talked about people she had seen that collapsed just before the finish line. She said "If it happens to me I am just going to roll until I cross the line."  I decided then and there that would be my code red plan. If it came down to it I would stop, drop, and roll my way to the finish.
After a 15 minute delay due to bussing complications we were off!
The first 6 miles flew by.  By mile 3 I wasn't freezing anymore, the running warmed me up and it felt like perfect running weather. I couldn't believe how awesome I was feeling. I was on fire and on track. I had my GU (I'd planned to do one every 6 miles just like in training) and Gatorade (which it turns out was a stupid idea, the salt in the Gatorade and the GU dehydrated me a bit later on so I had to drink a ton of water towards the end to make up for it).  At a bit after 6 miles I started to lose sight of Pacer Pete… I couldn't keep up. I've always run negative splits, running slow at the beginning and then speeding up at the end of the race. I've never run consistent splits.  Eventually I lost sight of any pacer altogether. They were supposed to hold up their signs but I guess their arms got tired.
I had no idea how I was doing because there were no split times posted at any of the intervals except for around the 13 mile mark. I'd assumed there would be. If I'd known splits would not be posted I might have signed up for live tracking or something like that.  Not having a clue how I was doing made it tough.
On the topic of making things tough… a good portion of the race route had us running in breakdown lanes of streets that hadn't been closed off. Including running in the breakdown lane of a narrow bridge that also had not been closed off, so traffic was very close to us, and running on a street alongside the interstate for a good portion. The view as not very scenic on those long stretches and I called it the "Your Car Just Broke Down Gotta Run To the Gas Station" run.  Also, there were traffic cones put out for us on some streets but they weren't placed in the middle of the street to block off a running lane. Instead they were placed randomly and couldn't always be seen until you were right on top of one. Some runners tried to yell "Cone!" every time they saw one as a warning but there were so many it got tiring. I saw some runners get nailed by the traffic cones. Nobody told me this was going to be a slalom marathon.
Wondering how I'm doing…and why I'm running in a breakdown lane and having to dodge cones.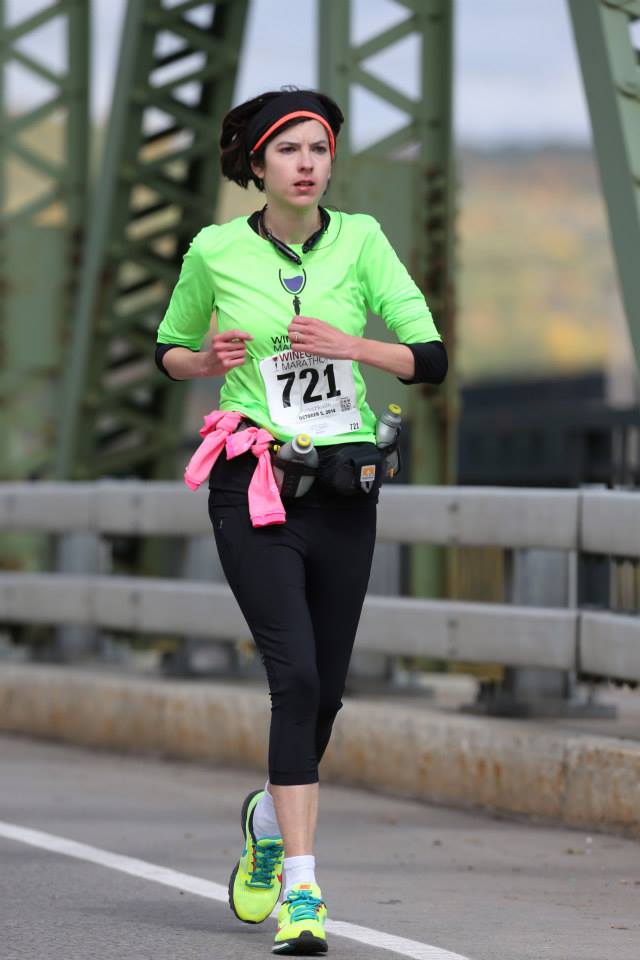 I did break out of my "How the hell am I doing and what the hell is up with these cones?" mood long enough to look up and see the mountains which were just breathtaking. The leaves were starting to turn color and it was gorgeous!  I tried to change my mood and thought of Sarah's determination. I was going to enjoy this run and stop focusing on my pace and those damn traffic cones.
That lasted until I saw the 4:40 pacer go by me. I realized then I'd gone past my predicted everything has gone to sh*t race time. The go to sh*t point had run past me! Even worse, it looked like she was speed walking and she still passed me! What did that mean for me?!
The race spectators definitely helped pick up my mood. The best sign I saw was "Run like somebody just called you a jogger." Best of all were the ones holding their hands out and "Free high fives!" signs! I high fived a bunch of people and they really picked up my mood.  The spectators and volunteers also were awesome! There were people handing out Halloween candy and beer. I declined both. The aid stations had plenty of water, GU and Gatorade.
On the route I noticed a lot of clothes/gloves/scarfs/hats thrown on the side of the roads. Runners had brought along throw away clothes and tossed them aside as they got too warm.  If a person who didn't know about the marathon happened to walk along that route later I can only imagine what was going through their mind seeing so many clothes laying by the side of the road especially in 32 degree weather.  It looked like either a bunch of people had vaporized or randomly decided to strip.
I don't remember ever wondering what "hitting the wall" would feel like and didn't even think about it until this morning. I noticed at about mile 20 I started to get really tired and was dreaming of when I'd get to sit down and drink something nice and cold. But I wasn't feeling injured or like I'd need to visit any of the medical tents along the way. Just tired. And my feet hurt. But I'd bandaged the bruise, band-aided where I usually get blisters, wore my special running socks that are supposed to prevent blisters, and cut my nails the night before to prevent nasty cuts. So I knew I stood a good chance of having no foot injuries, it was just an "I've been on my feet all day" sort of tired.  At mile 23 I got a second wind in me. I only had 3.2 miles to go!  I picked up the pace.
At 26 I saw Kevin. Seeing him put me in a great mood. He is enough to make me smile even when I've just run 26 miles! Kevin took this as I passed by him.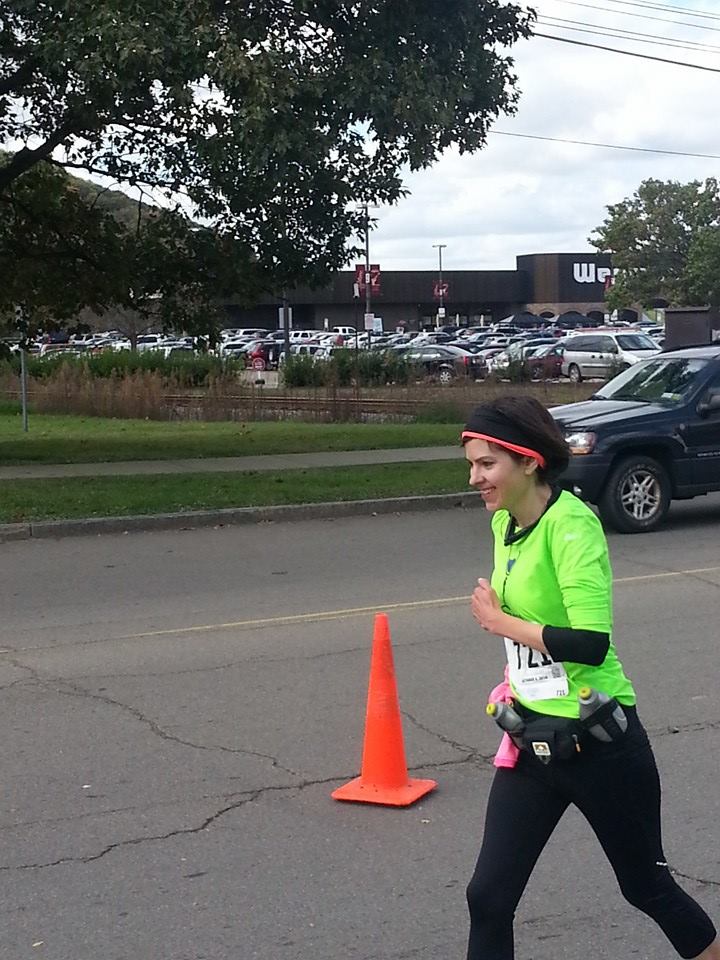 Thinking I see the finish line.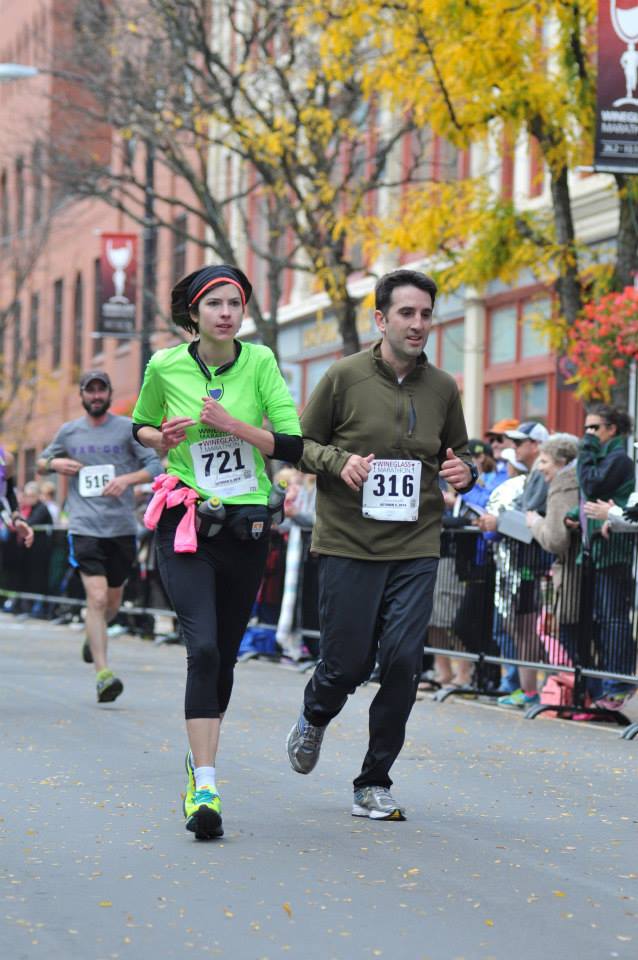 I do!! I see the finish line!!
I crossed the finish line at 4:46:41. That was gun to finish line. My net time (start line to finish line) was 4:45:09. I was a little bummed I'd started out too fast and so I didn't keep my predicted goal pace until I saw my ranking this morning :).  I placed #15 in my age group!! I was very happy to place so high in my age bracket my first time out. I did think it was kind of funny that Nikki finished so much faster than me but was lower in her bracket. It must mean either her bracket was faster overall (which means with age comes speed!) or there were just more runners. Correction:  I rechecked Auyer Timing and the 6 was dropped from my ranking. Yeah…I finished 156 in my age group which is a lot more in line with what I was thinking given my pace! Thanks Auyer Timing for giving me a few days of thinking I was a speed demon amongst my peers!
At the finish line there were plenty of volunteers handing out water, chocolate milk, pizza, banana pieces, bagel pieces, and chicken noodle soup.  High marks for that!!! There was no waiting in line to get any of the food or drinks either, the volunteers worked fast.
I secured the all important medal (more on that below), a metallic wrap (I've talked about that before, it turns out not only is it good for blocking rain but if you are sweaty and it is cold out it really does help keep you warm), some water, chocolate milk, banana pieces, bagel pieces and sat down for a minute to drink and eat.
After that I left the finishing chute to catch up with Nikki, Darrin, Spencer, and Kevin. I was so excited to see Nikki and realize that we had done it!!! We'd run our first marathon together, she had blasted her way through it and I finished high in my age bracket! Unfortunately, Kevin and I had to go back home that night because Kevin had to catch a flight to London the next day and I needed to be back at work. So we went back to the hotel so I could get a leg and foot massage from that awesome husband of mine (if you could see my runner feet you would understand just how blessed I am, that boy looked past the bruised toenail, bruised ankle, blisters and calluses and still rubbed my feet) and shower.  The hotel's late check out time was 2:00 but they were very nice to us and told us we could go past that with no additional charge so I could rest a few minutes and shower.  After that and another juice we had a late lunch and set out on the trek home. And it was a trek. What should have been a four hour drive took five hours because of accidents/traffic jams and we didn't get back until a little after 8 that night. I wasn't sure how I'd do on a long car ride after running so far but I was fine. Tired, but fine.
Because it was so late and I was so tired I was tempted to just drink a bunch of water and go to bed but I knew I needed to get some additional protein so I had some more chocolate milk and Triscuits and hummus. The dinner of marathoners.
Day after marathon
I felt okay still, tired but okay. I went with Kevin to pick up our four cats from boarding, said goodbye to him, and started work.  I was dragging a bit by the end of the day but still no ill side effects or injuries coming to light from the marathon. I was also very very thirsty!
I'll close this out with a note about the medal. A photo of it is below. It is made of Corning glass. This is the first medal I've ever had that will shatter if I drop it. It is a little ironic that an endurance race comes with such a fragile medal. The last few miles of the race I thought of a certain middle school track coach. I'd tried out for the track team when I was in middle school and knew I was slow, everyone was passing me! I was in the locker room after tryouts and overheard the coach say how everyone trying out did well except for me and I never did make that track team.  Turns out I was built more for distance than speed :).