I was talking with my brother today and I let it drop that sometimes I listen to Nelly.  The rapper, not the "I'm Like a Bird" singer. Say what you will about rap lyrics and how it plays out in real life, you can't claim that a genre like classical music is going to get you through a tough run.  I think he thought I was kidding so I sent a photo of my top 25 most played songs on my (long ago shattered) iPod.  Yep, that is a song called "Pimp Juice" you see on there. You should take some of the displayed songs with a grain of salt though. The only reason some show is because I listen to those albums a lot. Queen of the Night was not Whitney's best work.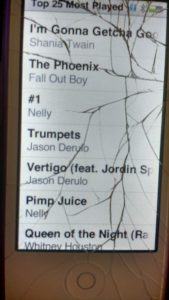 There is the type of music you play low in the background while you're working. I think the 60's had some of the greatest music of all time so that's what's playing on Pandora lately. It has a good energy to it but not so much energy you stop typing to play air guitar or anything like that. Every so often I have another music station going but my brother says admitting I listen to the station would be even more embarrassing than the fact that "Pimp Juice" is in my top 25 played songs.
There is the type of music you play when you have people over.  Top 40 is usually a good pick. Odds are most of the people you have over should like the music or else it wouldn't be on top 40 right? Good safe no one will make fun of you sort of music.
Then there is running music.  Lately I've started doing speed workouts.  They're not fun. I'm more of a plodder and can plod for hours. Make me *really* run for even a minute though and I'm not terribly happy. But I have made a bet with a coworker.  I have nine weeks to attempt to whip myself into good enough shape to beat his time in a half marathon. If he loses he wears a tutu at his next race. If I lose I wear a t-shirt lettered with the wording of his choice on it at my next race. I'm not letting the chance to force him to wear a tutu pass me by which means I have to do speed work. And to do that I need a kick ass playlist.
Below is my pick of the top nine albums to run to that are currently on my IPod.
(1) Fountains of Wayne: Traffic and Weather
My husband introduced me to this band.  They sing the sort of songs you can recognize yourself in. Favorites from this album are Someone to Love, Traffic and Weather, Yolanda Hayes, Michael and Heather at the Baggage Claim, and Seatbacks and Tray Tables.
(2) Fall Out Boy: Save Rock and Roll
I'm not a big Fall Out Boy fan but I do love this album. Top picks from this album are The Phoenix, My Songs Know What You Did in the Dark, and The Mighty Fall.
(3) Hinder: Take It To The Limit
Hinder is a hard rock band that has been my go to for runs for a couple of years.  Some of their later albums got almost too hard rock even for me but this one is just high energy enough to listen to on a six miler without needing Advil later.
(4) Fountains of Wayne: Welcome Interstate Managers
Top picks from this album are Bright Future in Sales, Stacy's Mom (yep, Fountains of Wayne sang this!), Little Red Light, and Halley's Waitress.  If you listen to nothing else on the album listen to Halley's Waitress. Because then when you have a waitress who disappears on you you'll have a really good joke ready.
(5) Nickelback: All The Right Reasons
I love Nickelback. I've seen that Facebook app that says "Figure out who you should defriend" and then it shows the friends you have that liked the Nickelback page. Why the Nickelback hate? I could use some more of their albums. This one is full of good stuff to make a person churn out miles in the 8 minute range. At least I'm hoping so.
(6) Whitney Houston: The Bodyguard Soundtrack
Greatest. Voice. Of. All. Time.  I don't listen to this as much for lyrics as just to hear that voice. I Will Always Love You? On point from start to finish. What a loss.
(7) Britney Spears: Greatest Hits
Hello. Who can get through a workout without bringing in some Britney Spears? This has some old school Britney (Hit Me Baby One More Time) and some shaved head why did I marry Kevin Federline era Britney (My Prerogative). Sane Britney did not come out to play until after this album was released.
(8) Chris Cagle: Greatest Hits
If you're a southerner who doesn't know who Chris Cagle is then you need to turn in your country card. Whatever happened to Chris Cagle? Let's remember him by listening to his Greatest Hits. We miss you Chris. Wherever you are.
(9) Jason DeRulo: Talk Dirty
I posted a few months ago that Jason DeRulo could sing. After listening to this album carefully I realized I was wrong. But the beats still made it a good enough album to get me through a marathon and it got me through a tough speed workout yesterday. So it makes the cut.
(10) I guess someone else would have made this a top ten list. But I think we're done here. If you can't get make it through a run by listening to one of these albums you should probably just quit.
---