Last week was our seventh wedding anniversary!
Kevin had gone to Paris for work about a week prior. Tough gig, I know.  We decided to take a vacation there after he was done with work since all the sightseeing he'd done was a tour of Parisian conference rooms and airports.
I packed my Bloomber backpack and purse and hopped on a flight to meet him. It was my Bloomberg backpack until the "g" fell off.
If you are wondering how I managed to pack for a week-long international vacation using just a backpack and purse there is an easy trick I have.  Send your husband ahead of you and cram your stuff into his suitcase.
My flight over is worthy of only 3 letters in this blog. Ugh. That is all it gets. Moving on.
I arrived in the morning after connecting through London.  It didn't take me long at all to get to the spot where I was meeting Kevin because I didn't have checked bags and Parisian customs was fast. Unfortunately Kevin was having his own travel adventures.  Kevin's trip is worthy of a word with 1 additional letter since it involved a train, two missed buses, and a taxi.
The trip back to our studio apartment was much less eventful.  We stayed at a studio apartment on Rue de l'Ancienne Comédie that Kevin chose after consultation with two co-workers who had lived in France. It was our 2nd great experience with Airbnb. Here's a link to the studio apartment listing so you can see what it looked like. The linked photos are better than any I took of it.
The building the apartment was in was at least a couple of hundred years old and it drove me absolutely bonkers that I could find no history about the building. It would have been cool to know the story behind where we were staying. I guess hundreds of years old buildings in Paris are so common that it isn't worth a write up anywhere.
Anyway, here are a few photos to show just how old this building was.
This is a picture of the ceiling of our apartment. These beams are hundreds of years old and the newer portion of the apartment had to be built around them.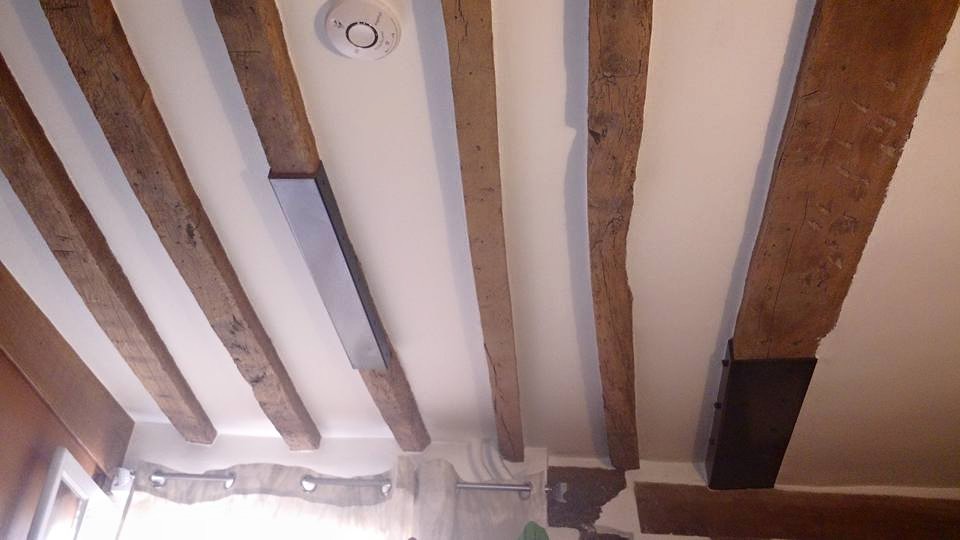 The door to our apartment is behind Kevin. I asked him to stand in front of it so I could show you how short the door was.  He's a good couple of inches taller than the door frame.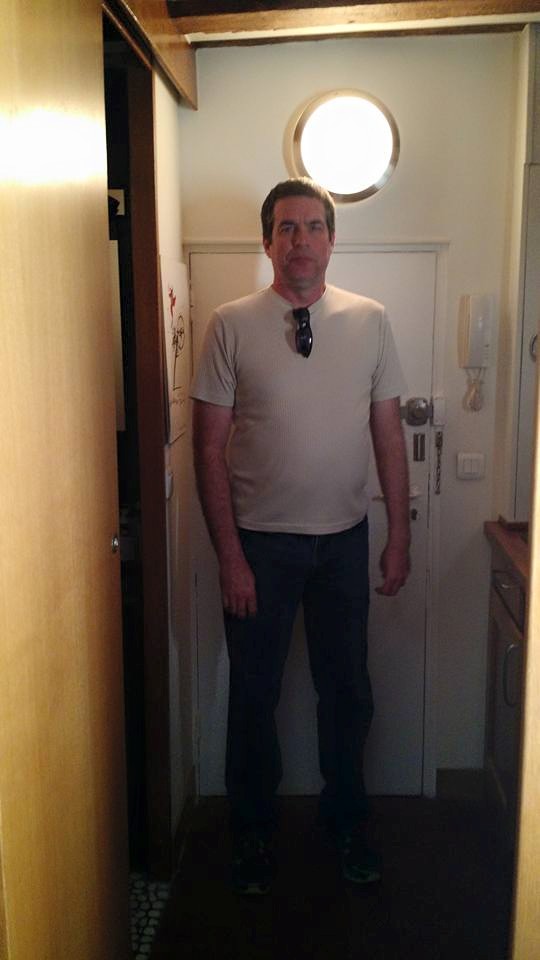 I only had to duck, but Kevin really had to stoop to get through the apartment door.  Sorry for the blurry picture, this was a stealth photo ;).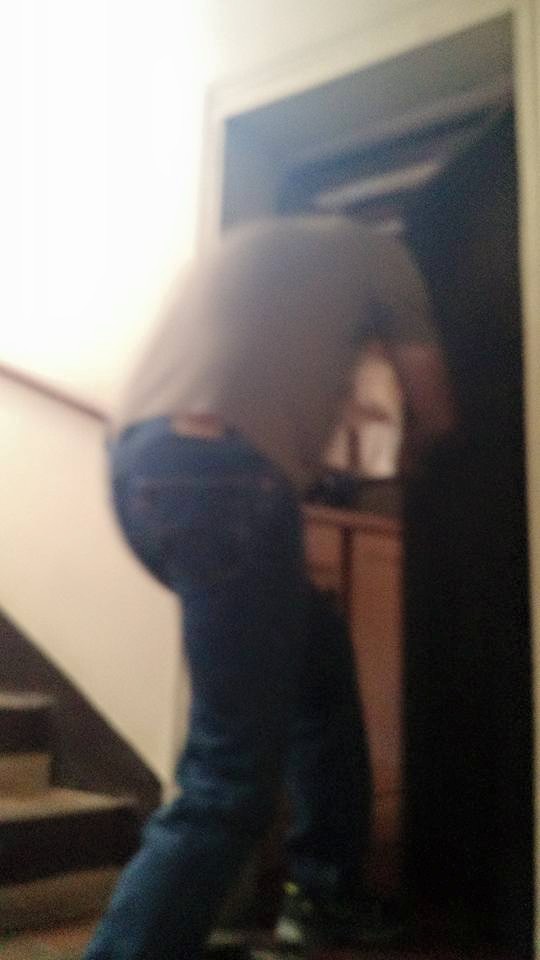 This is a picture from the doorway. Spiral uneven stairs, patches without a railing because of the doors, and some unlit spots with no windows. It is no wonder people only lived until age 30 or so back then. They were tripping and breaking their necks on these death stairs.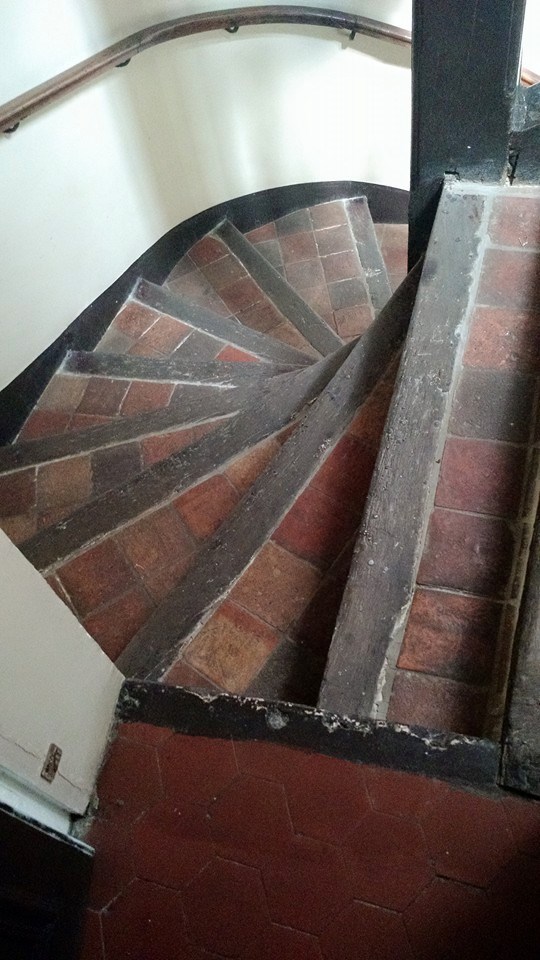 Kevin had gone to the grocery store before coming to get me and we had a very French lunch at the flat of croissants and cheese before he headed back to finish his work day. I spent a couple of hours at the flat recuperating from the flight before Kevin came back and we headed out to dinner.
Our mornings would usually start with some sort of bread from Maison Eric Kayser . The one on the left is a cinnamon raisin roll with apricot jam. On the right is a croissant and 'pain au chocolat'.
Kevin made me a cup of coffee every morning. This wasn't unique to the anniversary trip- I'm lucky that he makes me a cup of coffee every weekend morning and vacation morning and has for eight years. I choose to believe this is because he is a very sweet guy and not because I'm cranky before I've had my coffee.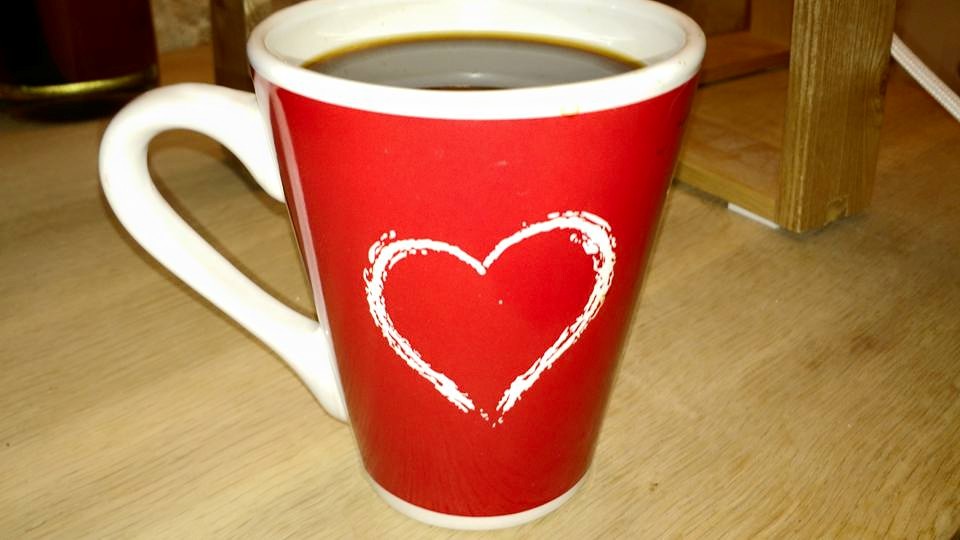 In the morning we'd go to Luxembourg Garden so I could go running and he could walk or read.
The French senate is located in the Luxembourg Palace in the garden. I looked up one day and saw what I have to assume was a Senator in the window. There he is on the phone talking about important things and wishing he was enjoying the beautiful weather in the garden.
I also saw my boss's Parisian twin while I was jogging. The resemblance was so uncanny I was expecting him to say hi. I took a couple of photos of him from afar before he realized there was a crazy jogger snapping photos of him and took another path. Here he is, jeans and a blazer to the left of the woman in the white sweater.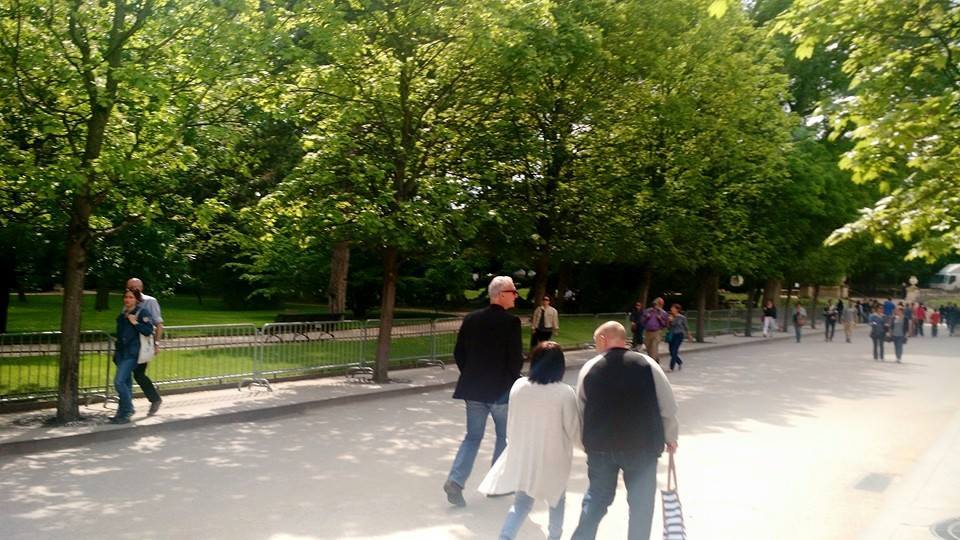 The garden was full of military police (because of the Senate) and statues. I didn't take any pictures of the police because I figured they might not like that but the statues obliged. Here's one. It's a statue wrapped in black rubber rings of some sort. I think they are going for a Maleficent sort of cloak.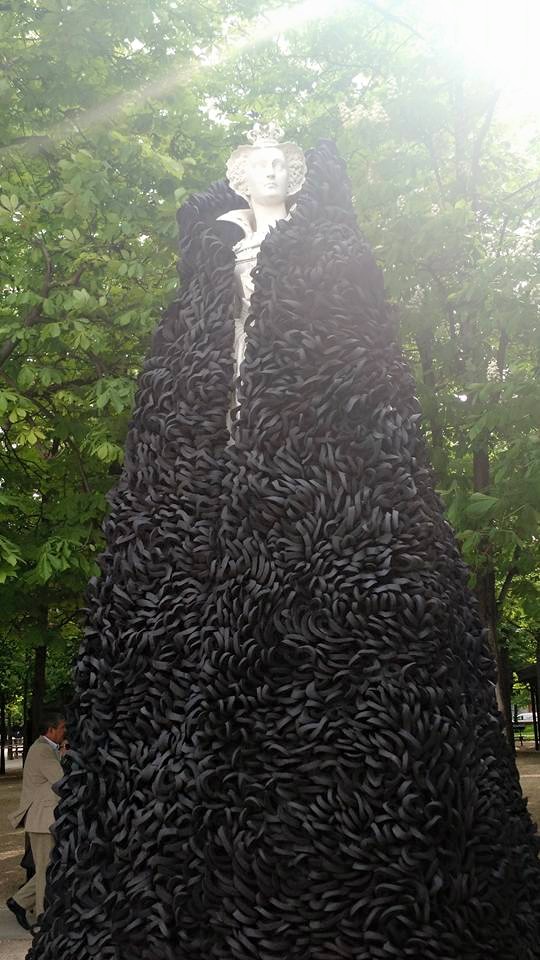 After a run in the garden. The shirt I'm wearing is from the Respoke department of my employer. I've begged the department for a hoodie but they tell me only people who develop a Respoke app get the honor of a hoodie, no exceptions not even for their lawyer. Maybe someday I'll earn that hoodie fair and square.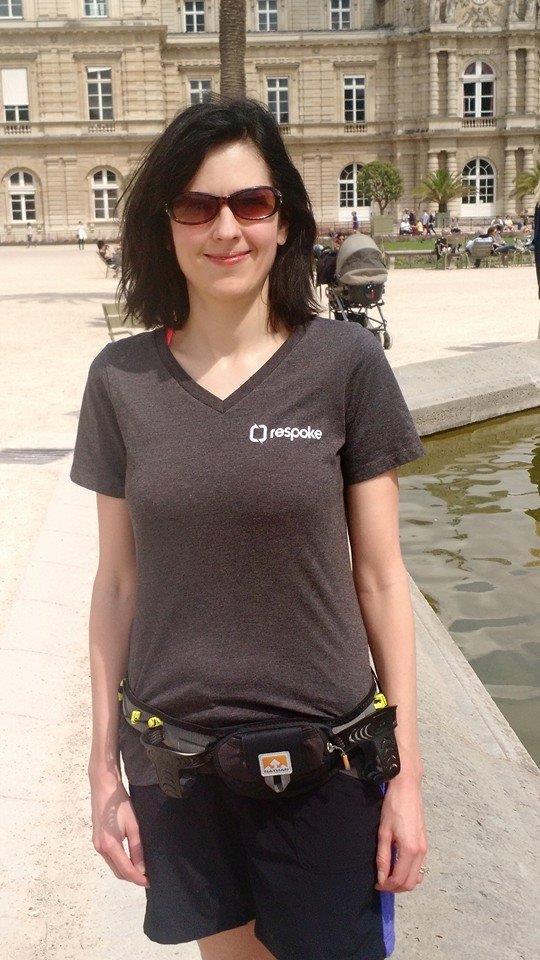 One of the days I was running I saw a guy who clearly had an injury and was trying to run at his usual pace. When I got closer I could hear him sucking air through his front teeth because he was in so much pain.  If he hadn't already killed his chances of competing in whatever he was training for he probably killed it that day.  If you are hurting so badly you're sucking air through your teeth don't run. Some more words of wisdom while we are on this topic- know what's serious for you and what's not. Don't run if your serious happens. I ran my first half marathon the day after my doctor told me he thought I'd fractured my ribs. I ran my first marathon knowing I was close to developing a stress fracture in my shin. But on this vacation all it took was a tiny twinge in my knee for me to scrap my 3 mile jog two days because I knew a tiny twinge there could be surgery serious if I wasn't careful. I was back to normal when I got home because I played it safe. I hope that guy who was sucking air is back to normal but doubt it.
After a quick shower we'd either go out and do whatever we'd planned to do for that day or grab lunch first and then go out. Lunch was usually sandwiches at this street cart. The guy leaning on his elbow behind the cart owned the store behind him. Here I'm Casper on top and mystic tan on the bottom. The shadow cast by that table made my legs a lot darker looking than my arms and face.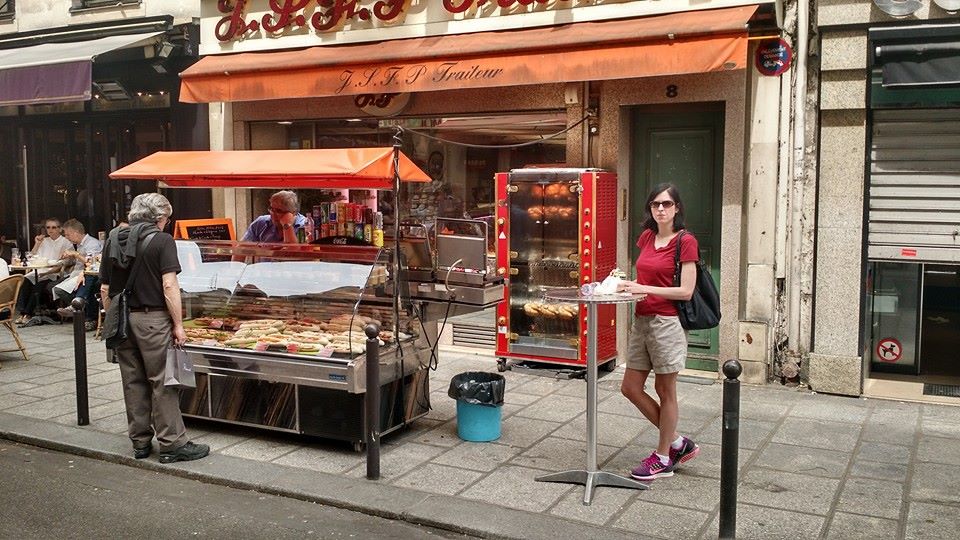 Eiffel Tower
We saw the Eiffel Tower because, as my coworker's wife said, "It is a hunk of metal that someone deemed romantic." Below is the romantic hunk of metal.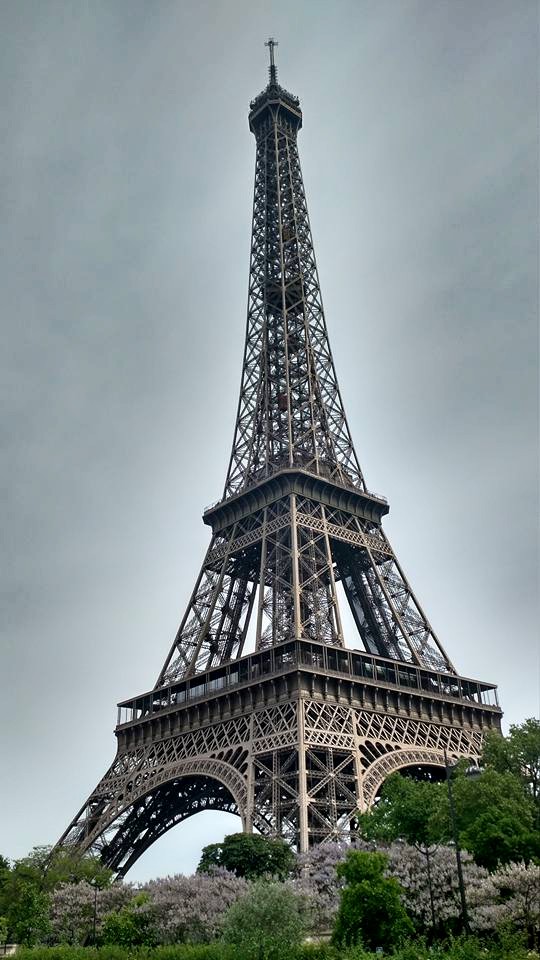 I also took a picture of the carousel next to the Eiffel Tower because that's where part of the Kim/Kanye wedding episode was filmed. But I am probably the only one who cares about that so I'll save the space and won't include the photo.
River Boat Tour of the Seine
After the Eiffel Tower we took a river boat tour of the Seine. Along some fences on the Seine people put "love locks". The weight of all those love locks has caused some sections of fences to collapse. That's a lotta love!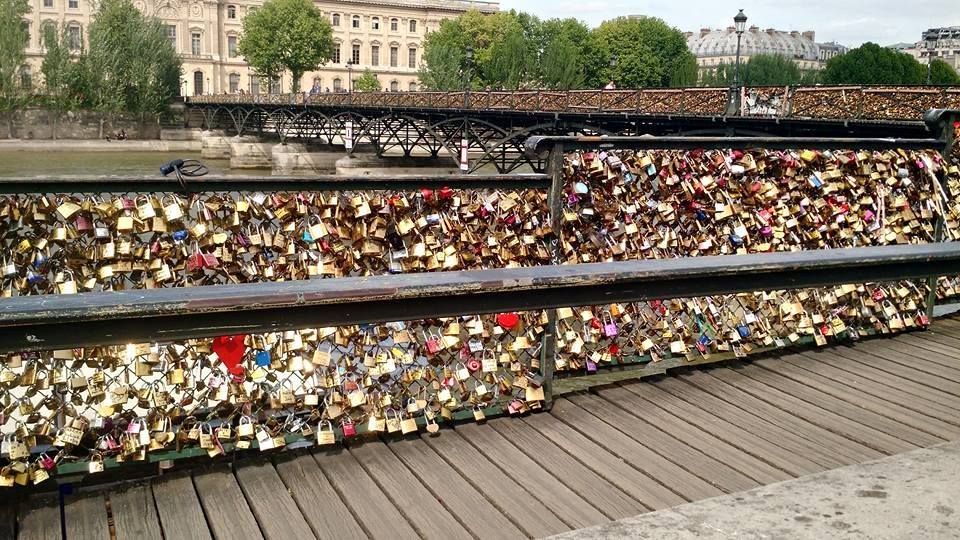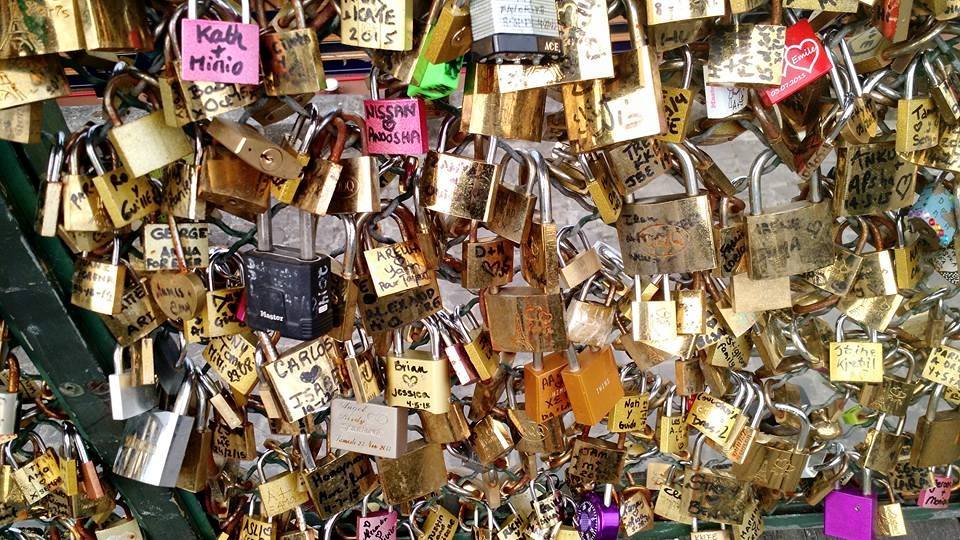 We passed the Notre Dame on the tour.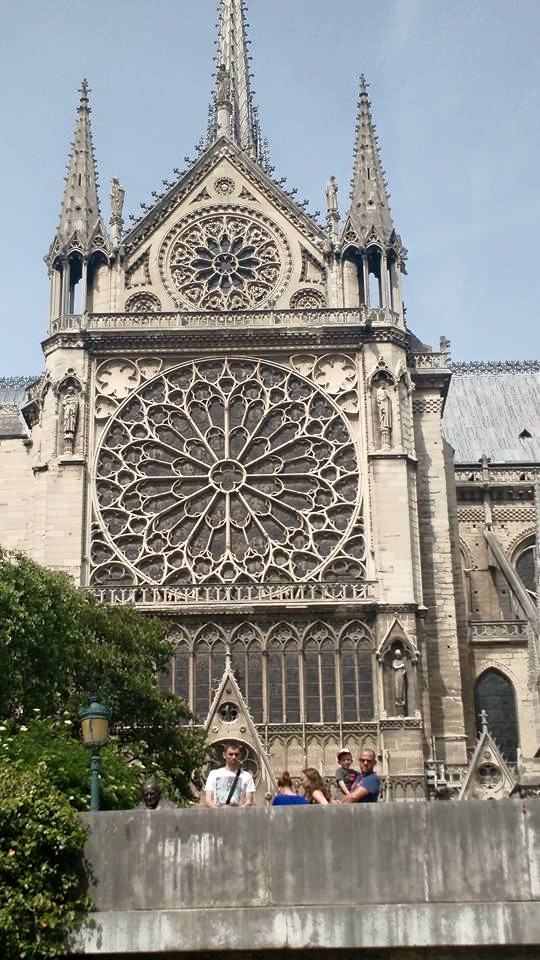 We also passed under the Place de l'Alma underpass. Princess Diana was killed here.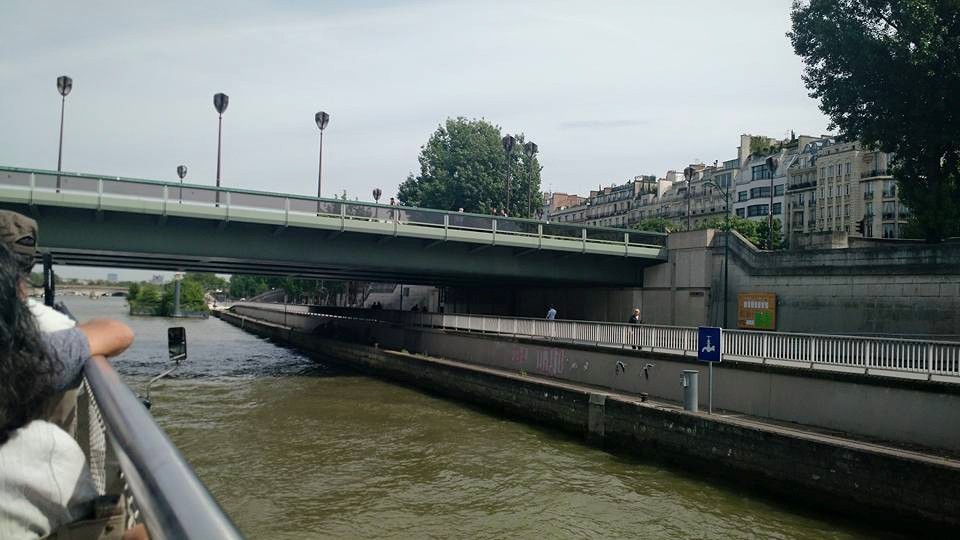 You may remember during my London trip I saw a bride in the subway. That was a little strange. Well, on this boat ride waaaay off in the distance I thought I saw a wedding dress shaped blob under a bridge. I thought about saying something to Kevin but thought naw no way was it a bride standing underneath the bridge. As we got closer I saw I'd been right. I see brides in strange places.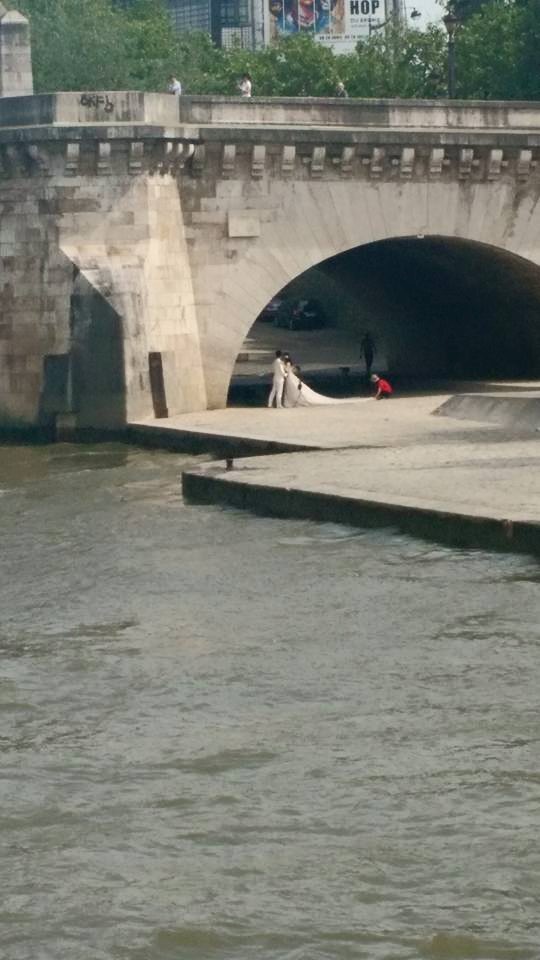 Tour of Palace of Versailles
We went on a tour of the Palace of Versailles. After our tour I asked Kevin if all of the gold looking stuff was brass and he said no, that was real gold gilt. Holy moly. There was so much gold I assumed it wasn't real.
Gates to the Palace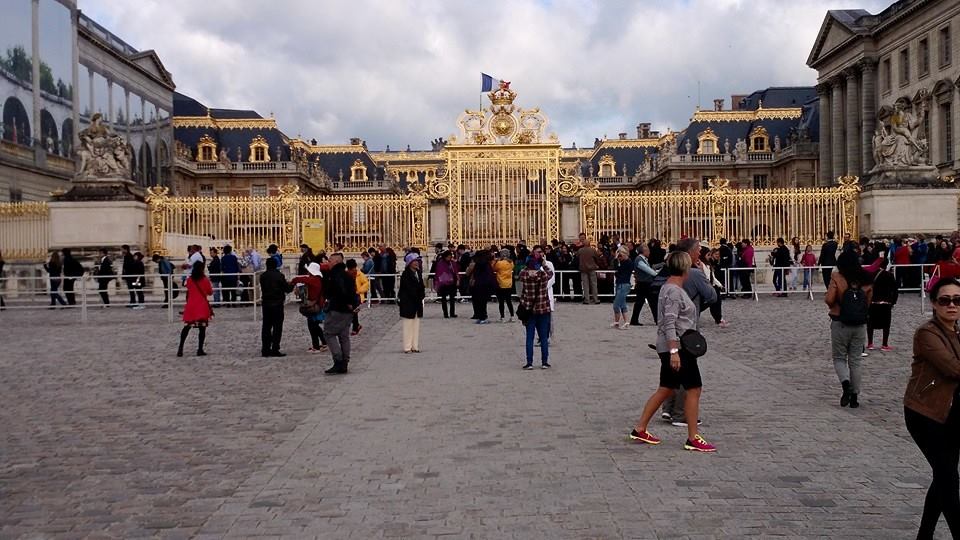 Marie-Antoinnete's bedroom.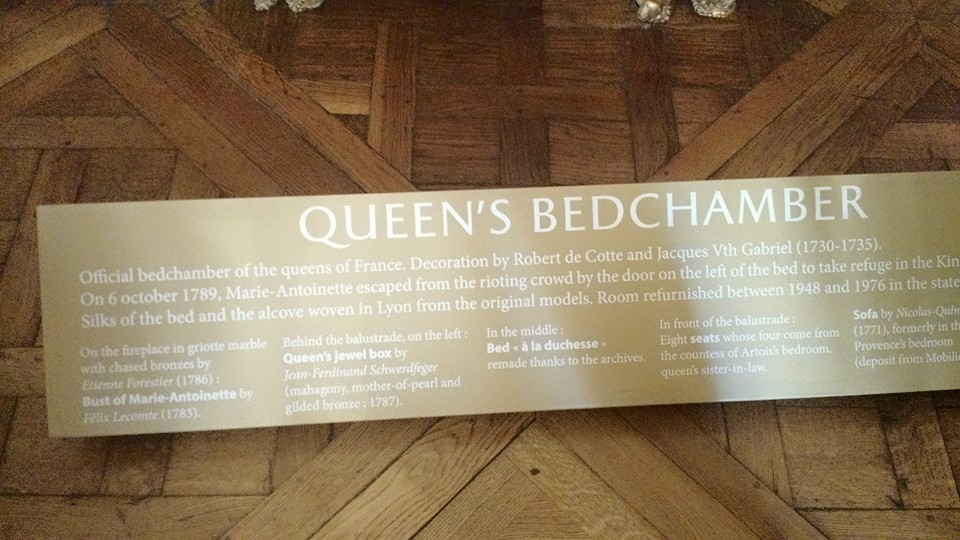 This is the door she ran through to try to escape.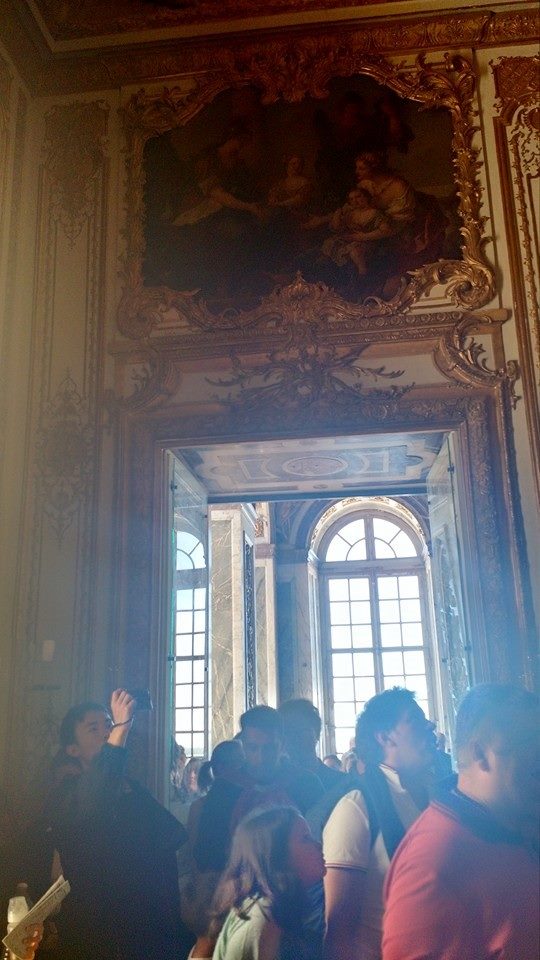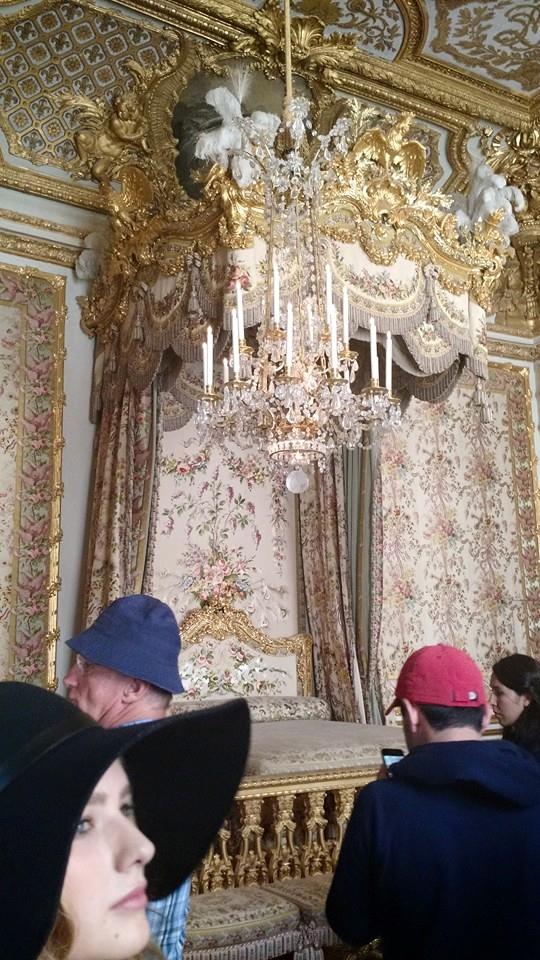 The Games Room of Louis XVI. The only room in the palace that has 100% of the original furniture and is exactly as it appeared- during the Revolution much of the furniture from the other rooms were stolen and had to be reproduced by what was in the archives. I believe some the furniture in this room was stolen, but was recovered.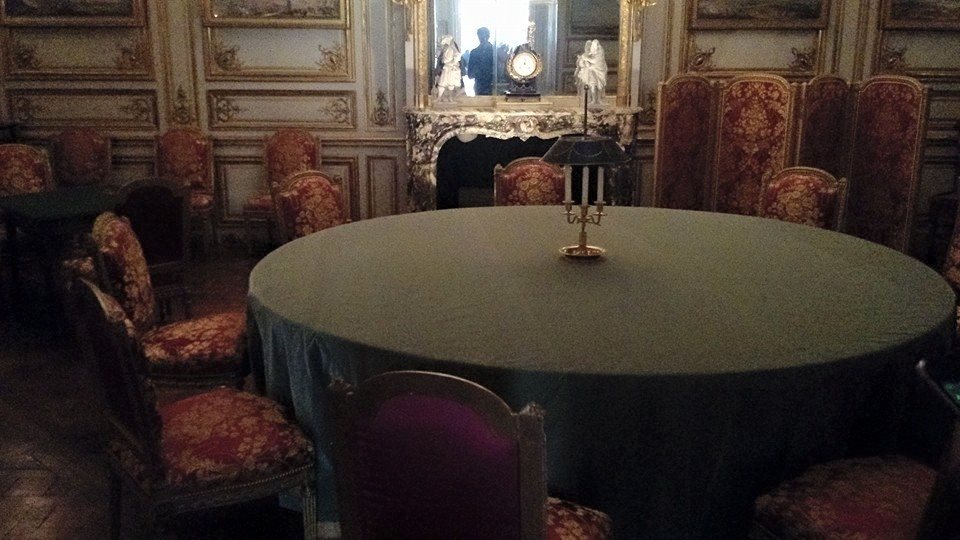 The first "roll top" desk. Located in the Interior Cabinet Room . Commissioned in 1760 by the King to keep his private papers out of sight. A quarter turn of the key would unlock the roll top part and all of the drawers.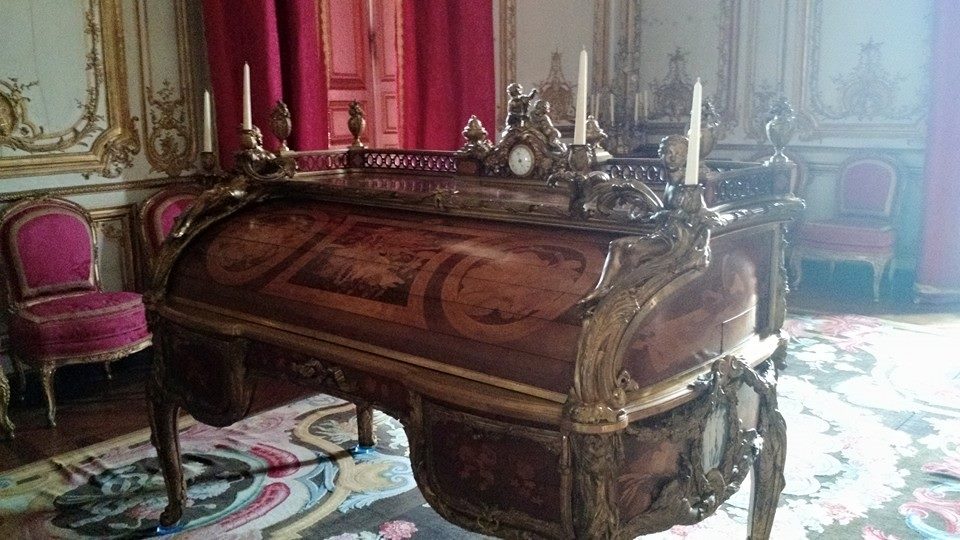 Picture an entire palace worth of this and you get an idea of what it was like. Bling, bling, bling. I have over 70 photos from the palace but this says it all right here.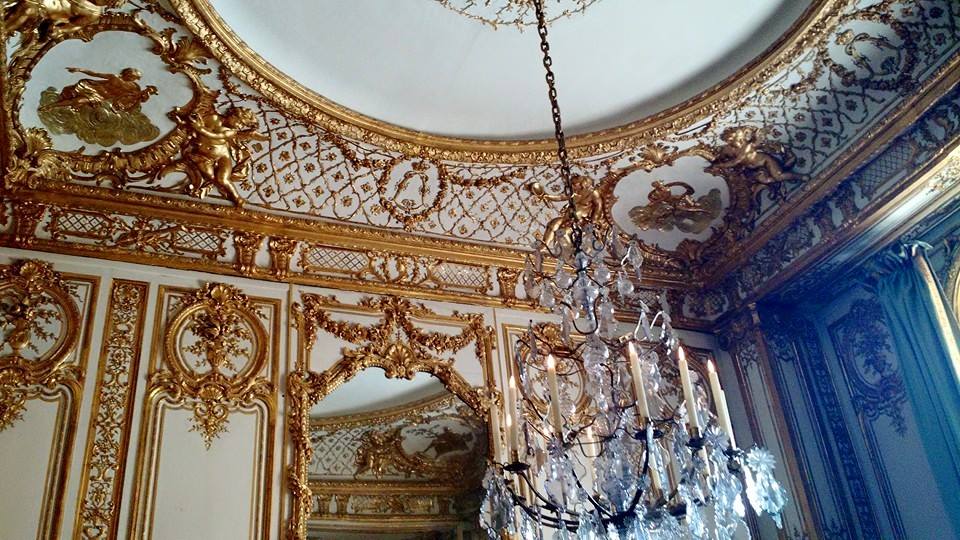 Notre Dame Cathedral
We also visited the Notre Dame Cathedral. We were glad to get in there because two homeless women were having a screaming match over a territory dispute. One women thought she had exclusive rights to the bridge and the other woman was not budging. The louder woman kept edging over to the crowd as if she was going to ask us to take sides.
Here's a few photos from inside.
I did notice the website said no photos but there were a ton of people taking photos inside right in front of employees, so I guess the website is outdated. I also noticed a few of the statues had writing on them which I was shocked to see. Maybe writing on the statues is some sort religious ritual? I have to believe it wasn't vandalism.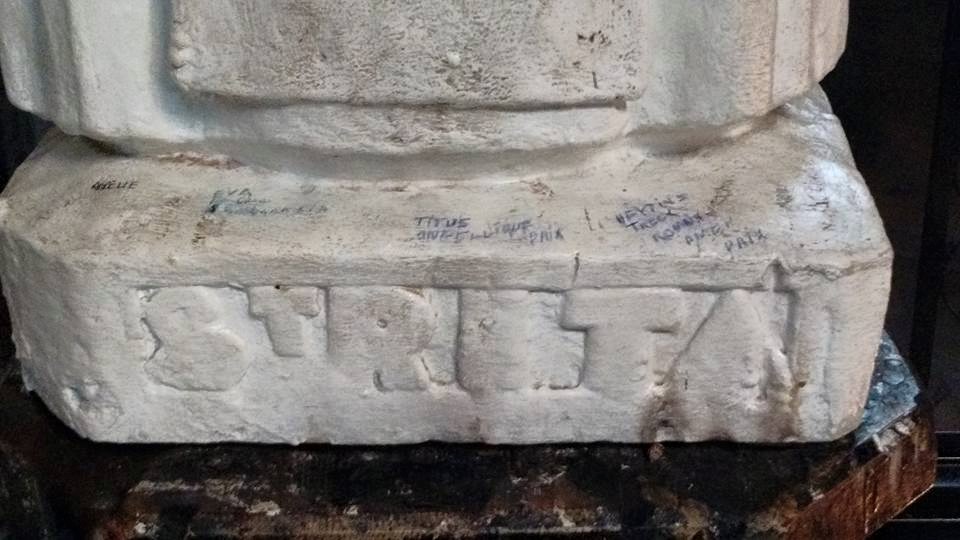 Père Lachaise Cemetery
We walked around  Père Lachaise Cemetery which is the oldest and largest cemetery in Paris. In hindsight we should have looked up the famous graves in advance and sought them out but instead we just wandered around.
If you look in the upper middle it looks like these two guys were divers.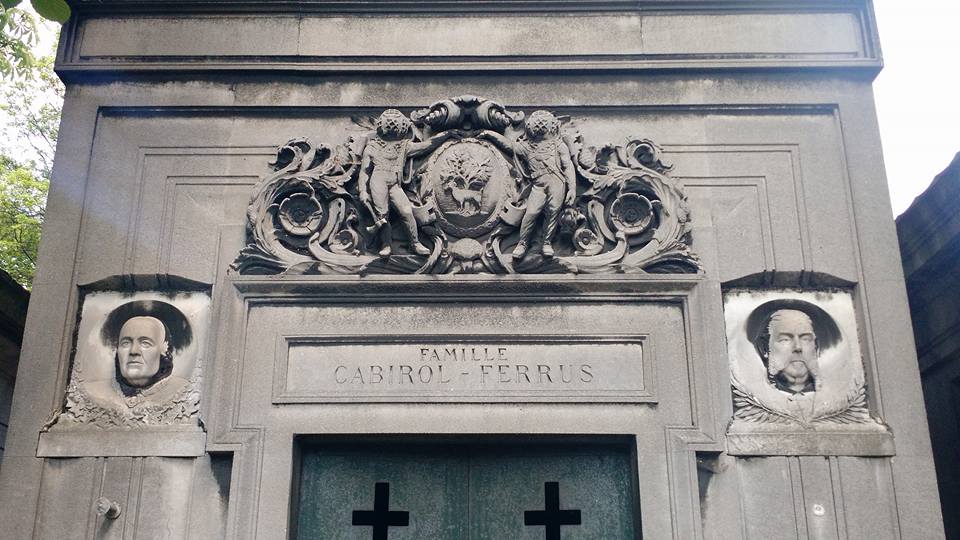 I took a photo of a famous grave by accident. I didn't share it my original album on Facebook because I didn't think it was interesting until I searched "Famous Graves Père Lachaise Cemetery" and it was #4. Then it became a whole lot more interesting. http://listverse.com/2011/10/27/top-10-fascinating-graves-in-pre-lachaise/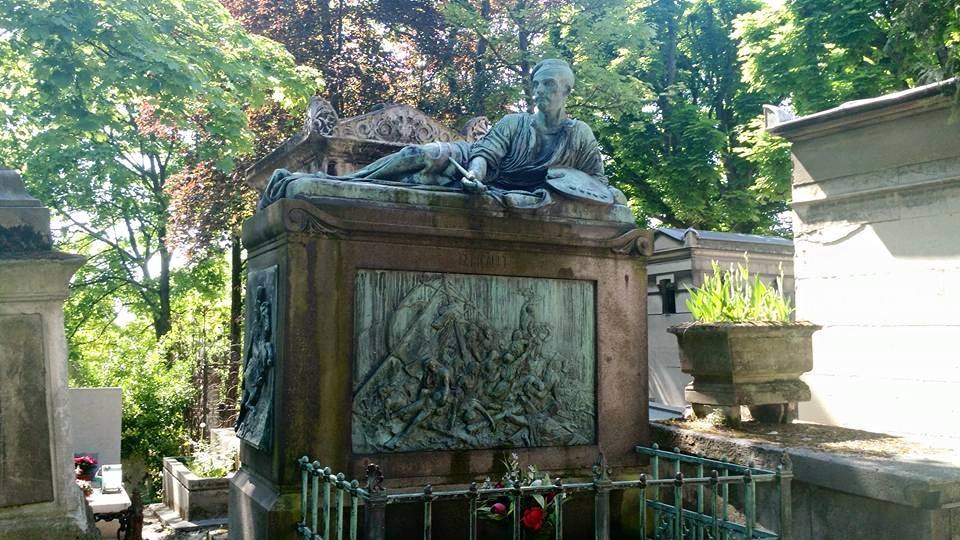 Musée de la Mode et du Textile
We opted out of going to the Louvre because we were tired of fighting crowds and knew we wouldn't be able to see the Mona Lisa up close since We are not Bey and Jay. Instead we went to the Musée de la Mode et du Textile .
This was Napoleon's throne!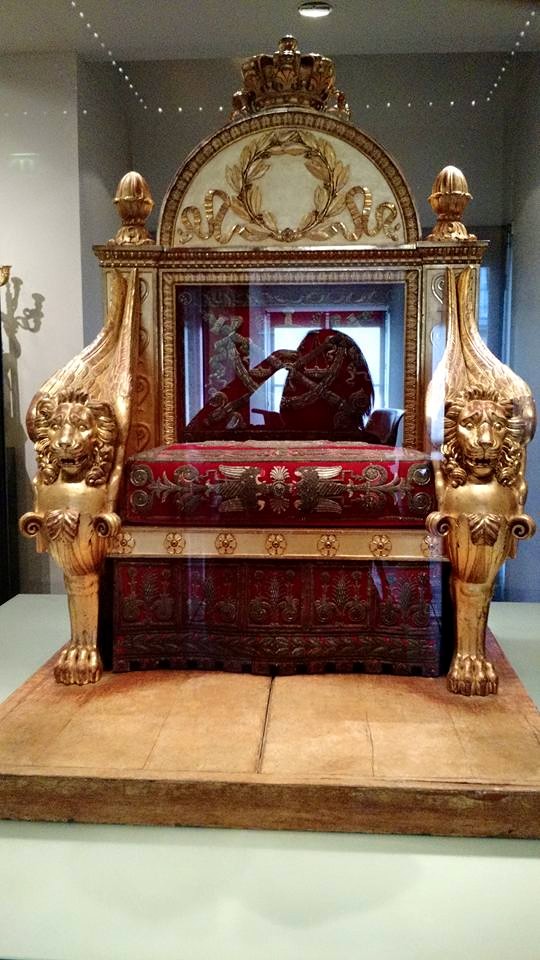 Tiny chairs for tiny people from hundreds of years ago.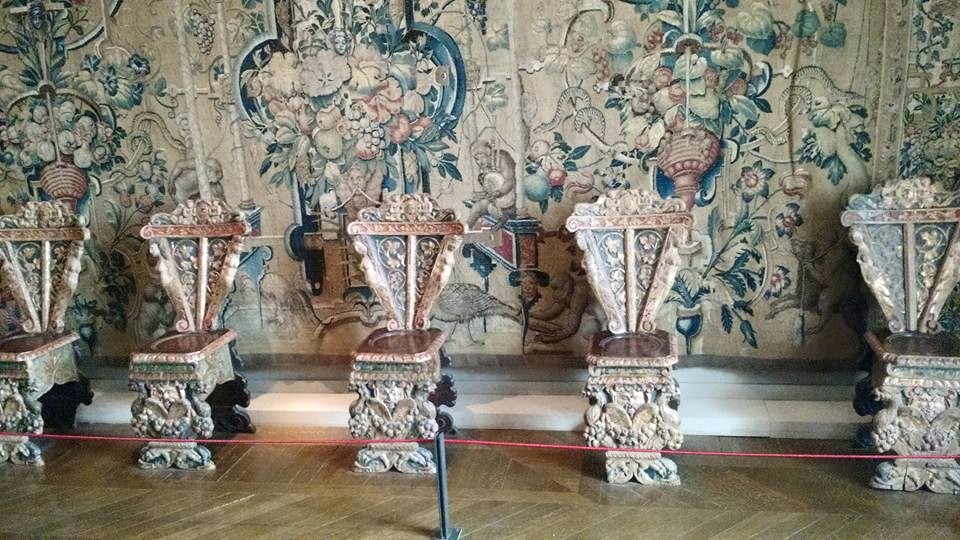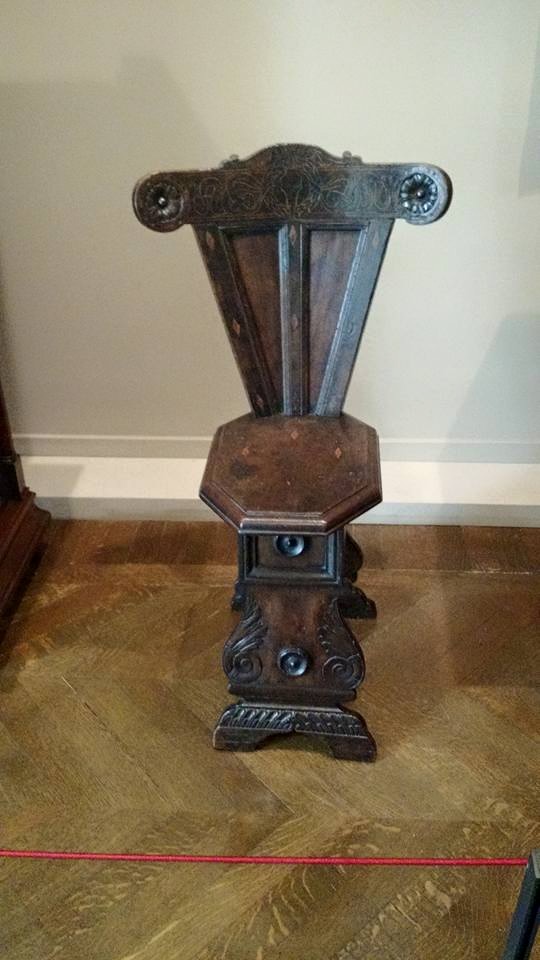 Even though we didn't go inside the Louvre we did stand outside it.
Dinner with Mark and Jessica
One of my coworkers was in Paris on the last leg of his honeymoon and we decided to meet up for dinner with him and his wife. We all made it into the photo!
Mark is also a former coworker of Kevin's since Kevin used to work for the same company that I do. It was really nice to see them and catch up. And have fabulous crepes.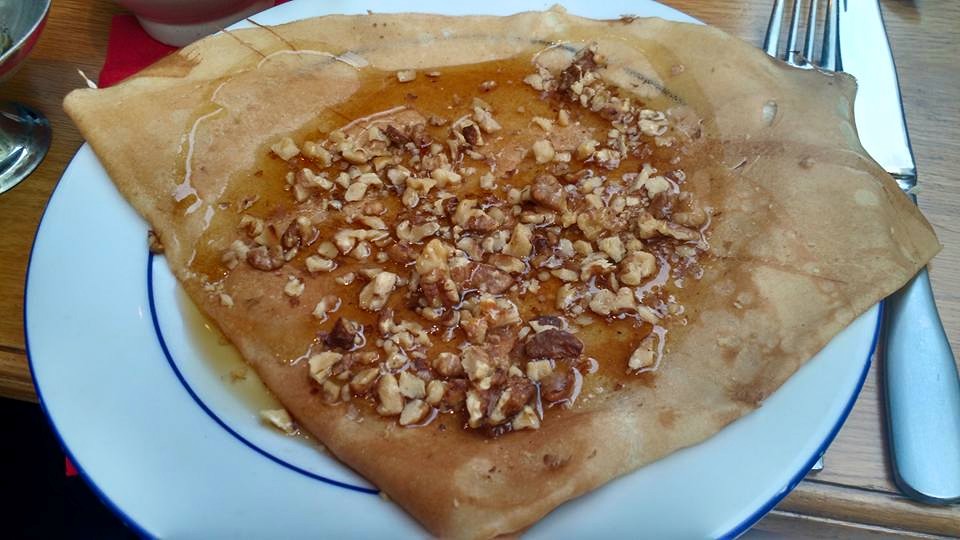 The day after dinner, on the day of our anniversary, we flew back home.
This flight was much better, mostly because of this guy.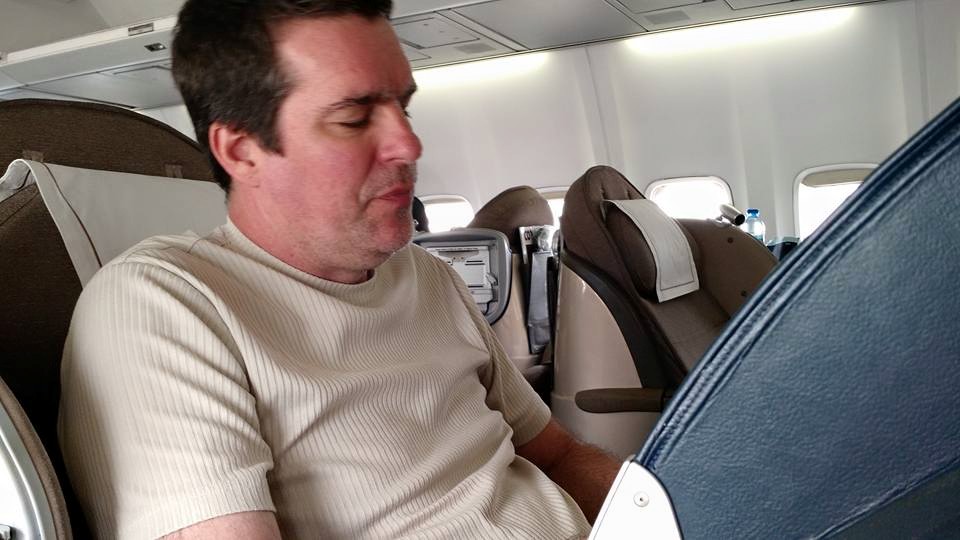 But a little bit because I got this first thing.
This was my first time flying backwards. I was seated facing Kevin who was facing forward. It was a little strange during take off and landing but during the flight it was cool to be able to watch the scenery slowly fade away instead of coming and going so quickly.
It was a little funny thinking of the contrast between this Paris trip and our wedding day seven years ago.  I was always way more concerned with the guy than with the white dress. We did check out a few possible wedding locations but having a big party wasn't as important to us as getting married was. After a year of not even setting a date (which wasn't as big of a deal as it sounds since we got engaged so fast) we finally decided over lunch one day to hit up Subway for a foot long and a six inch and then the courthouse. We got married over lunch, came back to work, and carried on. I remember having a contract negotiation conference call with a very large company afterwards and thinking "Gee, I just got married half an hour ago! I feel like I should maybe say something." But I couldn't figure out an appropriate way to say it. So I just finished the conference call. Kevin was in a similar situation and had an in person meeting with a few people after lunch. We let everyone know the next day. We later heard that our coworkers thought Kevin seemed like he was in a really good mood during the meeting! The people I had the contract call with heard later on I'd gotten married but I don't know that they ever found out I'd gotten married only half an hour before that call.
We got home with no issues and started back to work the next day. Great anniversary trip  :).