Last Thursday Kevin and I left for a week in Arizona to visit his mom, step-dad, dad, step-mom, sister, and a couple of friends.
We landed in Phoenix late in the morning. After two skirmishes with the rental car agency, one of which almost caused the contract lawyer in me to come out and play, we headed straight to Pork on a Fork to meet a friend of ours named Richard.
Richard offered a couple of options to meet for lunch but Pork on a Fork was the clear winner based on name alone, though en route I did spot the "E-Z 8 Motel Restaurant" which I would have suggested had I known it existed beforehand. I had noticed on Facebook that Richard had been saying for years now that he had a girlfriend but I had seen no photos of said girlfriend and conveniently she had to back out of lunch last minute for the second time. So I asked Richard if he had photos of his lady love on his phone. He did. I am happy Richard's girlfriend is real.
After lunch we headed to a hotel in Tucson so Kevin could crash for awhile and I shake out my travel legs in the gym. One of the benefits of Kevin traveling so much is he gets a lot of points we can use towards free nights in hotels and sky miles. I traveled on a companion certificate and the three nights we stayed in a hotel were free courtesy of the points. The treadmill in the gym was a slick one- one of those with mountain, track, or park scenes you could display on the monitor. There was also what looked kind of like a check engine light on the monitor so for the first time ever I clipped the safety clip to my shorts since I didn't know what was up. Kevin later pointed out the triangle shape was supposed to mirror the mountain and it wasn't an exclamation point in the middle but an arrow pointing up the mountain to show my progress. That is what waking up at airport 'o dark will do to you.
After a few hours in the hotel we met more friends for dinner. We'd planned to meet up at a seafood place but hadn't thought to make reservations ahead and with all of the high school graduation parties going on they told us it would be an hour wait. So we checked Yelp and went to a brand new place called Banh Mi Bistro. It was library quiet because it was so empty but the food was excellent! A couple of us ordered drinks with boba (tapioca pearls) in them. We were talking about the tapioca and how they're used in cooking to thicken when someone asked what's used in the south to thicken stews. The answer is okra but before I could say that our friend's son piped up with "Squirrels." Hahaha. I do not doubt this is true in some locations.
The next morning we drove to Strawberry to Kevin's mom's (Sharon aka Mom #2) and step-dad's (Rick) house. Sharon and Kevin's dad have been divorced and remarried to others for a very long time but get along really well.  Kevin's step-mom and mom get along so well they refer to themselves as sister wives. So when we visit AZ Sharon lets us, Kevin's dad and step-mom, and sister all crash at her place.  It saves on driving since she and Rick live in Strawberry, his dad and step-mom live in Tucson, and his sister (Kelly) lives in Phoenix. We stayed there four nights. It is a real shame I didn't take more pictures when I was out running. Strawberry is a cute little mountain town and as you can guess it is Strawberry themed. It's also relatively cool. It actually had a dusting of snow there the week before we arrived!!
A couple of lively games of Mexican dominoes were played. This is what happens when I ask the family to act normal while I take a photo. Mom #2 is closest to the camera, moving clock wise is Kevin, Kevin's dad Marti just peeking out from behind Kevin, Kelly, and Kevin's step-mom Nancy. Rick was in the living room hanging out with me. I think it was during this game that Sharon asked Marti if he remembered what happened 50 years ago that day. It would have been their golden (50th) wedding anniversary! Hahaha. Love my AZ family. We all went to dinner together to a place called Tiny's Family Restaurant that night and thought about asking for a discount since it was their golden wedding anniversary and they were married, but since they were married to other people we figured it wouldn't fly.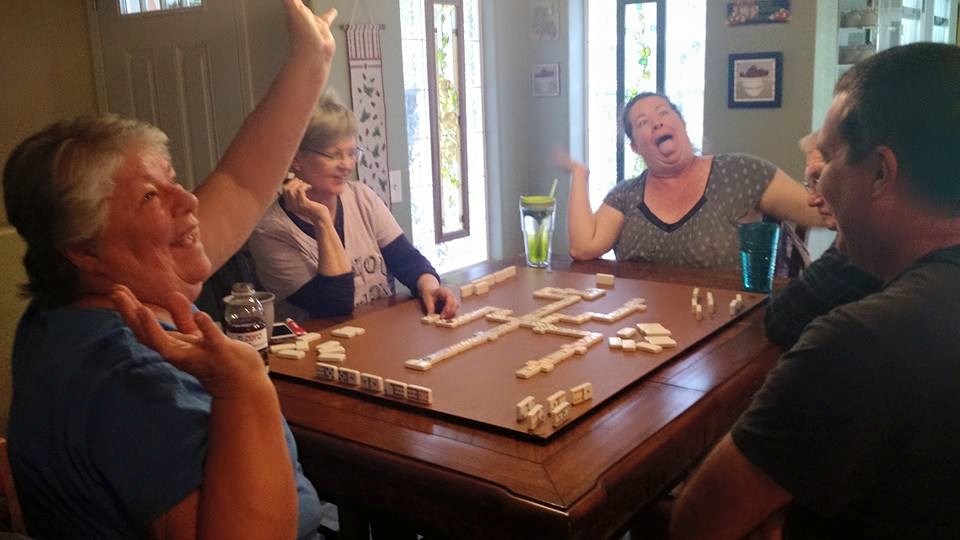 All of us went to Tonto National Bridge State Park where some of us hiked a lot and some of us talked a lot. Okay, okay- it was the sister wives and I talking a lot.
That night Nancy, Sharon, Kelly, and I had at an home spa night. Nancy has more kinds of face masks than you can shake a stick at and Kelly had brought a hand treatment from Bath & Body works. I do have a photo of the four of us in our respective tightening, moisturizing, and pore purging masks but I shall refrain from posting the photo without permission from the other ladies since the masks caused some of us to look like bad plastic surgery victims and others to look a little like Jason from Friday the 13th. We were lovely when the masks came off though.
UPDATE: The ladies have given me permission to share so here we are! Left to right: Kelly, Mom #2, Nancy, and I.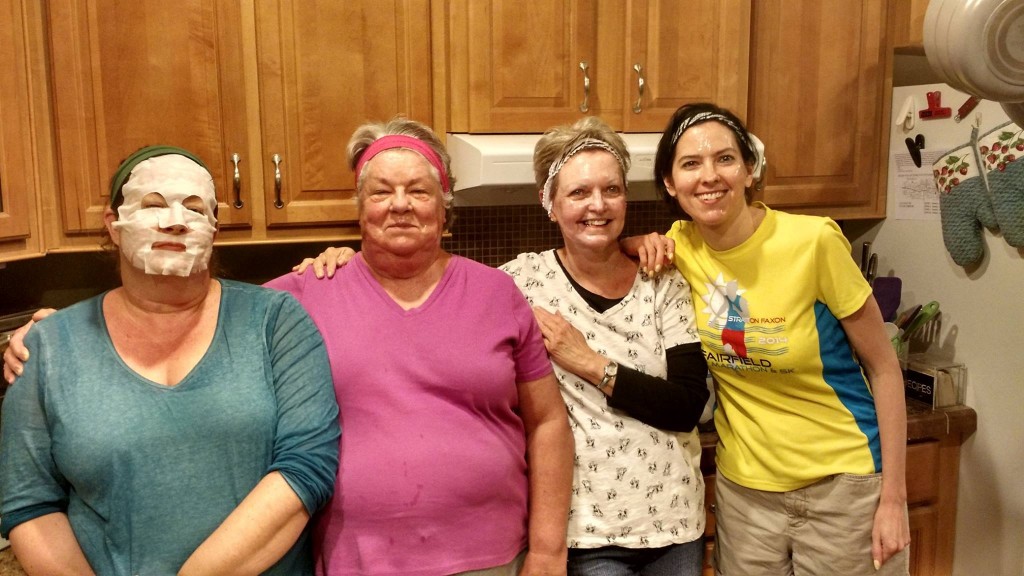 The next day Kevin, Kelly, and I made the two hour drive to the Grand Canyon. Nancy had put together an egg breakfast casserole the night before but the next morning her stomach was off. When Kelly offered her a piece Nancy described it as "a plate of quivering SpongeBob Square Pants" coming at her. Rick was also not feeling so hot and Marti and Sharon were a little sore from the hike the day before so they stayed home.
But before we talk about the Grand Canyon, let's talk about these!! I found them in a restaurant we stopped at for lunch on the way.  I should have bought some.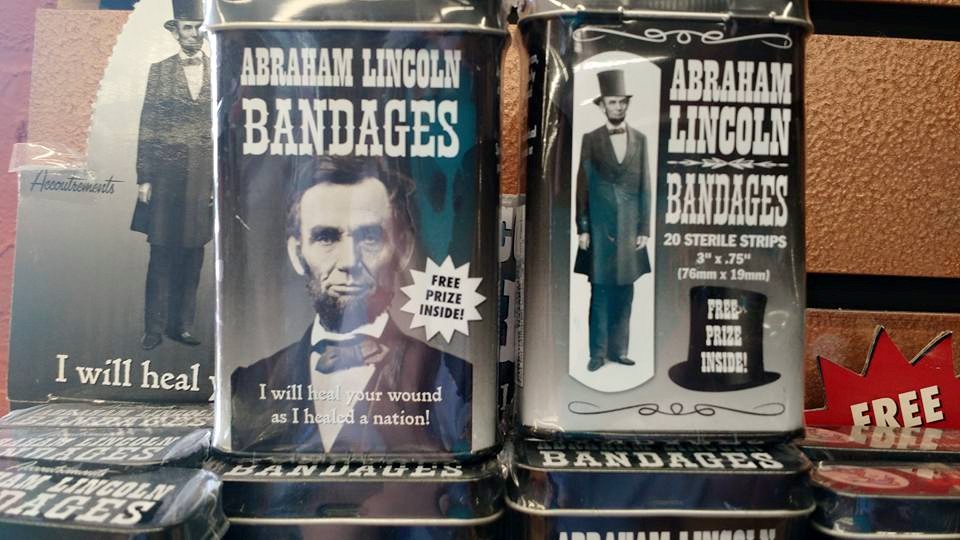 When we got the Grand Canyon we split up because the hike the day before combined with foot surgery a few months back meant Kelly had to take it easy. She went sight seeing and Kevin and I did a bit of a hike. Pictures can't do it justice. The brief movie we saw about it said the Grand Canyon deepens by about the width of a piece of paper every day.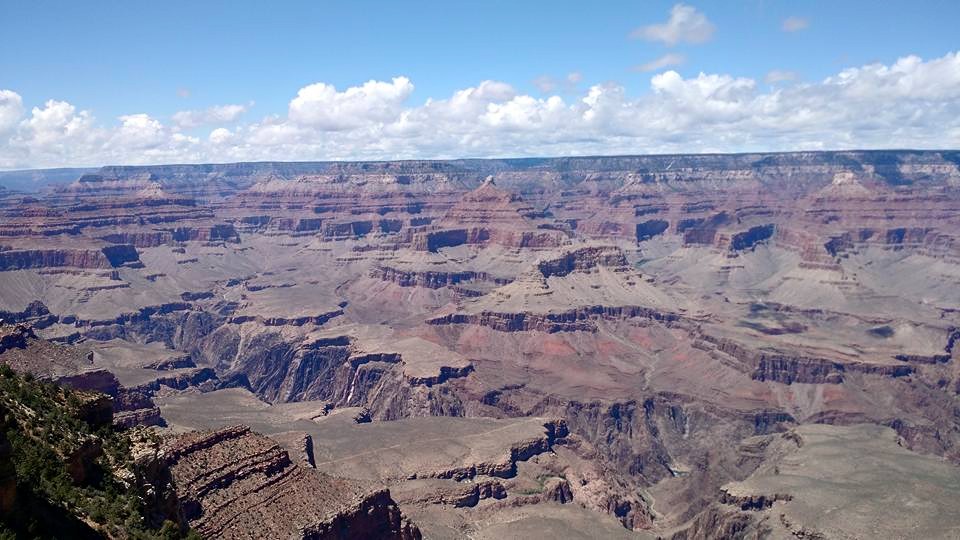 While we were off enjoying the sights Sharon's toilet gave up the ghost and a plumber had to come out. With Rick not feeling well Marti stepped up to bat and went out to pick up and help install the new toilet. This will be a really funny story to look back on once it's farther in our rear view mirrors.
The next day Marti and Nancy left to go home to Tucson and drop off Kelly in Phoenix along the way. Kevin and I left a bit later to head to Tucson for the rest of our trip. After we checked into the hotel we headed out to Marti and Nancy's place and then to dinner at a Mexican place.
At the Mexican place we noticed the gentleman sitting at the table behind us had three empty margarita glasses on the table and kept drinking throughout his dinner. He was one loud guy. I was sitting at our table minding my own beeswax and talking to the family when I felt a tap on my shoulder and an "excuse me."
It was drunk dude.  He was very interested in the shirt I was wearing. It was a ThoughtWorks shirt. ThoughtWorks is a tech company in NYC. Drunk dude told me he wanted me to stand up so he "get a good look at the bottom of the back of my t-shirt." What. He said he thought his wife would want the t-shirt because of the quote on the back "Well behaved women seldom make history." I refused to stand up for drunk dude and told him there was nothing more to see. Kevin told him good luck in getting the shirt since it was made by an NYC tech company but mostly he was just sitting back being entertained by this.  I ignored drunk dude and eventually he got the hint and wandered off.
After we left we went to Cold Stone Creamery. When we were walking out Nancy noticed a sand colored jeep parked outside the front door and made a comment about what a cool looking jeep it was and how it reminded her of a military vehicle (Humvee.) We kept walking towards our car and heard a "Hey, are you talking about that jeep?" We turned around to see a tough looking kid in his 20's leaning against a truck with a girl two spaces across from the jeep. Nancy said yes. He said he was a veteran who had been stationed in Afghanistan and he talked awhile about how he bought the jeep for the exact reason she mentioned, it reminded him of his service there. Nancy asked if she could give him a hug. He said "If you want" and up went Nancy to give him a big hug and a "Thank you for your service honey." It was a very touching moment to watch!
The next day was our last day visiting the family. I woke up to my stomach rocking and rolling. Whatever Nancy had caught up to me. Since it was our last day to visit everybody I soldiered on and didn't say anything. I didn't want to be stuck at the hotel or the house while everybody else was out and about. Even though the house is a fun place to stay at because Nancy decorates it with her targets from shooting practice. I would not mess with her particularly before she has had her coffee.  And definitely keep the garage door closed.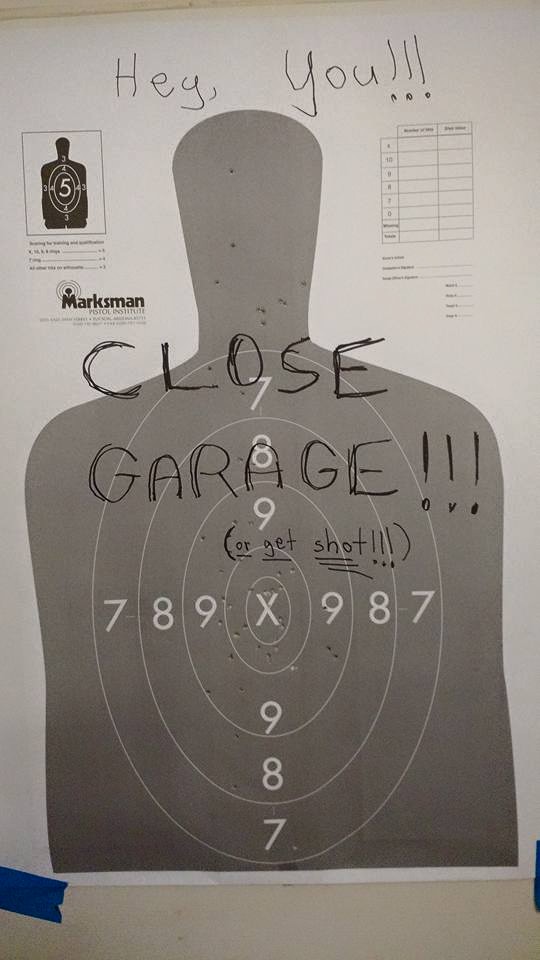 I'm glad I went out because I got to see some very cool artwork at a couple of galleries that day.
The next morning Kevin and I flew home. My stomach was still a little bit rough but fortunately they did not serve lunch on that flight. I think the smell of all of those chicken or pastas probably would have pushed me over the edge. They just served things like snack packs with crackers and cheese without much of a scent.  I was completely fine by the time yesterday rolled around so it must have been a 48 hour bug.
And finally….what we have been leading up to for months.  Last weekend I cashed in on the bet and my coworker Stephen had to run in a tutu because I beat his half marathon time. He was a far better loser than I probably would have been. Stephen and his wife even attired their son and baby girl in tutus! His son had a shirt that said "If my dad can wear a tutu so can I" and his little girl's said "Daddy stole my tutu." Super cute.  The tutu even made al.com.  I'll close this blog by leaving you with these images in your head. Don't you want to see this ballet?