On Friday night Kevin and I left for our first kayaking trip since we moved from Alabama.
We went to the Catskills Mountains to kayak a portion of the Delaware River. Do you know what movie was filmed in the Catskills?
I'll give you a hint.
"Nobody puts Baby in the corner!"
Yep, Dirty Dancing!
I thought the Catskills were only 2 hours away, but it turned out they were 4. It took nearly 5 and 1/2 hours to get there between the traffic we hit and stopping for dinner at the Americana Diner & Restaurant.
We didn't arrive until ten pm that night and crept up on our neighbor's lawn wondering why there were people in our cabin before we realized it wasn't actually ours.
Early the next morning we heard a loud cursing commotion a few doors down that continued all that day and into the night. It sounded like a bunch of young guys had rented a cabin just to party and after hearing a few drunk and loud rounds of "For He's a Jolly Good Fellow" I began to think it was a Bachelor Party weekend.
Here's the view from our backdoor. It was SO nice to have a green backyard! Not including friends/family the three things I miss most about living in Alabama are: Papa Gyro's, Newk's, and a grassy backyard. Our backyard in NY is nearly all cement. I miss seeing green when I look out back 🙁 .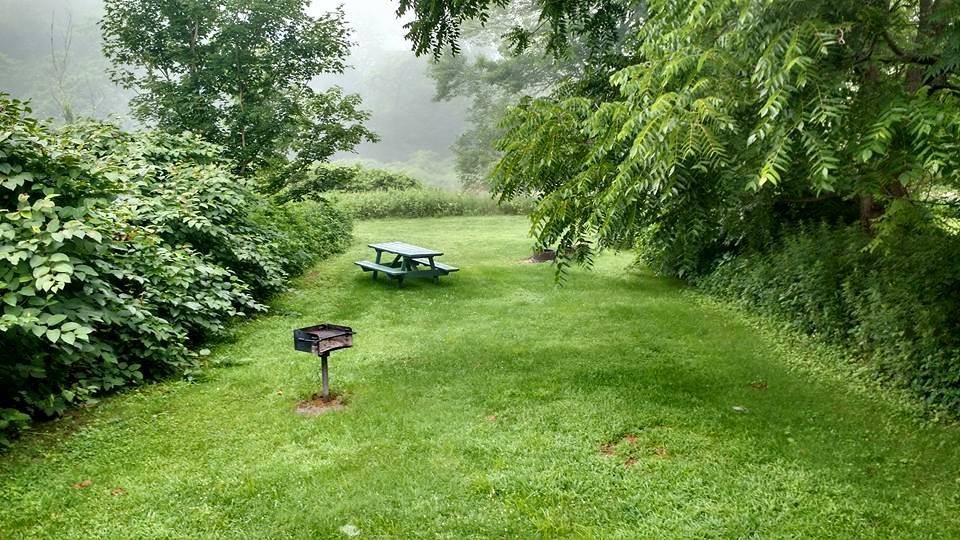 Our cabin was the Unami Cabin. Not to be confused with Umami.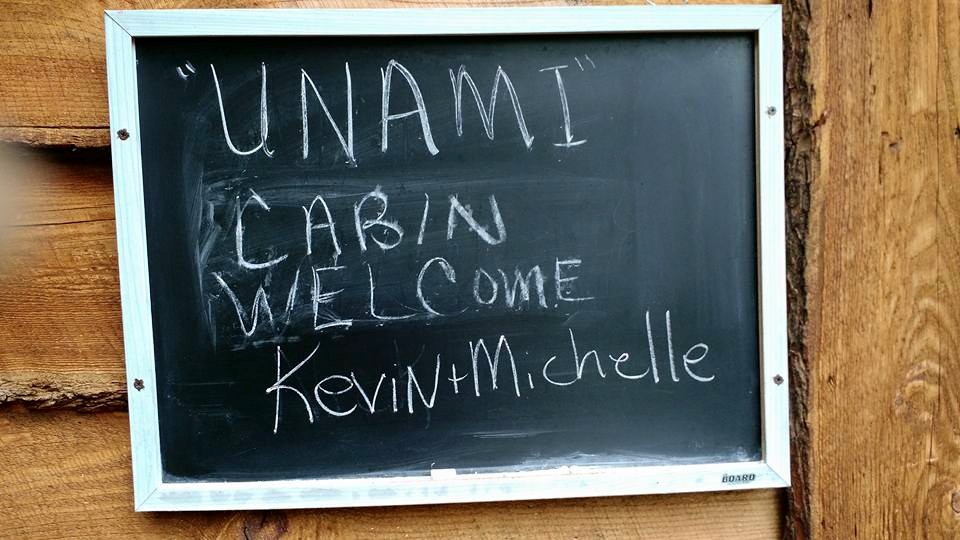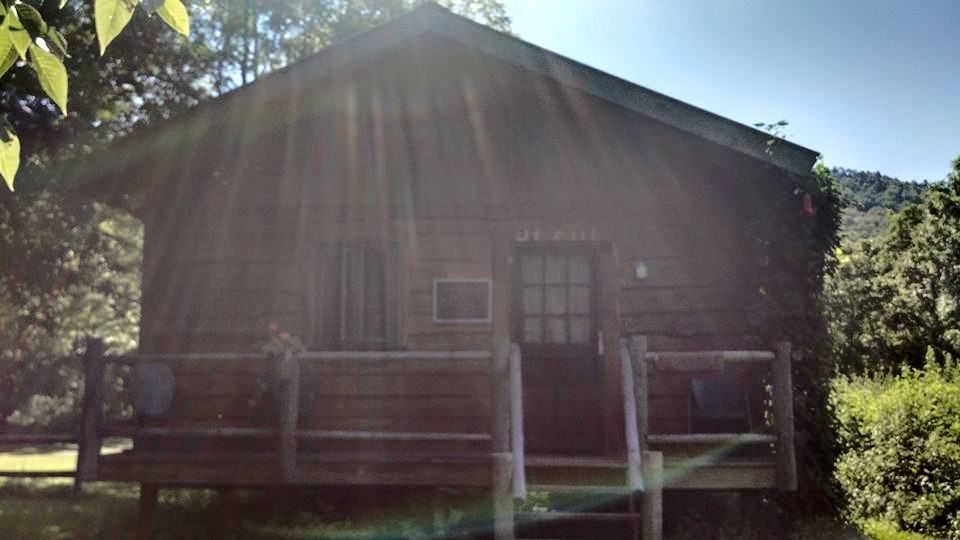 After breakfast Kevin drove our car up to the take out point so it would be ready for us when we got done and got a ride back from the owner of our cabin.
Kevin told me I should go for a quick run while he was gone. I told him I was going to use MapMyRun to find my way back until he clued me in that there was NO cell service in the mountains. You know me- with my sense of direction going for a run in the mountains with no means of finding my way back or calling someone was a bad idea.
So of course I immediately laced up my sneakers and hit the roads.
The path out was full of big loose stones. I stumbled on one and twisted my ankle a bit but it seems to be okay. This reminds me- if you are around a group of runners and hear anyone talk about "rolling a joint" it does not mean what you think it means. It means somebody stepped on something and rolled his or her ankle.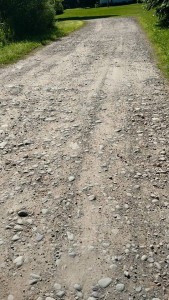 It was gorgeous despite the tricky running surface.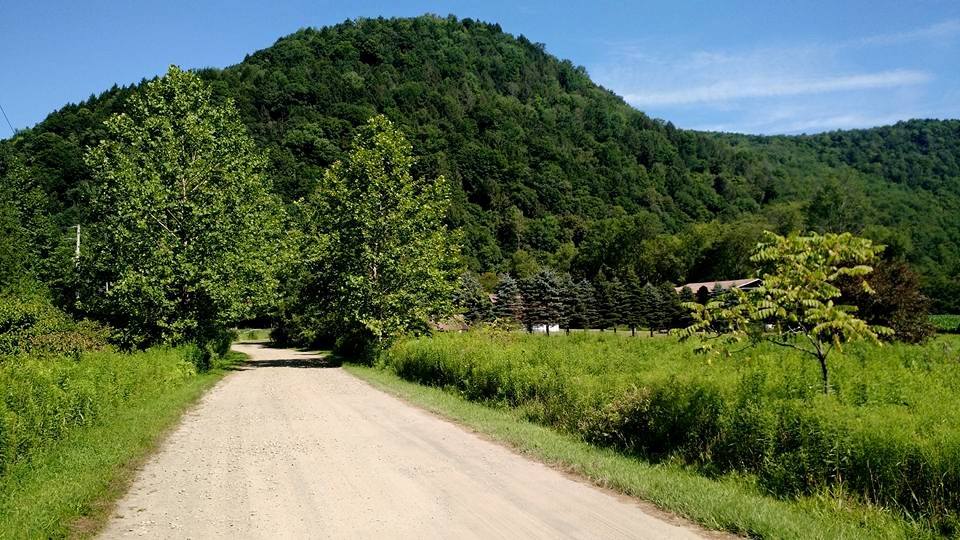 I ran up a path into the forest and passed by a pretty wooded cemetery.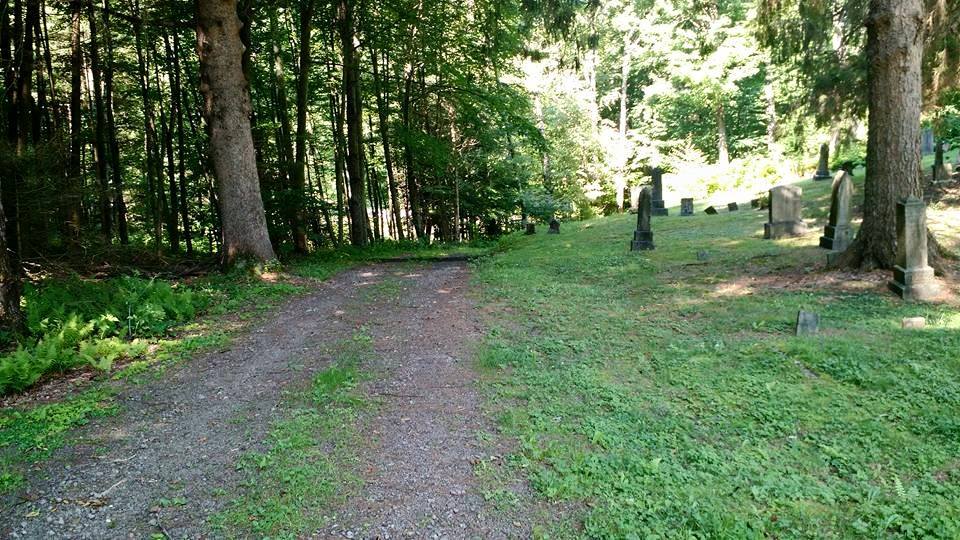 I did not run up Hooha Hill. But only because I didn't see it until the next day.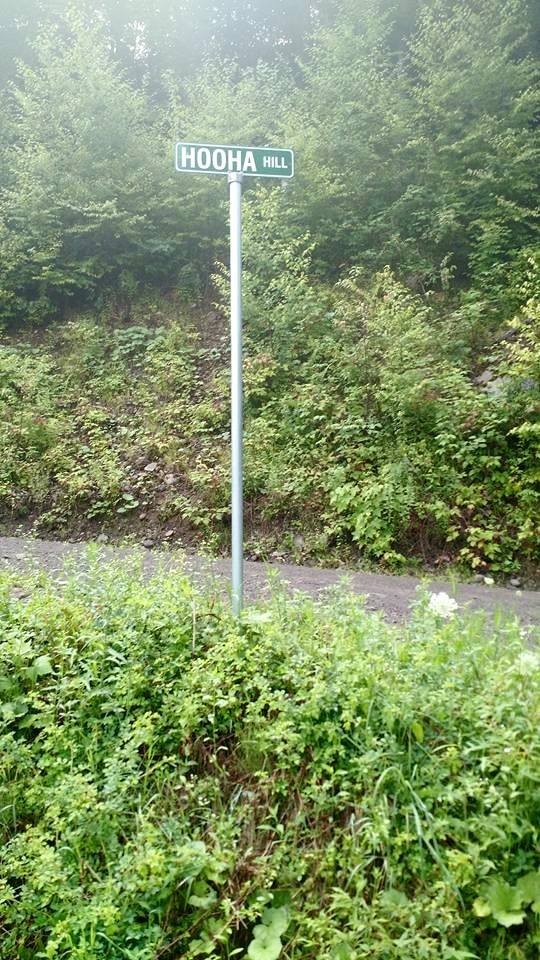 I have a weird story from my run that morning.
A car was driving really slowly in front of me and at a couple of points it would stop until I'd nearly caught up to it and then start creeping along again.
I stopped once to take a random picture of a water tower just to see if the car stopped again and it did. I was beginning to get weirded out so I aimed my phone at the license plate to take a picture. I wanted to let the weirdo know I was onto him and was not having it. When he saw me aim my phone at his license plate he zoomed off and did not return. Usually when cars slow down next to me they stop to ask directions or they roll down the window to give me encouragement while I'm running. This guy did not stop to say anything. Weird.
While I was running Kevin and the cabin owner came back so we loaded up on the bug spray and sunscreen (unfortunately I missed one spot and put the sprays on in the wrong order in another spot which resulted in great sunburns I'll show you later.) Then we carried Blue Hornet to the put in point and off we went. Here's a photo of the Blue Hornet loaded on our car for the trip home.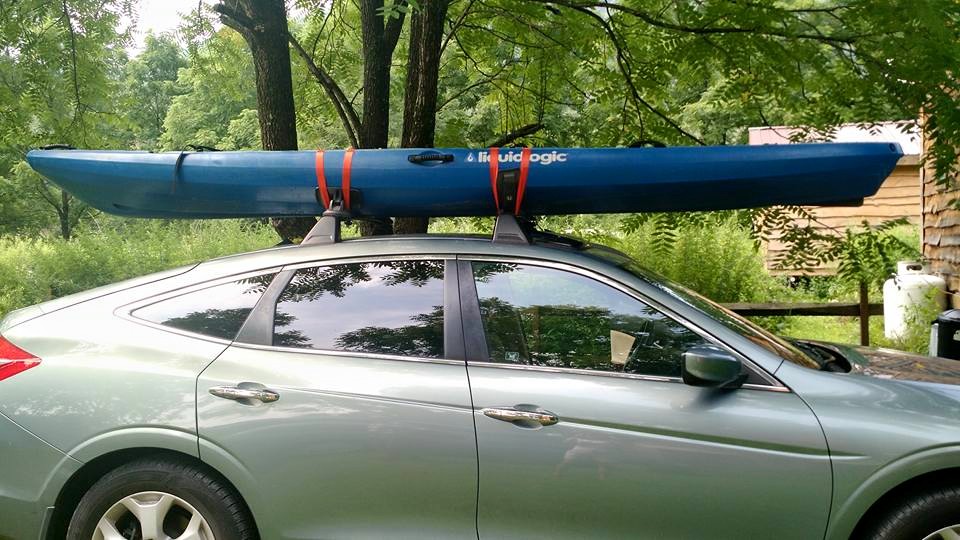 I call it the Blue Hornet because sometimes when we're driving fast the straps that hold down the kayak make a buzzing noise like a wasp. The Blue Hornet is a 70 pound three person kayak. It's been nearly three years since we took it out so it took all I had to help heft that thing onto the roof.
In Alabama I had no problem lifting it because we took out it so often. I had some guns that disappeared once the kayaking trips stopped. A funny story goes with the caption on this picture. My employer has a gym and I helped the guys who manage the gym write the gym waiver. I suggested they put this picture on the gym wall to inspire people.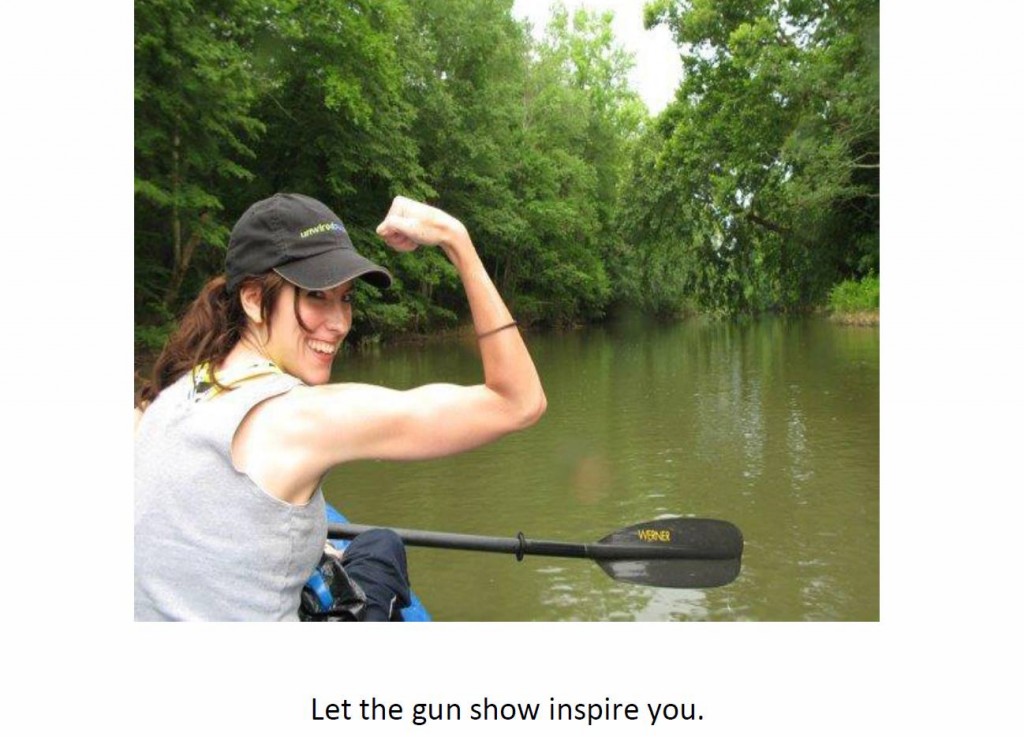 My coworkers then one-upped me.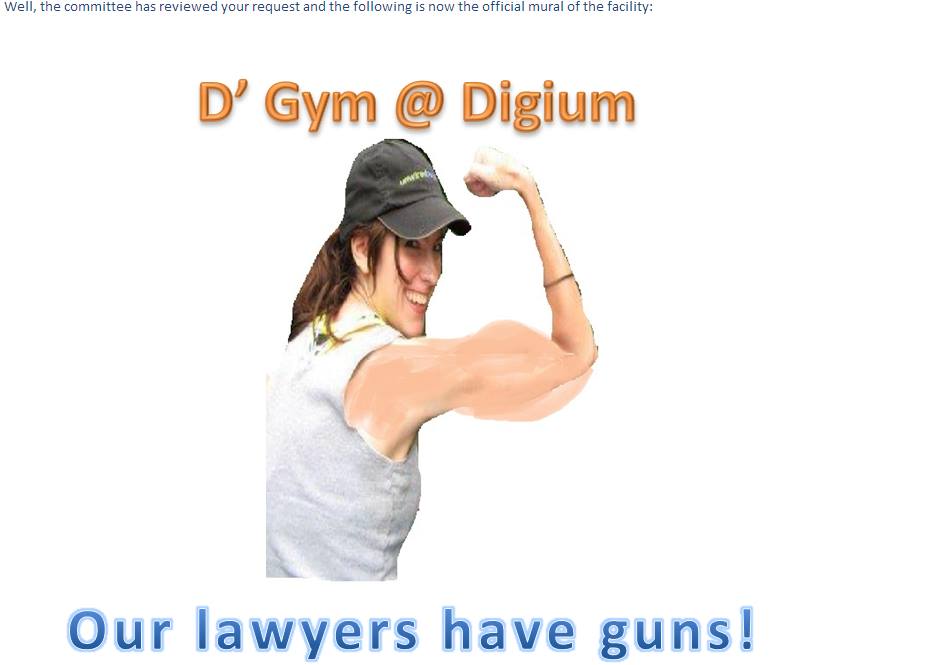 Back to our trip- we got the kayak into the water and off we went. The water was really cold so swimming was out.  A dam feeds that branch of the Delaware River. The dam had just been emptied and I found out an interesting factoid. Dam water is cold. Damn cold. It was 50 degrees. The current was moving pretty fast too so any heat was quickly whisked away.
We expected it to be a 6-hour trip, which was ambitious for our kayaking comeback.  But with the current we barely had to do any paddling at all, it was probably going around 3 miles per hour for the first three hours.
It took us awhile to find a spot that we could pull off at and have lunch. Either what we thought were islands were actually thick patches of weeds or it was private property. We finally found a place to pull over around 2 pm and had the cheese, Triscuits, and turkey pepperoni we packed.  I wish I had pictures for you guys of the kayaking trip but I didn't want to risk my phone getting wet so I left it behind.
After lunch we got back on the water. At that point the river widened and the current slowed so we had to start paddling. Forty minutes later we saw an older guy and a younger guy in a canoe capsize. I think alcohol was probably involved and that helped the older guy cope with the cold at first but after a long time floundering in the water he sounded like the cold was really getting to him. Fortunately they righted the canoe and got back in and around this time Kevin said, "There's our take out point!"
We underestimated the trip by two hours. This was not a bad thing :).
Good thing too because the take out point was a lot steeper than Kevin originally thought it was. It was probably around a 15-foot drop. It was so steep we had to crawl up on all fours. I'm sure we were quite the picture. We carried up our cooler and waterproof box that way and Kevin got our straps (the orange ones that we used to secure the kayak to the roof) out of the car and climbed back down to tie the strap to the kayak.  Then he climbed back up and pulled 70 pounds of dead kayak weight up the incline pictured below. If I'd had my phone I would have taken a picture of my man hauling the kayak up. He looked awesome :).
Kevin took this photo looking down at the take out point.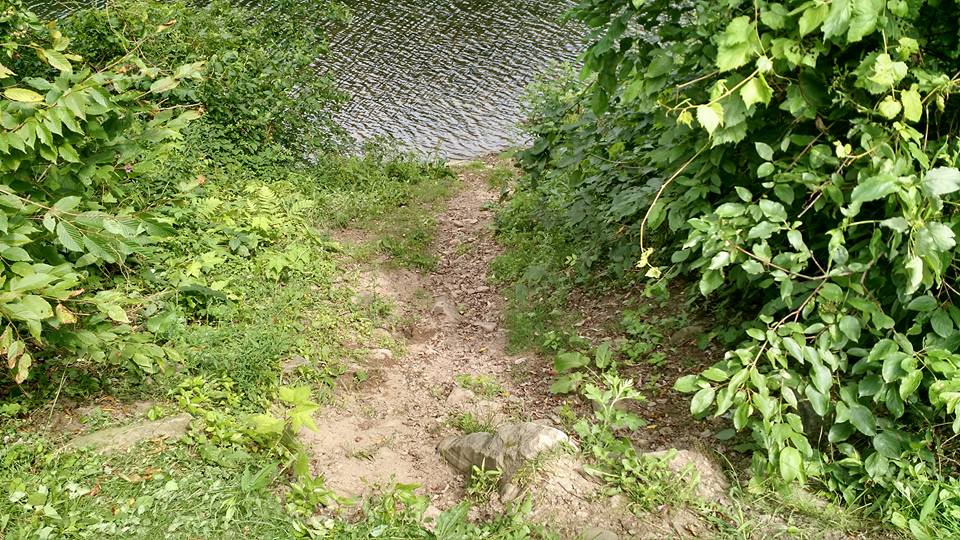 Because our trip ended early we spent a few hours reading when we got back.  I finished Go Set a Watchman. It had a great quote in it.
"You will say anything that occurs to you, but what I can't understand are the things that do occur to you. I should like to take your head apart, put a fact in it, and watch it go its way through the runnels of your brain until it comes out of your mouth."
I think we all have at least one person whom we'd like to watch a fact as it works its way through the runnels of their brain until it comes out their mouth.
We grabbed dinner at the School House Inn, went back to the cabin and called it quits for the night, planning to take a hike the next day instead of doing another kayaking trip as we'd planned. I had an ugly sunburn I didn't want to make worse by going on the water the next day and Kevin was a little tired from his manly hauling of the kayak up the hill and the paddling.
I'll give you one guess where I forgot to put sunscreen. Did I mention I have 3 video conference calls for work on Tuesday? I'll be looking AWESOME.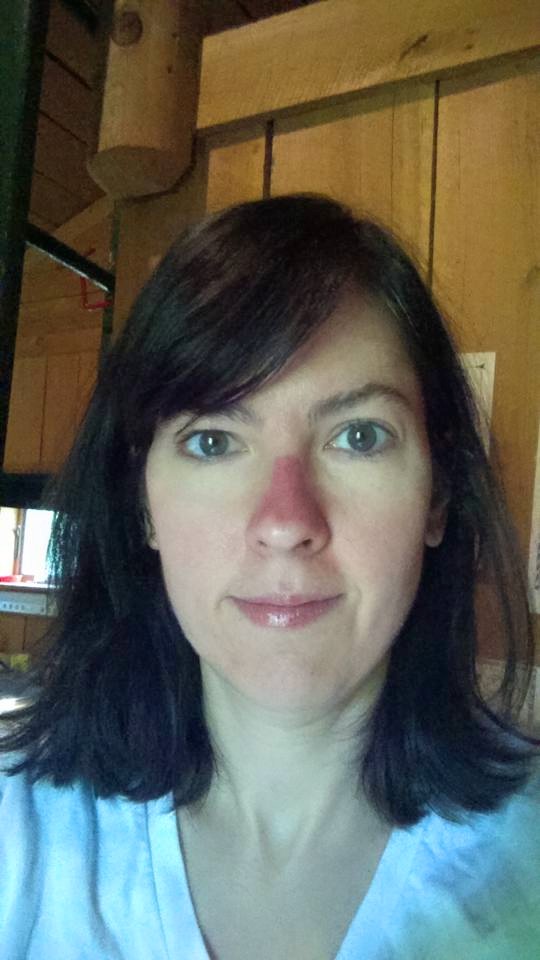 My left leg is also lobster red. My mistake was in spraying it with bug spray before sunscreen. Fortunately Kevin caught me before I sprayed anything else and told me it should be sunscreen before bug spray. Lesson learned.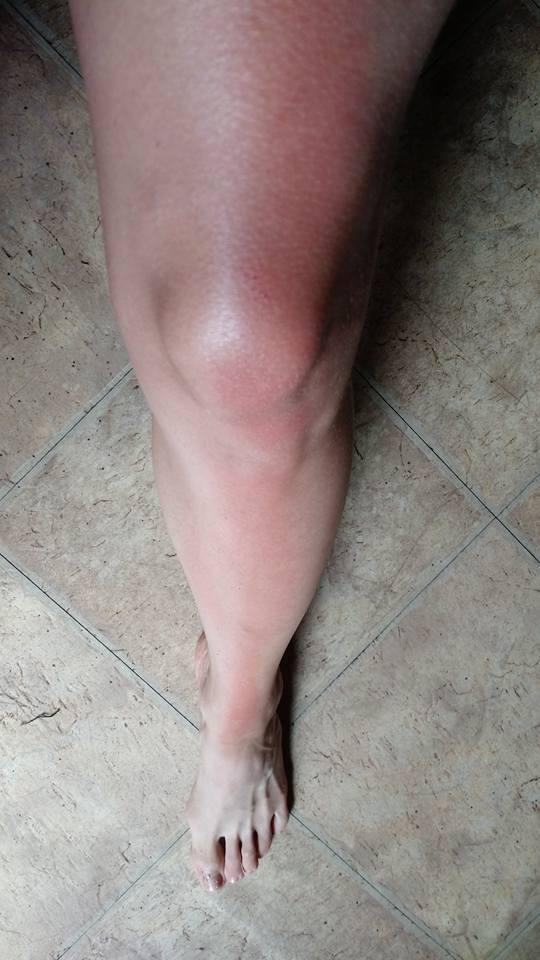 An hour or two after turning in thunder woke me up. It was pouring rain and kept up through the night and into the next morning. Because of all the mud we decided a hike wasn't a smart idea. So instead I spent the morning perusing the guest books in our cabin before we packed up and left.
The guest book had some funny stories. I took pictures of the top 3 funny stories to share with you.
In closing out this blog I give you: Tales of Unami Cabin.
Here's to nights we can't remember and friends we'll never forget.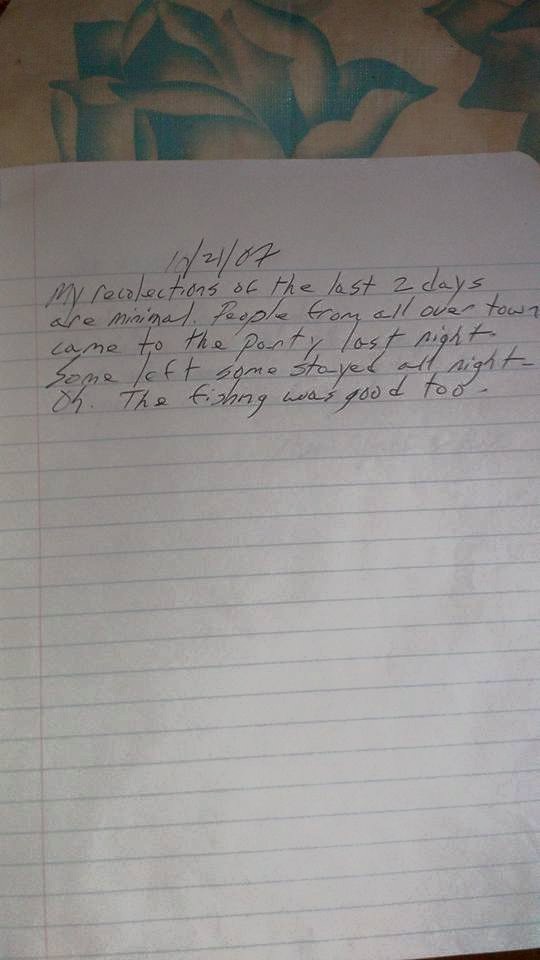 Emily and Nick were going to get married. Until Emily was sent to the loft bed and Nick to the futon.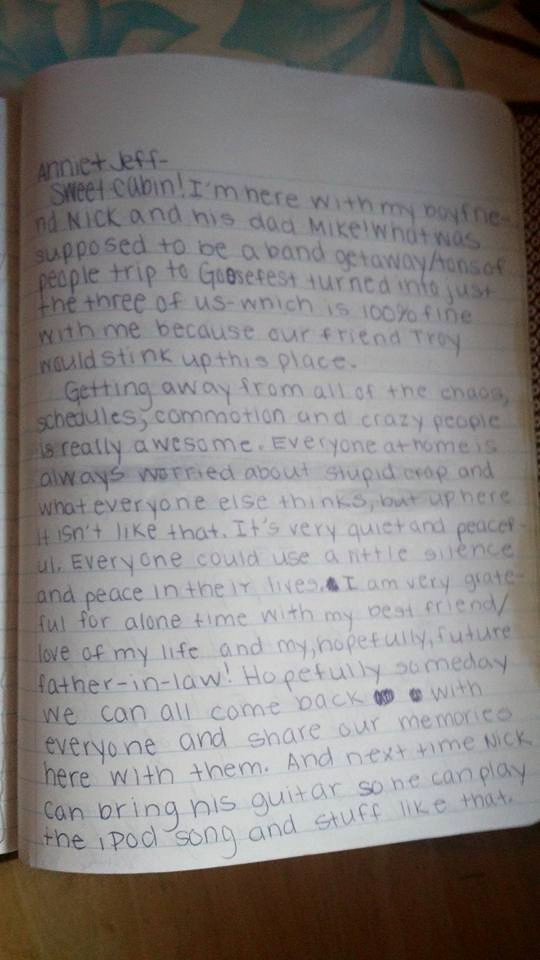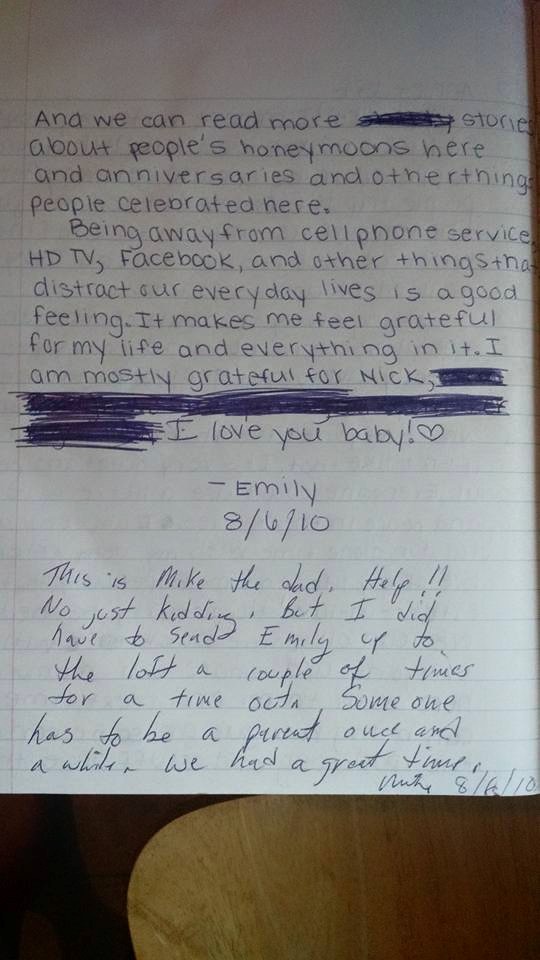 It snowed 10 inches but Glen and Jean weren't bothered.