Chicago
Two weeks ago I went to Chicago to participate in a licensing panel at the 2015 ABA Business Law Section's Annual Meeting. Our panel covered trademark licensing, cross-border licensing with Canada, and open source licensing. I got to cover some benefits and cautionary tips on open source licensing. The flagship software of my employer is open sourced, so I was pumped to have the opportunity to cover this topic and clear up some misconceptions. Primarily the big one, that if you use open source you'll automatically be obligated to open source your software.
This conference had the largest number of CLE options of any conference I've ever been to. By a very long shot. The meeting guide is available on the home page here.  204 pages worth of CLEs over 3 days and that's with a condensed listing of only the speakers and titles of the presentations. The CLEs hit every topic a corporate attorney could encounter so I can see why attorneys might attend the annual meeting to meet their CLE requirement in one shot.
I downloaded the Business Law Section Meeting App to plan out what seminars I wanted to attend and it was a lifesaver. Super easy to use. The location and scale of the event was massive but the app made it easy to navigate and kept me on time.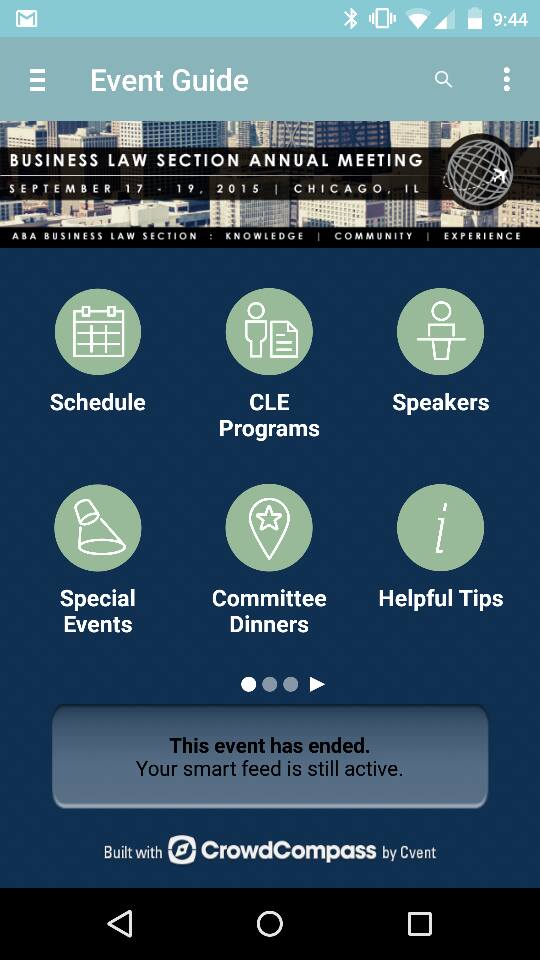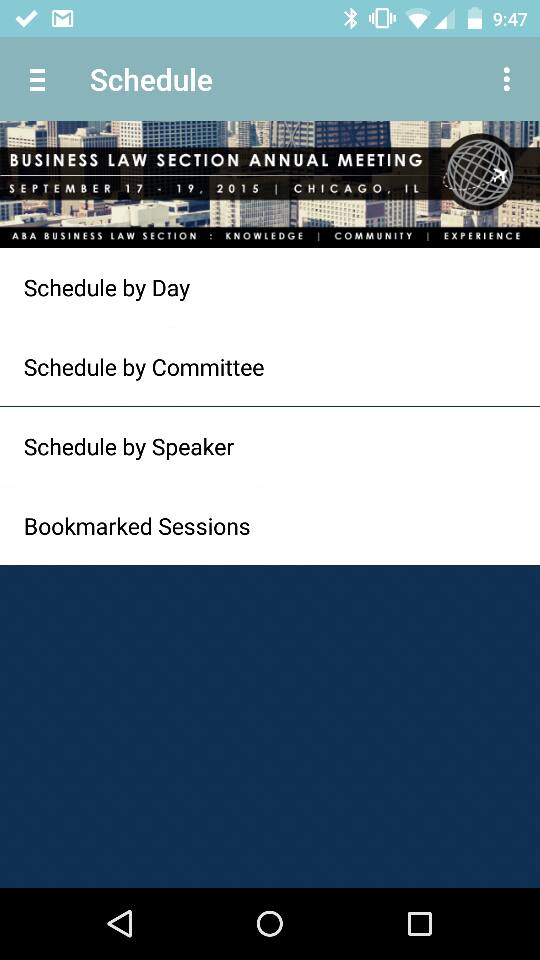 Our session was first up bright and early Saturday morning at 8:30.  It also happened to be the morning after a "Suite Crawl" that went until midnight :). I was a bit concerned that between the early hour and the Suite Crawl the crowd would be sparse but it was very well attended. The program chair did a great job of setting our panel's agenda. Some licensing discussions can be very vanilla and you hear the same topics at every event. In ours each panelist presented on a unique aspect of licensing and offered up little known tips and tricks. I picked up a lot from the other panelists.
I also met my lawyer doppelganger at the presentation!
A few weeks before I received a Twitter DM from Michael Fleming, "business lawyer with a technology slant." When I saw the notification for a minute I got confused and thought someone had set up another Twitter account in my name. Then I read the DM and saw he also got confused and thought he had been volunteered to speak on open source licensing and no one had told him. That made it even crazier since attorneys who advise on open source are not exactly common.
So of course we had to meet! Michelle Fleming and Michael Fleming. Thanks to the ABA for making the connection :)!
After our presentation I went to an export seminar and then got a run in at the gym before heading to one more seminar. Another nice thing about the lay out of the conference was I could get to and from the gym without crossing the ABA event. I've been to conferences in the past where the gym and event were both in the lobby. So you either had to be comfortable with crossing the event in sweaty gym gear while everyone else is in business attire or plan to run early morning before the event. At this event it was no problem to run around lunch, shower, and pop back into the event looking the same as I did before.
I called it a night around 8:30 because I had to be up at 3:30 the next morning to catch a 6 am flight to Huntsville. I'd already planned to be in Huntsville for work that week and it didn't make sense to come back home on Sunday only to leave Monday morning for Huntsville, so I just left straight from Chicago.
Huntsville
The Sunday flight worked out well because it meant Monday wasn't half eaten up by travel. Usually I leave on Monday morning, arrive early afternoon and by the time I get my bags and rental car it's noon. On Sunday I spent time visiting family and running personal errands before I headed to the corporate apartment where I was staying for the week. The apartment is a three bedroom located close to the office. It's nice not to have to stay in a hotel when I'm there. Cost efficient too.
I was in Huntsville to train new employees on export compliance. I also got to meet my new boss during his first week, which worked out very well! I've reported to the same boss for almost 9 years now and recently switched to reporting to our new CFO. If you think 9 years is a long run an assistant at my podiatrist's office has been with them for 20+ years! The assistant and I talked about it a bit and we both agreed having great coworkers and bosses is probably the biggest factor in career longevity. No salary is worth it if your coworkers make you miserable.  In my case I'm lucky that I'll have had two great bosses in a row with the same employer. Hopefully here's to another 9+ years!
I should mention a funny story here. I've never cared for driving much and now that I live in NY just about everything is accessible by walking, the train, or the subway. A doctor's office, vet, dentist, grocery store, pharmacy, lumber store, restaurants, etc. are all within a ten minute walk from the house. When we do drive it's my husband that takes the wheel and even then we drive so little we only fill up the gas tank monthly if that. So the only time I do any real driving is when I'm in Huntsville. I did take our car out for a spin here the week before but maybe that wasn't enough because I could not for the life of me figure out how to operate the defogger in the rental car on the way to work Monday morning. I had two roommates for part of the week in the corporate apartment and was giving one of them a lift to work when the defogger adventure started. He wound up operating the controls to get the fogging under control while I drove. Teamwork!
At 5:30 am Tuesday morning my other roommate and I left to meet another coworker for my first ever trail running experience. We ran on Monte Sano. These coworkers are serious runners. Both are triathletes and one is an ultrarunner. That means he runs 100+ mile races and he usually does it on trails. No joke, no typo. One hundred miles nonstop. He did say that sometimes he walks a little during those races. He's doing his first full Ironman next weekend, which means my employer will be home to two Ironmen since another completed his first full one last weekend. That means he swam 2.4 miles, biked 116 miles and finished it up by running a marathon.  All in the same day guys. I'm not sure they're human.
Anyway, I had a great time during my first trail run! I did not fall! I thought maybe I'd be sore the next day but he'd planned the route to run over different surfaces so we used different muscles. I felt just fine afterwards.  Those guys were crazy though- leaping over boulders, jumping up to run on stone walls that rimmed the mountain, and running on surfaces that were way too rocky for me to brave running on.  I learned some new terms running with them. Technical means the path is full of rocks and/or tree roots and you need to have high feet (step high when running) or you'll trip.  I used my coworkers like the canaries miners used to lower to detect carbon monoxide. They ran ahead of me and I could tell which spots to avoid and how slow to go by watching them. The run definitely made me want to find a trail at home to run, just a less technical one.
Here's part of the record from that 5 mile run. One nice thing about trail running is since you're running slower than normal you're not out of breath. That meant I could yell complaints about the technical portions a lot.

I spent Tuesday and Wednesday night with my parents celebrating their birthdays and Thursday night running with other coworkers and then heading straight from there to dinner with a coworker and his wife.
The guys I went running with on Thursday always help me improve my pace because their runs aren't social. They run as if they're in a race every single time and I'm just trying to keep up. No chit chatting with them because there is no breath to do so.  We went running on the Old Madison Pike Bridge the day before it opened and it was tough.
I was a hot mess after that but after stealing their Gatorade I hopped in the car and left for P.F. Changs to meet my dates for dinner. It was so great to meet my coworker's wife in person! We've been friends courtesy for Facebook over the past two years and we wound up chatting for over two hours before calling it a night.  I did have to make a run back that night when I realized I'd left my credit card there but it was so close to the apartment it wasn't a huge deal. Thank goodness I figured out I left it there before my flight the next morning.
I think this was the longest and definitely most jam packed work trip I've ever been on and I'm glad to be home for a couple of weeks when I leave for Huntsville again, this time for a family visit and the Huntsville Half Marathon.