Last weekend Kevin and I were in Huntsville on vacation and I took advantage of the timing to run the Huntsville Half Marathon with a few coworkers.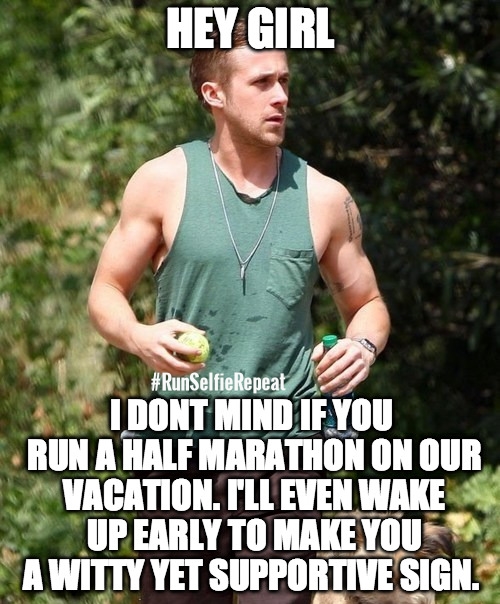 A week or so before the race I'd purchased an armband to put my phone in while I ran. That way I wouldn't have to run in a dorky looking hydration belt.
I bought this one because ya'll know I have some skinny arms.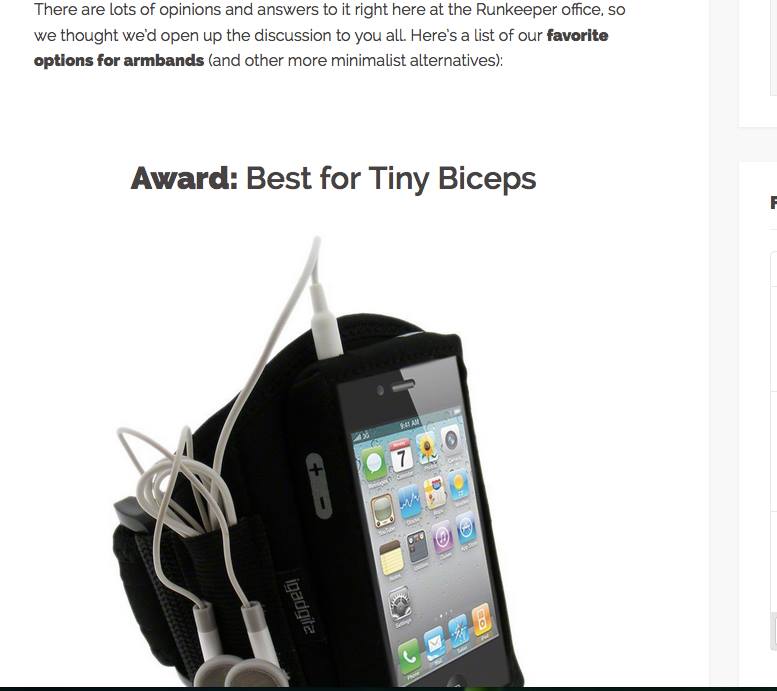 On race morning I discovered it isn't just made for tiny biceps, it's made for tiny phones as well. My phone is a Motorola Moto X. Way too big for the holder.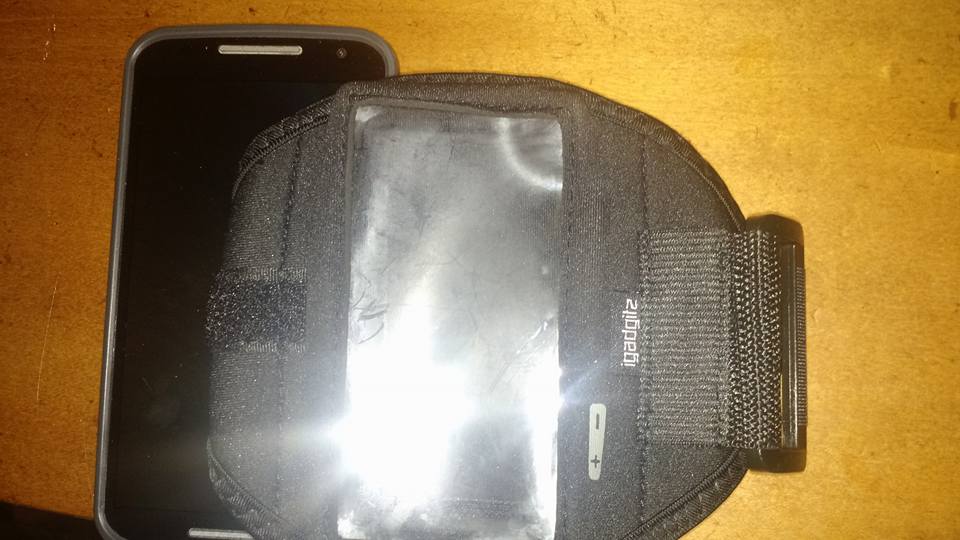 Fortunately, a coworker's wife spotted my FB post about it and brought a belt I could wear instead. I'm thinking it may be time for a Garmin watch. I don't recommend this holder for a phone, though it could work for an iPod.
But I do recommend toe caps.
My podiatrist recommended toe caps when he saw I'd bruised a toenail. I paid close to $13.00 on Amazon for 4 gel like sleeves, one size fits most and they're reusable.  The cap slips over the toe and the gel cushions the bruised nail. You can also use them proactively if you tend to bruise the same nails like I do.  He also thought it might help the reduce discomfort on the old broken toe.  I've distance run in them a few times now, including the Huntsville Half. They stay put on all toes except the broken one. My guess is it does that because the toe is crooked so the cap works its way off. It definitely reduced discomfort on the bruised nail, kept the situation from getting worse like it usually does, and I don't notice the cap at all when I'm wearing it.
Someone asked me for a picture of the cap. To spare you guys any more pictures of my terrible feet here is the cap over my finger.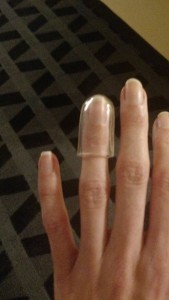 After I was ready to run Kevin and I headed to Hillwood Baptist Church where the race started to meet up with the coworkers running the race and supporting spouses.
Here's a photo of my coworkers and I just before the race, minus Beck. Beck was too busy gearing up for a 4th place finish at 1:18:56.
Left to right: Malcolm 1:44:14, Matt 1:45:00, Anthony 1:44:59, Stephen 2:04:53, and me 2:05:03. He beat me because of deceit and trickery, which I will get into later.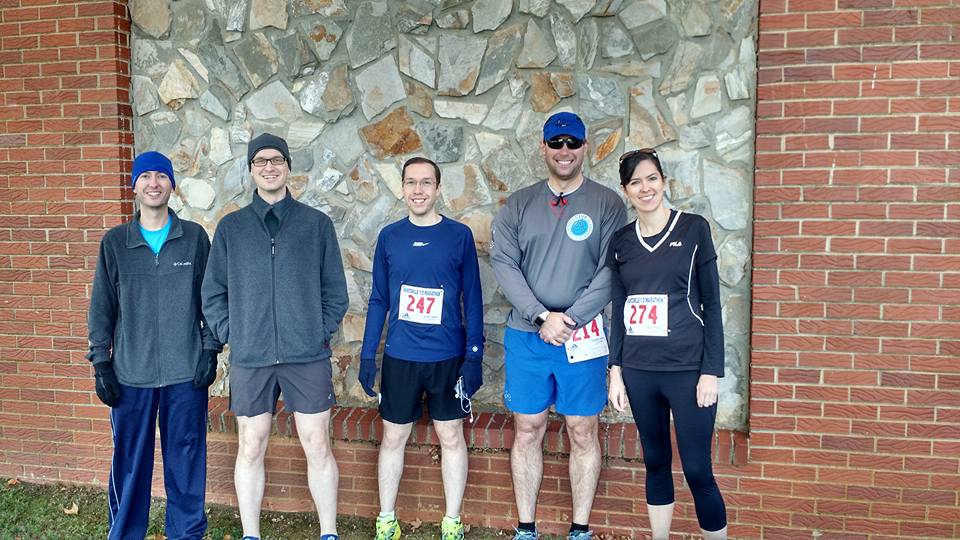 I think the Huntsville Half now ranks 2nd in my list of favorite half marathons. I paid only around $25.00 to run it, the t-shirt and medal were both really nice, it wasn't overcrowded (750 runners), the weather was perfect, for the most part course was good, and there were plenty of spectators.  The green way was a little crowded, but we weren't running on it for long.  There weren't timed corrals to separate us out based on expected finish time which I thought might be an issue, but there were so few runners it wasn't a big deal. Also, the race photos were free! Those are usually more expensive than the race registration fee.  The race photos are the ones below with the Bagwell Chiropractic branding. Shout out to Bagwell Chiropractic for the nice photos.
The only criticism I have is the race site could use a proof reader. I did not sigh up or sing up, but fortunately I was not truned away from the very fast coure!
I didn't have a goal in mind besides to hold onto my faster runner title by not letting Stephen beat me.
That meant at least 25% of the water I grabbed sloshed out because I didn't slow down to drink it.  He wasn't going to get ahead. No sir.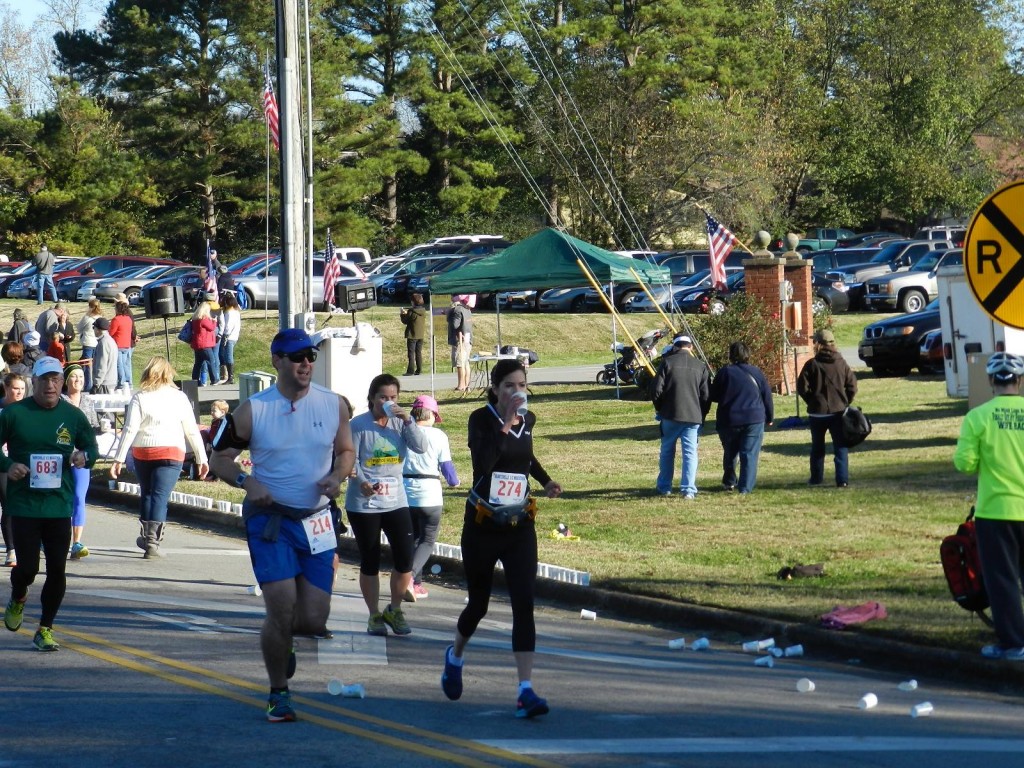 Here's Anthony in a rush to get to the yard sale.
Here's Matt and to the right in the background it appears there is a cowboy running his own race.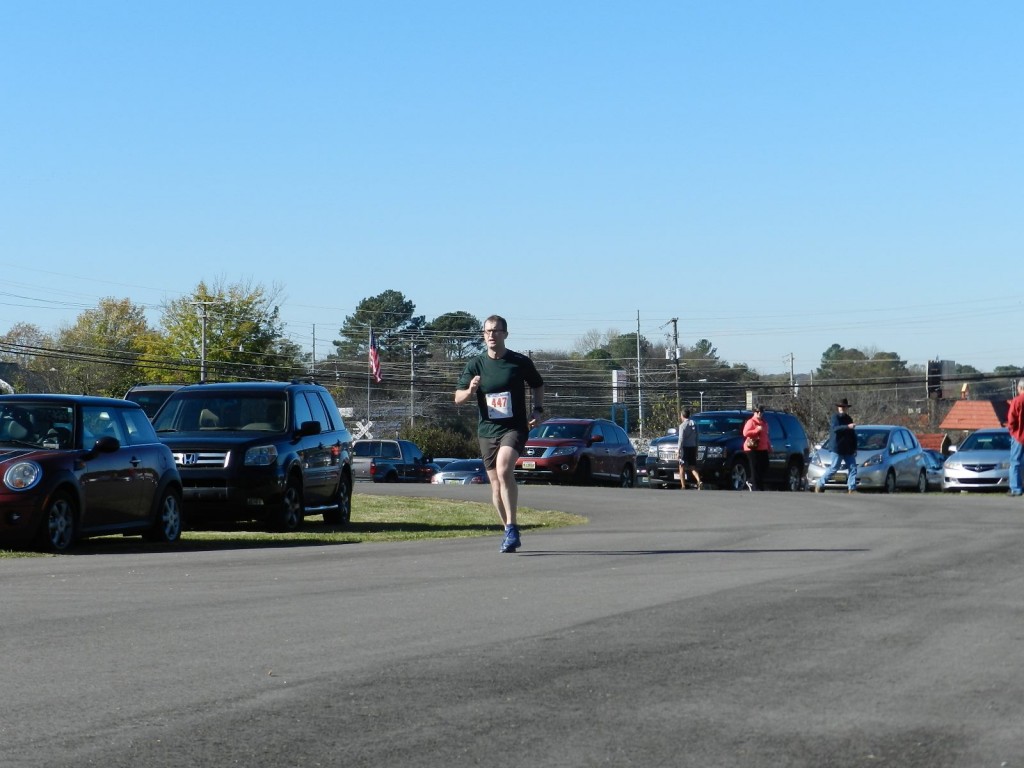 Let's talk about the finish results. First, you should know there was a time or two mid race I had some get up and go and could have run ahead of Stephen. He even suggested I do that. But I said no, I'd stay pace with him.
Near the end I was just hanging on and knew I wouldn't have the energy to sprint to the finish. I was honest, which was my downfall. I let him know the situation and said we should cross the finish line together. Team work. No competition. He said he didn't have any energy to sprint either.
He sandbagged me. The finish line came into sight and he took off. Beat me by ten seconds. Had I known he was going to do that I would have banked the time earlier and run faster when I had gas in the tank. Here is the funny thing- afterwards two other coworkers said they thought I was going to be the one to pull that stunt. People think lawyers are slick. Nope, we're not slick. Marketing employees are the slick ones, the ones that sandbag.
Here I am, still happy to be finishing. This photo resulted in some talk of photo shopping. I could be carrying an invisible watermelon. Or maybe I need some oven mitts and a casserole dish photo shopped in. Clearly I am carrying something across the finish line.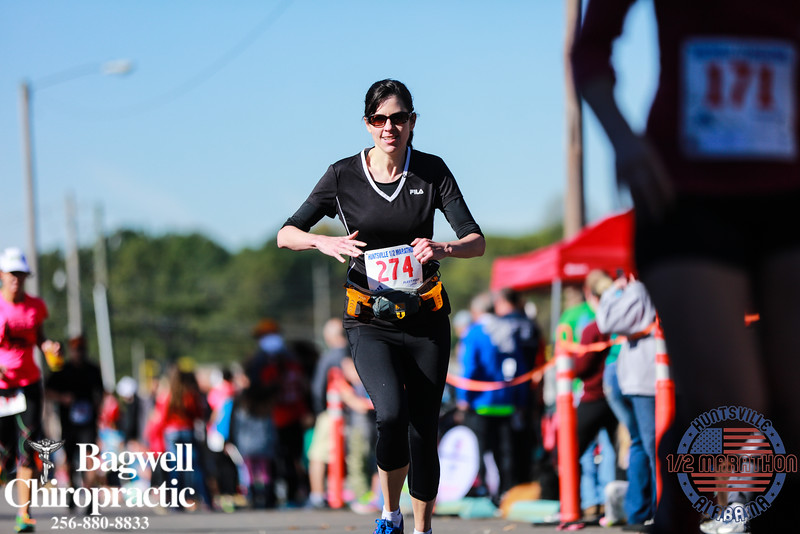 After I crossed the finish line I picked up my medal and t-shirt. They didn't give out t-shirts at packet pick up like other races. Huntsville Half T-shirts are for finishers.
This is the first time I've seen a bottle opener medal.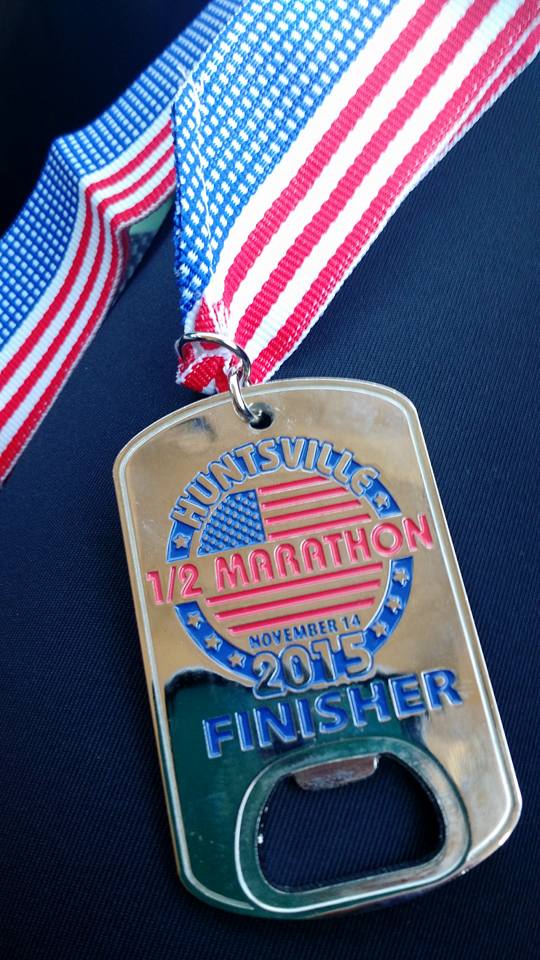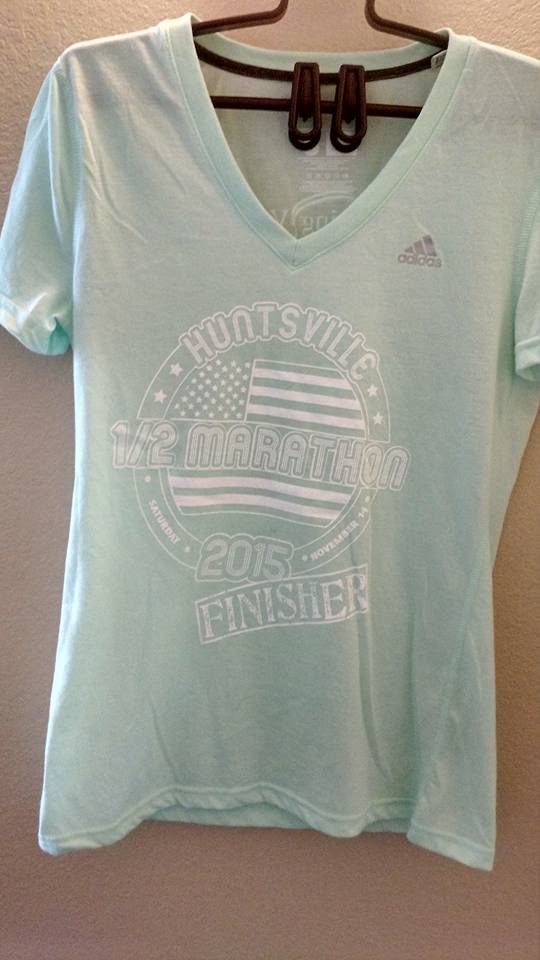 My mom was at the finish line with Kevin to greet me, it was great to have her there! It's the first time she's been able to go to one of my distance races. Spur of the moment I decided to hang my medal around her neck and gave it to her as a keepsake :).
Hanging the medal around my mom's neck would be a cool ending to the blog. But I do need to tell you about what happened after the race. We had another endurance event. The wait for brunch.
After the race some coworkers, family, and Kevin and I decided to meet up for brunch at a place called the Sandwich Farm. I would have gone with IHOP but thought it we'd be waiting forever so I searched "Huntsville brunch" on Yelp and saw a place called Sandwich Farm. I checked them out on Facebook too and they had decent rankings so I told everybody to meet us there.
We arrived and first thing I notice is a place called The Lumber Yard Kitchen was at the address. I stepped inside to ask if they'd changed names and they said yes. Cue flurry of Facebook messages and texts to let everyone know to go into the place called The Lumber Yard Kitchen.
We had 13 people in our group.  The waitress led us into a large back room that was empty save for two couples. And seated us at two tables across the room from each other… I asked if we could push the tables together and they said no, that would impede ability to get around. So Kevin sat at the table with family and I sat with coworkers. I wish we could have all gotten to catch up with each other.
We all ordered breakfast food- French toast, eggs, stuff like that.  I'll get to the point, the crazy part of this story. You guys, it took an hour and forty minutes for our food to arrive. 1:40. No kidding. When we were talking about someone's race time mom pointed out he'd finished in less time than it took to get our food. And she was right. Hence, the title of this blog.
An hour into our wait I flagged down our waiter and mentioned two of us had just run 13 miles, we'd been waiting an hour for food, and we were hungry. He said the wait was because of our large party.  It's a good thing I really like the people we went to brunch with because we sat there another forty minutes for food to arrive.  When it did arrive it was cold.  At that point I was too hungry to care so I ate cold French toast.  When the check arrived salt was rubbed in the wound when we saw an automatic 20% gratuity for a large party had been built into our bill.  We weren't comped free beverages or offered anything to make up for the hour and forty minute wait and we didn't get an apology for it either. It spurred me to dust off my Yelp password to do a review and I heard later from two others they'd also given negative reviews.  Next time, IHOP :).