I told Kevin this will be the fastest blog post I've ever written because I have running and travel news that I'm so excited to share. There are bound to be typos because my fingers are flying.
2016 Goals
First, let's talk about 2016 goals.
I'm doing the 12 13 16 Challenge. That means I'll be running 12 half marathon distances in 2016. I travel just often enough that logistics wise committing to 12 races would be very difficult, if not impossible. This challenge is about the distance not races. I can do the half marathon distances in my neighborhood if I want.  I actually did the first one on my treadmill. Yes, I ran 13.1 on the treadmill and survived to tell the tale. More on this later.
The 12 13 16 Challenge was created by a member of the running group I belong to, Pelham Track N Tri.  There's also a contest to be the first person to run 1000 miles in 2016, the person who runs the most outside of the US, etc. Lots of very cool challenges this year. There's also a 2016 in 2016 challenge where you compete to be the first person in the group to run 2016 miles in 2016. I'm not even going to try though there are several members of the group doing this. They're competitive and more importantly fun to be around.  Back when I lived in Connecticut I belonged to another running organization who told me of a deceptively competitive running group. It's a group of men that race together and blitz the competition in every race. Their team name is Hello Kitty and they run in tutus. You think they're a joke until you see the guys in tutus blast past you.
I'm also shooting to run 100 miles in February because it bugged me that I was so close in January and didn't do it, mostly thanks to missing our connection to Aruba. I think I've got it in the bag at this point.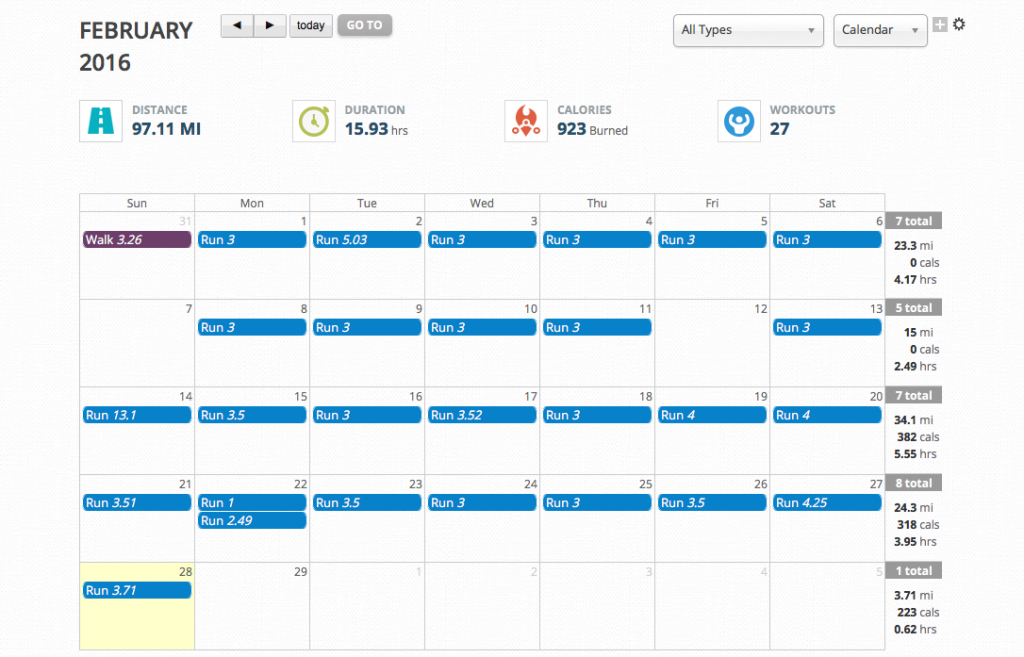 The Virtual My Better Half Marathon
My first half marathon of 2016 was also my first "virtual" race.
It was the My Better Half Marathon. They offered a "virtual" option for those who couldn't make it to Seattle for the real deal.  For $36.00 it offered some very nice swag, second in swag only to the Diva Half Marathon!
Here is my loot.
First is this awesome race shirt.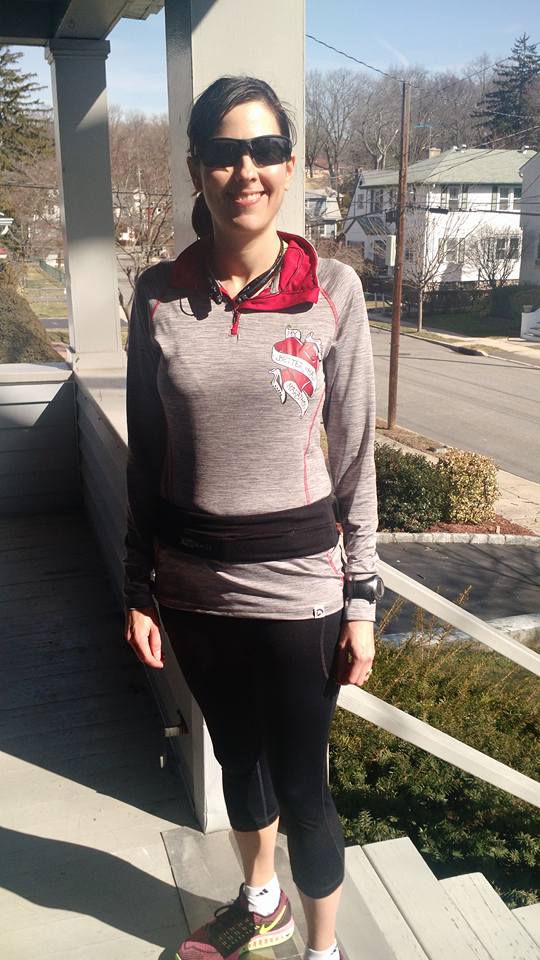 Here's the medal. It's broken hearted. The medal is sad. I tell the story of the sad heart medal in screenshots below.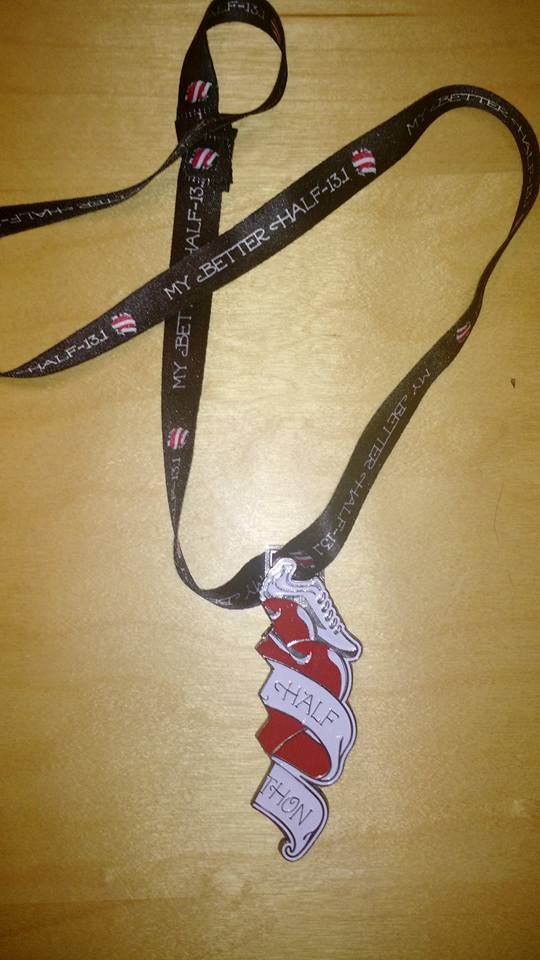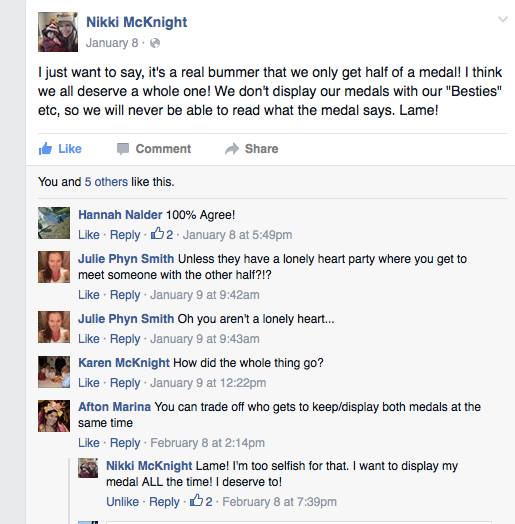 Can't imagine I will ever top this for most unusual race email I've ever sent.
I also got this sticker.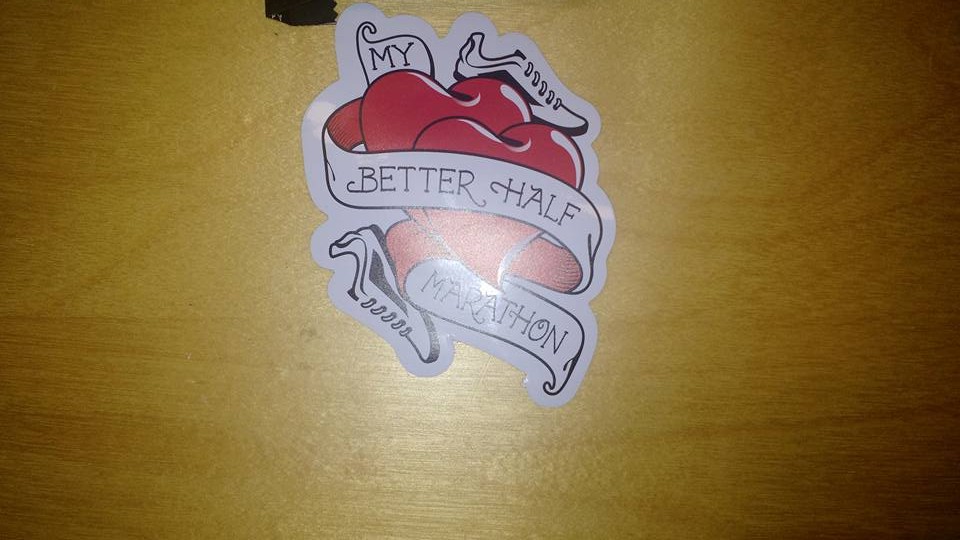 And candy!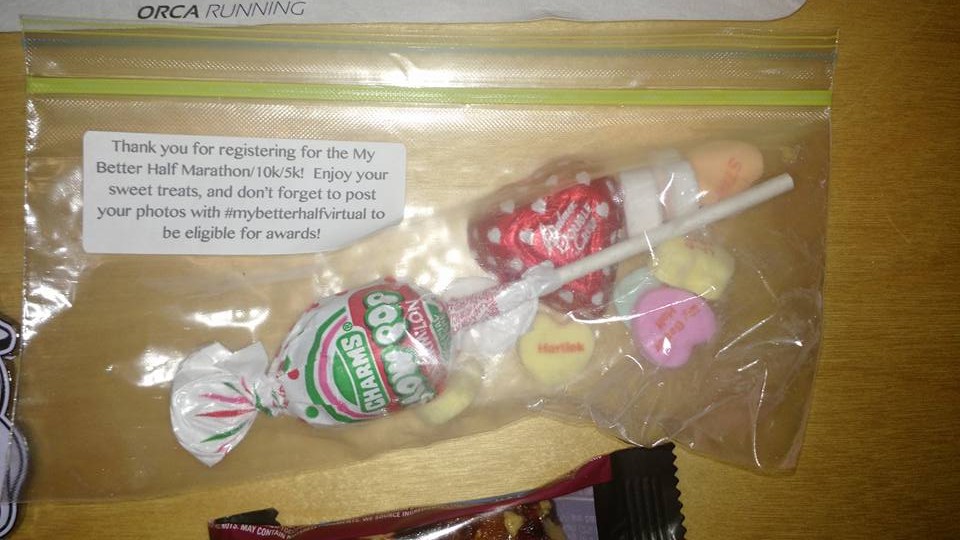 And a race bib.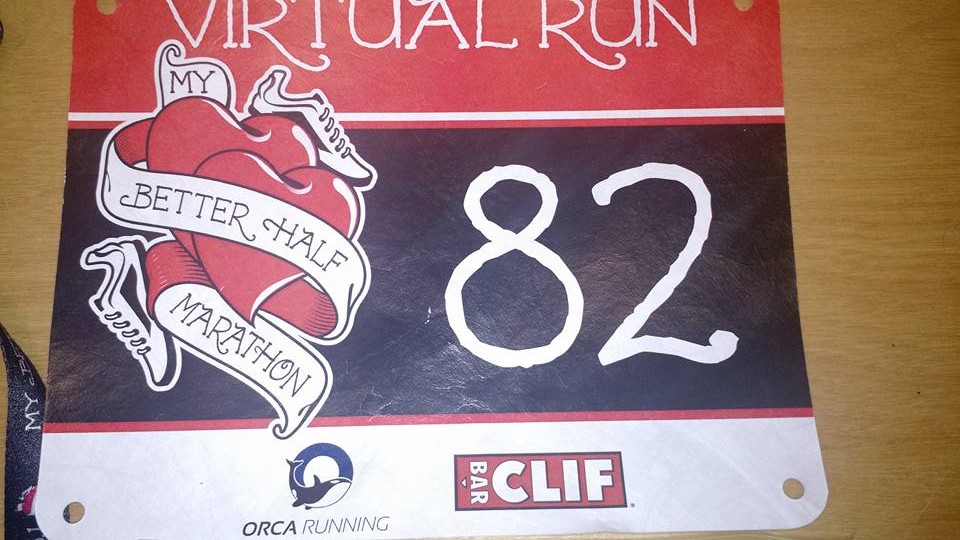 And a squished little Cliff Bar that I couldn't make look good in photos no matter how much I tried. But it was delicious.
The virtual run rules were that you had to run, walk, crawl, jog, whatever 13.1 between February 12th and 15th. You didn't have to do the entire distance in one shot or use a tracking method, it was honor system. Once you finished you needed to report your time and photos if you wanted to win some of the prizes.  The virtual run awarded prizes not based on time but on circumstances and creativity which made it a lot of fun.
I love that the winner of the oldest runner category is a female. 89 years old. You go girl.
I ran my race on the treadmill because it was -2 outside. I was not interested in competing for "coldest run."  A new album, Whitney Houston's Greatest Hits, and talking to my mom over the phone while I ran helped pass the time.  Also, fretting. I am a worry wart, a nervous nelly.  Time tends to pass quickly when I run because I think, worry, and stew until I'm all fretted out and zen, whether I'm on the treadmill or outdoors. I fretted away around 10 miles before I knew it and it was only the last 3 or so that were boring. One time I was ran TWENTY MILES on the treadmill and was so fretful I didn't get bored until mile 18.
I finished the My Better Half Virtual Half Marathon in 2:08 on February 14th, the day of the in-person race.
I'd recommend this race for anybody that's got a mileage goal and can't commit to enough in person races to get the mileage in. I liked that it was flexible enough to fit my schedule, that I got nice swag (especially for the price- the medal and shirt were very nice!), and that there were fun prizes and an active online community to talk about the race with. The medal was great motivation to actually get the distance in. I received the medal a few days in advance and once I had it I *had* to put the distance in. I wasn't going to be a cheater and have a race medal without putting in the distance that went behind it! If I didn't have the medal and accountability through the online running community I'm not sure I would have gotten in that 13.1. I think this virtual run would be a great option for those who live in places where there aren't many half marathons- you could get together a group of local runners and hold your own virtual half marathon in your neighborhood! I looked around and there are some other cool looking virtual halfs I might do this year as well.
 New Running Stuff
With all the miles I'm putting in I decided it was time to get some new running stuff.
First, a place to hang up all the medals.  Appropriate for me since so often runs go longer than they should because I get lost.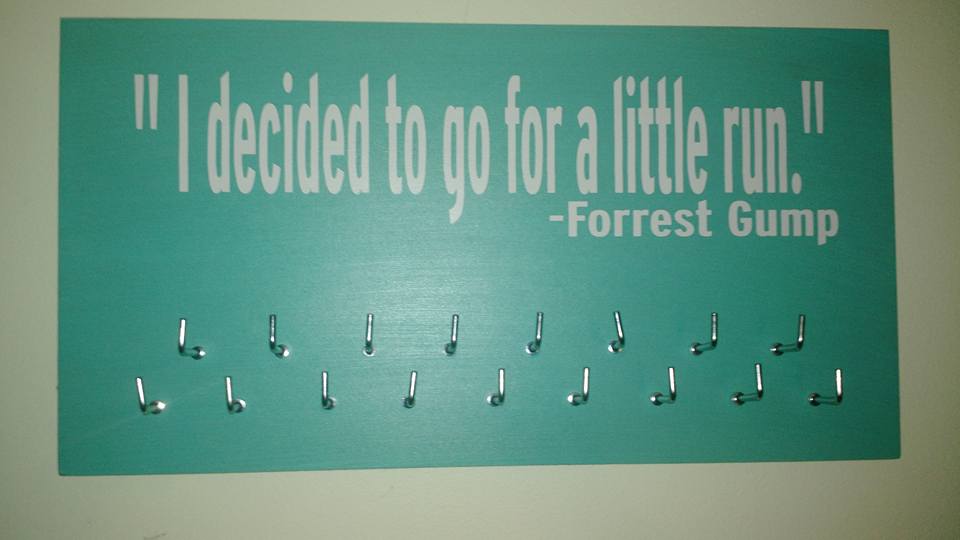 Second, a Garmin Forerunner 410.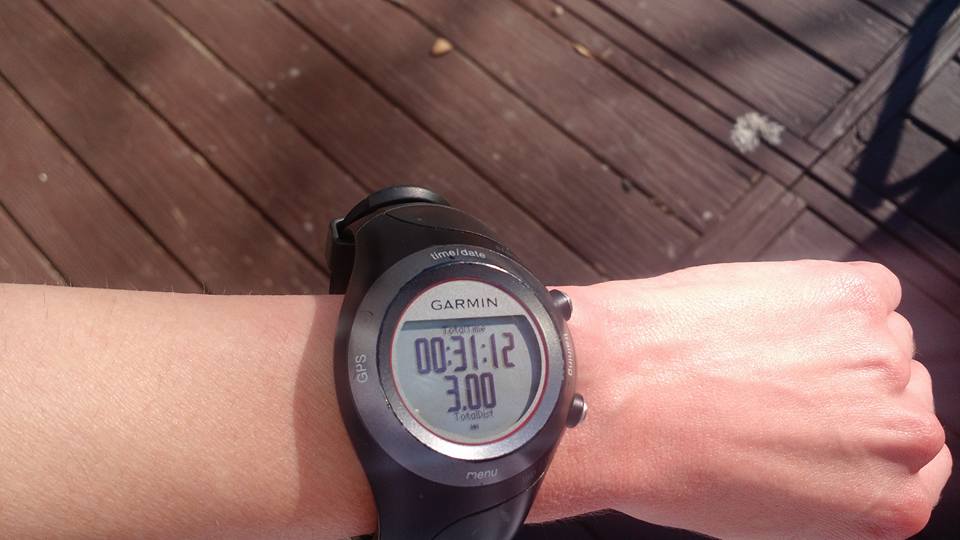 The watch is a Digium hand-me-down. I'd been running MapMyRun on my phone which meant running with a fanny pack to carry the phone in.  Not cool. It was also a pain having to take the phone out of the fanny pack when I came to a stoplight and needed to pause the timer. So I was looking for my first GPS watch and heard a coworker was looking to sell his for $50.00. He'd purchased it from another coworker. Someone told me if I ever sell it to someone else it will be a Garmin Fourrunner. Haha.  I love that I can try out a GPS watch for only $50.00. New Garmin Forerunners can cost as much as $329.00.  I was hesitant about spending three hundred bucks on something before knowing if I'd like it or not.  Now I know I like it so when the time comes to upgrade I'll be ready!  I am still figuring things out though.  On my 2nd run out I didn't realize it was giving me distance in kilometers instead of miles until I'd finished.  I did think I'd hit my distance goal a little too easily that day.  Also, today I accidentally set it on cycling mode so those of you I'm friends with on MapMyRun were probably surprised to get a notification that I was cycling round Pelham today.
I just hope the Garmin doesn't have as many activities as MapMyRun has or I could really embarrass myself by using the wrong setting. When I discovered this one on MapMyRun Kevin asked if he could give me a wink and nod in front of some people, disappear, and some time later people get notifications on their phone of this activity. No. Not happening.
The last new running item is my FlipBelt. Kevin noticed Nikki wearing one in Aruba and it sounded cool so I looked it up online.  The FlipBelt is the black band around my waist in the photo at the top of the blog.
It's basically a cloth tube with slit openings into pockets separated by seams.  I ran with it for the first time today and love it. No more figuring out where to keep my stuff during races.
Here's a close up so you can see it better. I've got the iPod and key partially out of the pockets so you can see how they slide in. The seams show the individual pockets and the stitches show the openings into the pockets. You just slide the items far enough into the tube that they don't fall out. Your house/car key hooks onto the clip you see there. My phone, key, and iPod were in no danger of falling out on my run today.  I did learn that instead of wearing it around the waist it's probably a better idea to keep it around the hips so it doesn't scrunch up and slide around. You can "flip it" so the pocket openings are snug against your body, lessening the chances of things falling out, or wear it with the pocket openings facing outward for easy access. I wore it facing outward for 3.71 miles of jogging up and down hills today and never thought anything was in danger of falling out. It cost $28.99 and I think it's worth it.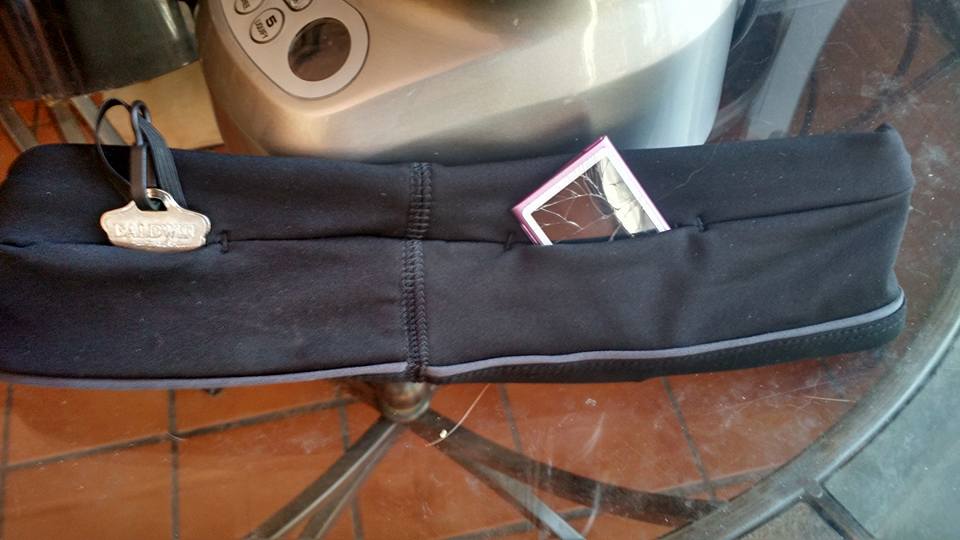 And now…
The Ahhhhh! part of this blog.  I'm running a half marathon in the Swiss Alps, August 2016!!! Ahhhhh!!! Assuming the elevation doesn't kill me I will blog about it!
I mentioned in my last blog that we use frequent flier miles for most of our vacation/personal trips. Well, Kevin has free upgrade certificates that we need to use by February 2016. Use it or lose it.
We originally thought we'd save up and use the miles in 2017 to score entirely free trips to Europe, but with the time deadline we weren't able to acquire enough miles to do that. So we thought about where we could go that we'd get the most value out of the certificates.
Free upgrades from coach to business class for flights to Switzerland and Italy!
Because of the length of the trip we'll have house sitters living at our house to take care of the kittums and house while we're away.
Kevin has been to both Switzerland and Italy for work but he didn't get to sight see much and I've never been. I'm so excited about seeing the Alps which I've heard is gorgeous and visiting this one restaurant in Italy where Kevin said he had the best meal of his entire life.
He mentioned the idea of Switzerland and I said well maybe I can find a half marathon to sign up for. Hahaha. I'm so funny. Except I found one that fit with our schedule, joke is on me!  The race site is in Swiss-German but here's a bit of a description of it from another website. The husband of one of my friends is actually from this area, the race goes past his parents' house! This will be my first race outside of the US and I can't think of a more picturesque place to do it than running through the Swiss Alps!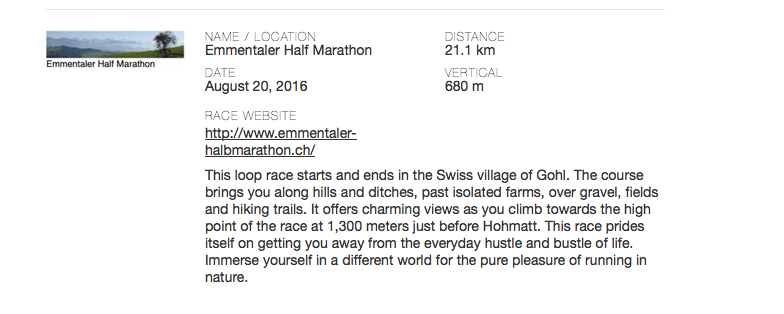 Here is one of the places where we're staying while in Switzerland.
We're also spending a week in Italy. Here's one of the places we're staying while there. I'll add all the places we're staying once we have confirmations back.
Ahhhh!!!!