Kevin and I are on a 15-day adventure, air bnb'ng our way across Italy and Switzerland.  I'm writing this having left our last stop in Italy and arrived at our first stop in Switzerland.
Arrival in Zurich, Switzerland
We left home the evening of August 9th and landed at the Zurich Airport after an uneventful 8 hour flight. Because we had a long drive to Italy immediately ahead of us we took advantage of the shower facilities offered at the airport.
We grabbed a quick shower and change of clothes and then picked up our suitcase. Our bag was still somehow miraculously going round on the carousel even though we'd assumed we would probably have to pick it up at lost and found because of taking time out to freshen up.
If you're wondering how we got away with only one checked suitcase on a 15 day trip, it is because two of the air bnbs we are staying in have washers/dryers available to us so we were able to pack just one week's worth of clothes.
Not only does the Zurich airport have shower facilities, it also has a supermarket. Inside the airport! We ducked into Migros to pick up sandwiches and drinks for lunch during a stop along the way.
Driving in Italy
We expected to pick up our rental car immediately afterwards. I will fast forward through the three hour wait at the airport for our rental car and I'll spare you the details of our five hour (which would have been four if it weren't for Garmin screw ups) drive to Italy.
I will say though that the scenery along the way was beautiful.
We pulled off at a rest stop in Switzerland to have the sandwiches and drinks we'd picked up in the airport. Here's our view :).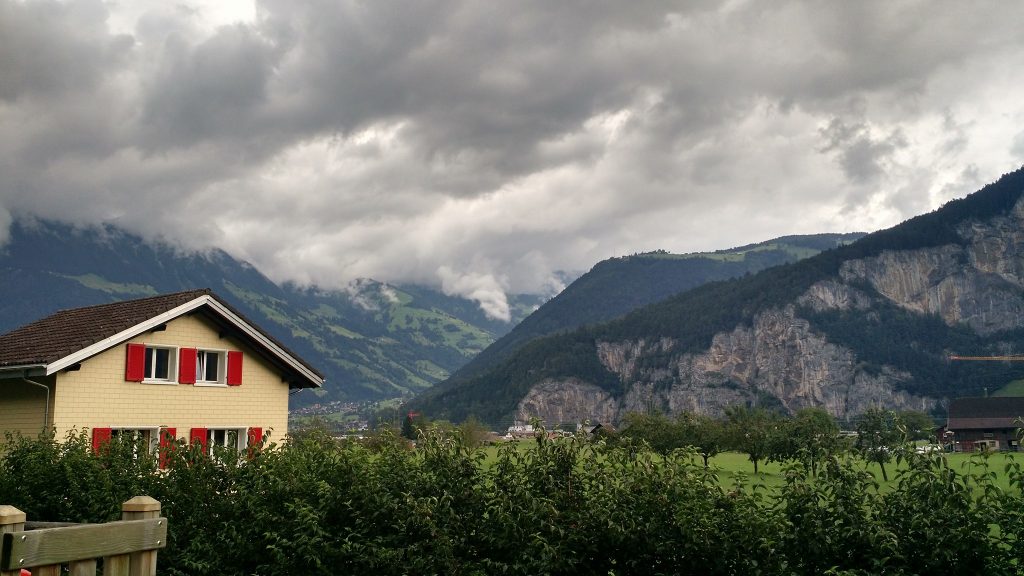 A few tips on driving in Italy (I did not actually drive in Italy, I just observed Kevin driving in Italy)

International Permit or Official Italian Translation
First, if you are driving in Italy you need an International Driver's Permit. If you get into an accident or otherwise run into trouble on the road you will be fined 210 Euro if you don't have the International Driver's Permit or an Italian translation of your driver's license by an authorized translator. A link to a list of "official" translators appears in the link. The permit only cost us 20 bucks, it's good for a year, covers a bunch of countries, and it was a cinch to get from AAA. Just do it.
Truer Words Never Spoken:  Details on what went down to come in the blog about Switzerland, but seriously get the International Driver's Permit. After I typed this draft Italy blog we went out for a bit and returned to find our rental car being inspected by two Swiss police and two other gentlemen this morning in the parking lot of a grocery store. Switzerland does not require the International Driver's permit, but had this happened in Italy we would have likely been fined the 210 euros if we had not had it or the authorized Italian translation even though we weren't even in the car when it had it's adventure. 
Rental Car No Nos
Also, there are certain historic parts of Italian cities you can't take a rental car into because the rental cars lack a special "transponder." You can read more about this here .
Second, get as small a car as you can comfortably fit into. The streets are even skinnier than I am and parking is tight. Particularly in Blevio and Como.
Blevio

After our travel adventures we arrived at our air bnb in Blevio, overlooking Lake Como. It was just an overnight stop to take a break en route to Tuscany. You can see photos of the apartment we stayed in here. 
The apartment was as advertised, super basic, cheap, no issues.  I don't think I'd stay in Blevio or near Como again though because the streets were very difficult to navigate and that apartment was in a particularly inconvenient location.
It was hard to find parking and we had to walk up some super steep hills to get to the apartment. We got bonus points for walking those hills with groceries.  Go us.
It was probably a good place for native Italians that are used to these sorts of roads to stay, but not Americans. There was no way to walk from our air bnb to any of the places we wanted to go either and buses wouldn't have made it up to where we were, the streets were too narrow.
The view from the apartment was spectacular though. View of Lake Como from our bedroom window.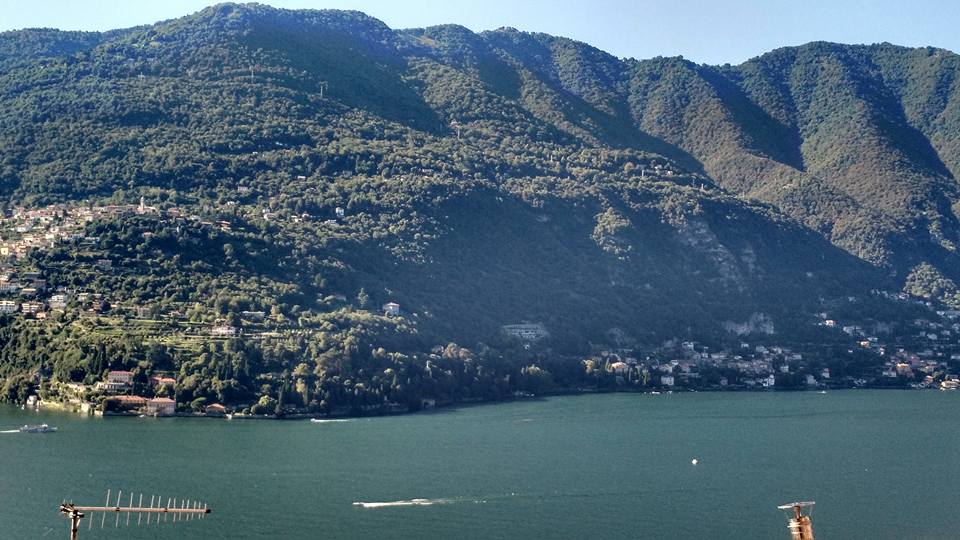 We stopped for groceries at Carrefour and grabbed some pizza in Como for dinner.
There was a couple sitting next to us at dinner and I played the "First date or long term relationship?" game in my head. At first I thought they didn't know each other well because the guy was asking how old her sister was, but wow what an intense conversation for a first date.
She was telling him if he was happy at his job he should stay there even if he wasn't making a lot of money. That led him to say he wanted kids and he needed a better paying job for their future. She replied that she understood that and when she had kids (or she already had kids- hard to tell because I was eavesdropping and English was clearly not the first language for either of them) and she planned to (or was) spending a hefty chunk of change for good schooling for them to learn English so their world wouldn't be limited to Italy, they could go anywhere they wanted in life.  Not the kind of conversation you hear often on first dates in the U.S.
What do you think? First date or long term relationship?
Running in Como
The next morning, I went for a quick run around Lake Como before we had to get on the road again. My half marathon in the Alps is August 20th and I'm in maintenance mode. I figure as long as I get in at least one 5 miler a week and 3 most days I should be able to maintain my base fitness until race day. The lake was a good place to run and get in decent distance, but I was pressed for time and could only do 3 miles so I didn't get to run around the whole lake. If you do this I'd go earlyish in the day to beat the crowds. Be prepared to share the paths with bicyclists. Everywhere. All over Italy and Switzerland. If you run with music I would turn the volume down super low and only run with one earbud in so you can hear the cyclists coming from the other ear.
So I went running and also had a personal moment remembering my brother.
Our great grandfather on my dad's side was from Naples, Italy. My brother talked of two things very frequently. Being from New York (even though we moved to Alabama when I was only 3 and he was 2) and being Italian (even though we have far more Irish blood than Italian).
Quick Humor Break
I have to stop here and tell you a funny NY related family story relayed by one of my cousins. One of my uncles, my mom's brother, worked for the NYPD right up until his retirement.  He was as mechanically inclined as I am, which is to say he was not mechanically inclined at all. His first day on the job he started up his patrol car and the sirens/lights atop the car came on. He couldn't figure out how to turn off the sirens and didn't want to sit there sirens going looking like a fool, so what did he do? He drove around for an hour at high speed with sirens and lights going until he figured out how to turn them off! Bless it, I would have done the same thing!
Back to the Blog
I have a hollowed out pendant with some of my brother's ashes in it, it was designed specifically for carrying a loved one's ashes. I knew I was gong to leave some of his ashes in Italy because of how often he spoke of being Italian, but wasn't sure where I was going to leave them.
When I was jogging around Lake Como I realized he would love it at the lake.
So I stopped, told him I loved him and that I hoped he'd find permanent peace here, and left some of his ashes in Lake Como.
Pictures and video of one of his eternal views. It's beautiful there.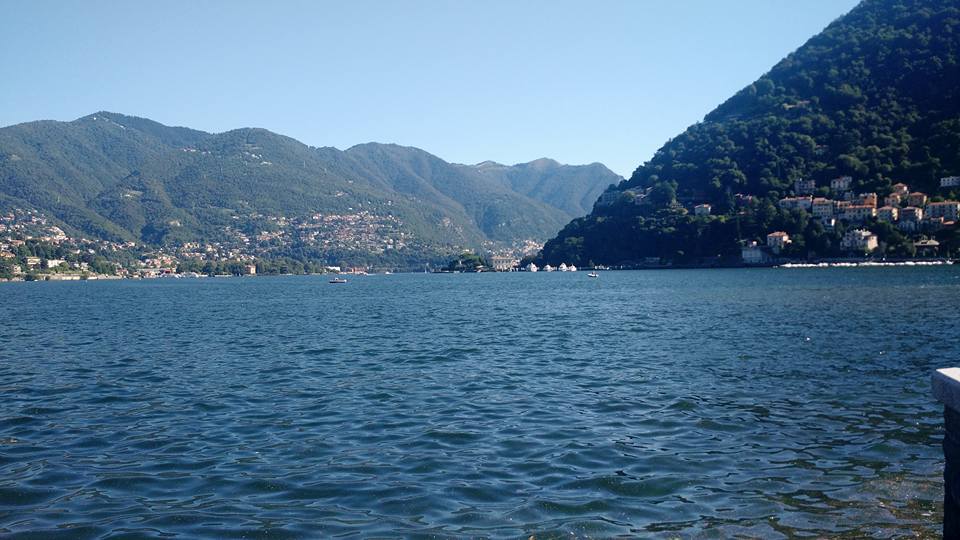 Tuscany
After I got my run in we packed up and hit the road for Tuscany.
Kevin and I stay at air bnbs when we travel fairly often. The ones we've stayed at are cheaper than hotels and we can select places that offer as much or as little privacy as we want.
None of the ones we stayed at in Italy offered breakfast. Most we've stayed at don't.  No big deal though, we just get stuff for breakfast from the grocery store and keep it in the rooms we're in, usually we at least have a mini refrigerator and coffee maker. Sometimes there's even a full kitchen as you'll see further down in the descriptions of the three places we stayed at in Italy.
If you haven't air bnb'd before you ought to try it at least once. Just do your homework ahead of time and make sure you fully read the description of the place and other visitors' reviews. We only stay at places that have plenty of good reviews from other visitors, guinea pigs we are not.
This is the historic villa we stayed at in Tuscany. It was built in the 15th century! For perspective, this means the villa was built around the time when Michelangelo was active and before Christoper Columbus landed on the shores of North America.
For a 3 night stay we paid about $270.00 USD. We've paid more than that to stay in Hampton Inns. I talked to the owner's sister, Viola, to get some history. She said the villa used to be a convent a long long long time ago. Her grandparents purchased it in the 1940s from a fairly well known female Italian writer who lived there by herself, whose name was also Viola. It's been passed down ever since. If you want to consider booking (or if you just want to live vicariously), you can find the listing, photos, and description of the villa here . 
Unfortunately the listing doesn't have photos of the suite we stayed in, but I took video of it below!

Another look at all the locks on the front door. This is the most secure front door I've ever seen and I live in NY.  Necessary to keep out marauders from back in the day?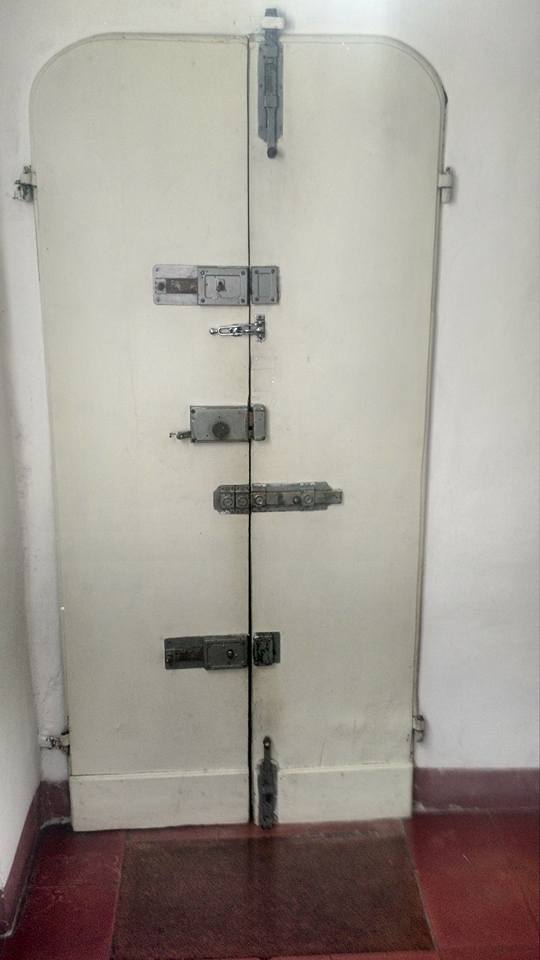 Running in Tuscany
I ran up and down the streets around our villa.  They were super hilly and full of hair pin turns. Cars would beep as they went down to alert other cars and walkers that they were coming.
I told Kevin the roads did not look very runner friendly and he said Viola told him lots of runners ran those streets. Viola is the drop dead gorgeous sister of villa owner. Viola's words had sway over Kevin.  I told him okay, see you later unless I get hit by a car! He said oh you'll be fine.
So I went running, saw a car coming at me during a hair pin turn and only managed to successfully dodge it by running smack into a thorn bush. Saw it coming, couldn't stop it. I was barely even hurt though, just a few scratches and a thorn sticking out of my arm.
I walked back to the villa so Kevin could tweeze the big fat "I told you so" out of my right arm.
Pisa
The day after arriving in Tuscany we drove a little over an hour to Pisa to spend the day with Kevin's friend Luigi.
Luigi took us to an awesome restaurant called Ristorante da Baffino for lunch.
I ordered the seafood lasagna.
What I REALLY wanted was the pasta with pine nut pesto that Kevin had ordered (which he said was amazing) but with all the running I'm doing I needed something with more protein and seafood lasagna was the least frightening thing on the menu. I think Luigi ordered straight up squid.
Seafood lasagna arrives and it looks normal.
I cut into it and a tentacle came out.
A purple tentacle.With little suction cup thingies.
It looked like somebody had cut up Ursula and dropped her on my plate.
Hunger is the best seasoning and I had a lot of it, so I ate it all, pasta, shrimp, and tentacles. Ursula was seasoned perfectly that day :).
After that we walked across the street for gelato for the guys and fro yo for me. There has been a lot of gelato and fro yo eating on this trip. Just insert "gelato and fro yo eating" after every story in here and you've got it about right.
Then we hit the beach! We went to Bango La Pace in Tirrenia.
Here are the guys.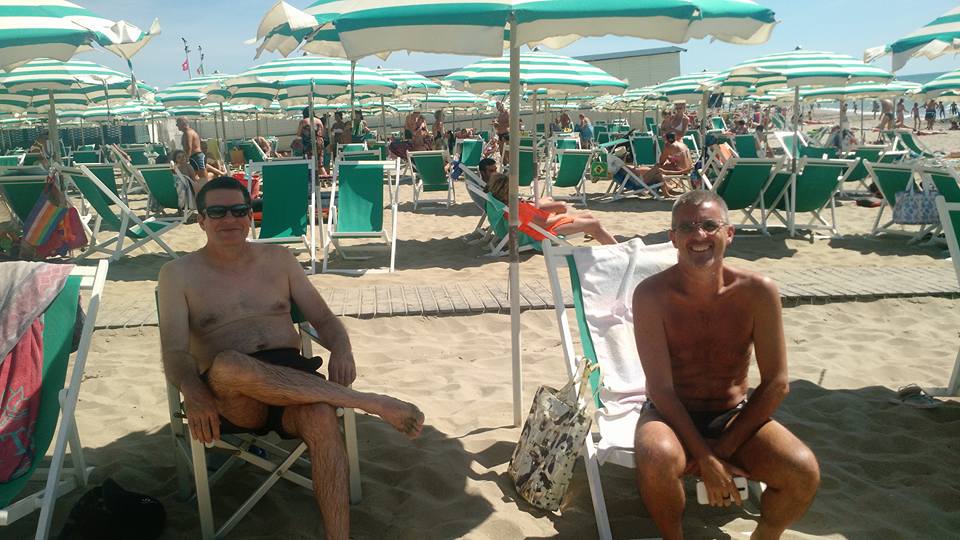 Luigi is also a runner. He was talking about how much he's slowed down over the years and offered up his current pace. Kevin let Luigi know that his slowed down pace is my current pace :).
Do you see the little bits of white on the mountains? Kevin thought that might be snow, but it's actually carrara marble.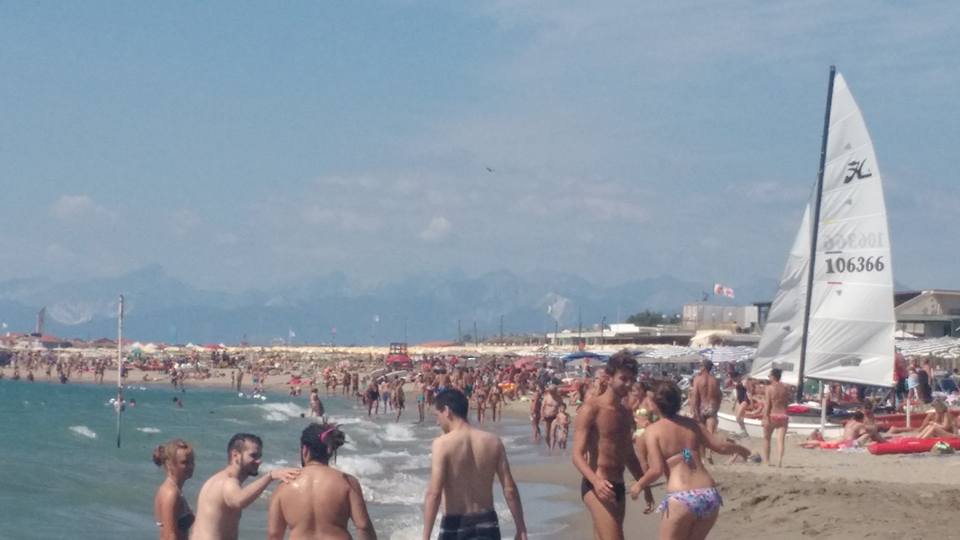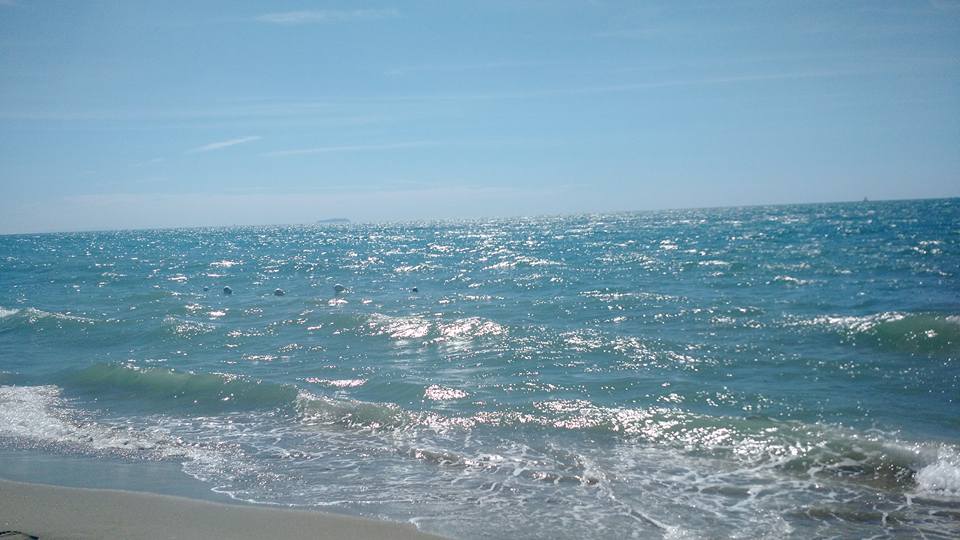 After the beach we went back to the locker room Luigi rents, I got changed, the guys pointed out my shirt was on inside out, I changed again, and off we went to the Leaning Tower of Pisa.
I took a photo of the Leaning Tower of Pisa.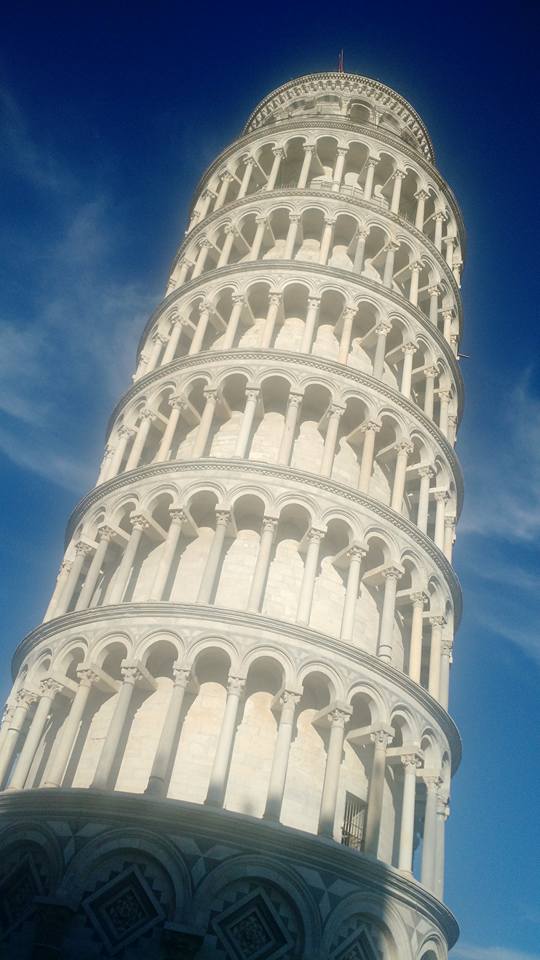 I took a photo of people doing the "Leaning Tower of Pisa is under my hand!" pose. I counted at least three in this photo.
We walked up all 294 steps. All 294 sloping winding steps. You know who did not walk up the steps? The tour guide. He gave us a brief history of the tower, pointed us in the direction of the stair well, and bid us adieu. Slacker.
Cool fallen angel statue outside the Tower.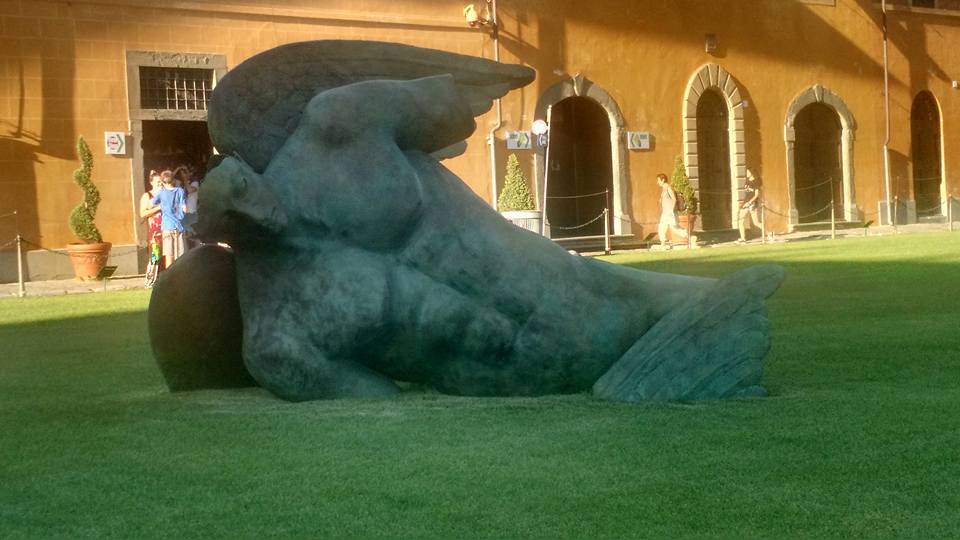 After the Leaning Tower we went back to Luigi's house to relax for a bit and then out to dinner at the "Sagra delle Pallette ai Funghi" .   
A Sagra is a local festival to raise funds for schools. They sold dinner to a crowd of at least 500 that night. They had typical basic Italian food, polenta w/ mushrooms, pasta, and you guys they sold hunks of Parmesan to eat straight up. Not grated over food or anything, just blocks of Parmesan to gnaw on. I was in heaven.
I tried to take photos but the glare was bad so instead I walked around taking this video. It was like a Fleming Family Reunion up in there.
The next day Kevin and I went to the Galleria de Academia.  The bus station was within walking distance of the villa and we're pros at public transportation, so we just walked over to the bus stop and rode it to all the places we wanted to go in Florence. It was only a 10-15 minute ride or so.
Recognize this guy? I tried for a couple of minutes to give him some shorts to preserve his modesty but failed. I think he's probably a bit of an exhibitionist at this point though and doesn't mind.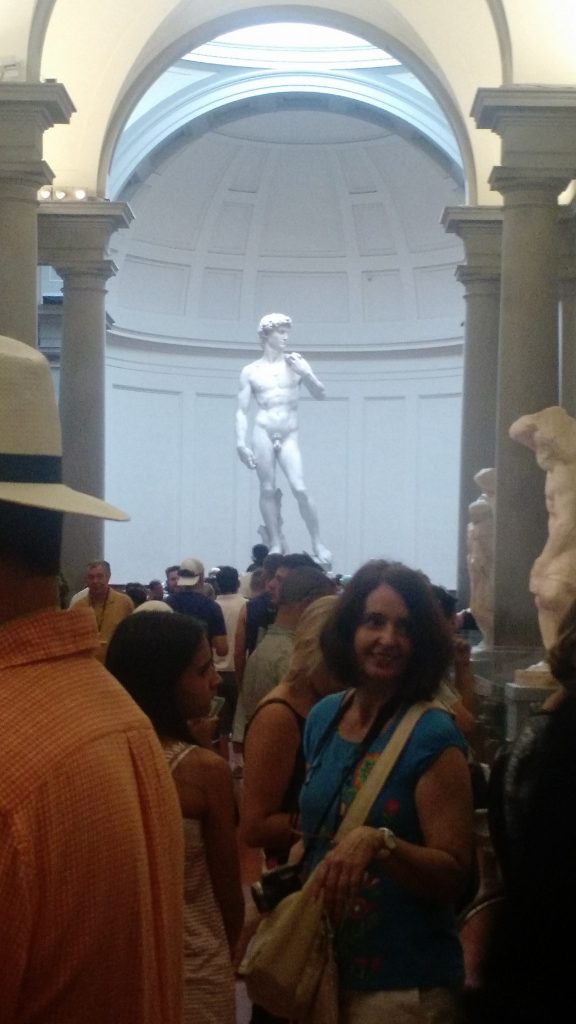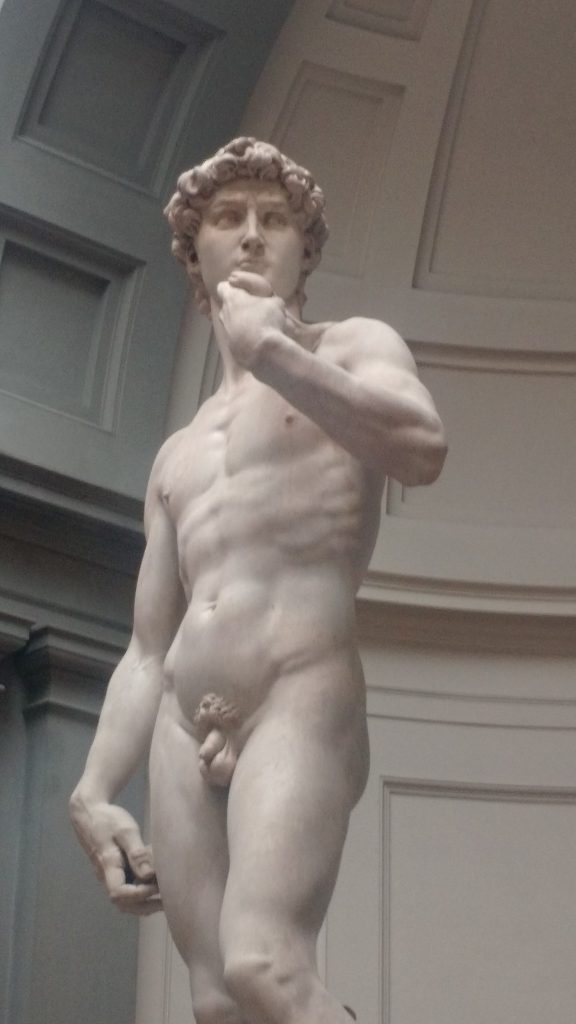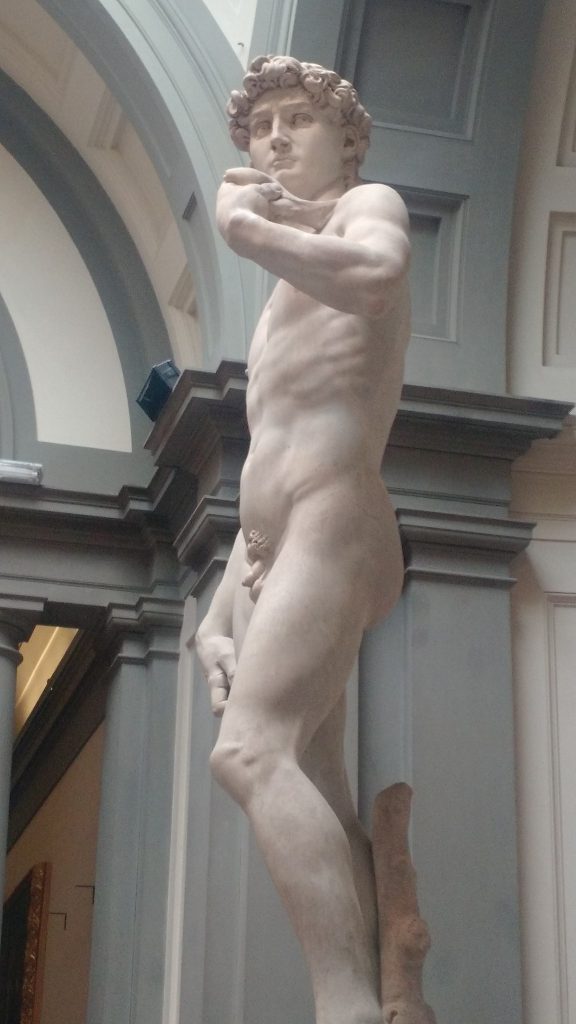 "Death Mask" of David's creator. See all the forehead wrinkles? Our tour guide said Michelangelo lived until the ripe old age of 89!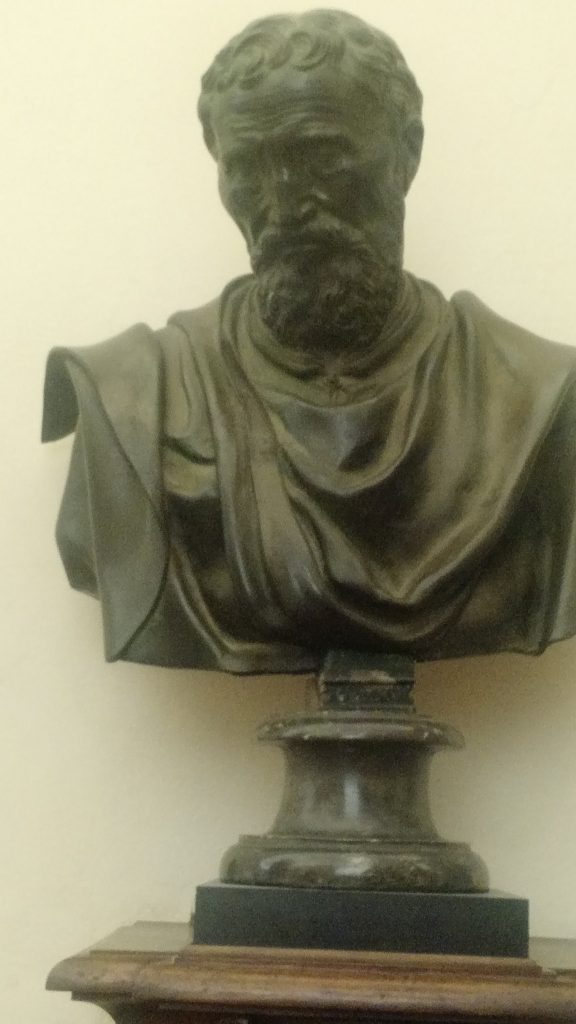 One of the frescos.  What's a fresco? Look no further, this is a fresco.
After that we grabbed lunch and then went to the Cathedral Santa Maria Del Fiore .
If you go to this Cathedral, or any of the cathedrals in Italy, you need to wear something that covers your knees and shoulders. If anyone came in with uncovered shoulders the cathedral employees had wraps at the ready.  I saw lots of women in sleeveless dresses getting handed wraps and even one guy who tried to roll in wearing a tank top was handed a wrap. There wasn't anything I saw done about uncovered knees though, I guess there wasn't much that could be done there. It was pretty hot too so there were a lot of people wearing shorts that day.  Kevin and I respected the dress code even hot as it was, but man shorts would have been nice especially climbing all those steps.
Video after we climbed up all those steps
We hiked up about 130 steps to the terrace in our black dress clothes. It was too hot for us to go any further and we had a late night ahead so we left early without climbing up to the Cupola. Tickets were good for two days so we could have come back for round two if we chose to.
By the way, the guide on this tour did climb those steps with us. He said he climbs them at least twice a day.
Want to know what type of shoes a guy who goes up and down at least 130 steps (more to climb to the Cupola, which he does) wears? Reeboks.
Want to know what type of shoes silly Michelle was wearing? My stylish and unsupportive strappy sandals.
Want to know what the dude climbing the steps in front of Michelle was NOT wearing? Deodorant. Phew ya'll. Phew.
Kevin and I are both foodies, he to a larger extent than me, so we booked reservations at two Michelin starred restaurants during this trip.
The one we went to in Italy was Butterfly.
This was another reason for the black dress clothes by the way. We figured it would be easier to wear on the cathedral tour what we planned to wear at dinner that night.
We had a dinner reservation for 8 pm and pulled up around 7:45.  There were no cars in the parking lot. Both of us wondered what was up and I said maybe they don't open until 8 pm?
Turns out I was right.  They do not open until 8 pm and we were early birds. I don't think I saw other diners arriving until around 8:15 or so.
But it meant we got some great photos!
This was the outdoor seating area where we were. They had blankets on the chairs because it gets chilly at night. Sweet.  The wooden boxes on the ground were to put purses on.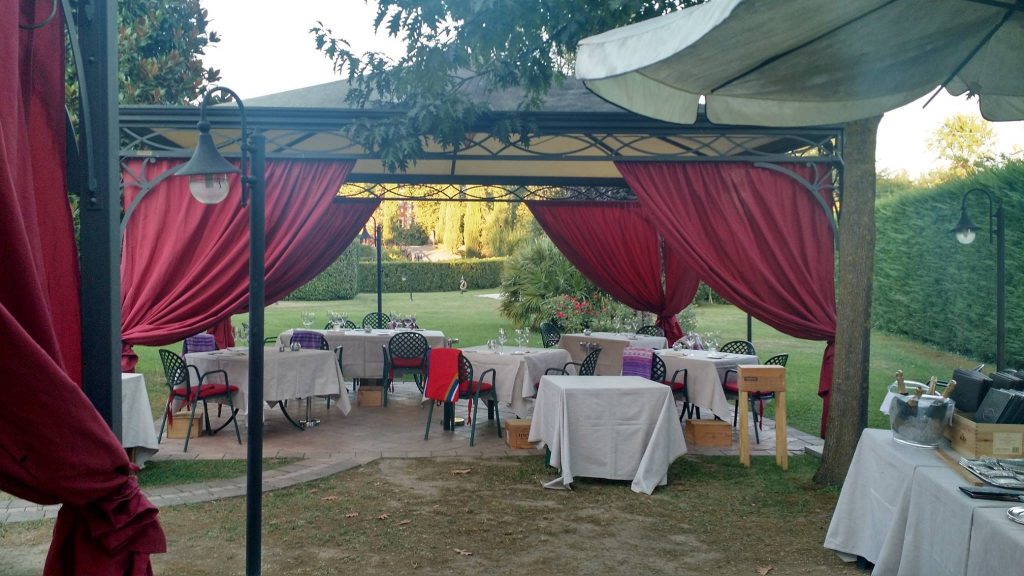 Here I am, the early bird diner at the early early hour of 8 pm.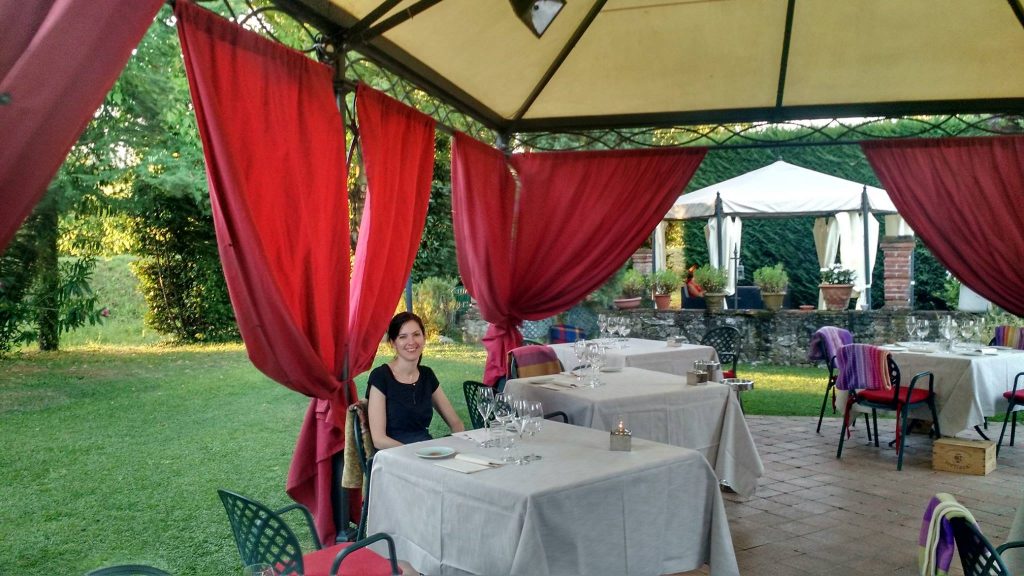 Dinner was a two and a half hour food and wine fest.
The food was great and the wine was great, just two minor service issues.
They were out of the wine we asked for, so the waiter brought us another bottle to taste and said it was comparable to what we'd asked for.  We thought it tasted great so we said sure. It was only when we got the bill that we saw the wine he had given us was double the price of the wine we had asked for. When he said it was comparable to what we'd asked for, he wasn't talking price. Doh.
The other issue is we asked for the check and it took an hour to get it. It was beautiful at the restaurant and normally sitting for an hour wouldn't be sooo bad but we had over an hour drive to get back to our air bnb and with the late dining hour we wound up not getting back to the villa until midnight.
Montagnana di Serramazzoni
After Tuscany we left for our next stop, Montagnana di Serramazzoni. I know it's a mouthful. Like someone dropped a bunch of letters in a bowl and shook it up. I can't pronounce it, I can only type it.
We stayed in an apartment in a historic mill and it was another excellent air bnb find, again cheaper than a hotel. Link with photos here and video below. I highly recommend it if you're in this part of Italy.
Again, we had complete privacy and our host, Giorgio, was wonderful. And just plain awesome.
When we showed up he said he wanted to help us with our luggage, so he walked out to the trunk of our car and said he wanted whatever the heaviest thing was.
Note he is in his late 60's and we had a flight of steep winding stairs to climb up. Kevin tried to tell him he had it but Giorgio insisted and lifted the biggest suitcase up those stairs like it was a feather.  By the time I hit my late 60's I hope I've grown into the type of person who says "give me the heaviest one to carry!" I sure am not that person right now.
The mill our apartment was in is 340 years old and our host and his family have lived in it for five generations!
Giorgio and his family have been making balsamic all these years and also running a restaurant, La Noce. Click this link to read more about La Noce, the suite we stayed in, and the balsamic factory.  We would have eaten at La Noce but Giorgio's wife, the chef, was ill when we were in town.
One of their family traditions is starting barrels of balsamic on the day children are born. The sweetest Italian lady gave us the first part of the tour. I could tell she was camera shy or I would have asked if I could take a photo with her.
This is one of the barrels started when his son was born.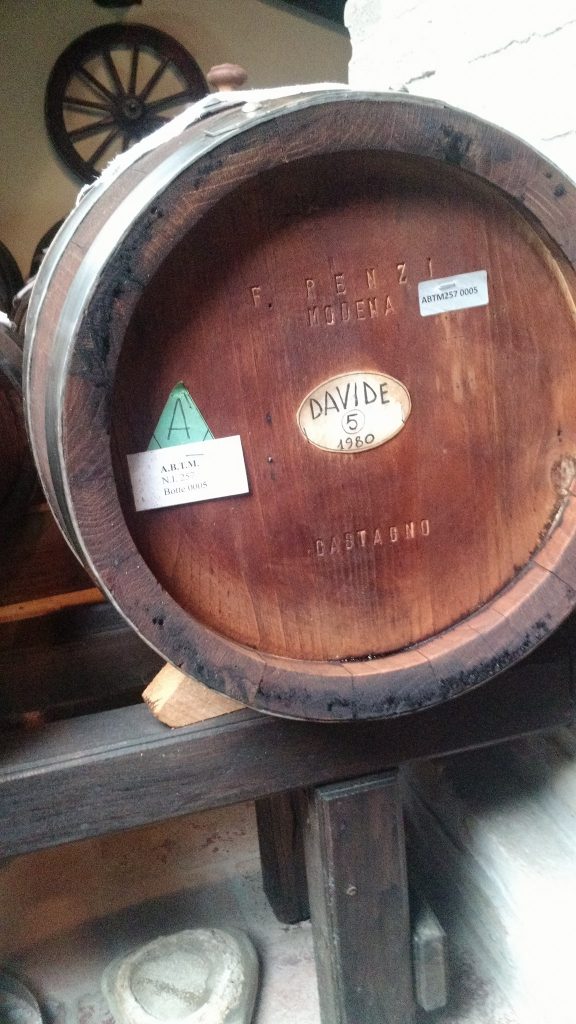 One of the barrels started when his daughter was born. His daughter is a nun in a covenant in Florence.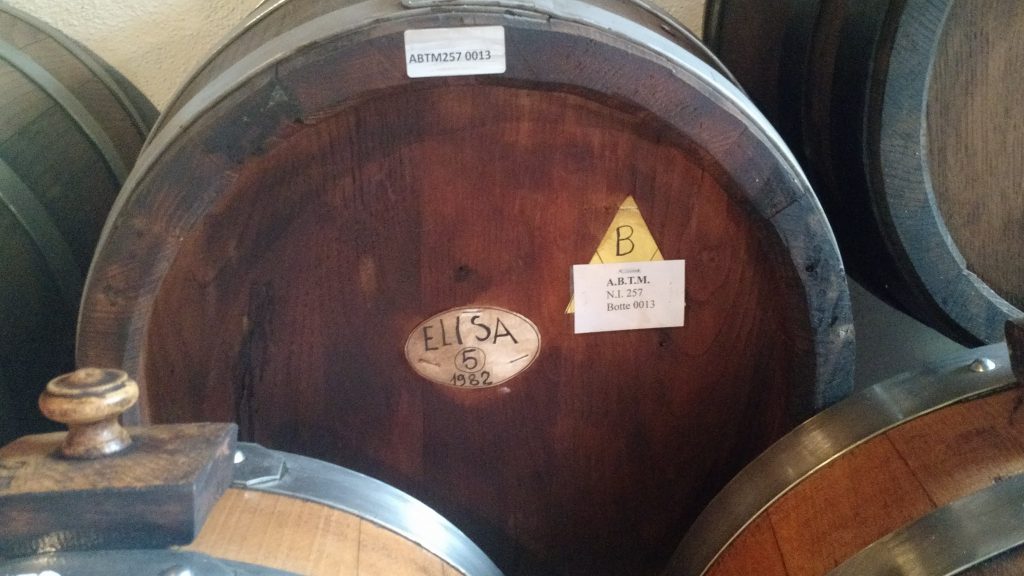 Giorgio's father has one of the barrels started when Giorgio was born, in the late 1940's, in his house.
As the balsamic ages and reduces it's moved from the larger barrels to the smaller ones.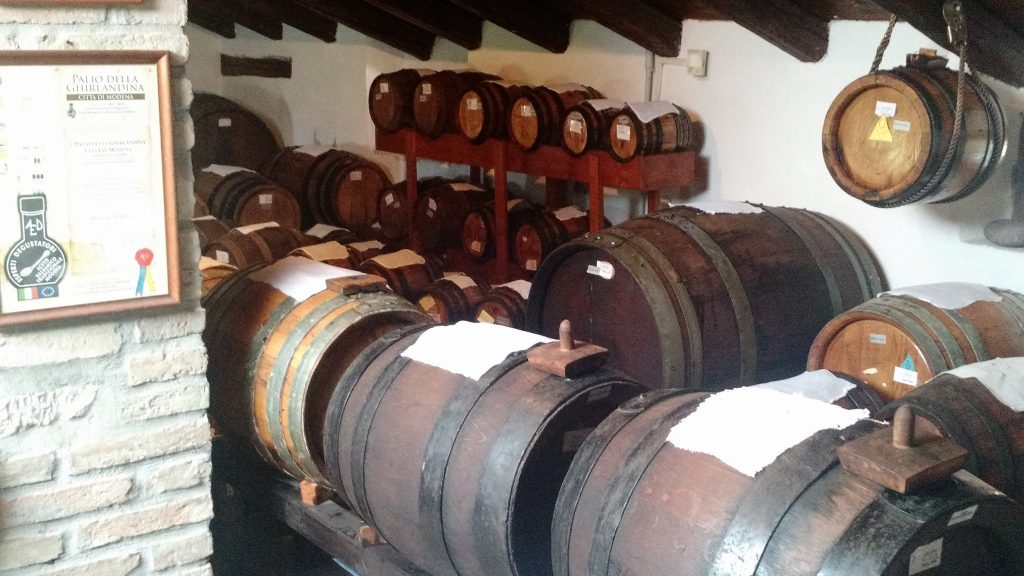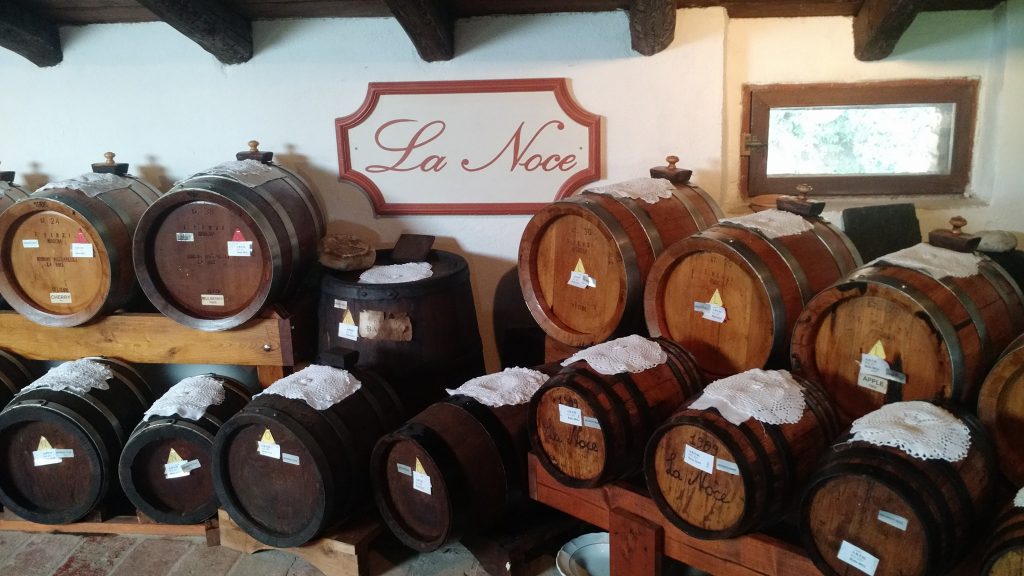 Giorgio also makes wine and at one time was the second best sommelier in Italy! His vineyard is right next to La Noce.
Sewing machine and projector from the days of yore department at Pottery Barn.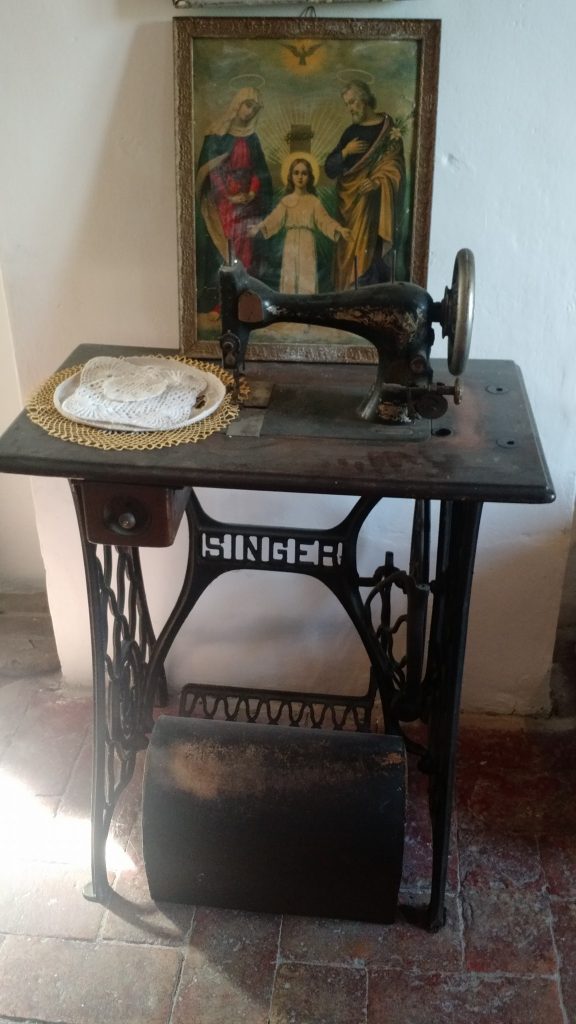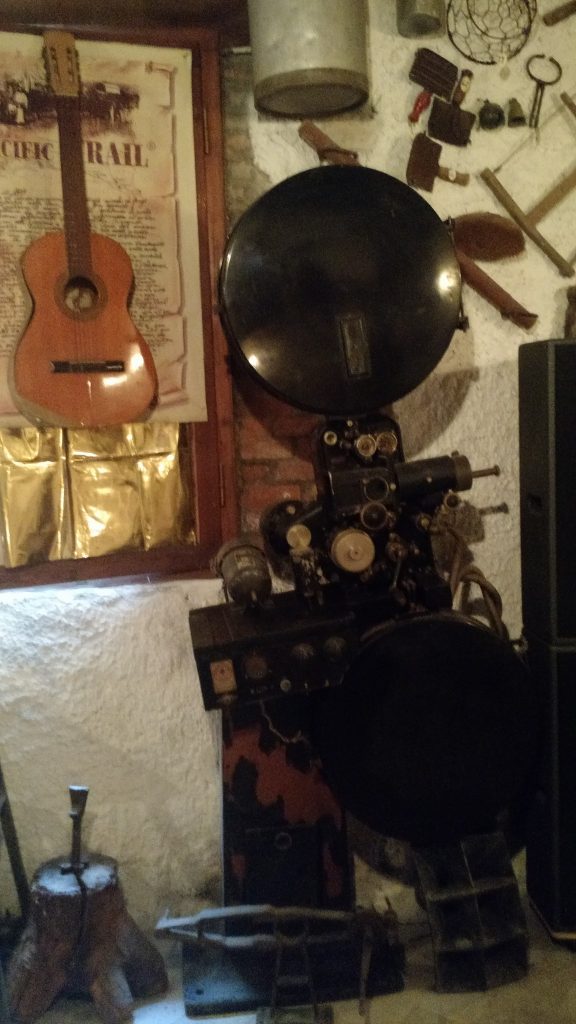 I'm kidding you guys.  Being that the mill has been in the family five generations there were a ton of cool antiques to look at, including these.
Georgio plays the drums in addition to running the restaurant, making balsamic,  making wine, and hauling the heaviest suitcase up the stairs. He is a cool dude.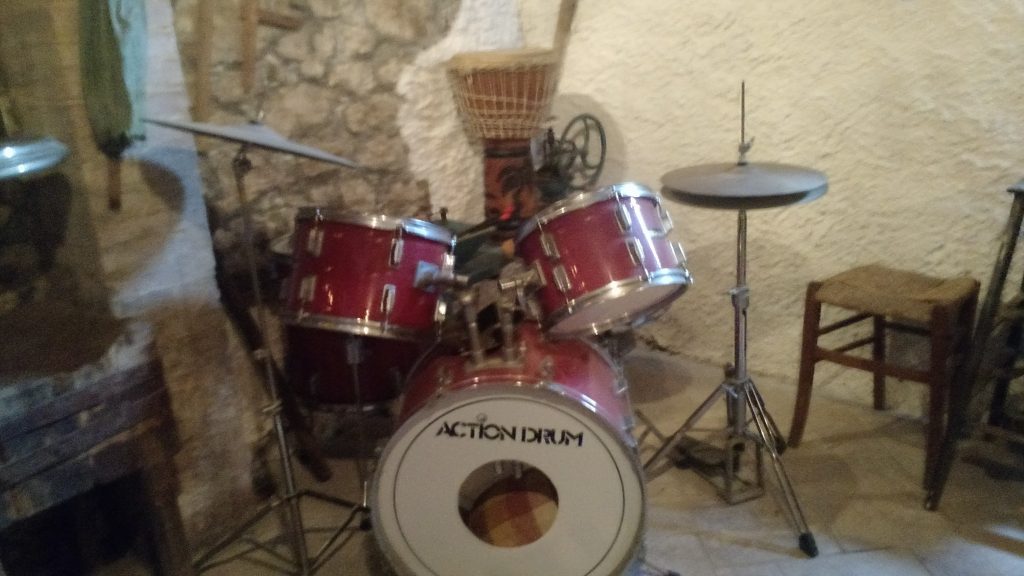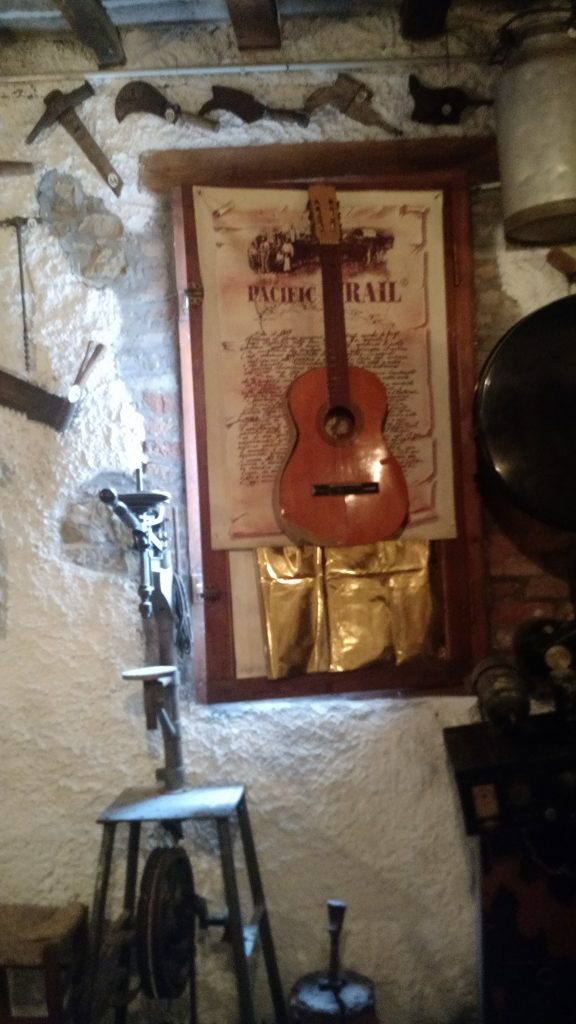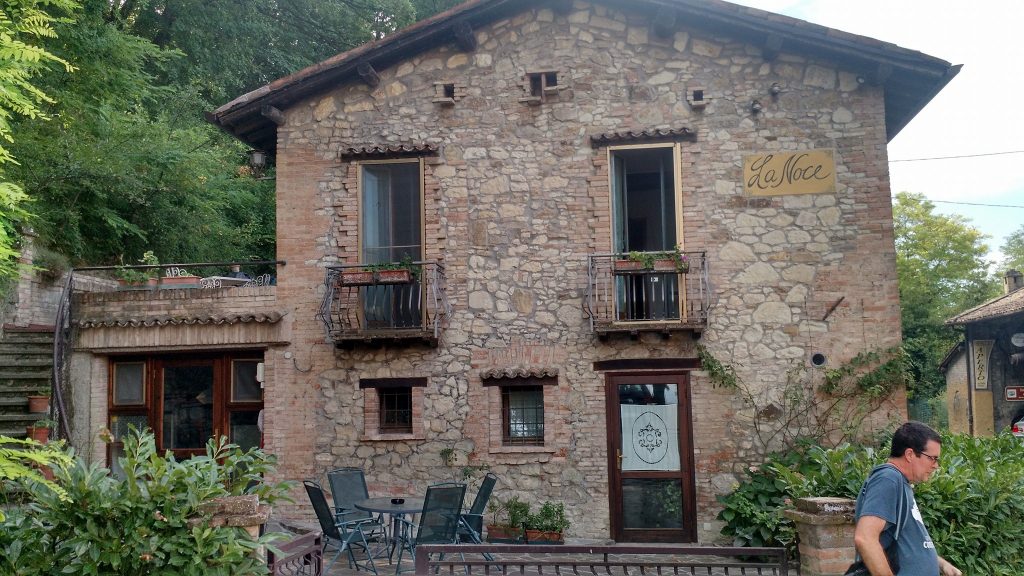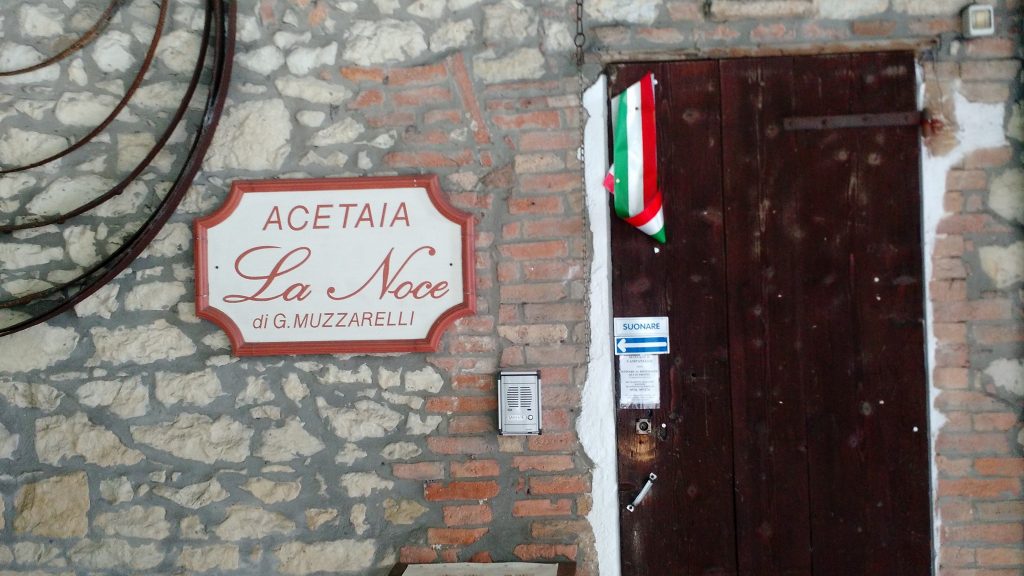 Running in Montagnana di Serramazzoni
The streets where we stayed weren't safe to run in, so I ran in (well, mostly around…)  Parco Due Maranello.
It wasn't a large park so to get in my 3 miles I ran in the streets surrounding it. My MapMyRun route looked like cooked spaghetti :).
Eating on the Road
That's about it for highlights in Italy, but before I leave you, one last thought on eating on the road here.
If you're driving across Italy and Switzerland you will see these all over the place.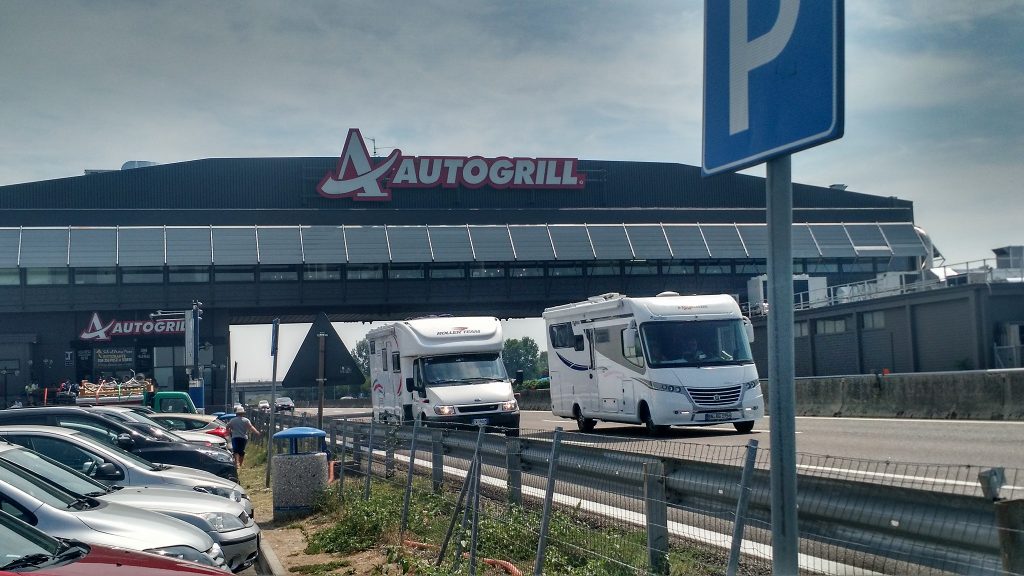 Autogrill is impossible to miss, the restaurant portion looks out over the highway. It's actually more of a giant cafeteria upstairs, with 3-4 different food stations, mostly pastas.
Downstairs is  a grocery store and place to get sandwiches/pizza.  We ate at 3 different Autogrills while burning up the roads and they were pretty good for on the fly food. More about Autogrill here.