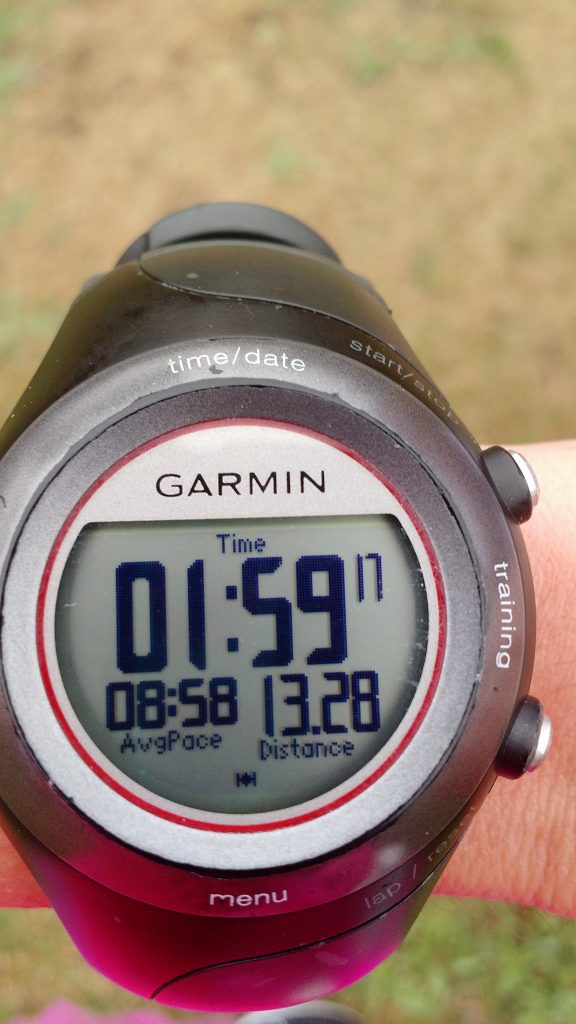 It unexpectedly went down at the Diva Half Marathon!  My previous P.R. for a half marathon was 2:03.
I smashed that by 5 minutes last weekend with an official time of 1:58:16 and did really well in rankings.
Notice there were only 8 dudes running out of 777 runners. If you're surprised by that read on for a description of the race and it will start to make sense.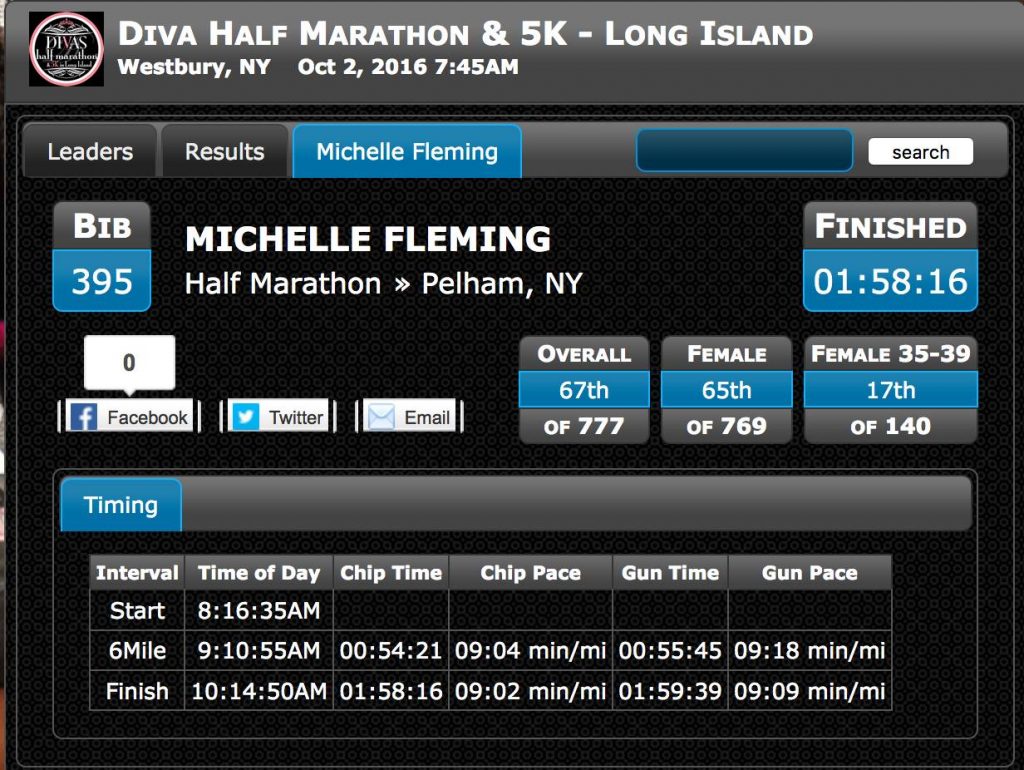 Those of you who know half marathon distances may look at my watch and say wait Michelle, isn't a half 13.1 miles? What gives with the 13.28? Why'd you run extra distance? Did you get lost again…
That extra minute was because I arrived a minute after the race started.
Thinking I had some time to kill I was strolling along chatting with Lisa and Kevin and swinging my tutu in hand. When the gun unexpectedly went off I learned I could sprint and yank on a tutu at the same time. Life skills.
I hit the start button when I started running along the infield to the start line, that's the reason for the extra distance and time on my watch.
If I could pull my run record off the watch- the watch started acting weird a week ago and refuses to transfer run records now- you would see a U-Turn where I turned up onto the track to get where I was supposed to be. I was not lost! I was late!
I didn't go into this expecting a P.R. much less a sub two hour time. I thought it would just be a fun time.
My cousin Lisa offered to let us stay at her house the night before because it was so close to the race. I was excited about that, we hadn't seen each other in twenty years!
The Race Expo
Kevin and I had to stop at the race expo before meeting up with Lisa to pick up my race packet (no race day packet pick up unless you bought a "VIP Package"), browse, and hunt for hot firemen. The Diva races have hotties hand out the medals every year and word on the street was this year it would be shirtless firemen.
Rumor confirmed.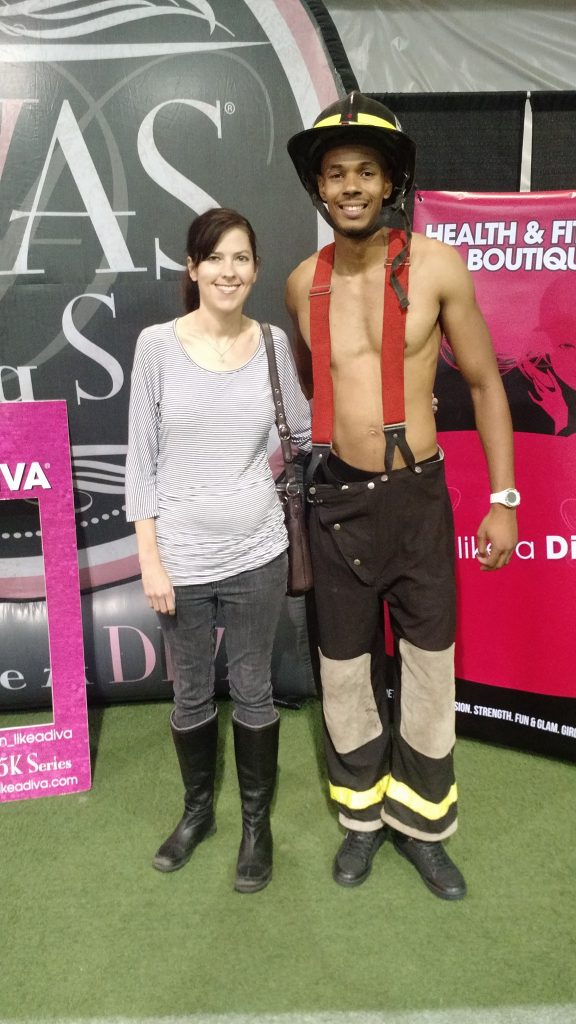 There's always fun stuff at the expo.
I liked this shirt.
But I liked this one even more so I bought it.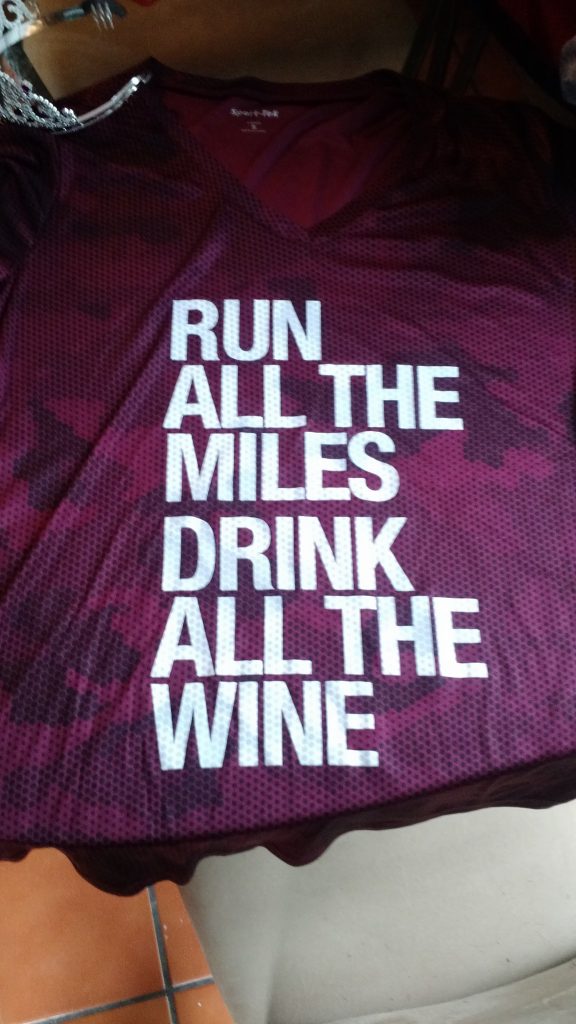 Race Swag
The race swag they give you as part of registration is a 10 out of 10 at the Diva Half.
Gear Bag with Shoulder Straps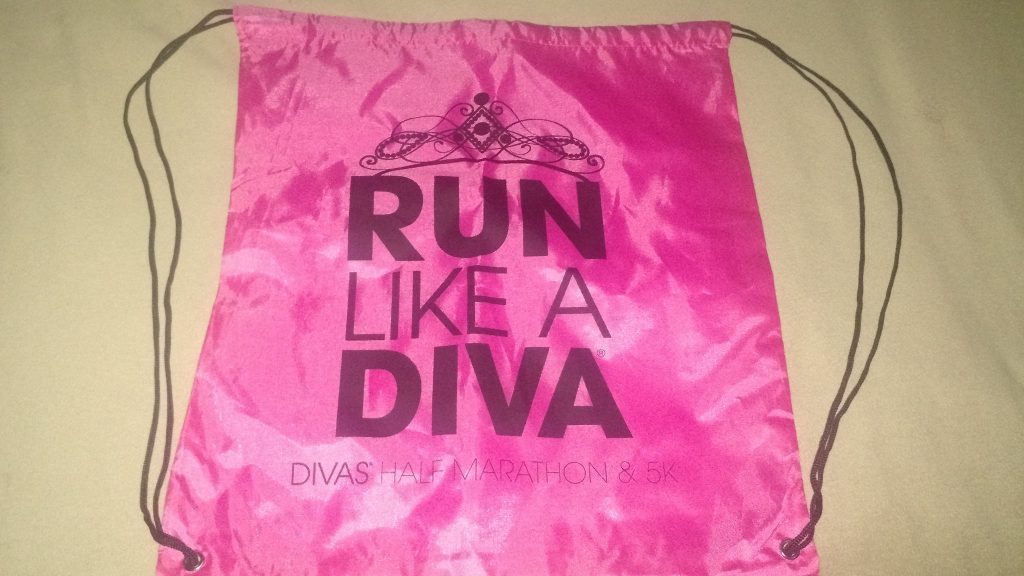 Tutu
Tutus given to all runners! I was talking to a coworker about my terrible trail race and mentioned I had a race coming up that I was looking forward to. He asked for a link to the race website, so I IM'd it to him.  He said "My monitor is having trouble rendering this, there is so much pink."  Pink everywhere!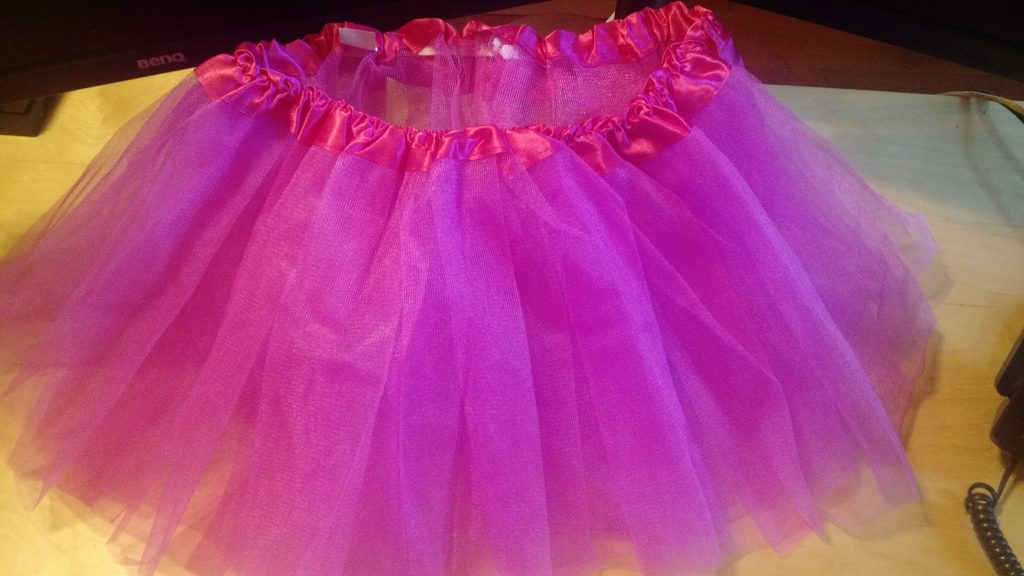 Personalized Race Bib
The Diva Half is also different from most races because it's not just a number printed on the bib. You can also select a name. And not just a name, but your "Diva Name"! You are Diva whatever you want to be.  Most runners were a lot more creative than me. I saw one by the name of "Diva Sassyratchet".
Muscle Milk
On the practical side the Diva Bag also had this in it. This is the only time my race gear included a drink in it. Props to the organizers. We were both pretty and hydrated.
I drank most of it before the race and finished it off post race.  There was also a small Hazelnut Chocolate Luna bar in the bag.  So far I am not impressed with Luna bars- I've tried them twice and they are way too salty for me. The race bag also included the pink technical shirt you see me running in.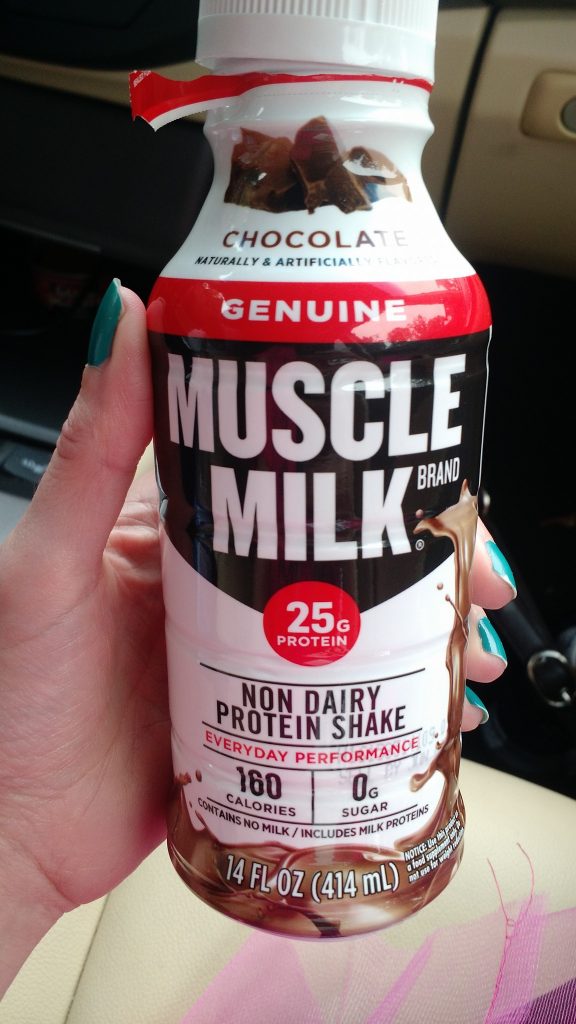 Hanging with Lisa
After the race expo we met up with my cousin at the high school football game where Kristin was performing with her school's kick-line team.  We caught a really dramatic ending to the game but unfortunately missed Kristin's performance because of the race expo stop. I told Kevin to look for someone who looked a lot like me and it would be Lisa! The last time I saw Lisa was at her wedding 20 years ago and she looks exactly the same!
Left to right is Lisa's husband Brian, Kevin, me, my cousin Stacey,  Stacey's daughter Emily, Lisa's daughter Kristen, Lisa, and Lisa's son Brian.  This selfie made possible by Kristen's selfie stick and Brian's long arm.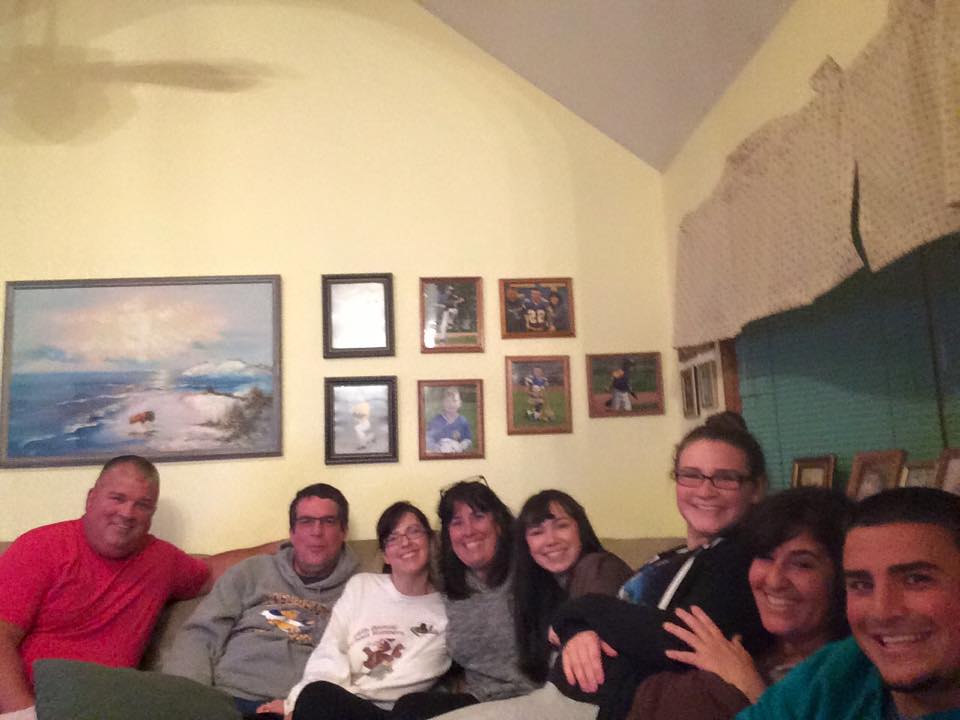 We stayed up late the night before playing board games- Scattergories, Apples to Apples, and Smart Ass- and drinking wine. Well, I drank wine. Lisa abstained because she is allergic to sulfate. Maybe this is why she doesn't age. Maybe I should drink less wine.
Race Day
We woke up at 6:00 the next morning, had some bagels, and around 7:45 headed over to the park for the race.
My cousin took these photos as I was going past. This is when I still thought it was just going to be a fun time and I was goofing around.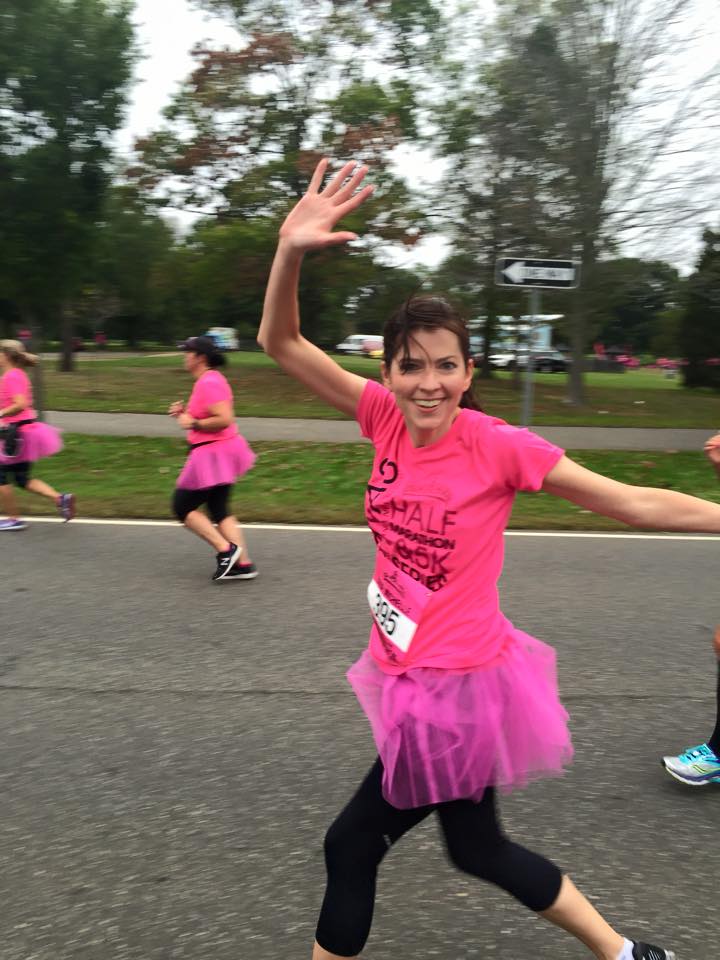 Let's Backtrack to the Swiss race

I should stop a minute here and talk a little more about why I was in such a chipper mood. I mentioned my last race was awful, but left out the even more awful part of what happened afterwards.
I woke up race morning in Switzerland and my stomach was a little off, but I still think that was due to race nerves. As you know from my last post it wasn't the most enjoyable time, but when I finished I felt good health wise.  I told Kevin I was feeling so energetic I might go running the next day because I didn't run that trail race so much as I hiked it. I had energy to spare.
The next morning I woke up and I felt bad. It was nearing the end of our vacation though so I put my game face on and went sight seeing with Kevin.
The morning after that the gates of hell opened in my stomach. Nothing was staying in me.  I was in bed most of the day eating frozen yogurt, chicken noodle soup, and risotto and even those things were not going over well with my stomach.
Kevin and I figured it was a 24 hour bug so I rested and hoped I'd be well enough for my flight the next morning.
The next day it was clear I was not making the flight unless my seat was reassigned to the lavatory.  We were staying at an air bnb and Kevin asked our host for a doctor recommendation. Unfortunately, the local doctor did not speak English, so she said our best bet was to go to the Spital (Hospital).
If I had been home I would have taken a day or two off from work and rode it out. But I had to get well fast for my flight, so off we went in dramatic fashion to the Spital.
I was very impressed with the hospital and the health care. Within five minutes of arrival I had an IV of anti-nausea medication and saline.  Once I didn't feel like I was going to lose my cookies I felt much better.
Expense wise-  Kevin went to handle the paperwork while they were figuring out what was going on with my stomach. They told him they didn't know what the full bill would be until all the tests were done but there was no way it would be more than 500 Swiss Francs. This was without insurance.
So they charged our card that amount and said they would refund us the difference.   A month later we got a refund for $100 USD.  Talk about cheap- in the U.S. this visit would have likely cost thousands.
Language barrier wise- well there was a bit of a language barrier, but I understood the doctor and nurse and they understood me well enough to treat me. We had a bit of a hiccup when they asked me where I'd traveled and didn't understand "Italy." They were scratching their heads at that one and I'm wondering if my southern accent made it harder to understand. I started free word associating and said "The pope. Pasta. Eggplant parmesan." Finally they said "Ahhh EATaly!" Yes. EATaly. Maybe I should have tried Italia?
Long story short the blood work showed an infection in my stomach. I could have told them that….. The official diagnosis was acute gastritis which they thought was caused by a "bad reaction to food." I was also dehydrated so they gave me a second bag of saline through IV before I was discharged. I left with a prescription for Imodium and some medication for the nausea that I don't remember the name of.
When I got home I saw my primary care doctor and we both disagree with the hospital that this was caused by a "bad reaction to food."  My husband and I had mostly the same food and he was fine and she didn't think my symptoms fit with it being a food issue.
We think I caught a virus, which in turn resulted in the acute gastritis, from a farm animal. Specifically it was probably caused by running and sliding through the cow poop during that Swiss trail half marathon.
So why was I so happy in those race photos my cousin took?
Wouldn't you also be ecstatic to run a race where instead of cow poop and a parting gift of acute gastritis there are tutus, champagne, feather boas, shirtless firemen, and tiaras?
Back to the Diva Race
I was checking my watch regularly and knew I was going at a good clip, but I still didn't think I was going to P.R.  I was tired, had a little bit of a wine hang over and didn't want to push it.
At mile 10 I looked at my watch and saw that even if my next three miles were ten minute miles it was still going to be a P.R.
I quit screwing around and I gunned it.
I did slow down enough to pass through the boa and tiara station at mile 12 though.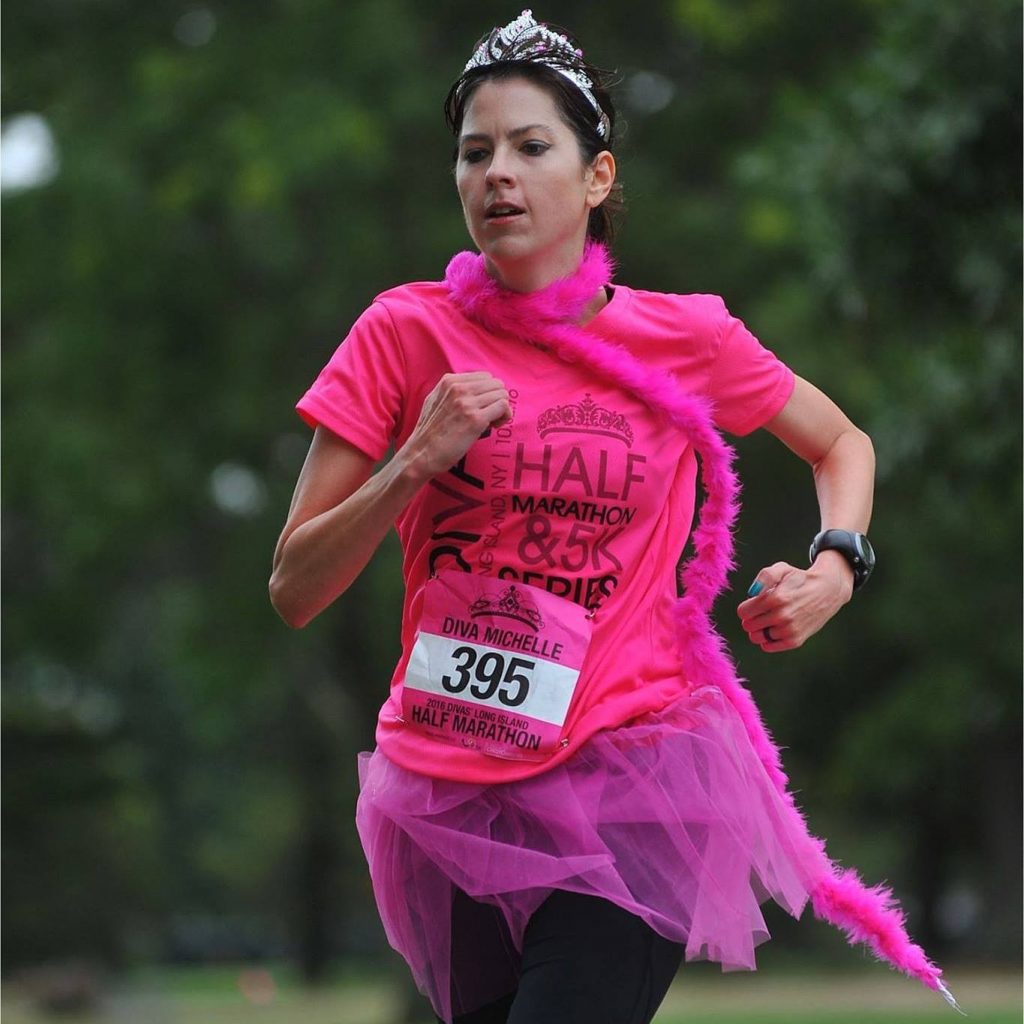 That tiara is a lot bigger than it looks in the photos.  Somehow it stayed on the entire mile, no sliding around even.  There must be an industry for racing tiaras as well as racing tutus?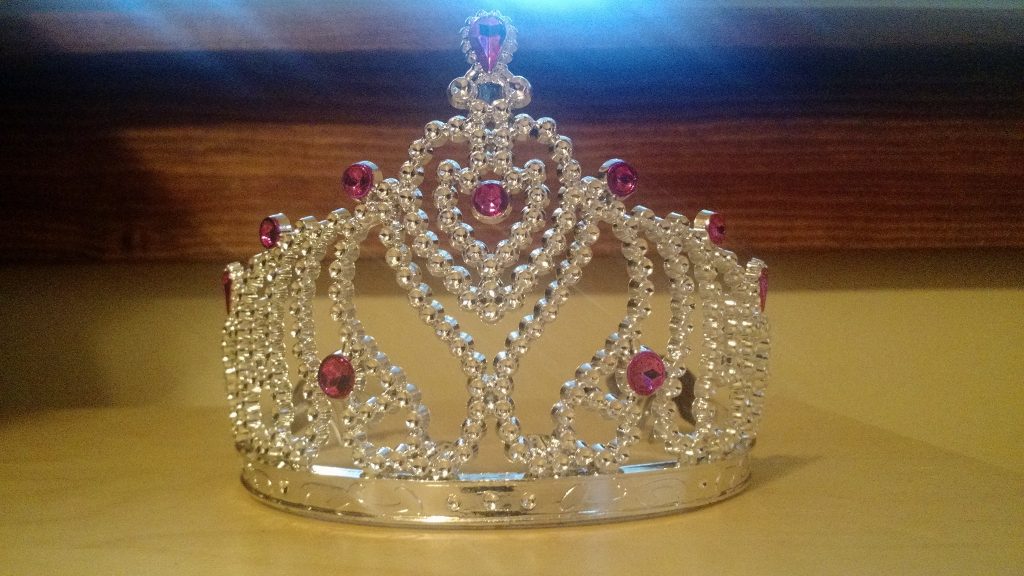 Victory! I still laugh looking at the finisher photos and the one above. I thought I would know in advance when a P.R. was going to go down and I'd pick a bad ass looking running outfit. Instead, here I am sprinting along and arm pumping in my pink tutu, feather boa, and tiara.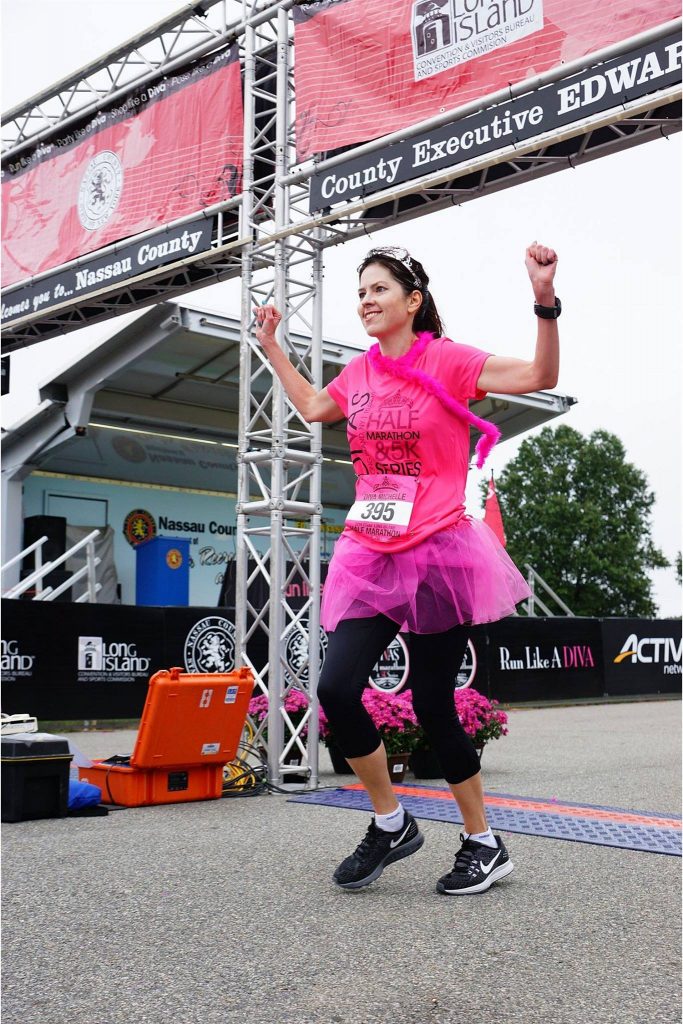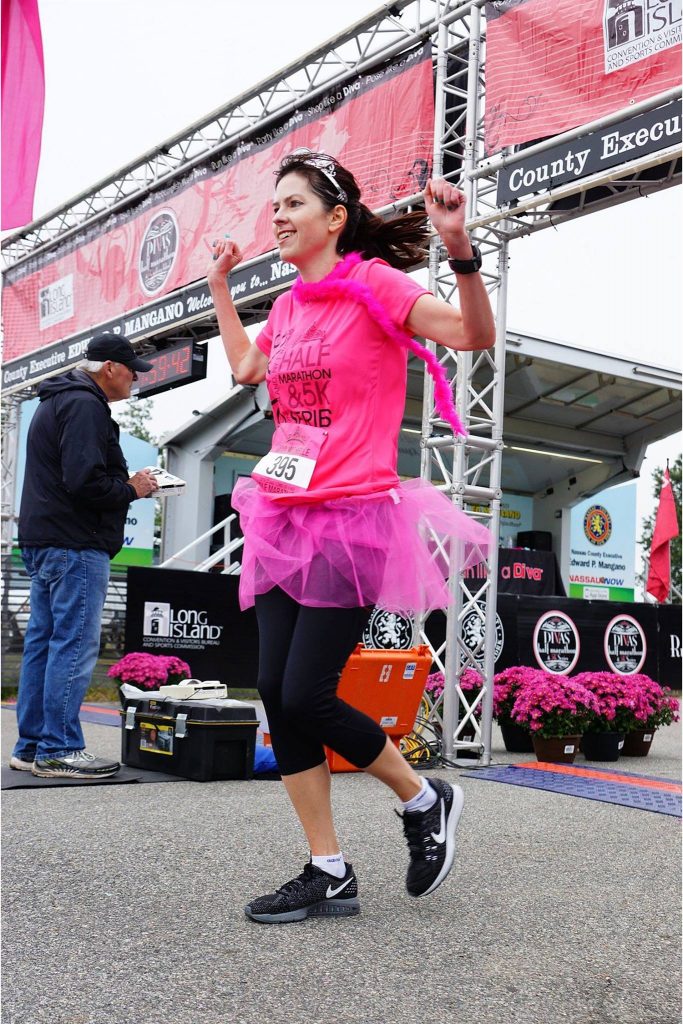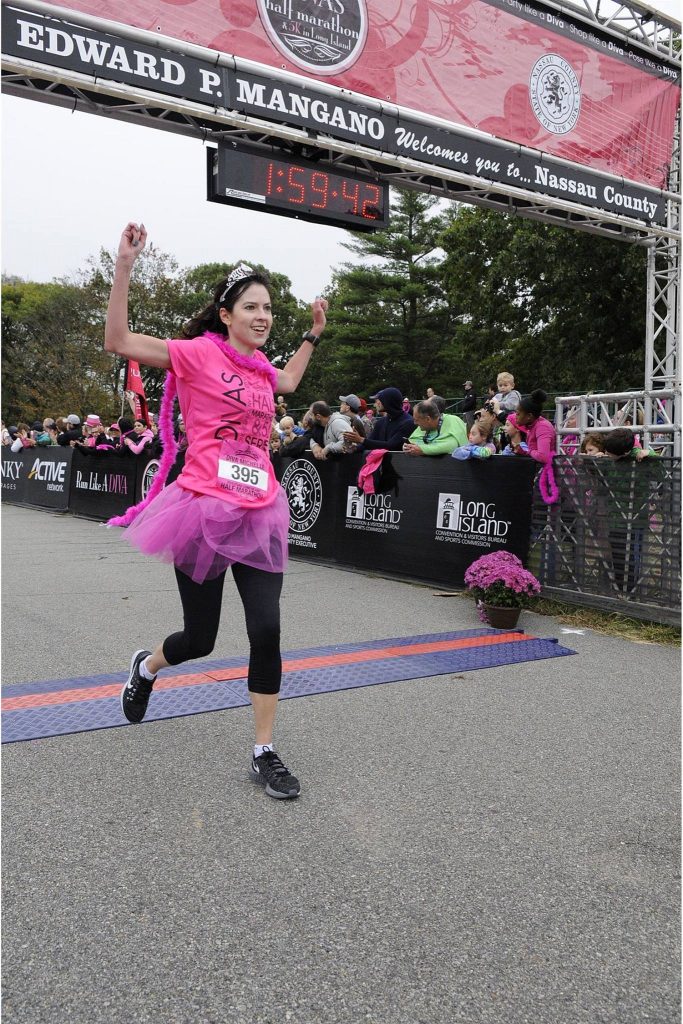 I admit, I knew there was going to be a shirtless firefighting man waiting to put the medal over my neck at the finish line and I ran a little faster because I did not want to keep him waiting.
He did not disappoint. Thank you Diva race organizers!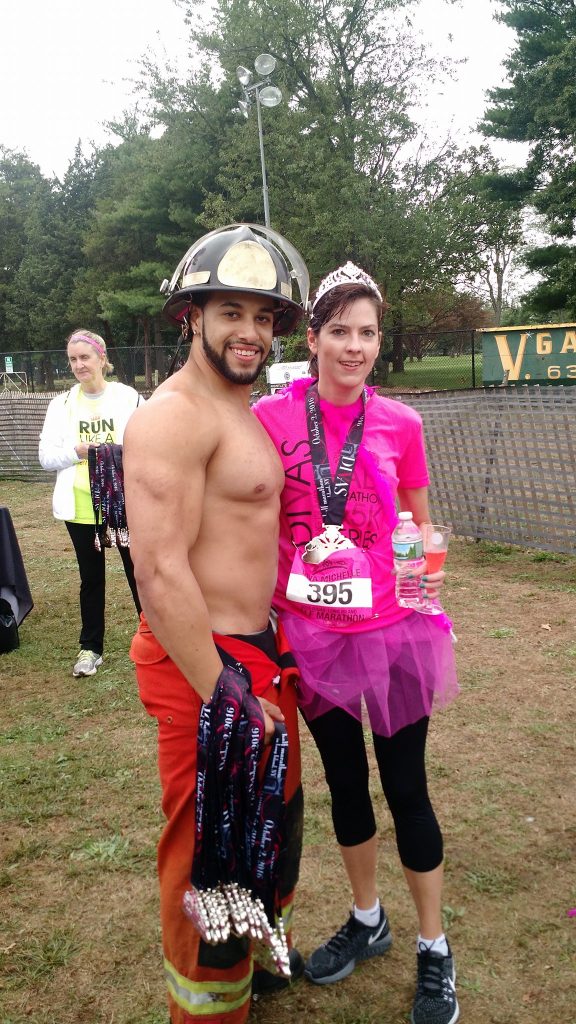 So, how did I manage a P.R.?
Shirtless firefighters. Haha.
Seriously- I think the key is this half was the first flat half marathon I've done in 3 years.  All of my races and outdoor running has been on hills because there isn't a significant stretch of flat section anywhere in Westchester County. When all you run is hills it's a cake walk when your race is flat.
I also changed my race strategy a little bit by running on the side of the road where the turn was.  For example, if I saw a right hand turn coming up I didn't run on the left hand side of the road or the middle of the road. I hugged the right side.  That cut down a bit of distance/time.
Here's a short video with footage from the Long Island Diva Half taken six years ago so you can get a sense of what the race is like.  The race was pretty much the same this year except there was more pink since tutus were given away as part of the race swag and the hot guys handing out medals vary.  The year of this video it was hotties in tuxes.  I feel like I got the better end of the deal this year.
I had a blast. Tutus, tiaras, feather boas, champagne, and shirtless firemen? The only thing that could possibly make this race any better would be glitter cannons along the way.