Mea Culpa
Sorry for the radio silence! I injured my ankle in January and found out in late February that it was a stress fracture, my first. Very exciting.  I want to tell you about my trip to Hawaii, so I'll save the stress fracture story and my return to running plan in a later post. For now, I just wanted to say I've been under a no running and no walking beyond what's absolutely necessary restriction for 6-8 weeks. The 6 weeks is up on April 5th. Because of the restriction I haven't been able to run (and blog!) about races.  That's why things have been so quiet here.
 Hawaii!
Last week Kevin and I went to Kauai, Hawaii!  It was a crazy long trip to get there. I know, poor me.  All those flights to go to Hawaii. Wah wah wah.  We flew from NY to Los Angeles, Los Angeles to Honolulu, and Honolulu to Kauai.
We landed late in the evening, so we took a taxi straight to Aston Islander on the Beach where we were staying and crashed. No waiting on checked luggage because we're champion packers and only took carry on luggage. The washer/dryer at the resort helped too ;).
The next morning we walked down to the Lava Lava Beach Club for breakfast.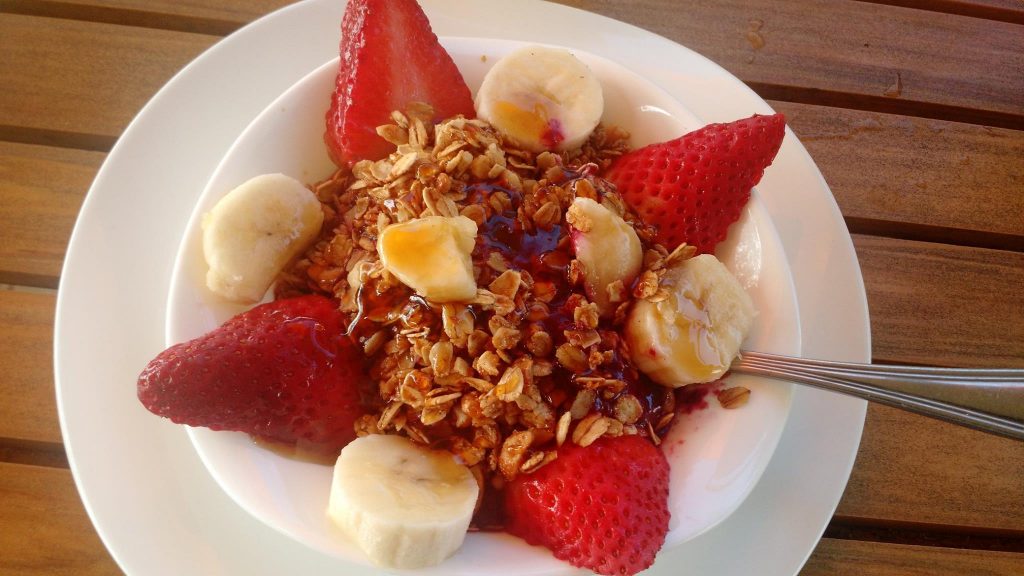 I had the acai bowl. This trip was full of foods I had trouble pronouncing. Other people describe acai bowls as a fruit smoothie on the bottom topped with granola and fruit, but I don't think that's accurate. My version of a smoothie means there's yogurt or ice cream or something to make it creamy. This had frozen blended fruit on the bottom.  It was more like sorbet.  But it was still good! It was also pretty cool to learn some scenes from Tropic Thunder were filmed right on the beach.
The beach
Speaking of the beach, a monk seal came out of the ocean, crawled up on the sand, and settled in for a nap while we were out there.  I guess this must happen fairly often because somebody came out and made a fence out of sticks around the seal (there were a lot of sticks on that beach, like a LOT…) and put up the sign.
So sleepy!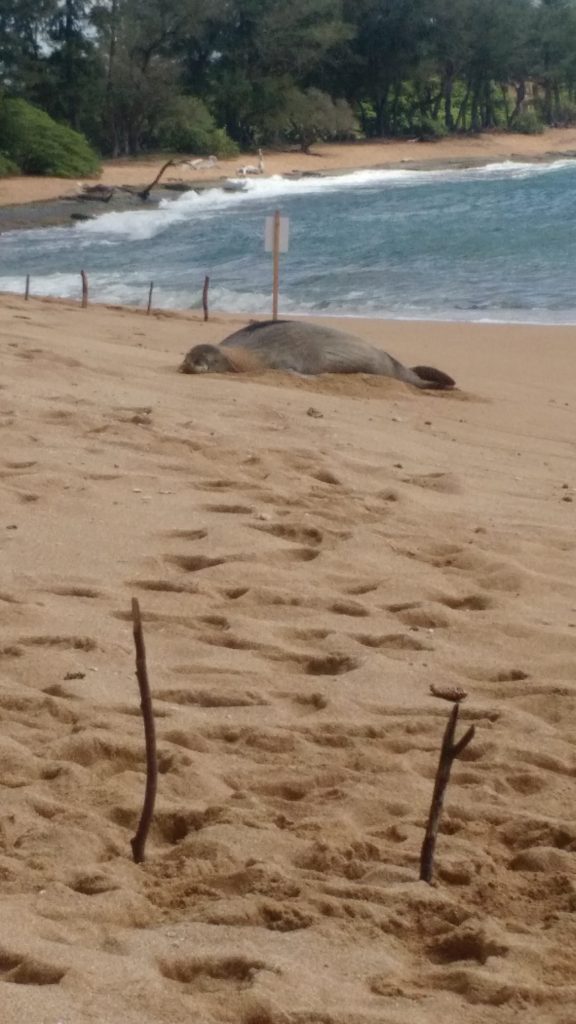 It was polite enough to give us a few flicks of its tail.
But not polite enough for us to get close to it.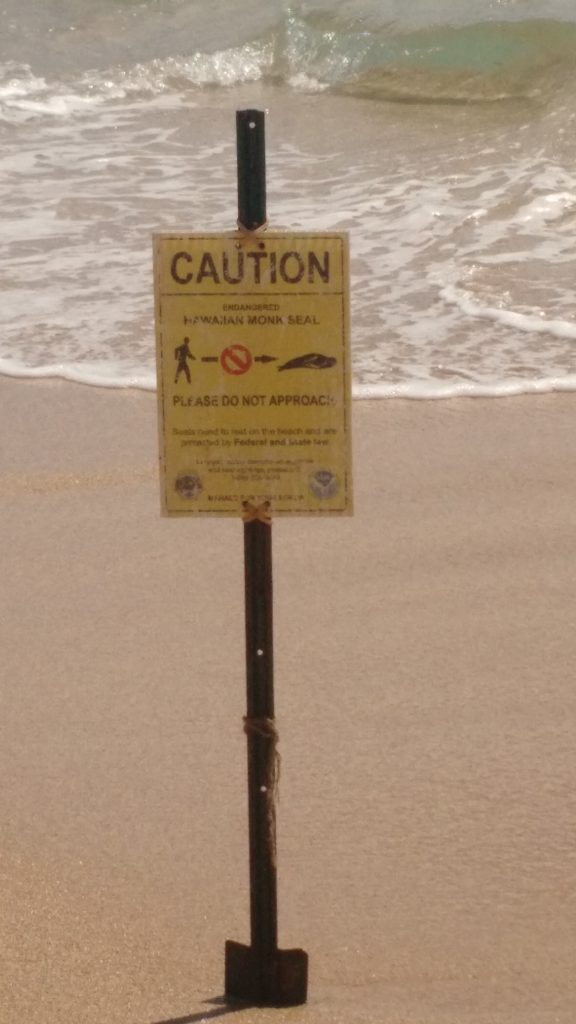 Kevin and I were surprised by how few people were on the beach until we went out ourselves. It was a narrow beach and full of sticks.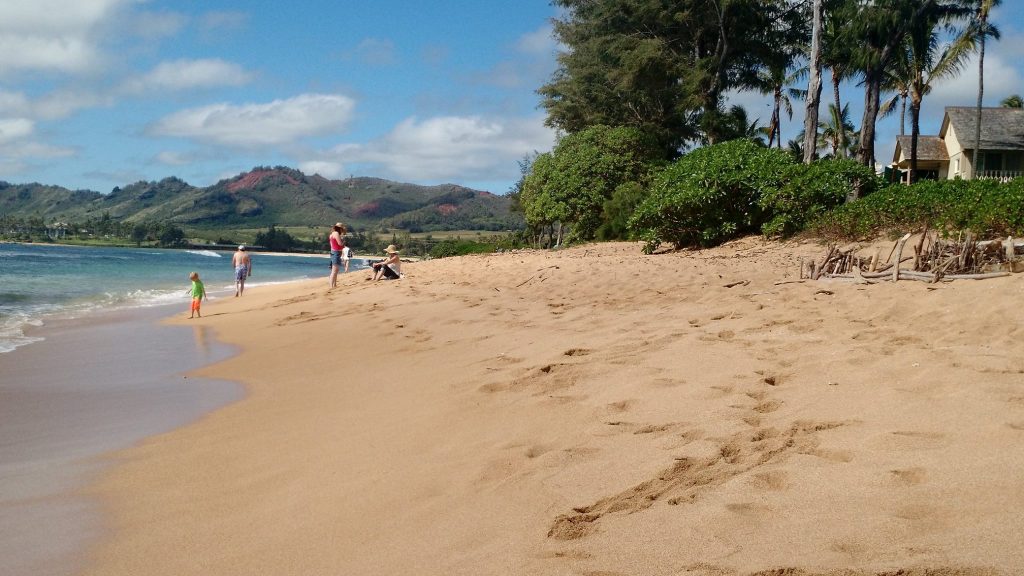 The sand's texture was more like sawdust than sand. You can see the strangeness of it in this photo. Looks like my feet are covered in clumpy sawdust, doesn't it?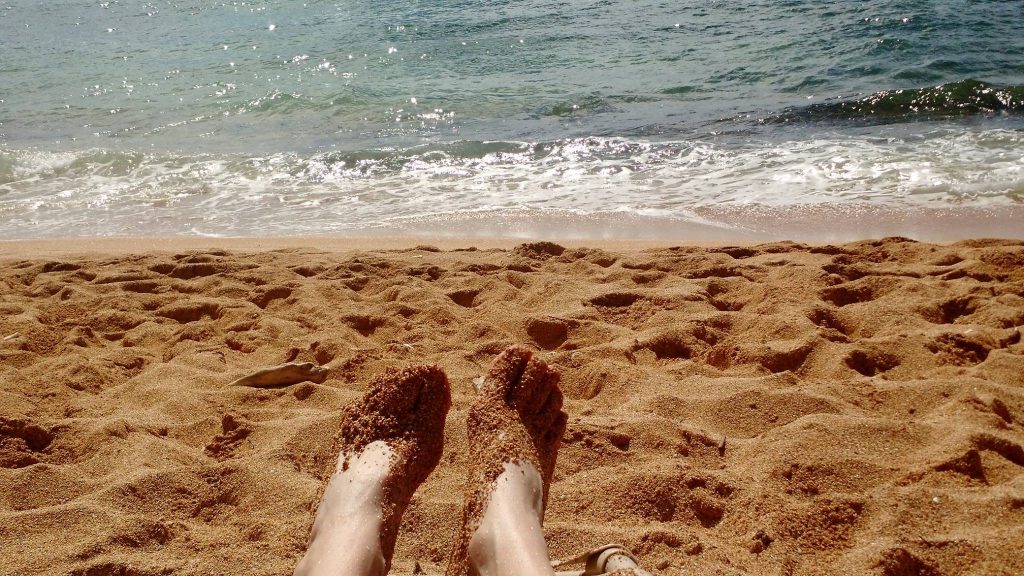 It's hard to wake up early on vacation. But watching a sunrise in Hawaii is a once in a lifetime deal. So I told myself I would wake up early enough at least one morning to watch the sunrise from our balcony. Success. You can see the rays of light from the sun coming over the ocean.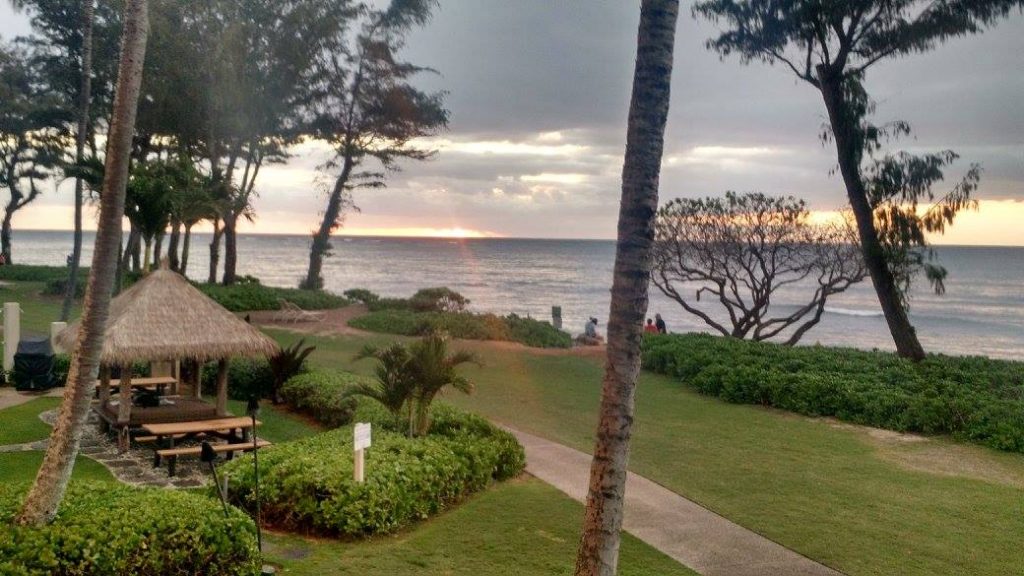 Drive up North Shore of Kauai
We spent a few hours driving along the North Shore of Kauai and stopping to take in the sights. We knew there were some great beaches but unfortunately getting to them would have required a bit of a hike and I couldn't do that with the ankle issue :(.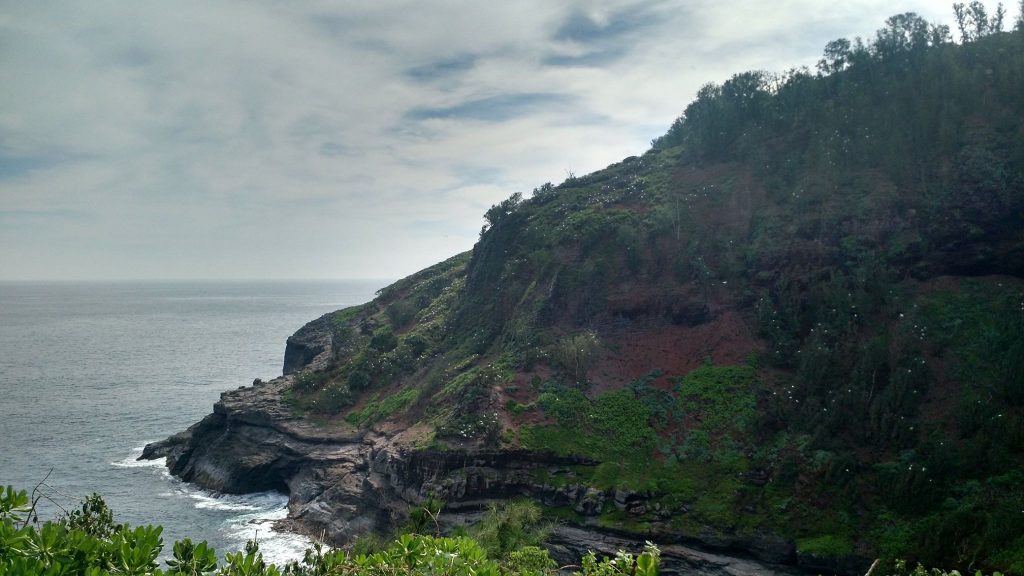 Pineapple and a parrot spotted on our drive, both on the side of the road.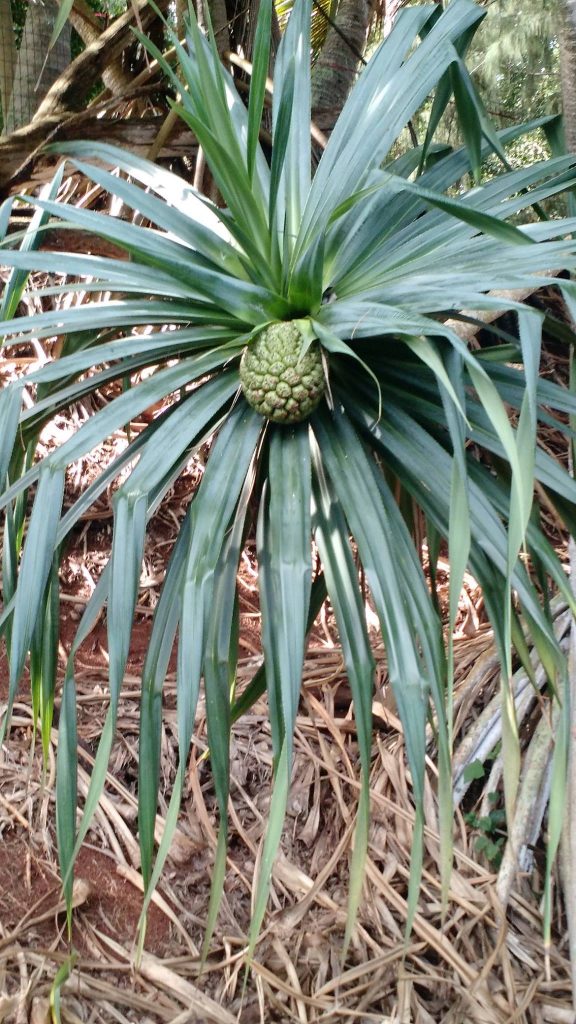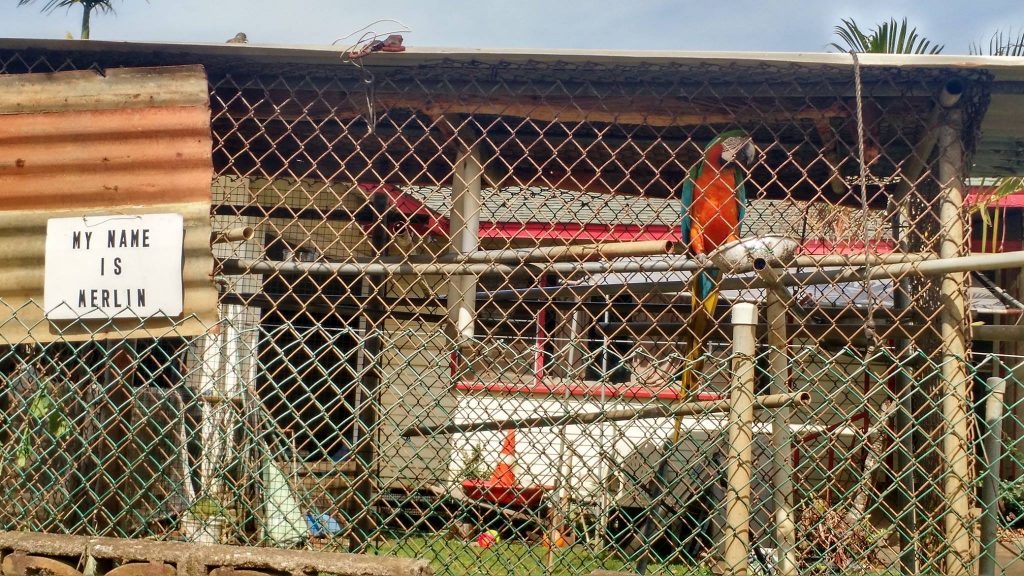 Coffee Estate Tour
When we got back Kevin wasn't feeling so great. We both thought it was too much sun and resting/staying out the sun the rest of the day would help.
The next morning I picked up some acetaminophen and Kevin felt a bit better. So we went on a self-guided walking tour of the Kauai Coffee Estate.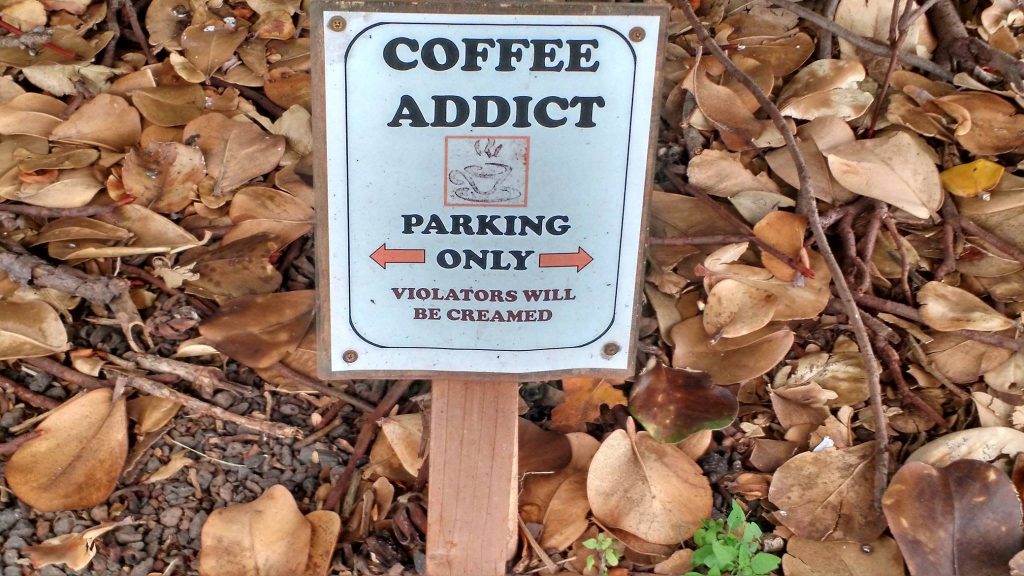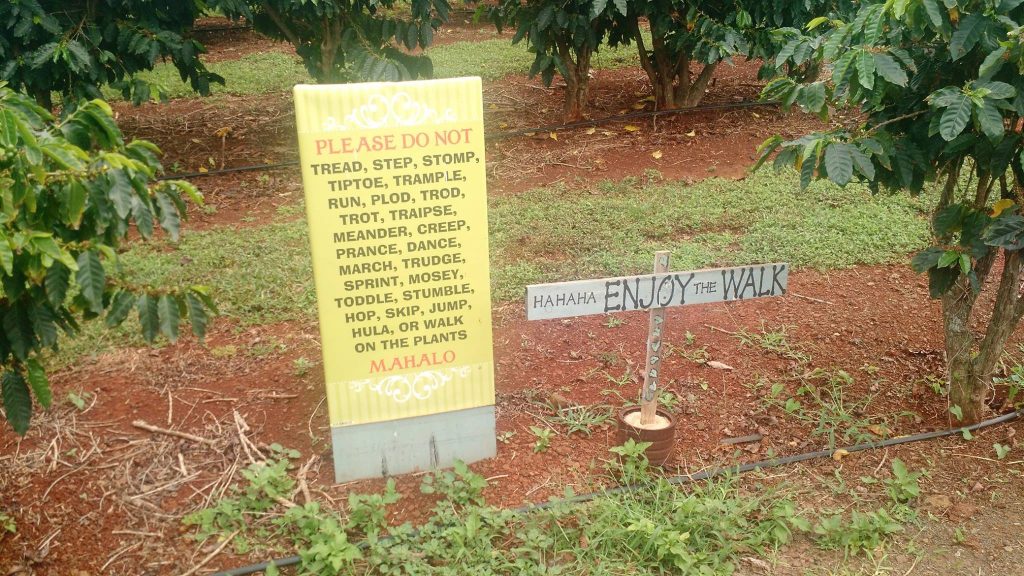 Maybe it IS possible to cut down to only one cup of coffee a day.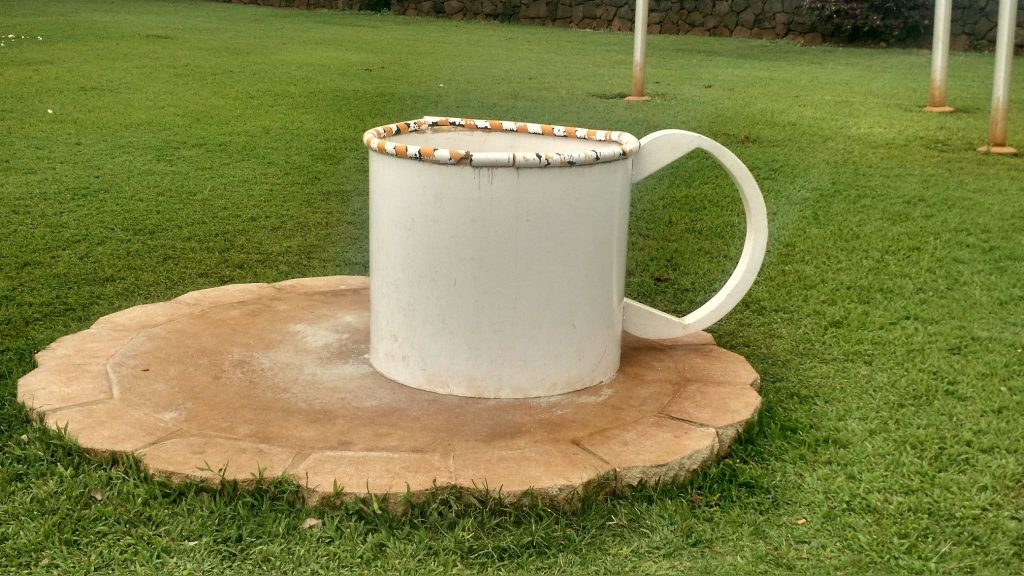 One of the things that surprised me the most about Kauai were the chickens. The island was overrun with chickens. Chickens EVERYWHERE. In the rental car parking lot, in restaurant and store parking lots, in streets, and at the resort. Chickens. Everywhere.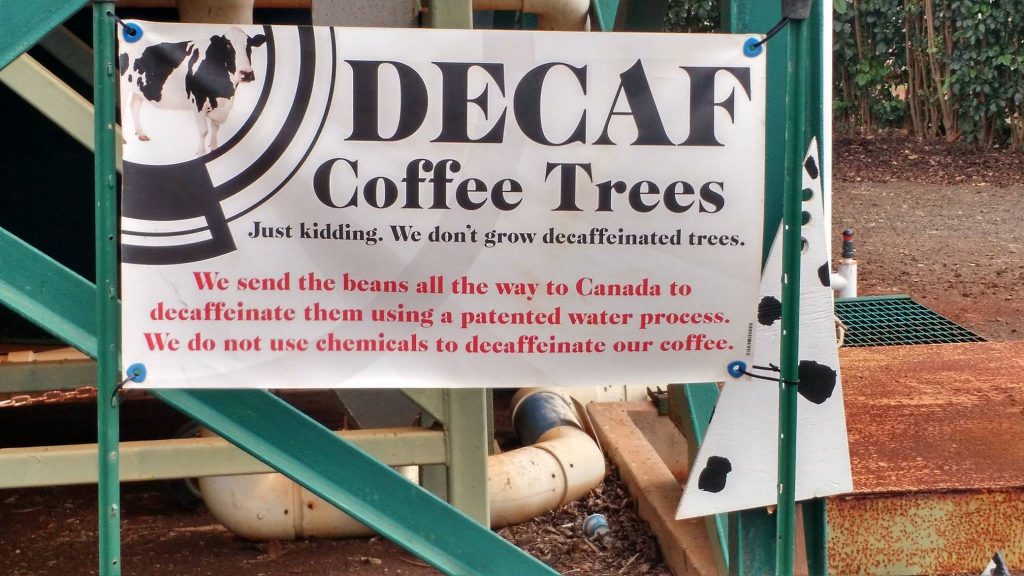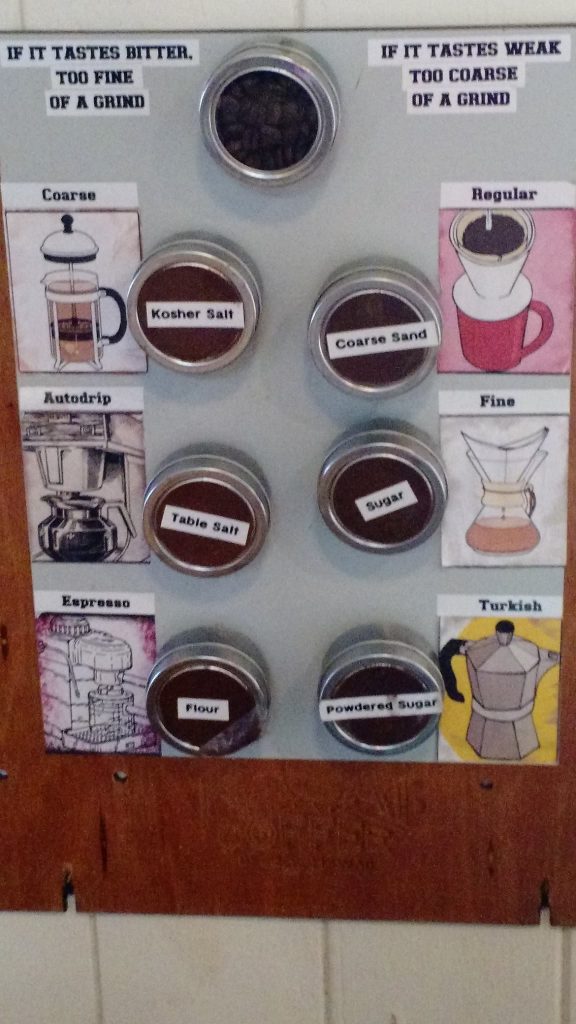 The hula dancer emerging from the steam of the coffee is one of the estate's logos.
Look closely. Something is very wrong in this photo.  See if you tell what it is. The answer is just below the photo but don't cheat,  try to figure it out first.
I hope you tried to guess.  My right sneaker is blue and my left one is black! I'm supposed to be wearing a medical boot/air cast on the injured ankle. But I hate it. I decided to at least give it a try. The night before the trip I asked Kevin to pack my left sneaker in case I didn't want to wear the boot.  In the morning I threw on my right sneaker, the boot, and we left town. The boot lasted one flight. Kevin took out the packed sneaker, I put it on my foot, and noticed…oh crap.  It was the wrong color sneaker. No shame in my style game, I wore mismatched sneakers the entire trip. Only one stranger on the entire trip was brave enough to ask what the deal was. He was in line ahead of us at Tropical Dreams on St. Patrick's Day. He asked if it was a St. Patrick's Day thing.

Coffee plants, eventually reduced to bags of coffee.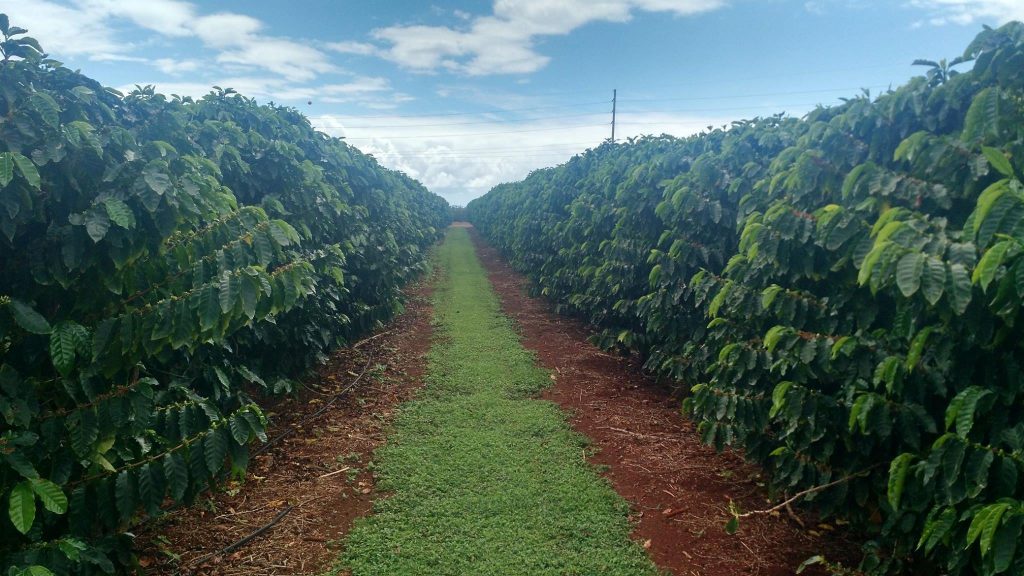 Urgent Care Clinic Adventure
After we got back Kevin was feeling rough again and was now having body aches/chills/fever so we decided to go to a walk in urgent care clinic. His flu test came back negative but the doctor said he was certain it was the flu. Did I mention this was Kevin's birthday? Nothing says happy bday like the flu :). He got a prescription for Tamiflu and I also got one as a precautionary measure. Kevin recovered quickly and I never caught the flu.
Puka Dog

The next day Kevin was feeling better so we went out to Puka Dog for lunch.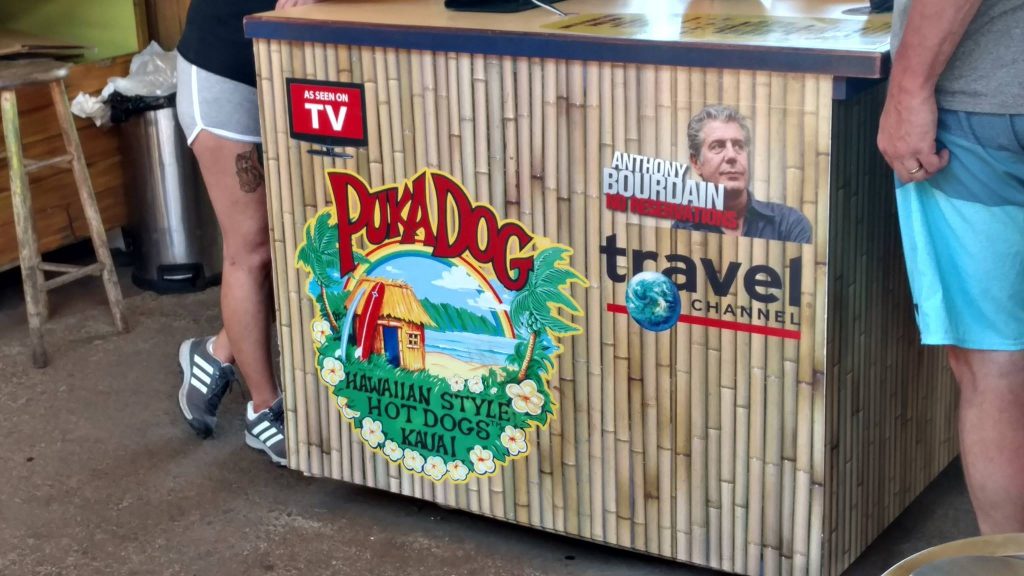 That is not my arm.  That's Kevin's arm.

I got one with coconut relish.  The relish wasn't what I expected, but in a good way. I was expecting mostly coconut flakes. Instead it tasted like chunky coconut flavored sugar. Branching into coconut on my dog was adventurous enough for me so I skipped the mustard and secret sauce.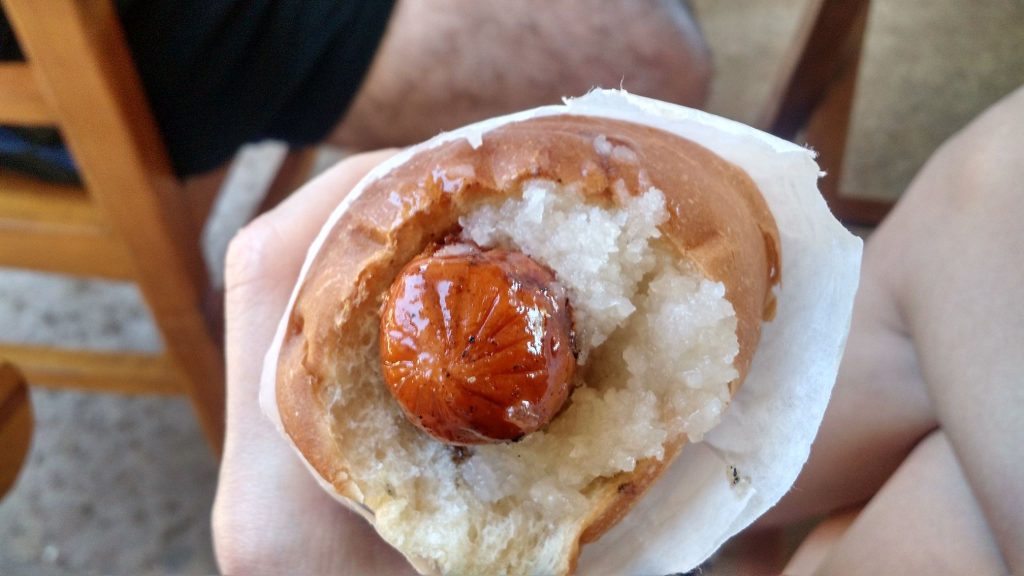 I also was not expecting a fellow Alabamian to be running the place! I heard her accent and thought it sounded southern. Then she said "Ya'll." I told her I was originally from Alabama and asked where she was from and she said Alabama too! She was from Mobile and I'm from Huntsville.
This guy walked up to us during lunch.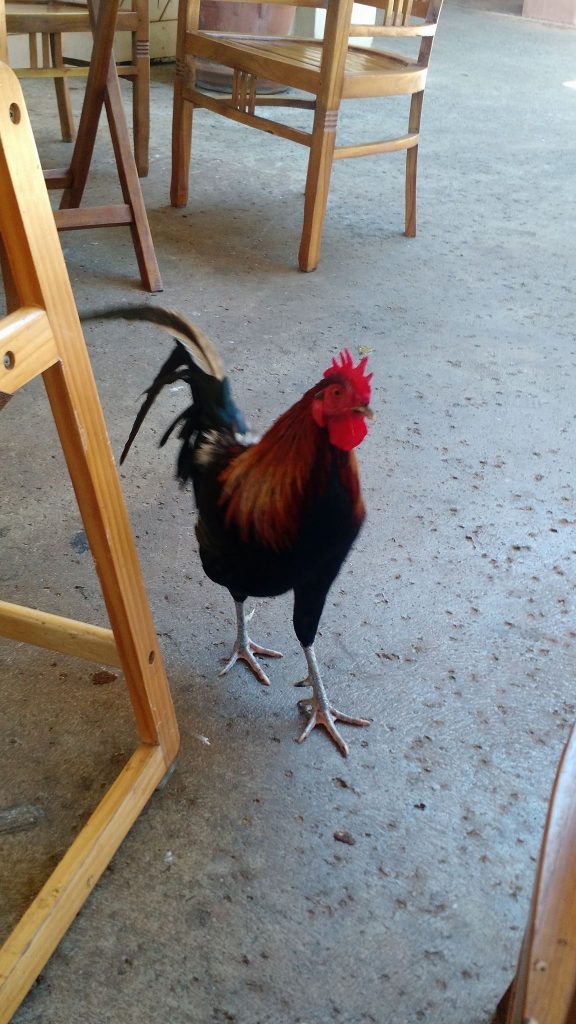 Speaking of lunch, on our last day we stopped at Chicken in a Barrel. 
They had one of those cut out things you could stand behind. Nothing unusual. Except this was smack dab ON THE SIDE OF THE ROAD.  If someone wanted a souvenir Chicken in a Barrel photo badly enough, the person taking the photo would have to stand on the opposite side of the road and hope for a lull in traffic.
River Boat Tour of Fern Grotto and Luau
Later that day we'd planned to do a River Boat tour of the Fern Grotto  and go to a luau. Kevin's fever was still controlled by Ibuprofen so Patient Zero and I ventured out.
During the river tour we saw a few hula dances.  Her dancing was beautiful and it was impressive she was able to move so gracefully even on a moving boat.
She also gave a group hula dancing lesson to everyone on the boat! We all stood up and followed instructions.  The guy you hear playing the guitar was calling out the instructions as the hula dancer demonstrated. He told us to put our hands on our hips and rotate our hips around like we were standing in a barrel and trying to scrape clean the sides of that barrel!  Even Kevin joined in. Sorry guys, I do not have video of Kevin hula dancing.
Once we had the hang of it the guy playing the guitar launched into his song of choice.  Super Freak by Rick James.
The man with the ukulele wearing the black jacket had an appearance in a 1961 Elvis movie that was filmed nearby, Blue Hawaii. He even has a photo of him and Elvis together.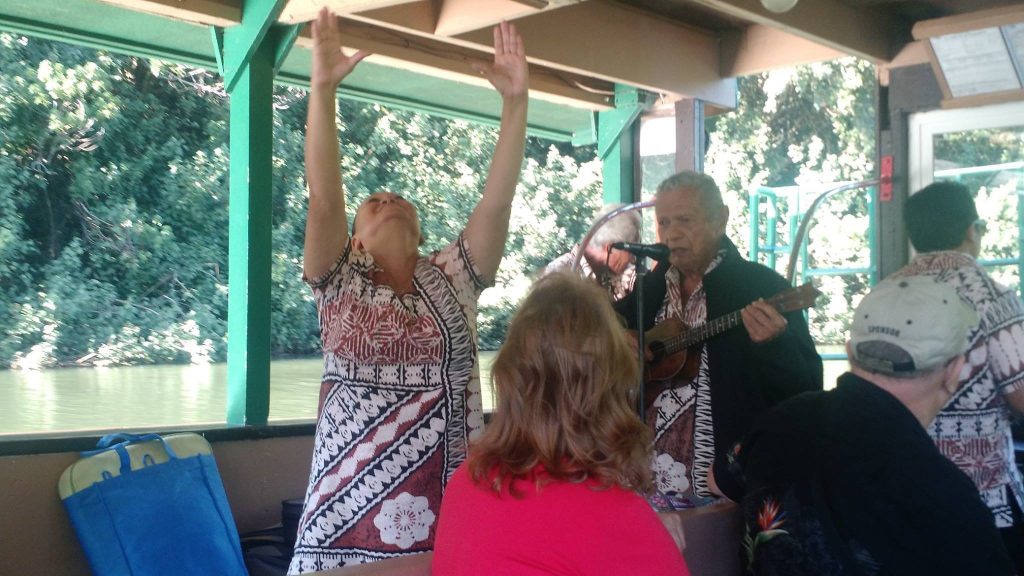 After the river boat tour we went to the Smith Family Luau. The business is family run and was started 50 years ago by the current owner's grandfather.
The family is native Hawaiian and their last name is not actually Smith, but they thought Smith would be easier for tourists to remember and say. He pronounced their real last name and he was right. The owner said today they call that "marketing".
Conch shell ceremony
Digging out the pig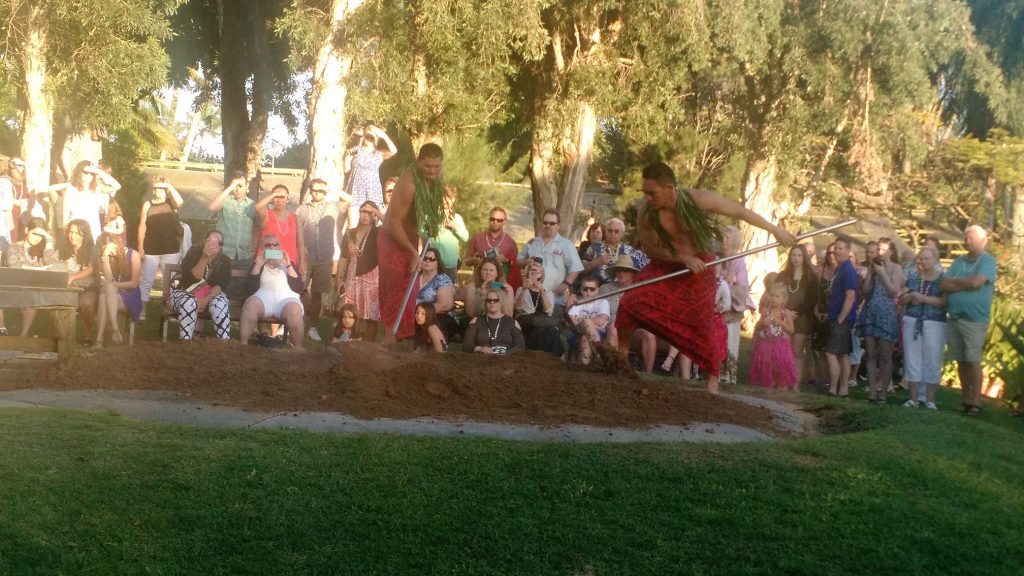 Drinks, left to right- water, Hawaiian punch (real Hawaiian punch), and decaf coffee.
Food, left to right- lilikoi sweet bread (eh), purple Hawaiian sweet potatoes near the top (eh), salmon salad (yum), pork (yum), and that gray stuff in the plastic cup is poi (stay away).  I decided to at least give the other stuff a try but the only thing I cleared my plate of was the pork and salmon salad. I made a Hawaiian surf and turf plate! The poi was awful. It was another thing I thought I should at least try, like the puka dog. I had been warned, by native Hawaiians, it was an acquired taste. It's awful. As one of the tour guides said it tastes like what one would imagine wall paper paste to taste like and it's not even pretty looking. It looks like gray sludge. It has nothing going for it.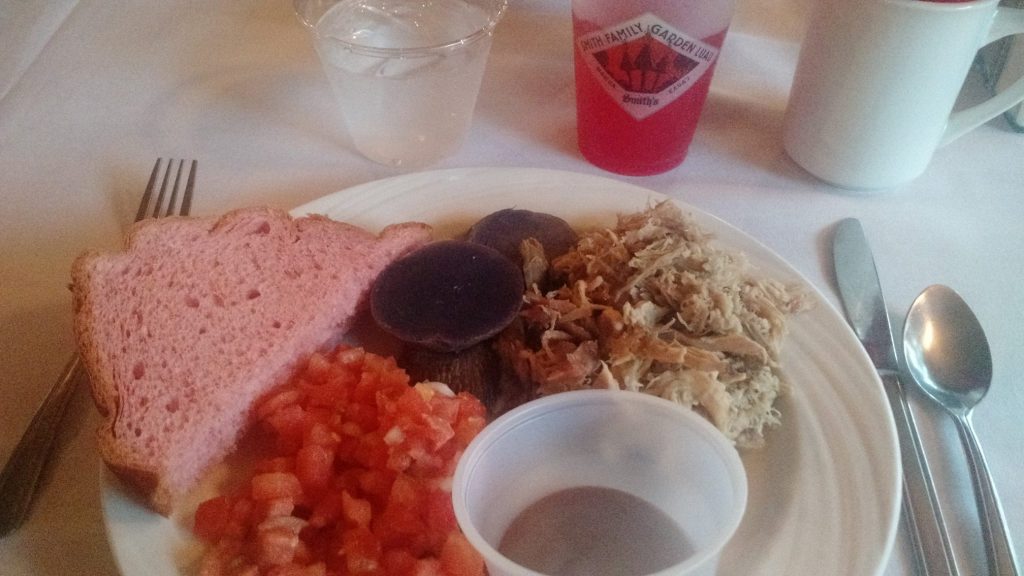 There was a hula show that night but we skipped it because we had a very long boat tour scheduled for the next day.
Five Hour Charter Boat Tour
The next day we had a five hour charter boat tour of the coast of Kauai. The tour guides warned us the waters were incredibly rough and that someone would get sick. Guess who one of the "someones" turned  out to be :)?  They said they would not turn around, they'd just hose us down and continue. So we'd better have taken precautions.
Kevin and I had both taken Dramamine before the tour, just to be safe. I thought I was in the clear.
The boat ride was VERY rough but I felt good for about the first three and a half hours. It was so rough at times we were told to sit down and hold on tight.  Nobody was allowed to sit in the front row at times because of how big the waves were.
Some passengers got sick right away, only an hour into it. I can't imagine spending the entire five hours being sick and not being able to get off the boat.
I don't regret the tour because some of the best moments from the vacation happened on the boat tour.  One of the guys put a hydrophone into the ocean and we heard the whales and dolphins calling to each other. He said when you scuba dive out where we were that you could hear them without a hydrophone and it was so loud that it was scary. Unfortunately the water was too rough to scuba dive.
We also saw dolphins swimming alongside the boat and from a great distance we saw whales.
The boat ride was too rocky for me to get photos of the dolphins and the whales were too far out for a good photo. But I did sneak this photo of the handsome guy with me.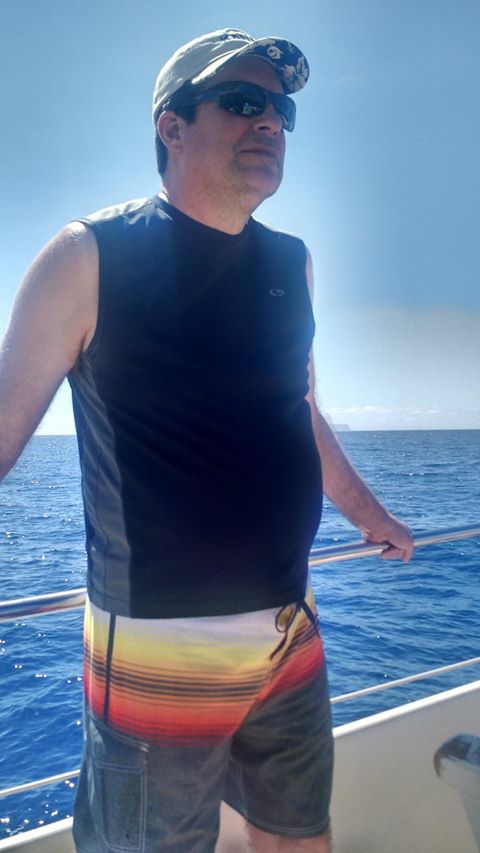 About three and a half hours in I started to feel bad and took a second Dramamine.  In my defense, I had no idea I was prone to sea sickness and thought I'd done all I needed to do medication wise. I also had eaten lightly that day, so it's not like a full stomach set me off.
I flagged down one of the guides and ran over to the railing. The boat was rocking and rolling so he gripped me around the waist and said "I won't let you fall over!" Never let me go! Like Jack and Rose in Titanic, but with a different vibe.
After treating all of the passengers to our special rendition of the Rose and Jack moment, I sat at the back of the boat where the ride was most stable. The guide said sea sickness was a psychological issue and I needed to focus on breathing normally and watching the scenery. He also brought me some lavender oil and told me the smell might help. The only thing that would have helped was chucking him and the lavender oil off the boat and asking Kevin to bring the boat to land. Frustration with the illness aside, the guides were wonderful to me during it and I could have had it much worse.  One girl was curled up under a blanket with her head on her husband's lap for the entire trip. She looked bad.  I'm glad mine didn't hit until later on because the moment with the hydrophone and getting to see the dolphins were among my favorite moments of the entire Hawaii trip.
Aloha (both goodbye and hello!) and Mahalo (thank you) for sticking with me despite the temporary absence from the blog while my ankle has been healing!