On Saturday I ran the 4th Annual Pelham Half Marathon.  Props to the race organizer for scheduling this on a Saturday. I think every other distance race I've run has been on a Sunday which can make working the Monday after a bear to deal with, particularly if you have to travel at airport o'dark the morning after a race.
Race morning was unseasonably warm in the low 50's.  It was perfect weather for the last 2015 half marathon on my calendar before going into winter hibernation.
Here I am at the starting point wondering if that hoodie was going to be too hot to run in. It was. A mile into the race I stopped to unpin the 4 safety pins from the bib, knot the hoodie around my waist, re-pin the bib to the shirt I had on underneath, and continue on. Which makes my finish time all the more surprising. Also, overheating in November in NY? Craziness. It's some weird weather we're having here. It was way colder at the Alabama race I did two weeks prior.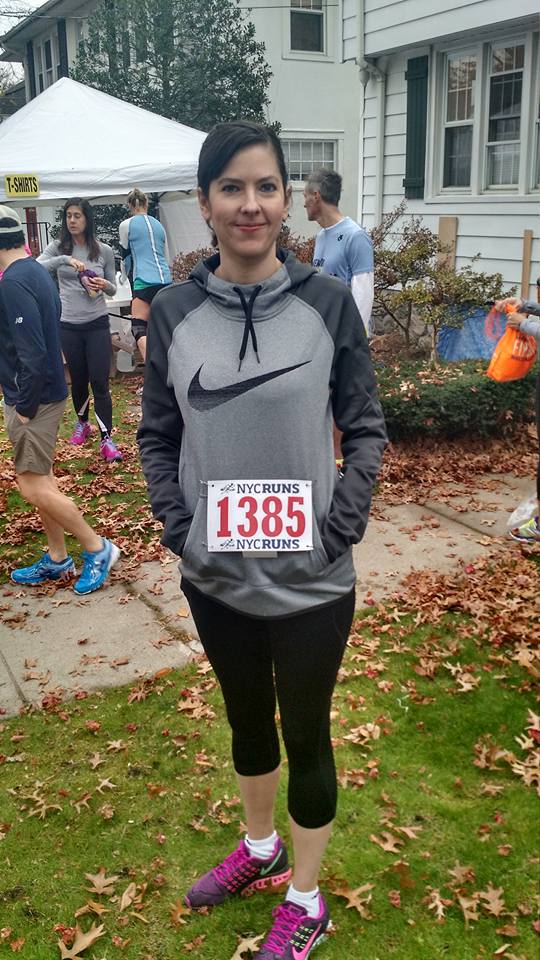 The Pelham Half starts at the race organizer's house. Kevin noticed the house number was the same as ours. Yeah, 415 people are the kind of people who say no problem to starting a half at their house!
Here's everybody at the start having a good time because they've either forgotten about or don't know about the hills. They don't know what's coming. Kevin is there in the right hand corner, white shirt- helping some runners familiarize themselves with the course map.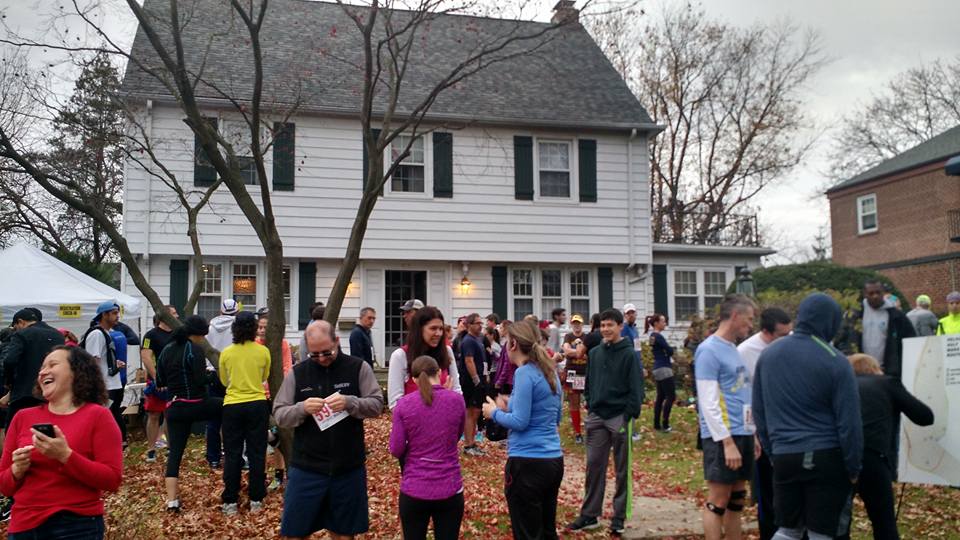 The race proceeds went to the Pelham Civic Organization, a great volunteer organization that meets community needs in Pelham.
The Pelham Half started as a grassroots race with only around 13 runners and grew out of a Facebook group 4 years ago. This year there were 191 finishers between the 144 half marathon finishers and the Pelham 10K (run at the same time) finishers ! It's growing at a crazy rate and I'm glad I got involved early enough to be one of the old timers who can say "Yeah, I ran this race back when it started at the organizer's house!"
This year there was chip timing. With a big chip. Like one of those anti theft security tags.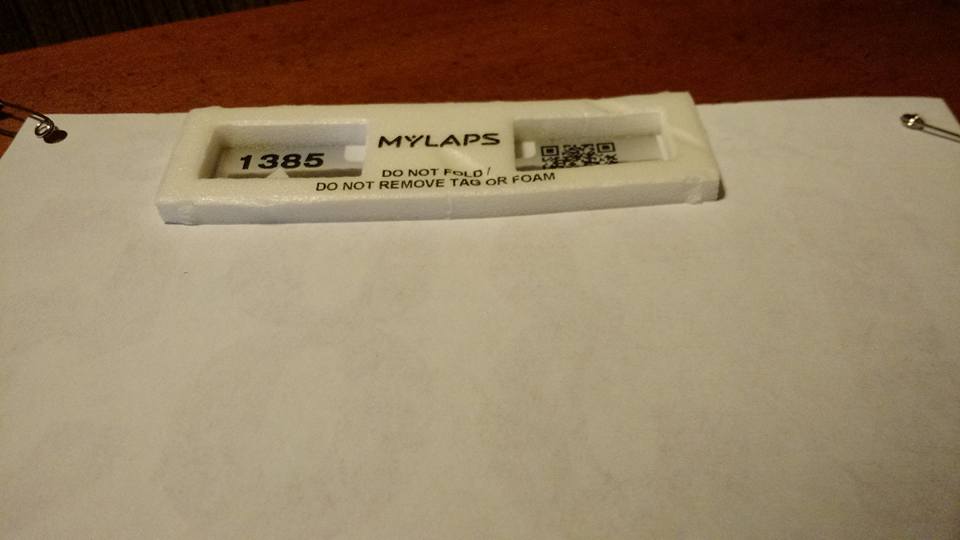 Also new this year, Kevin got to participate as a Course Marshal! So while I was running he was directing runners. He was stationed at the spot I got lost at last year :).
Pelham is very small so the course has lots of twists and turns to get in the 13 miles. That means it's easy to lose sight of runners and get lost, unlike a course with a mile or more of straightaway where you can see runners ahead of you. To get in the distance we did a lap around a high school track, did a U Turn around a traffic cone near BJ's parking lot, and ran up and down someone's front steps. Just kidding about the last part.
The Course Marshals helped me stay on track during the race. I only got confused once and there was a Course Marshal to direct myself and the gentleman running alongside me who was as lost as I was.
The police were a big help too. They were at all major intersections to keep us safe as we ran across and pointing the lost sheep amongst us in the right direction. Tremendous help and I appreciated it!!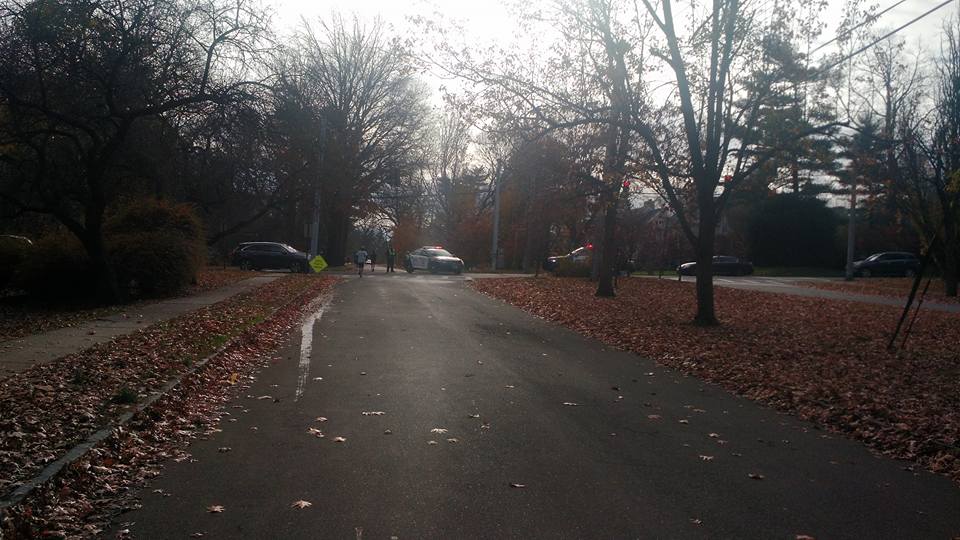 The fall scenery along the course was gorgeous. Running up hills is easier when you've got a view like this.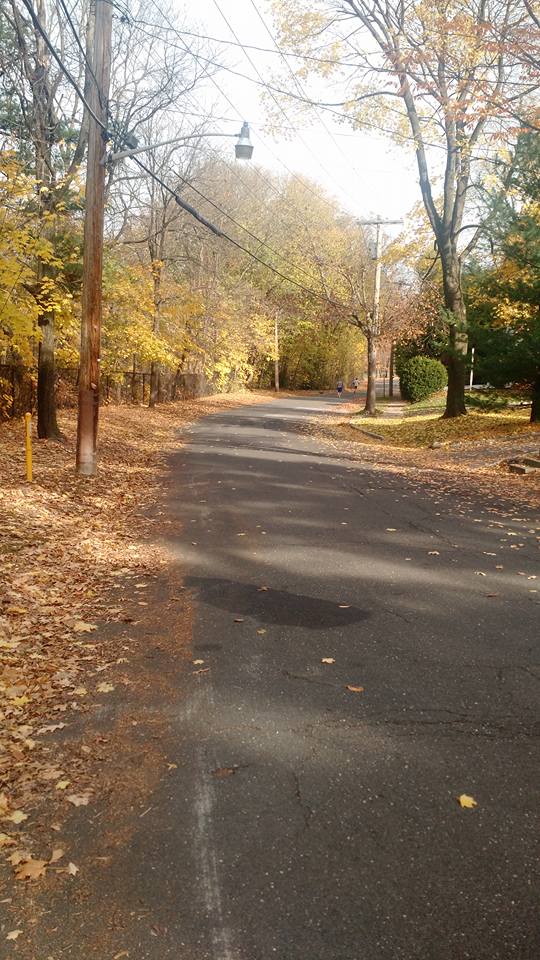 Running up hills is also easier when your race has funny signs along the way like these ones.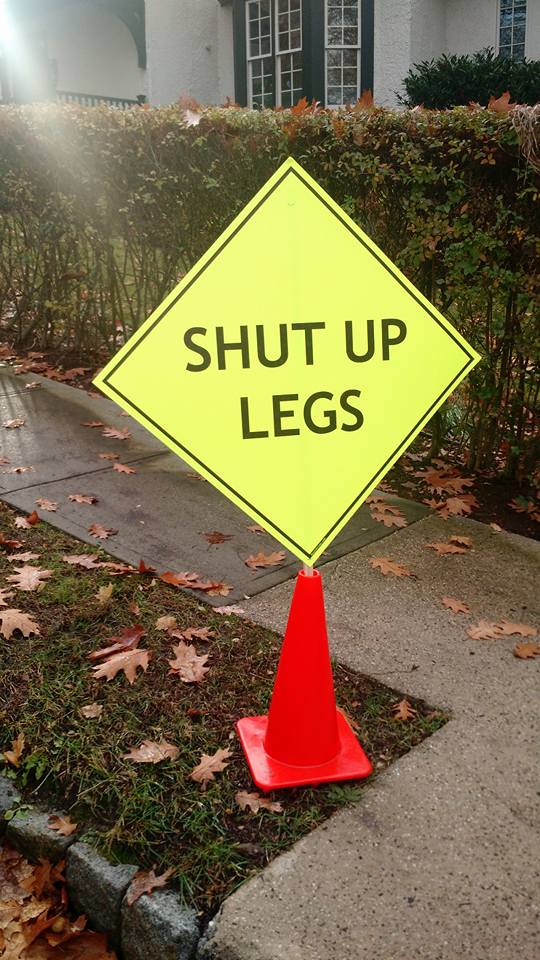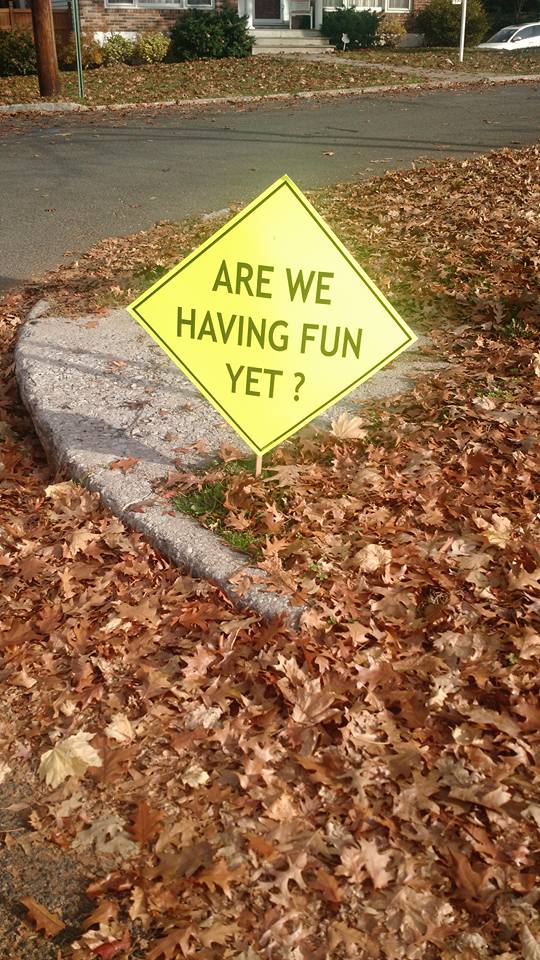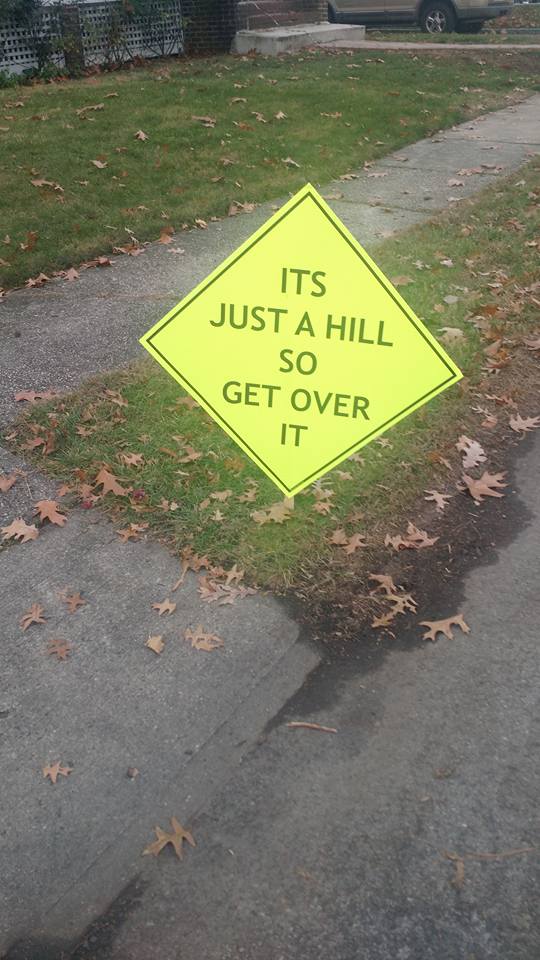 This one was before we ran in front of a church.  I bumped into some ladies leaving a church after I finished the race and they stopped to congratulate me and chat awhile. I pulled out my phone and showed them the funny race signs.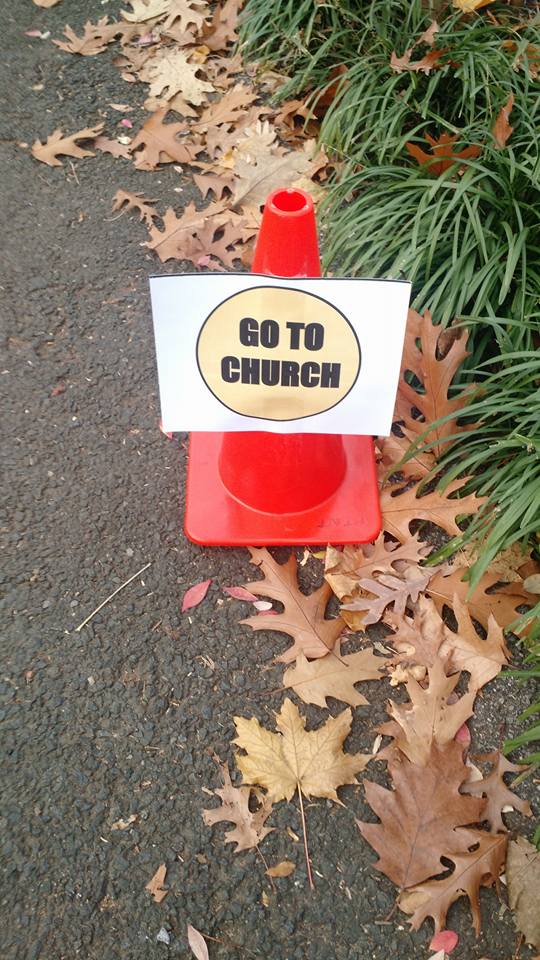 Speaking of phones, I ran this race with the phone in my hip pocket. I accidentally jostled it while running and dialed my dad during the race! He wasn't near his phone at the time so he was treated to a voicemail of the sounds of my feet pounding. Hopefully he did not hear all the times I muttered "Oh Mah Gawd" and salty language.  There were a lot of hills dad.
There were a couple of volunteers that set up water stands in front of their houses and one had this sign on their trash can. I did successfully dunk my empty water cup.
This was my favorite sign. The night before the race I was at dinner mentally picturing the spot where I got lost last year and hoping I wouldn't do it again. I checked my email and saw an email from the race organizer with a picture of this cone letting me know this year would be different.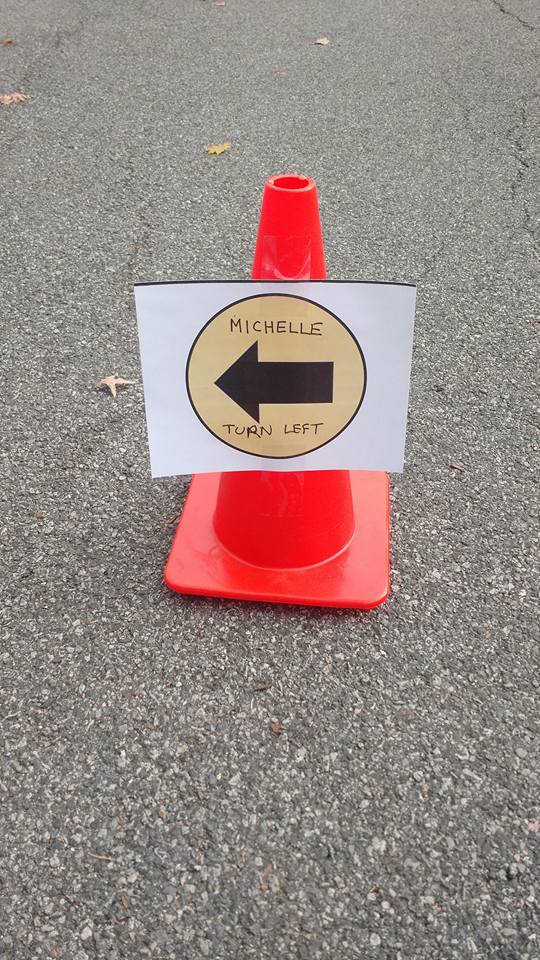 Todd Cross was on hand taking some awesome and free race photos.
My husband was also on hand taking some equally awesome and free race photos. I call this one "Dancing in the Streets at Mile 12.8".
I crossed the finish at 2:03:17 which was a big surprise. My best time is 2:03 and it was on a much flatter course. I didn't think I'd nearly PR at a race as hilly as the Pelham Half. Particularly given that I was stopping so much to re-pin the bib and to take these pictures. I chalk the good finish time up to the race being so much fun to run.
I did pour on the speed at the very end because I wanted a medal. On site registration was allowed which meant medals were only immediately on hand for the first 100 runners. The rest would be ordered after the race. I was runner #96.
I took this home on race day by the skin of my teeth.  The runner who placed first came in at a blistering 1:14:00.  He must have REALLY wanted a medal.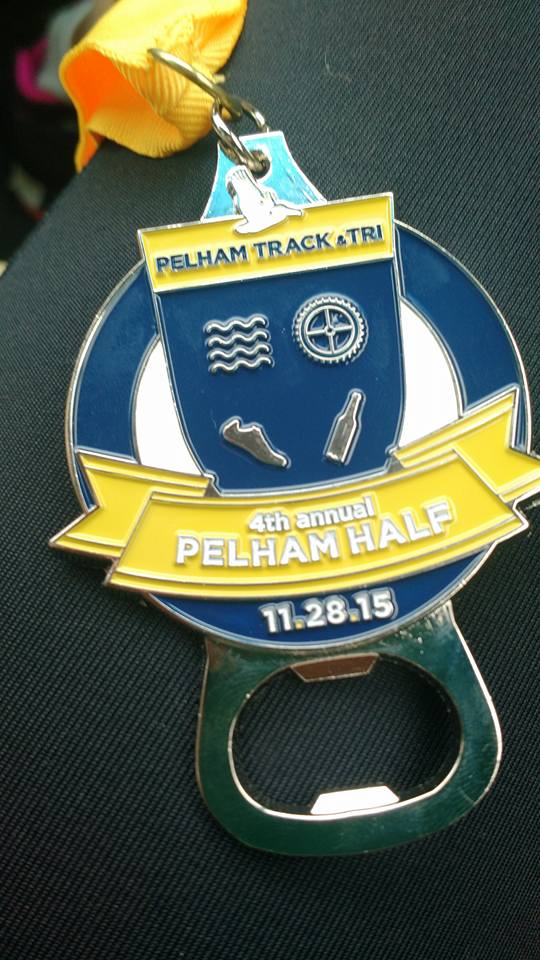 Post race I approached the race organizer to get a photo. Here is the man behind the race, Jason Jeffries.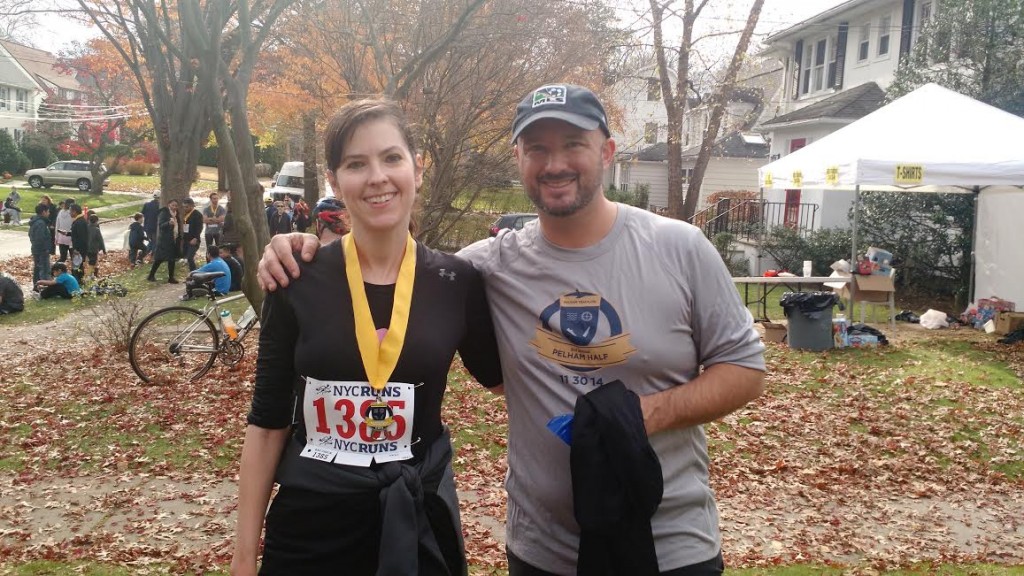 After the race Kevin and I hung out a bit at the finish line to cheer on the remaining runners. I also spent a little time chatting with Joanne, a Facebook friend of mine that I'd never gotten to meet in person before. We connected because we're both Pelham Track N Tri members. It was so nice to catch up in person! Joanne is someone I'd have a great time running with if I ever manage to break away from my bad routine of training on the treadmill while watching 90 day Fiancé and Real Housewives.  I really ought to run outdoors more.
Afterwards we went back to the house and showered and we headed out to the Chipper Truck Cafe to get brunch. We took a chance since we've never been there before. Oh my gosh, it was a much different experience than the last post race brunch experience.  The french toast was great, service was friendly, and wait time was only around 15 minutes.
If you're a distance runner in Pelham, NY or nearby and hills don't scare you I'd definitely recommend doing the Pelham Half. I'd rank it higher than the More Magazine More Fitness Half. The hills aren't fun but the atmosphere is!