I finished half marathon #2 of 2016 this weekend, the Sleepy Hollow Half Marathon. Yep, *that* Sleepy Hollow!
The Fleming household racked up the frequent flier miles in March. Kevin flew to Michigan for a family funeral, I flew to Alabama for work the day of his return (and my wedding ring was stolen on the flight, this story is going to get a blog of its own), then we flew to Arizona to see family, and he left this week to go to California for work. It was all fun (except for the stolen wedding ring part) but I was pretty tired from the travel, under trained (I ran consistently during the two weeks I was traveling, but I wasn't sticking to the plan), and dealing with a cold.
We also stayed out until 2 in the morning on Thursday night at a Jukebox the Ghost concert and I didn't get a chance to fully catch up on sleep before the Saturday race since I worked Friday.
So not optimal conditions.  I was debating whether I should even run it at all when one of the attorneys I'm co-presenting at an upcoming conference with mentioned he was also doing a distance race on Saturday. An ultra marathon. The Two Oceans Marathon in Africa, 34.8 miles. Hearing he was doing an ultra on Saturday was motivation. I didn't want to be sitting on the couch thinking he was out running 34.8 and I couldn't even do 13.1.
So I showed up and ran. I was a tiny bit nervous because in addition to all the above I didn't eat or drink as much as I should have the day before because I wasn't feeling great with that cold. Fortunately, the giant turkey burger I had at Brother Jimmy's BBQ the night before and Jimmy Dean's breakfast sandwich the morning of turned out to be enough fuel to get me through. I also drank a TON of water on race morning as a Hail Mary to make up for not drinking enough the day before. Usually I have coffee to go, but that morning it was a thermos of water to go.
By the time we got to start line it was twenty minutes until go time and I myself needed to go as a result of all that water. I got in line for the Porta Pottys and waited and waited and waited. I'm not sure what was up, but people would go in there and not come out for a good eight minutes.  People in line were commenting about it and wondering what was going in there. Meanwhile the guy on the loudspeaker kept announcing that we all needed to get to the start line asap.
I realized I was never going to make the start in time if I waited for the bathroom, so I decided I'd have to stop during the race. Thankfully, we passed a convenience store on the way to the start and I thought hey, I bet they have a bathroom. They did and said it was fine for me to use it. Good thing because there were NO Porta Pottys along the race route.  I either would have been miserable or I would have been one of the ones darting off into the woods or fields. Bless that convenience store. Bless it.
I went into this just to have a good time, not PR, so I stopped a bunch to take photos.
We ran through the woods. *Those* woods ;). There was no headless horseman at this race, but I hear there is a night race that has one!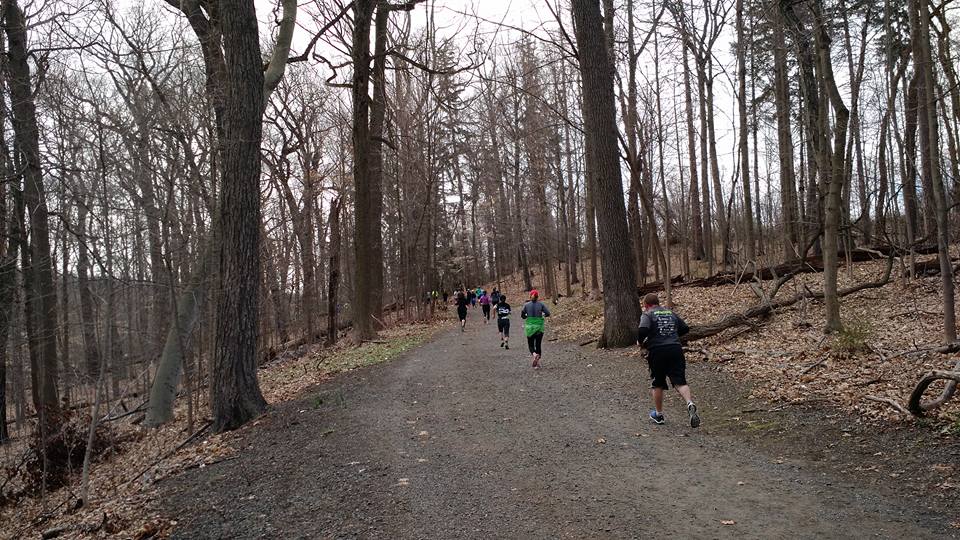 And through some fields.
And through Rockefeller State Park preserve. At this point I thought I heard bagpipes and assumed it was someone's ringtone. It got louder and louder and I paused a minute thinking crap, could it be my phone? Had Kevin pranked me?
Nope. It was this random dude playing the bagpipes. He was it for music along the course.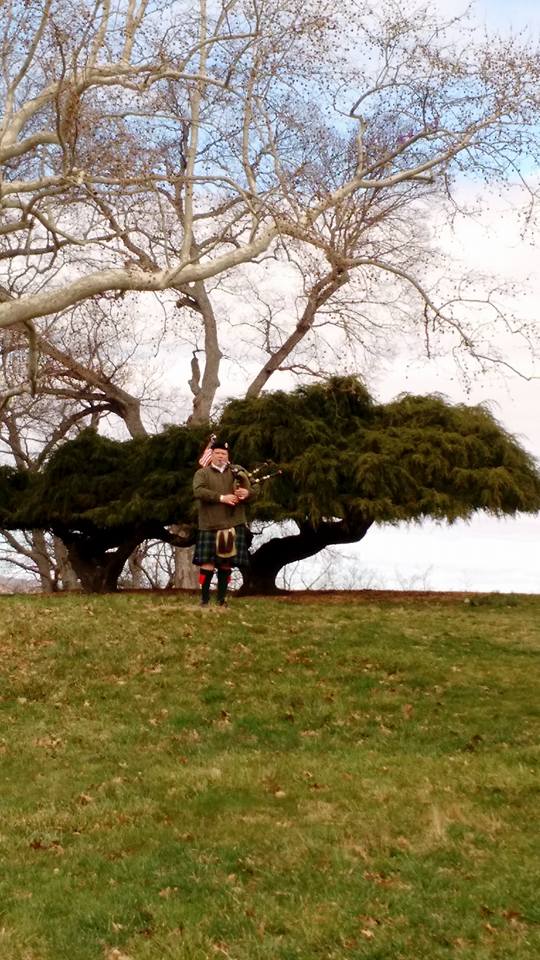 We also ran along the highway.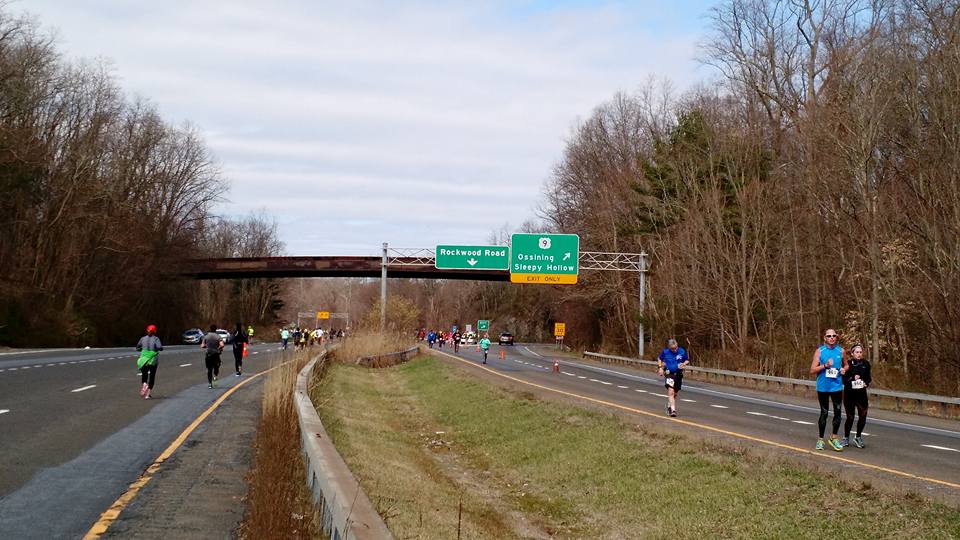 We ran on the highway while there were cars. Had one person roll down the window to root us on and a few honks. But mostly it was just stares from drivers and passengers as they slowly drove past.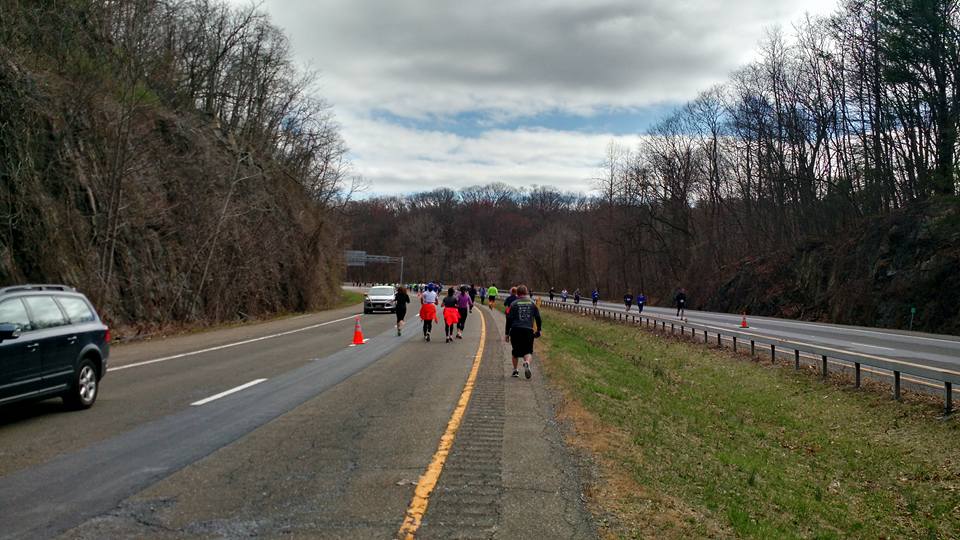 Speaking of rooting on, at one point during the race I heard a group of people making bets on if runners were going to finish the race or not. In earshot of the runners. I had my head down so I don't know if they were speaking about me, but I heard "No way is she going to finish." Then I heard "I think that one will."  I've done enough of these races that I knew for sure I was finishing, so it didn't psych me out. But I felt bad for runners who were racing for the first time and might have had some doubts, especially because it was such a hilly course.  Looking back I probably should have stopped to ask them if they'd consider not making those comments in earshot of runners.
Here is how hilly the race was. I didn't create this map by the way, I found it elsewhere.  It felt like it looks. I was either trying to chug up a hill or trying not to trip running down one. And there was a massive hill right at the finish. Yeah. You ran up a hill to get to the finish line. Not cool. I put an arrow by it.
Early on I heard one girl say if we didn't get a few consecutive flat miles she was going to start getting nervous. She was running roughly at my pace and I decided my goal was going to be to finish ahead of her. She was wearing a sparkly headband. I nicknamed her "Sparkles."  Sparkles would pass me when I stopped to take photos and eventually I would catch up and pass her.  I'm pretty sure from how Sparkles ran that she was playing the same game I was. I wound up clearing her by a good distance and she wasn't even in sight when I crossed the finish line. I hope she at least finished. I am guessing at least one person did not because I saw an ambulance driving along the route with it's lights going. It was a tough course you guys.
I finished in 2:08:49. It was super hilly, but the different surfaces and scenery made it go by quickly.
Kevin took this right after I made it up the last hill at mile 13. I'm pretty sure I was trying to catch my breath here. No goofy finish photo this time, the hill guaranteed that. The lady in the white ball cap next to me was racing me to the finish line. After the hill I was thinking I might have to trudge across the finish, but when she started trying to run past me I started feeling spunky again and took off.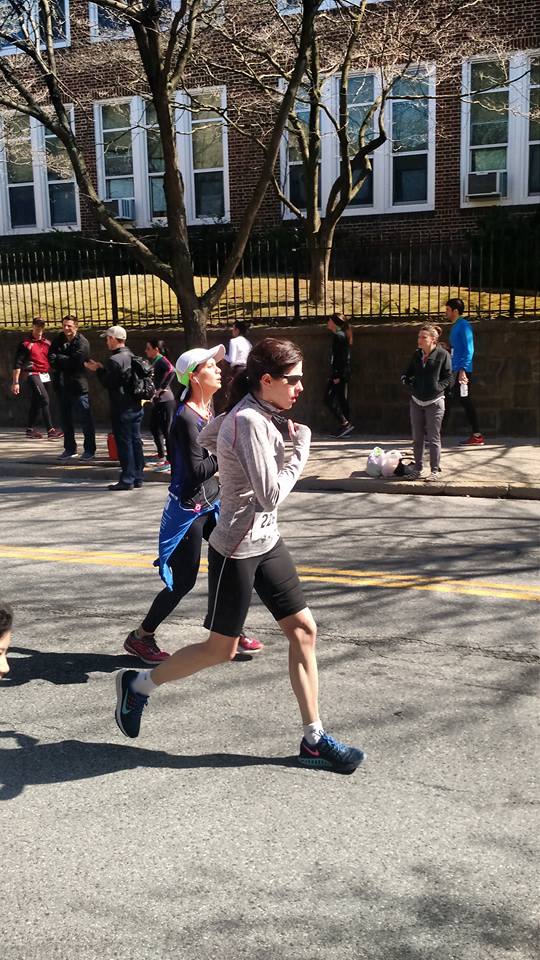 There was a decent spread at the finish line, the usual 80% bagels and 20% fruit and nut/grain bars. Lots of water.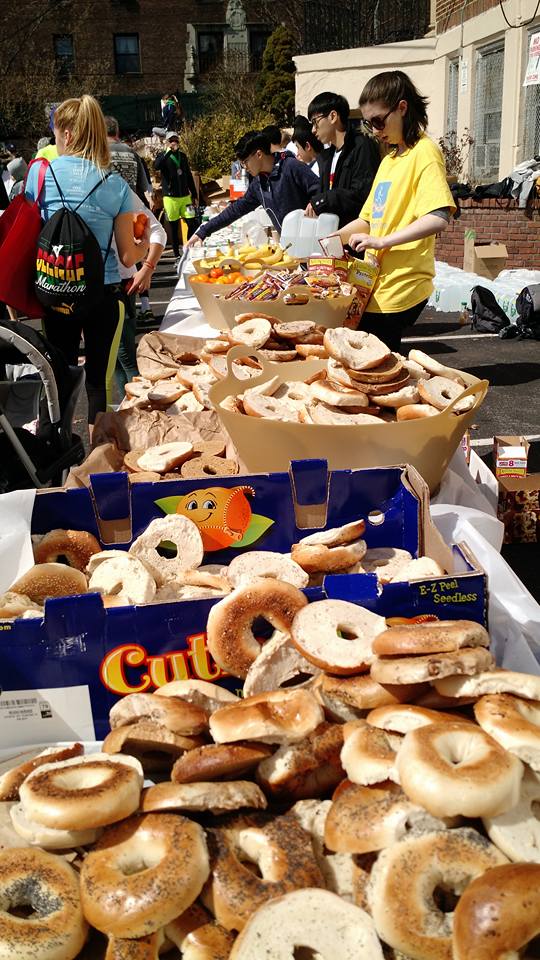 Swag-wise, it was meh. Especially given the $60.00 registration fee.
I ordered a women's size small T-shirt. Here is what I got. You could fit two of me in here. And the sleeves go way past my hand.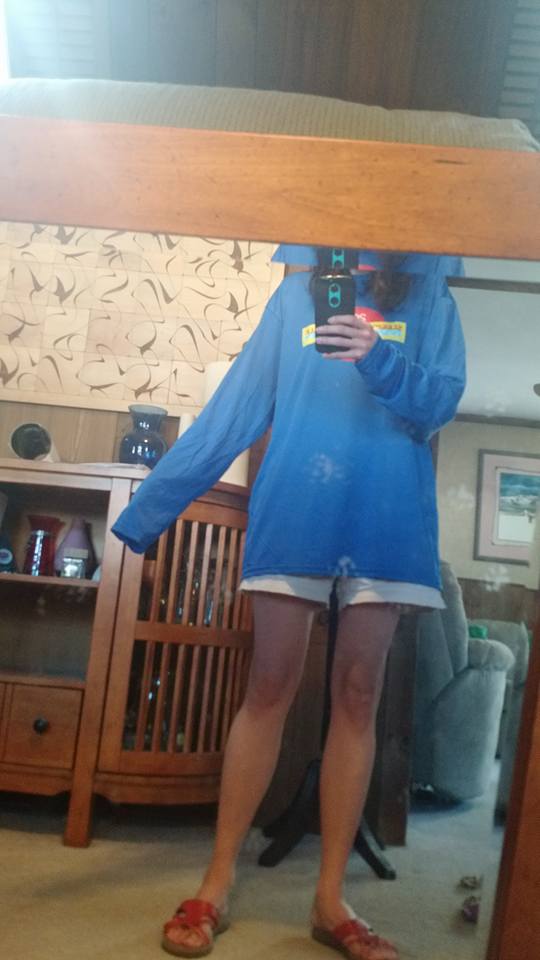 By the way. Yes, you are seeing cat paw prints on the mirror above. How did our cats climb a mirror?!!
At first glance Kevin thought the shirt might be too big even for him. We arrived to pick up the race stuff early and the guy said they didn't have any smalls or mediums. The smalls and mediums might be available on race day, but no guarantee. My choice was a men's large or a men's XL.
It wasn't exactly a choice.  I went with the large. I guess I will wear it as nightshirt. Kevin said he didn't see any women on race day wearing the t-shirt. Probably because they had the same issue as I did.
The t-shirt and other race stuff came in this bag. Verizon wasn't a sponsor, so I guess they just used left over bags to put the race stuff in. It's pretty sturdy though so we'll use it as another grocery bag.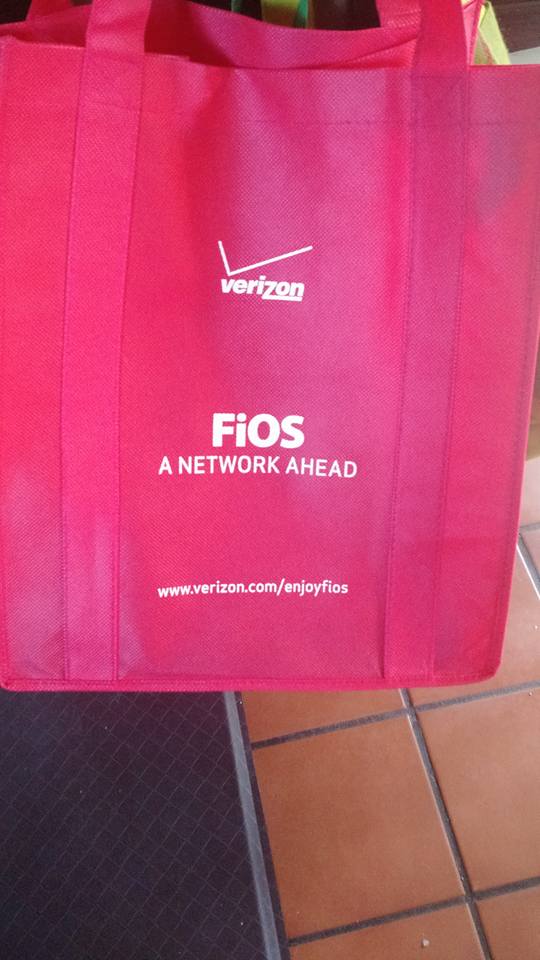 Speaking of other race stuff, that t-shirt was it. There were a few fliers for upcoming races, but no coupons or other swag.
I think I'll probably do this race again, at least once to get a better finish time.
I've never run a race with such varying scenery and it wasn't too crowded.
If you're considering running this race I think the best way to know if you're prepared or not is to run the Pelham Half Marathon.  I think after Sleepy Hollow it's the second hilliest race I've run.
The really tricky part of the race was trying not to slow down too fast when running down some of the narrow trails because if you did that you ran the risk of getting knocked over by a runner following too closely behind you.  I really thought I was either going to get knocked over or trip on that part of the route. Proud to say I did not!
P.S. For those wondering, I'm fully recovered from the cold and suffered no ill side effects at all as a result of running the race except for one lone blister.