It was freezing cold in NY Sunday morning with ice on the driveway and 2 foot high piles of snow that hadn't yet melted.
The next day we went swimming outdoors.
In Aruba!
Kevin subscribes to a travel blog called Travel Skills. Every so often they post about travel related credit card offers. Last July he saw that Chase Marriott was offering 80,000 Marriott Rewards points if we signed up for their Visa card and charged $4,000 on the card over the next 3 months.
Kevin travels a lot and builds up frequent flier miles, enough that we can cover the airfare for our vacations by using the miles. My airfare to London and Paris was covered by frequent flier miles!  So he started looking around to see where we could fly using the frequent flier miles and stay using the Marriott Rewards Points.
Rooms at the Renaissance Aruba Resort & Casino were available for 40,000 points a night. Getting the card and charging expenses we would have incurred anyway, but billed to another card, got us two nights in the resort. By the way- we would never run up a 4k bill over 3 months just for the sake of a free trip. That initial 4k over 3 months consisted of expenses we'd already planned to incur before we knew about the deal.
We got a third free night by using that card for all our expenses up to the date of the trip. Now that the trip is over we'll cancel the card, it served it's purpose!  Paying bills wasn't as painful as usual because I knew they were getting us get closer to being able to do this trip. Alabama bar association needs a few hundred for my dues? Thanks Alabama bar association! That many more points closer to Aruba!
A week out from our trip I started a countdown on Facebook and this happened.
Darrin is Kevin's cousin. He lives in Ohio. His wife Nikki and I ran our first marathon together.
Couldn't get any more random and coincidental than unknowingly heading to Aruba at the same time as your cousins right?
It gets even crazier. They were staying at the same resort, just a floor down from us.  We were on 6, they were on 5. They were here mostly for a business trip, but Nikki and I made plans to run together. I don't run outside often so I was glad to break up the usual "British Treadmill," "Spanish Treadmill, " "Aruban Treadmill" travel edition of MapMyRun records.
Our flight was scheduled to leave a little after 8 am Sunday morning so we left the house at 6 am to make it in time. Normally it takes an act of Congress and a gallon of coffee to wake me up in the mornings, but that morning I woke at 3:30 am because I was so pumped about this trip.
We got to the gate at JFK in plenty of time, but the flight was delayed 45 minutes supposedly because they were cleaning the plane. That didn't make sense because Flight Aware showed the last time the plane had been used was 9 days ago. At least some of that must have been maintenance related, but come on. 9 days and you don't check it out until right before it's time to go?
Eventually we were on our way but a bit stressed because thanks to the delay we now had a tight connection at Miami International Airport. We landed at MIA and the pilot came on the intercom- letting us know that we would be sitting there for about 25 minutes because there was a plane at our gate. Why we couldn't just move to an unoccupied gate I don't know. So we watched the time to tick by as our connecting flight to Aruba boarded and then closed the doors. It sucked ya'll.
This wouldn't have been so bad if we were going to be in Aruba for a week or so, but this was a very short trip. We'd planned to arrive at 4 pm Sunday and check out of our hotel at 7:30 am on Wednesday.
Thankfully we were automatically re-booked on another flight, but this one left MIA at 6 pm.  It was 12 pm.  A 6 hour layover in MIA and we wouldn't arrive in Aruba until 10 pm.
With so much time to kill I decided to do the Miami International Airport, Terminal D 5k. It was either that or sit on my butt for hours on end. I cued up MapMyRun and off I went.  I did walk it, not run it- but only because I was pretty sure if I ran 3.25 through Terminal D TSA might find that odd and want to chat.
I usually set my run records to private for safety reasons but this one I set to public.  When you log into MapMyRun it shows routes others have done nearby and I just know this is going to be funny as hell to somebody.
After I finished the MIA Terminal D 5k I met up with Kevin and we waited it out for our flight and also for the most interesting thing I have ever seen on a flight.
Normally when I see a person that's really interesting I try to sneak a photo and it always comes out unusable because it's nearly impossible to inconspicuously take a good photo. Either all I get is the lower half of the person or the side of their face or it's so blurry you can't make anything out.
Our flight was an evening one and by the time it took off it was pitch black outside. After we reached 10,000 feet I saw the gentleman across from Kevin and I put on his sunglasses. That was a little weird, but to each his own.  I glanced over awhile later and this gentleman now had a guitar and headphones and he was rocking out. Like air guitar rocking out but with a real honest to goodness guitar. On a plane. He was in the zone.
It would have been a crime not to share Guitar Hero Passenger with you, so I didn't try to be inconspicuous about it. I held my cell phone high and snapped this.  I like to think he would appreciate having an audience for his American Airlines flight performance.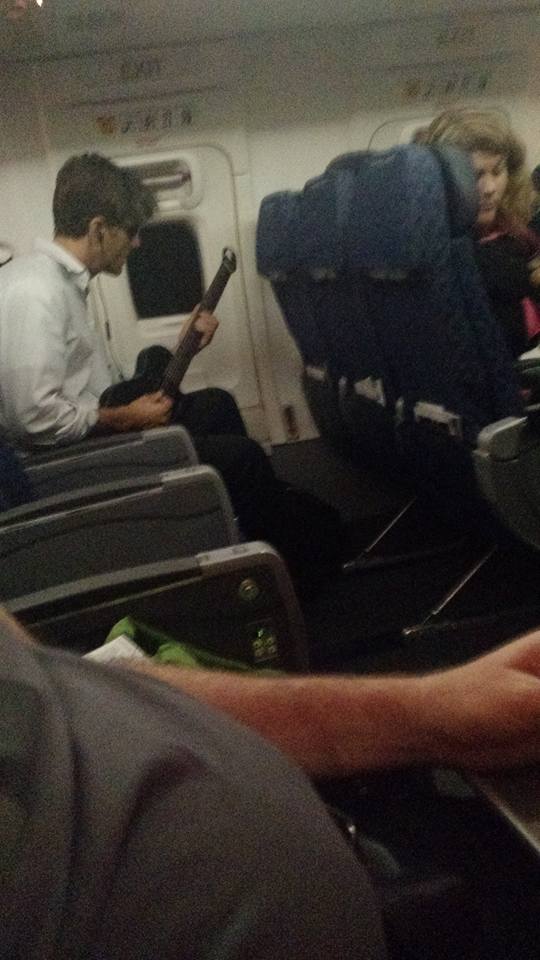 By the time we landed and got to our hotel we were both wiped out so we crashed.
The next day we headed off to Flamingo beach. Flamingo Beach is the adults only section of Renaissance Aruba Private Island. To get there we took a speed boat that pulled right into the lobby of our hotel.
Here's the entrance to the resort that the boat used.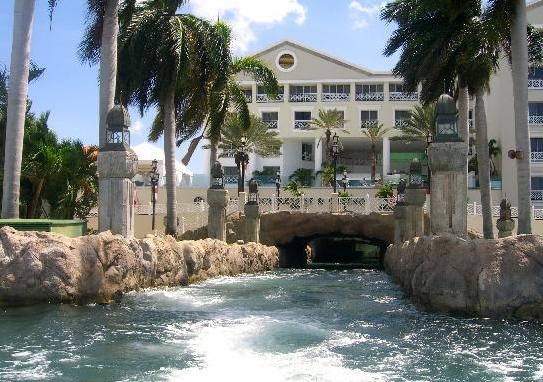 Here's where the boat would pull into the lobby.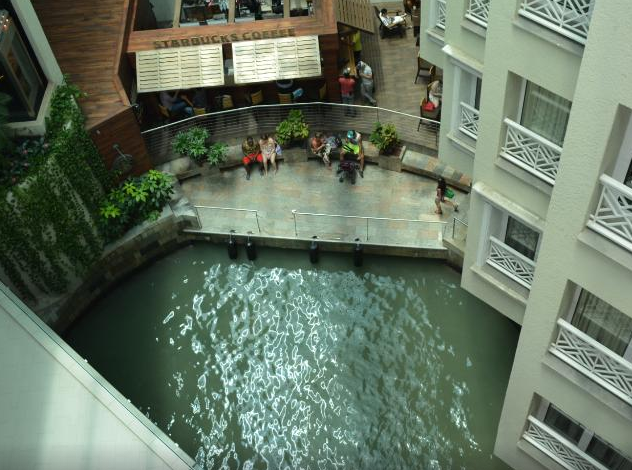 Flamingos on Flamingo Beach.  They were very chill- they hung out right next to us!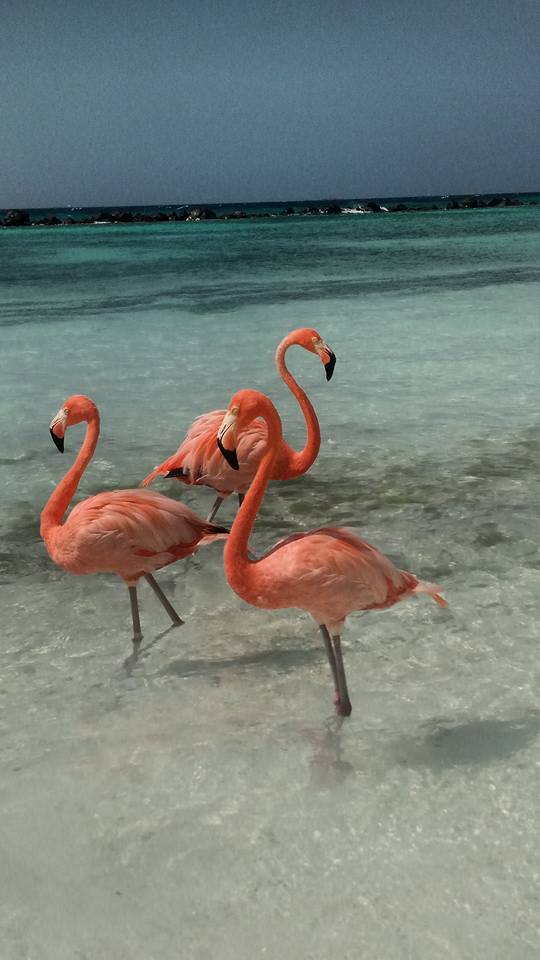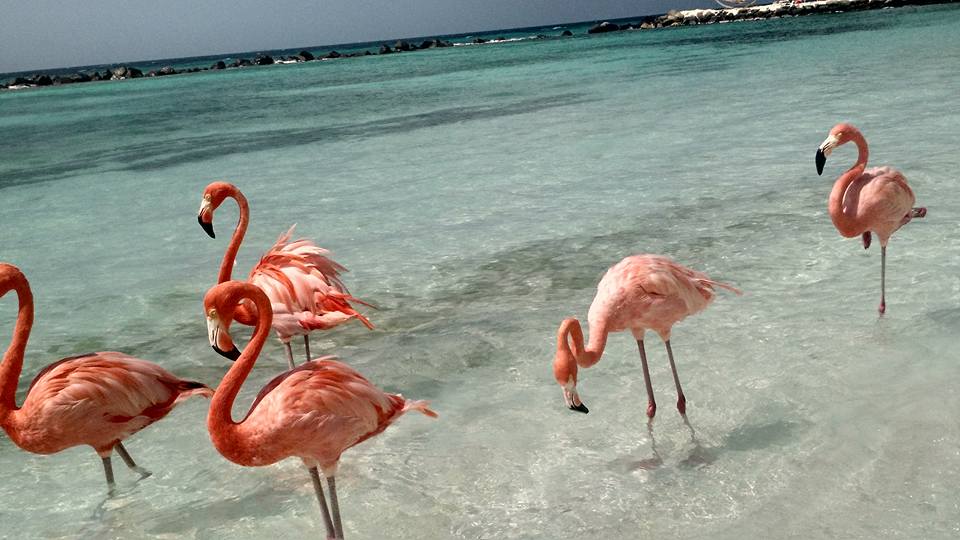 Views from my chair.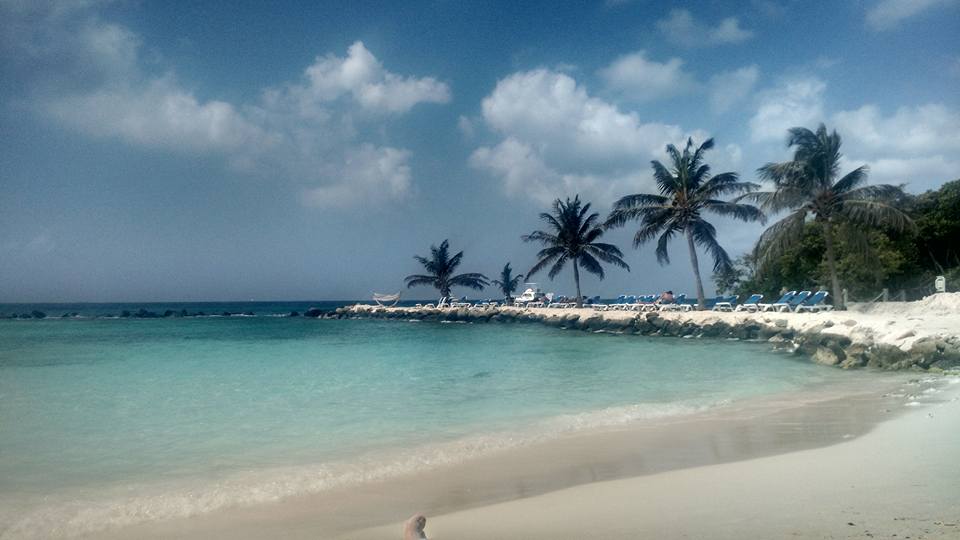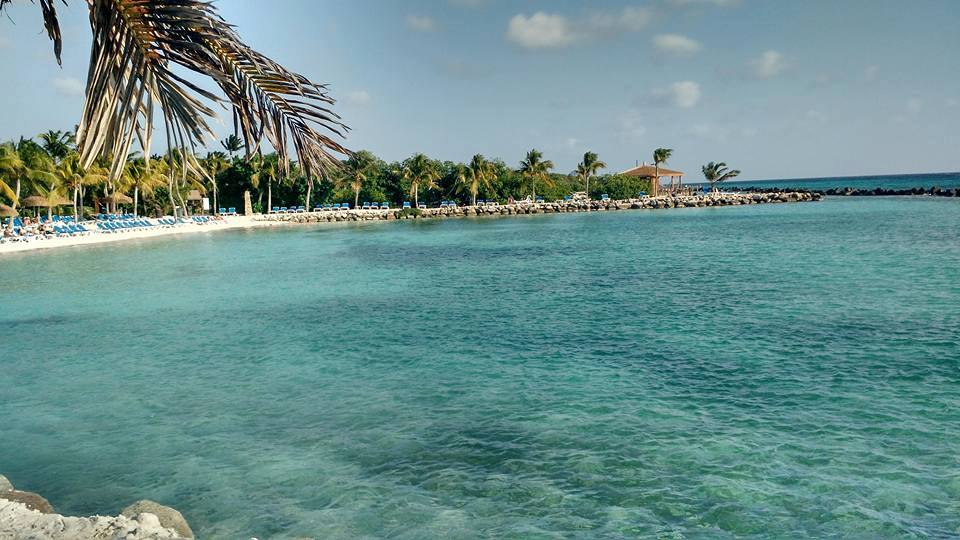 Another view from my chair. This is the photo that results when a wife tells her husband she's going to take a photo of him, emerging from the water, Bay Watch style.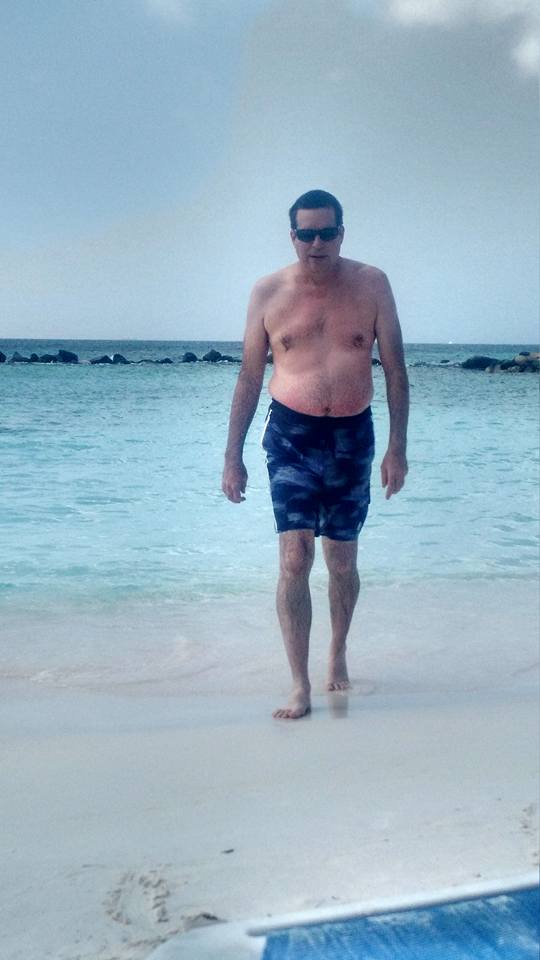 This is the photo that results when the wife tells her husband to take a photo of her, emerging from the water, Bay Watch style.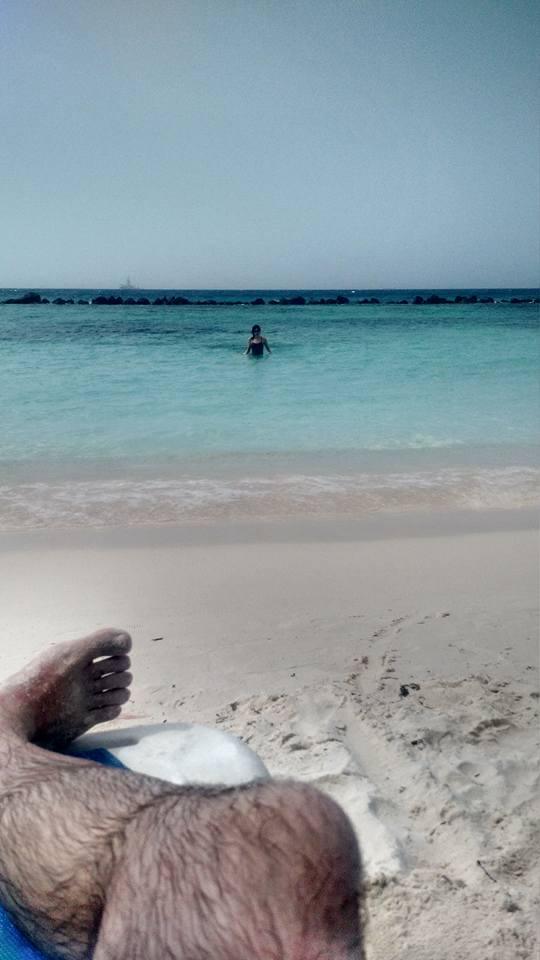 This is the photo that results after the wife gives husband better directions and scraps the idea of a spontaneous photo.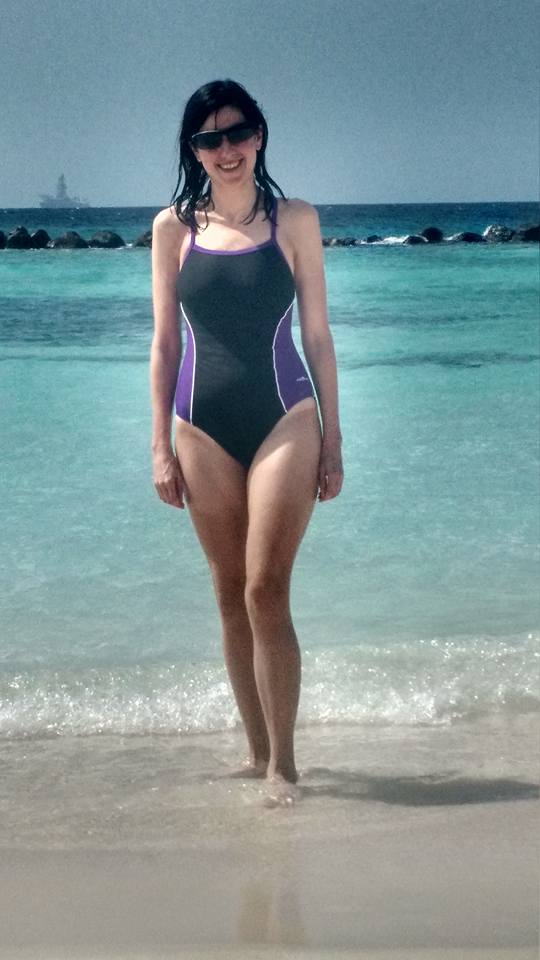 I wasn't sure that I'd gotten a tan until I saw the white strips near the legs of the swimsuit. It's nice not to be glow in the dark anymore.
On the second day of our trip I met up with Nikki to go for a run to the airport. A literal run to the airport. It was about a 5 mile jog round trip from our hotel to the airport.
Nikki isn't a casual runner, she's a Fleet Feet Cleveland Ambassador. That's a program sponsored by Adidas.
In exchange for running 6 races a year (which she'd do anyway), producing social media content 2x a month, and volunteering at 4 Fleet Feet events the program gives Nikki running shoes (which can get expensive!), a race kit, and warm up gear. It's a perfect for her because she's a natural running ambassador. She gets more out of you then you think you can do on runs and converts non-runners to the sport.
In preparation for our run I passed up the champagne that was available at the breakfast buffet (the Renaissance takes their breakfast buffet game seriously) and drank this blend of cucumber, celery, spinach, and green apple juice that was available at the breakfast buffet. It tasted like lawn clippings that had been run through a blender.  Kind of looked like it too.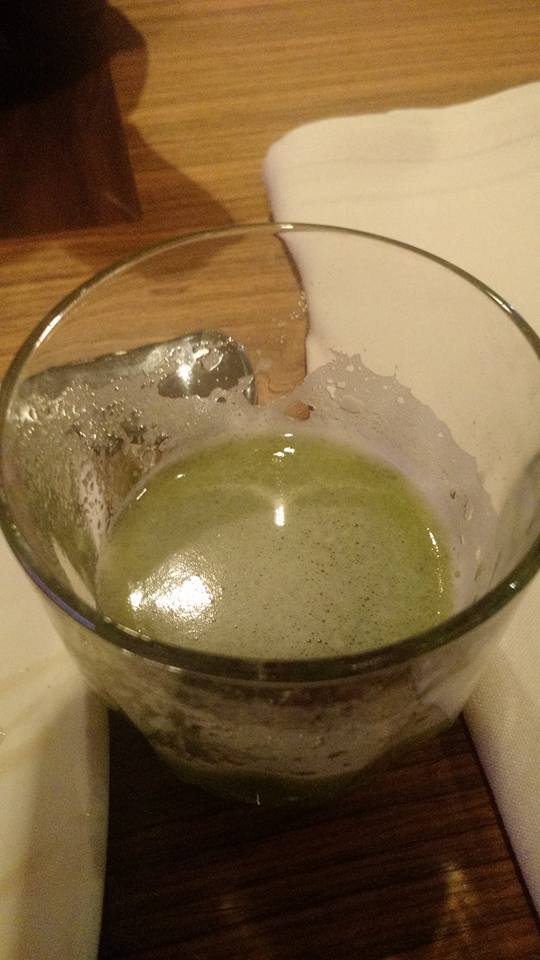 I love Coach Nikki!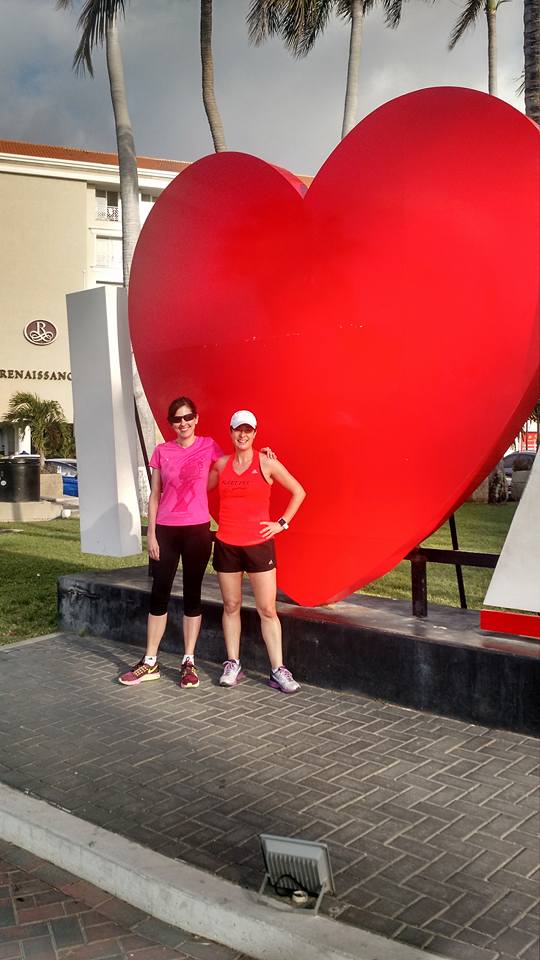 And I love Aruba too!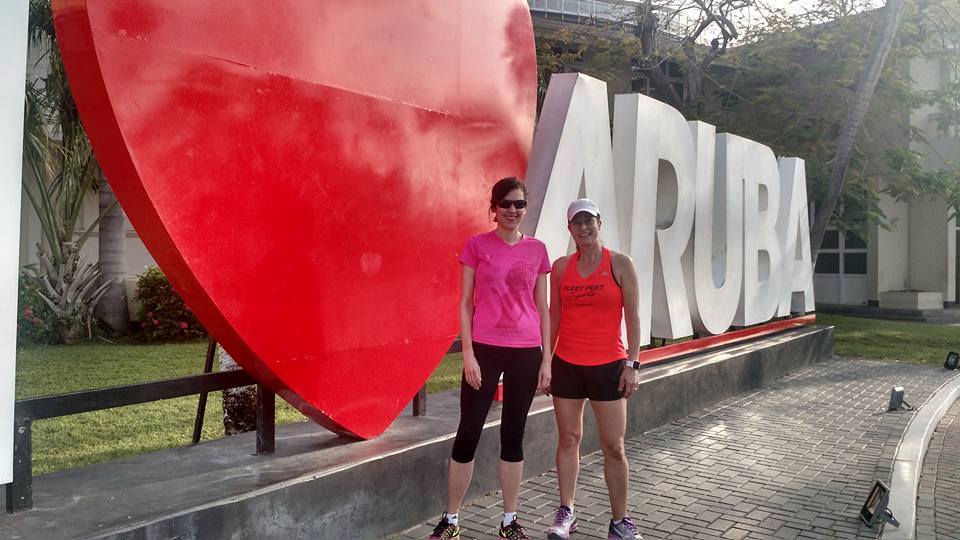 And I really love this guy!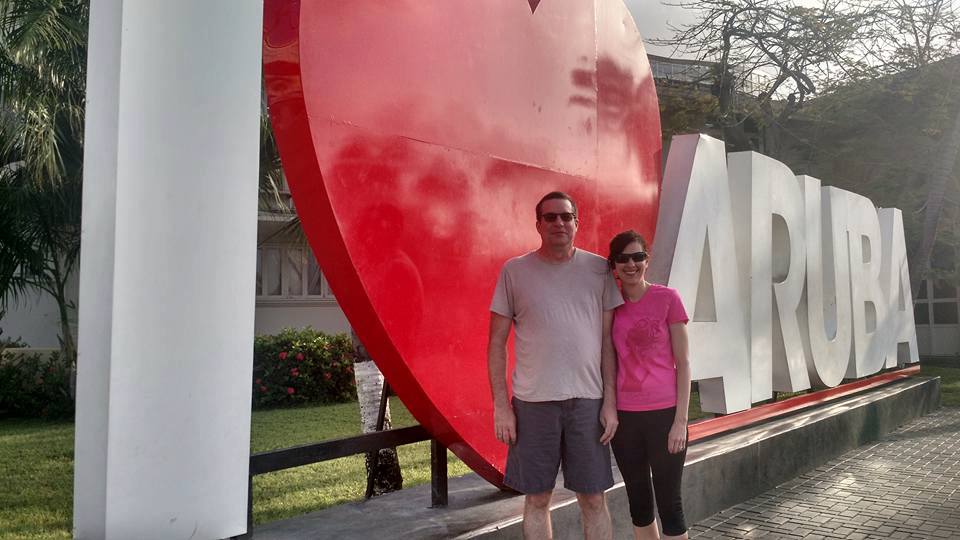 I'll take a cue from Nikki's running ambassador role here and give you a moment of running realness.
I usually have plenty of photos to pick from to use in my race recaps. I use the ones taken from a bit of a distance or after I've had time to cool down.  I do that because I want to look cute in these photos! I guess I think showing signs of exertion isn't cute.
It would be a real disservice if somebody out there started to take up running and quit because they thought from my run photos it's a walk in the park for everybody else.
Here's one of the race recap photos. It was taken near the end of a 13.1 mile race. Cute! I like it because I'm having a good time here and because it's far enough out you don't see the exertion. You don't see the sweat or the flushed face.
Now here's a close up after I finished the 5 mile run with Nikki, no real time to cool off beforehand.  This is running realness. Red faced and sweaty. This is probably more what you look like right after a run then the above.  Because you just worked really hard, same as me. The grin doesn't vary much by photo though; I'm grinning in most my run photos because I'm having a great time- not much of a selection process needed to find smiling run photos.
So runners look more like the above and more like you except…most runners probably have slightly better groomed hair-even after a run. The reason my hair is kind of all over the place is because I forgot to pack my hairbrush! Kevin checked the cosmetics aisle at the grocery store looking for a hairbrush, no luck. I asked the resort reception desk thinking they might have a complimentary comb in a forgotten toiletries kit, no luck.  I decided it probably didn't really matter because to get to and from the beach in the morning we took a speed boat from the hotel and my hair was going to get tangled on those trips and if it didn't it would at some point while we were out on the island- Aruba is VERY windy. As in the wind surfing capital of the world windy.
Kevin mentioned that at least not using the brush would give my hair a break. Gentlemen- not using a blow dryer gives your hair a break. Not using a flat iron gives your hair a break. I don't know what not using a brush for four days is, but never does shoulder length hair need "a break" from a hairbrush.  I got by just finger combing it and decided this was an islandy beachy vibe.  This was the look Allure and Cosmopolitan teaches how to get and here I was doing it effortlessly!   That lasted until lunch in the airport on the way home- Kevin looked at me and said "I do not envy you having to brush that. Is there any way to make it easier?"  Hahaha, yeah.  Chop it all off??
Here's the view from our hotel room, cruise ships would pull in for a few hours to let passengers off to explore.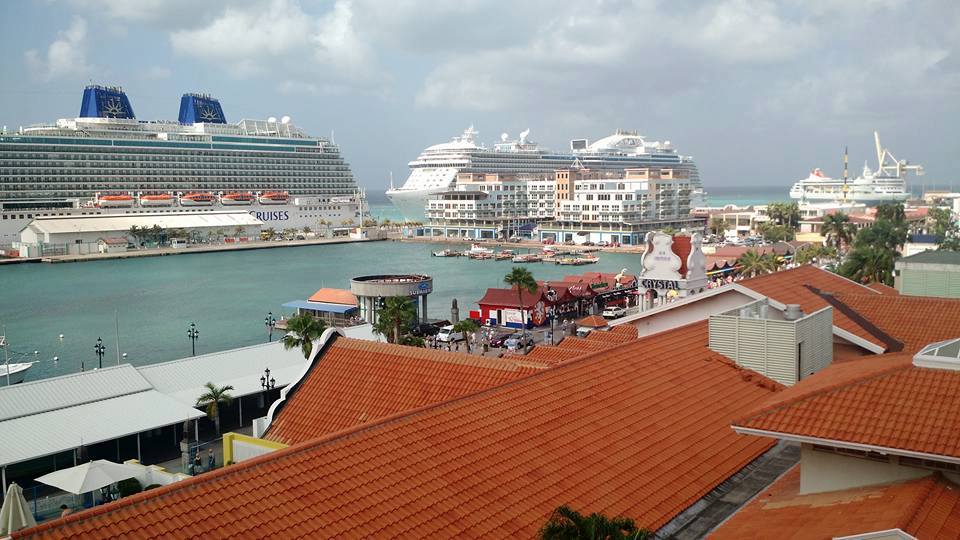 Because it was such a short vacation we spent virtually all of it at the beach soaking up the sun, not sight seeing.
We didn't have much time to explore restaurants but I can give two recommendations and one place not to go.
Renaissance Aruba Private Island had a place called Papagoyo Bar and Grill. It was the only place to eat on the island. The menu and website is misleading.  It's got maybe ten tables  so there's long wait times. Nikki had warned me to get the grilled shrimp but I didn't listen. I saw a grilled fish sandwich with coleslaw and that'd be good. I ordered it. Kevin ordered a hot dog with relish and other toppings. 40 minutes later out came a fried fish sandwich with fries and a plain hot dog in Styrofoam containers.  There is no grilled fish sandwich. There is no wood fired pizza either. And it wasn't cheap.  My dinky little fried fish sandwich was $12.00 with a 5% service charge.
That night we went to the Dutch Pancake House for dinner. Now we're talking! Their pancakes are really crepes. They're reasonably priced, awesome, and service is fast. It was good enough that we left the island to have lunch there the next day.
Our last night we splurged a bit and went to Yemanja Woodfire Grill.  You definitely need reservations in advance. It was really good and the portions were huge. I also got what I ordered.
We left the resort around 7:30 the next morning for  Aruba International Airport to start our journey home.  The resort had recommended leaving 3 hours before our scheduled flight and that was probably a little overkill, 2 hours would have done it. The customs officers and the process were awesome.  The process is called  Aruba Happy Flow. Going through it meant we didn't have to go through U.S. customs when we landed in the U.S. and we only had to show our passport once. It was so weird to land in the U.S. from an international flight and not go through customs!
It was also weird to start the day with the temperature in the high 80's and end it in the cold rain of NY. I changed from shorts into jeans when we landed at JFK. I went into that bathroom stall dressed for Aruba and left it dressed for New York. Boo.
Guess we'll be going from building sand castles to building snow men. Welcome home to us ;).
Nearing sunset on our last day- Kevin on Flamingo Beach.