Goal of running 12 half marathon distances in 2016 (the 12.13.16 challenge), achieved. This a picture blog of running through the year, as told by MapMyRun records and a few notes.
Clearly, calories burned is not accurate.  The previous owner of my Garmin had it set to record calories burned, but I don't have that set up in MapMyRun. So calories burned were only tracked when I was wearing the Garmin, which wasn't often.  I imported my Garmin records into MapMyRun making for some very inaccurate calorie burn records.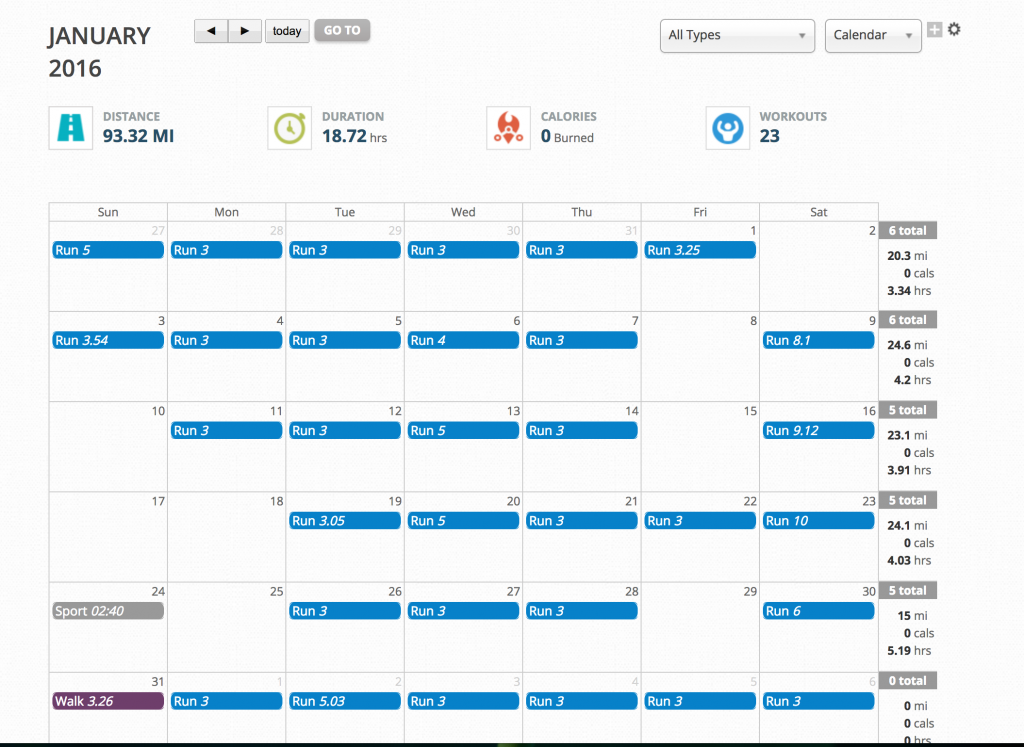 This would be the fewest miles per month in all of 2016. I was just starting to wrap my head around what I'd committed to doing.
The gray 2:40 hour "Sport" activity was shoveling snow. Not my sport of choice.
The purple 3.26 hour "Walk" was the Miami International Airport Terminal D 5k.  We flew to Aruba on Jan 31 and our flight was delayed so I decided to get in some miles by pacing the airport.  It was a flat fast course.  People looked at me funny for walking past them so much but I didn't care. It was either pace or sit on my butt for awhile. A write up on our Aruba vacation is  here  .
The other notable event in the month was Kevin and I got our Adult First Aid/AED/CPR certification.  My birthday was Jan 4th and this is what I wanted. Kevin humored me.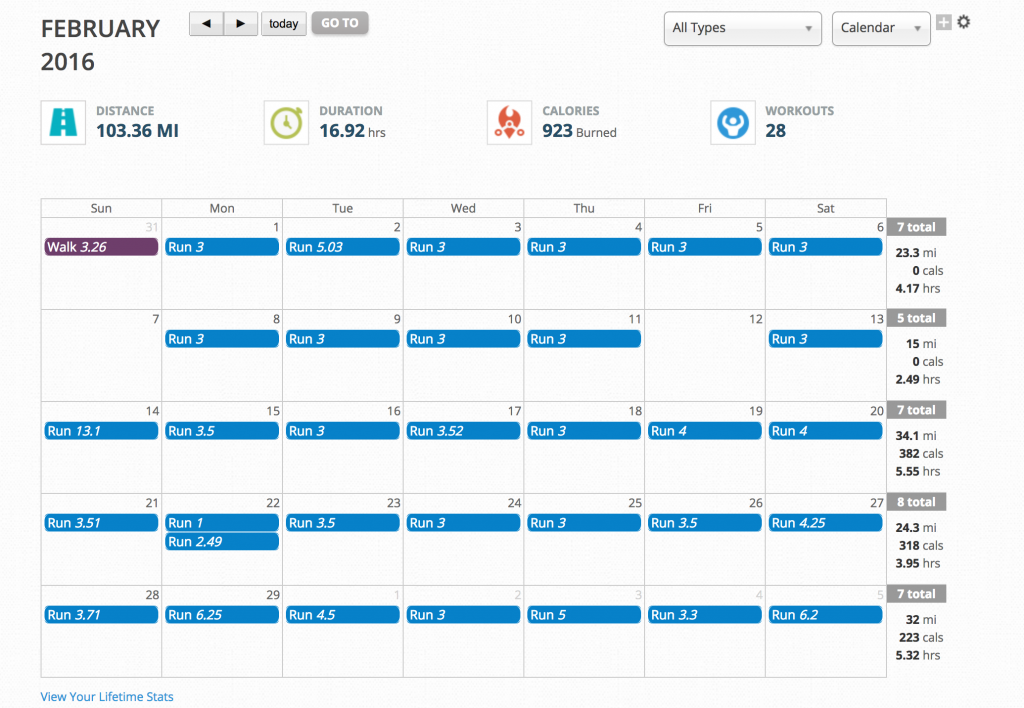 First half marathon distance of 2016. I ran the My Better Half Virtual Half Marathon on my treadmill. I love my treadmill and it was too cold out for me.
I was talking about fun dream careers with Kevin the other night (for me a career where I just pet cats all day)  and said that any careers that involve (1) being cold or (2) doing math are out. I'd much rather run 13.1 on a treadmill than run outdoors in the winter. I also think I'd rather run 13.1  just about anywhere than do even one math problem.
This was also the month I committed to a half marathon in Switzerland. More about the My Better Half Virtual Half Marathon and Switzerland announcement can be found here .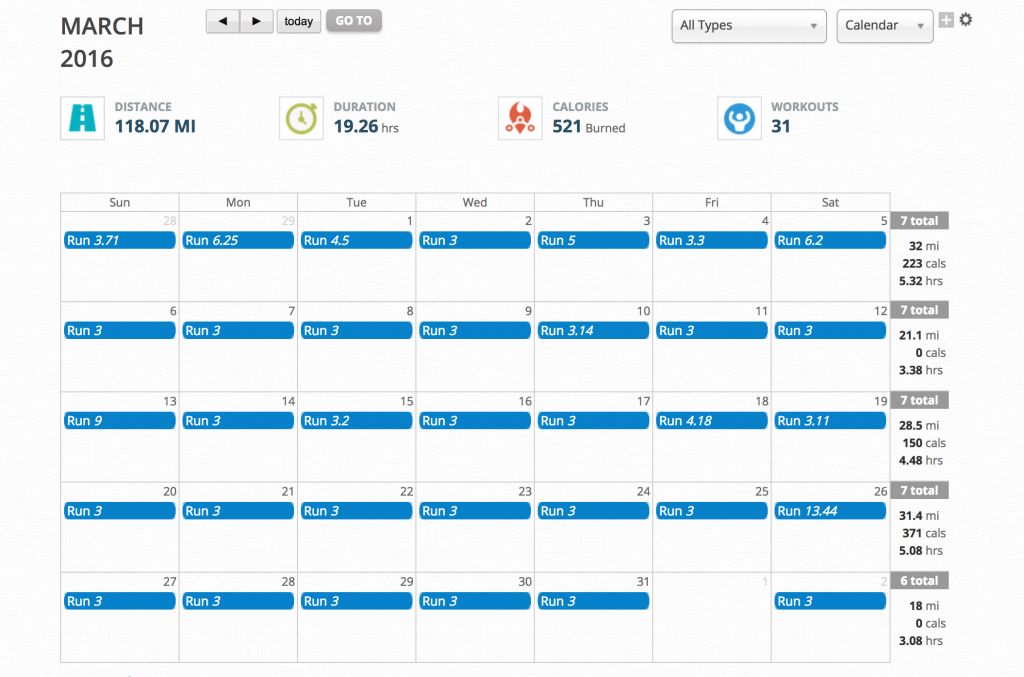 Second half marathon done. I ran the Sleepy Hollow Half Marathon, race recap is here.
March was busy travel wise. I flew to Alabama for work and to Arizona to see family.
Another fun event  that month was going to a great Jukebox the Ghost concert. Kevin and I first saw them as the opening act for Barenaked Ladies a few years ago and we've been fans ever since.
This was also the month my better half was pretty sick for two weeks. He was so sick that I was the one driving us around town. You know something is really wrong when you see me behind the wheel.
Two regular doctor visits, two gastroenterologist visits, two E.R. visits, one colonoscopy, and one endoscopy later we had our likely answer.  Kevin had come down with strep on a business trip and was prescribed a Z Pack. The endoscopy showed a spot where it appeared a pill from the Z Pack had gotten stuck in his esophagus and dissolved there, causing an ulceration, which in turn caused gastro issues.  Always drink plenty of water when swallowing a pill.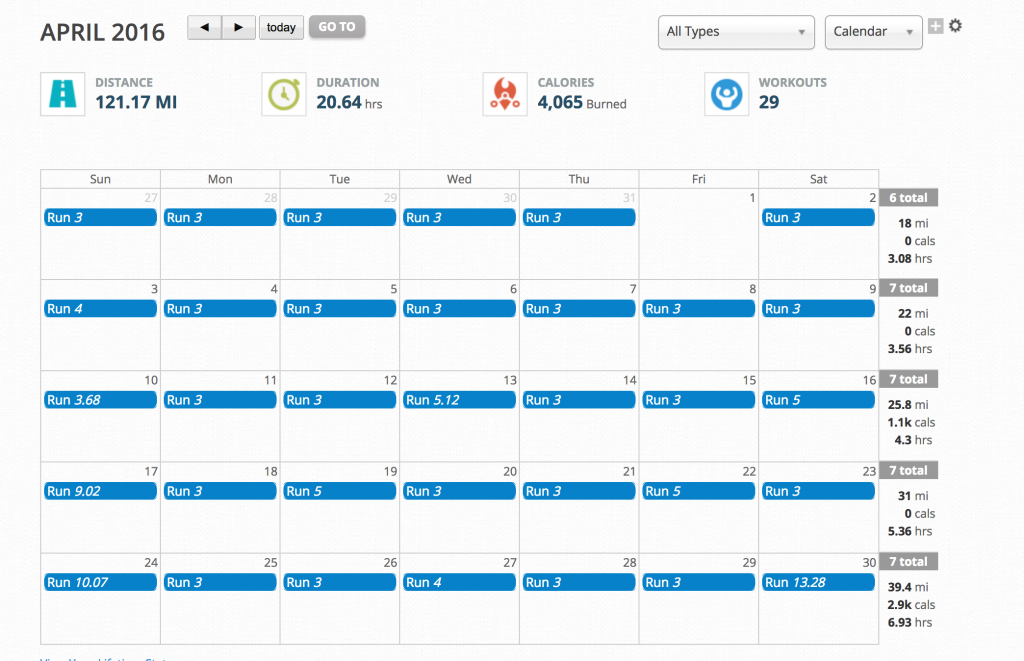 I ran half marathon distance # 3 in my neighborhood. April was a good non-eventful month.
Half marathon distance # 4 was the Riverdale Y 1/2 half marathon. It was the hilliest race I've ever done by a long shot and it was the first time I walked during a race. It was also one of my most fashionable running moments.  My new leggings made their debut.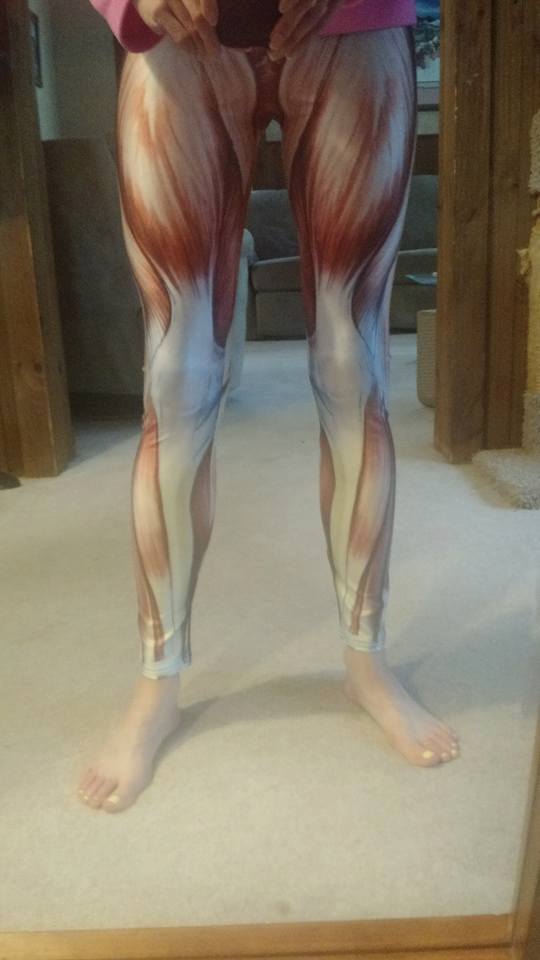 For the race recap go here  .
May was also the month I went to my internist for an overdue routine physical and she found a lump near my armpit. I had no idea I had it.  Ultrasound didn't show anything, not even a cyst.  It must have been a swollen lymph node.  It was a good reminder to get more on the ball about check ups.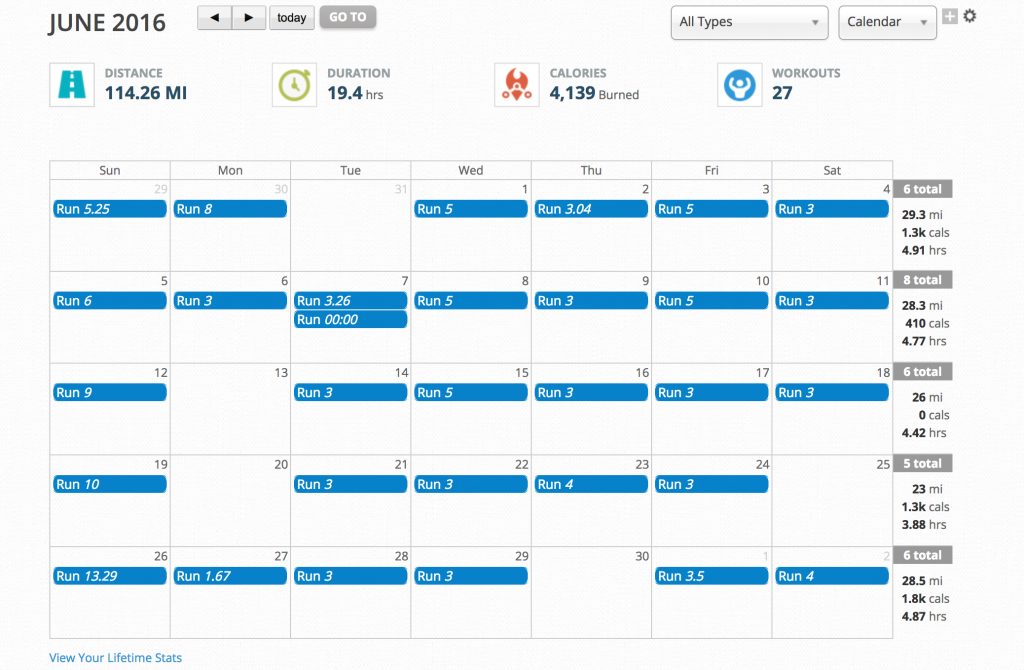 Half marathon #5 was the Faxon Law Group Half Marathon.  The race recap on that is included in the notes about everything that happened in July. I don't remember what is up with the "00:00" on June 7th.
June was a crazy month. My dad is end stage congestive heart failure because of a heart disease called dilated cardiomyopathy.  2016 was a good year in that hospitalizations were few but he did have to be admitted to the hospital for awhile in June.  Also in June my brother was admitted into the ICU for addiction related complications.  In the midst of all this I flew to California to give a presentation at a boot camp on FCC regulations.
July was the month my brother passed away.  I had a work trip to Alabama that coincidentally fell a few days after my brother passed.  I wasn't ready to sit and be alone with my thoughts. I just wanted to be busy and not to have time to think about things. So, the Monday after the weekend service I went into work as planned.  It was the right choice for me. I took off the Friday I got home though and crashed.
In July my dad was also admitted to the hospital again.The train wreck that was July blog can be found here .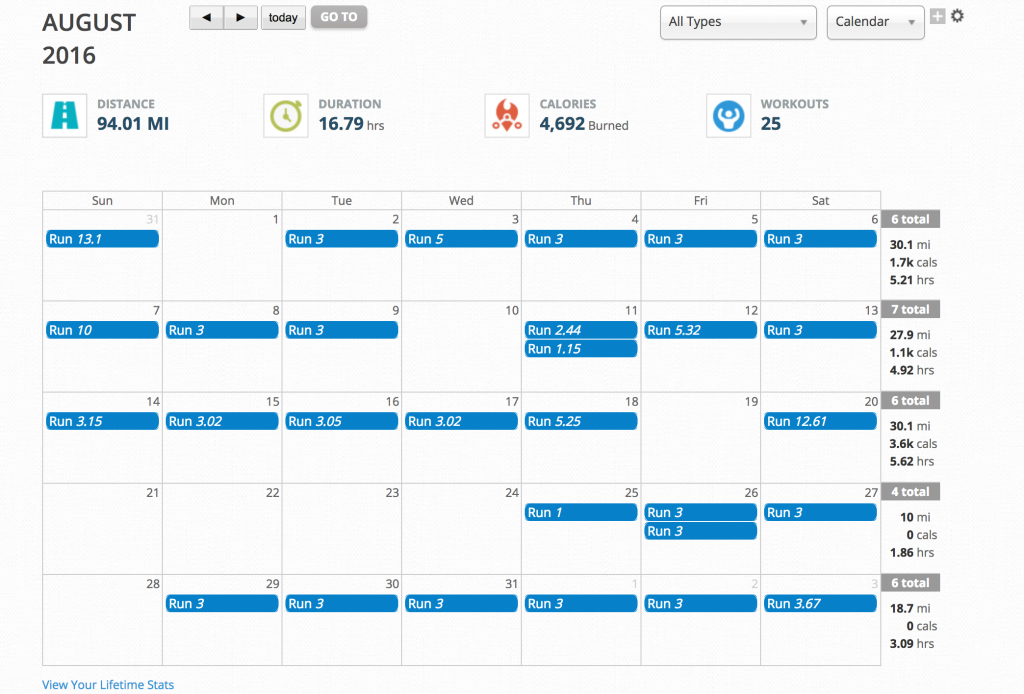 August was our trip to Italy and Switzerland.  My mileage that month was terrible because I was dealing with Switzerland's gift to me, acute gastritis.
It was still a dream trip though and I was able to do my race (well…hike…) in the Swiss Alps.  Recap on Italy is here  and recap on the Swiss race (half marathon #6) is here  .  I've got plenty of photos and stories on Switzerland that don't include me being under the weather and I've got to do a write up on it at some point :).
August was also the first time I ever publicly talked about my brother.  You can find that write up here . It felt good to finally talk about it, especially because it helped other people by letting them know they could confide in me.  Addiction isn't a disease you can post about and expect people to bring over casseroles.  It's a disease with a lot of shame and stigma attached, so people who are coping with family members struggling with addiction aren't usually public about it.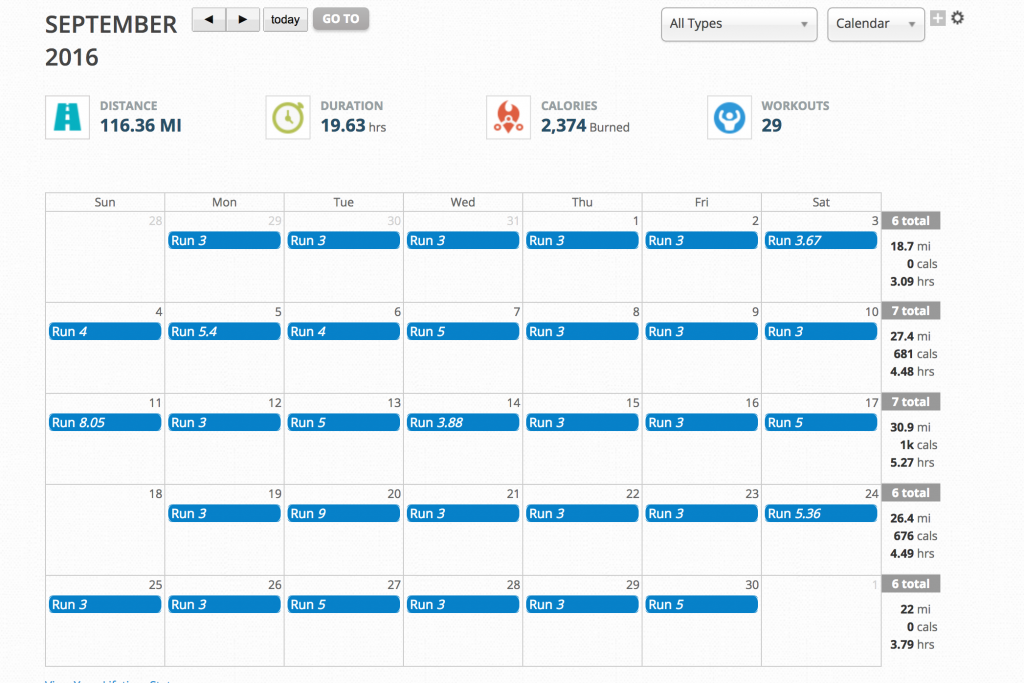 It took me awhile to get my strength back after being sick so I postponed my planned half that month and just ran as much as I felt I was able to.
September brought Starbucks Hooker into my life.  It would be a disservice to you all not to mention Starbucks Hooker in my September notes.
Most days after work and certainly after every work trip that my better half goes on I ask if he has any interesting stories to tell me about his day. After returning from a trip to Washington he had a MOST interesting story to tell me.
He was at a Starbucks in Washington with a coworker and a lady approached and asked if either of them had a cell phone charger because her phone was dead and she needed to get some numbers out of it. Kevin did and gave her his to borrow. She said thanks, that she had a really hard day and told this fantastical story about her and her boyfriend getting robbed. That her purse and her boyfriend's bicycle was stolen and the police got her purse back but not her boyfriend's bicycle because the perp claimed it was his bicycle. I was thinking this was a pretty great story and then Kevin says wait, this isn't the good part. She said she was a private dancer and he should call her some time. He respectfully declined, being that he is married and all. I thought that was the great part of the story. It was not. He sees the lady writing for a long time and as the Starbucks was closing she got up and gave him a folded note. She said you should wait until you're alone to read the note. He said okay. His coworker was there while all this was going on and asked what this mystery note read. Kevin said he wasn't going to read it as he is a married man and it was my decision what to do with the note. Maybe do a little dramatic reading to him of the note (which is exactly what I did by the way). Kevin tells me this, says he stuck the note is in his back pack without reading it and it is up to me what I want to do with it. Of course what I want to do is share this on my blog.

Here is the note you guys. Ladies, if some girl asks to borrow your man's cell phone charger tell him to just say no because she might be a lady of the night.
In October I was back in the game and had catching up to do, so I ran two half marathon distances (halfs #7 and #8) that month.  One was the Diva Half Marathon. I set a PR, met some firefighters, and got to hang out with my cousin while I was there. Race recap is here .
October was also Halloween. I'd planned to run a local race in costume but the morning after the race I had to catch an early flight to Alabama for work.
So I bailed on the race, but rocked the costume on Halloween. Take a minute and see if you can guess what I am before you scroll down.  Don't cheat. Guess. Think about it.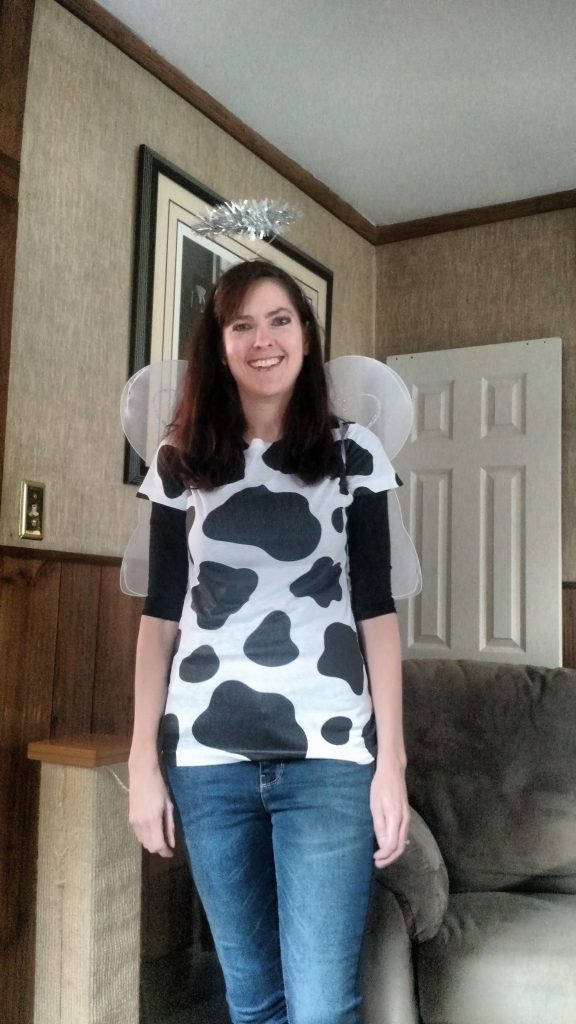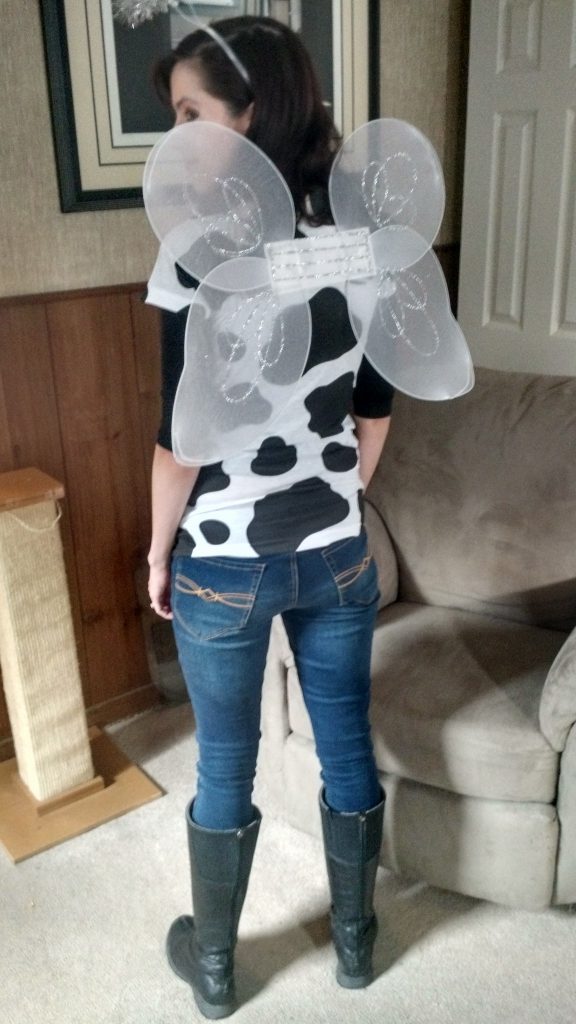 Did you guess?
Holy cow!!  It was either Holy Cow or Starbucks Hooker for Halloween.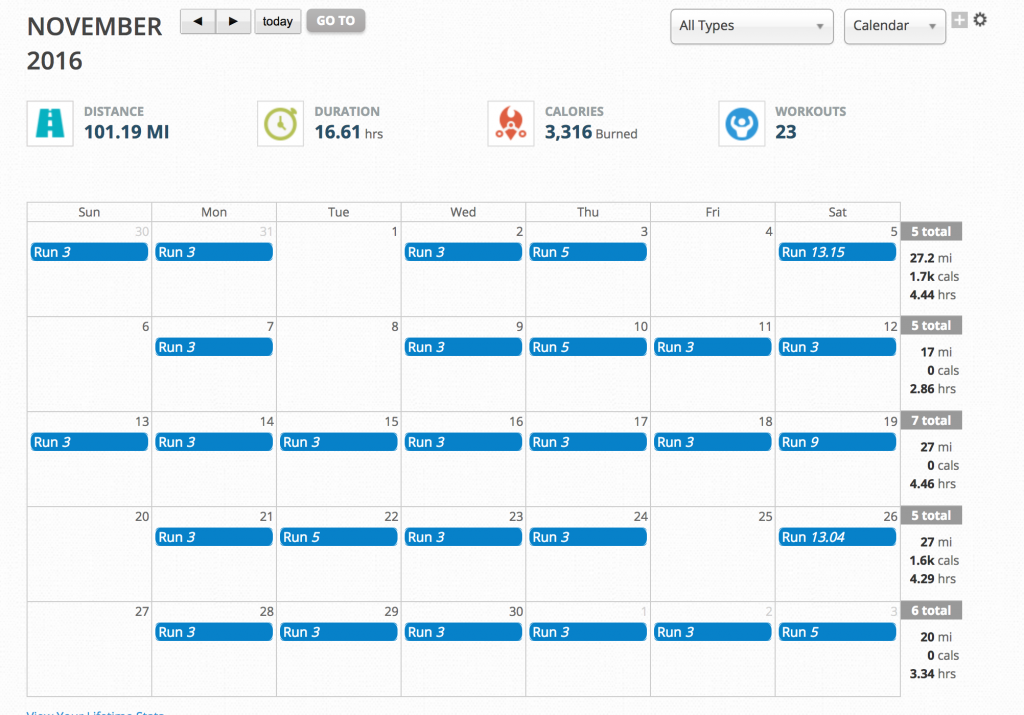 In November I ran half marathons #9 and #10.  Number 9 was a preview run of the Pelham Half Marathon hosted by the organizers of the Pelham Half.  #10 was the actual Pelham Half Marathon.  I look forward to the Pelham Half every year, it's a local fun race. Race recap is here .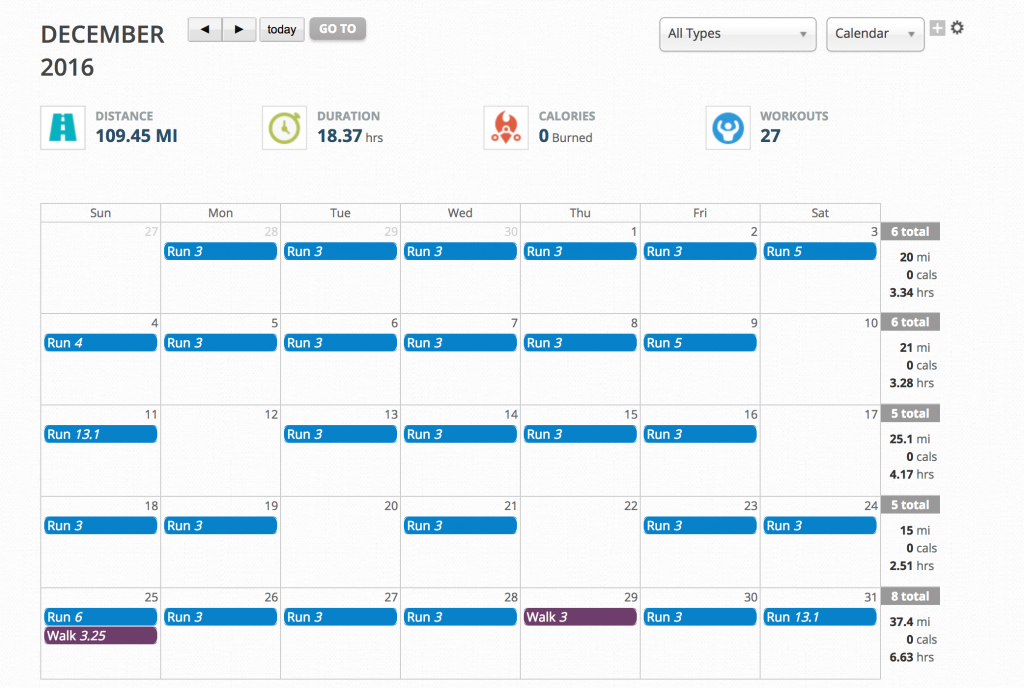 December was the finish line of this 12 month adventure. I finished half marathon #11 on the treadmill and had planned to run the NYC Runs Running Festival of Lights as my final half.  I'd also planned a trip to Alabama to see my parents for Christmas.
About a week before Christmas my dad and cousin got into a car wreck.  My cousin fractured a rib, got a bruised eye/egg on his forehead, and injured his knee. My dad fractured his pelvis and hurt his knees.
Dad was weak prior to the accident due to his heart condition. He spent a week recovering in the hospital and an additional three weeks (right through Christmas) living in a rehabilitation center. There is never good timing for a car accident but this was particularly bad because it was my parents' first Christmas without my brother.
Kevin and I moved up our trip to Alabama because my dad wasn't doing well and I skipped the race.  This turned out not to be a bad thing as I later saw the porta potties did not show up at the race.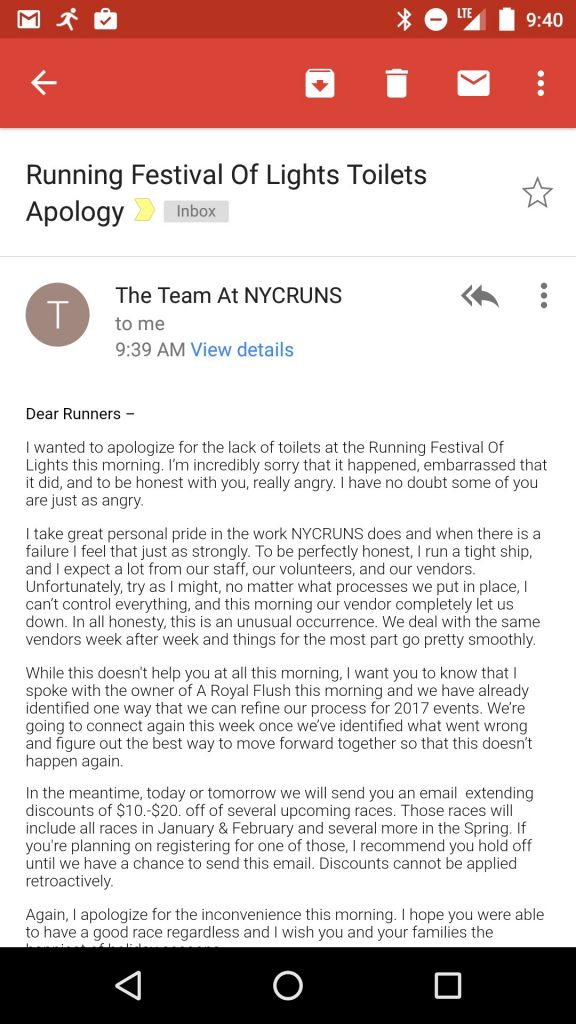 I also heard the race conditions were bad because it was so windy.  My final half marathon was an anti climatic run on the treadmill on New Year's Eve. Talk about a Hail Mary finish.
2017
Dad update
Dad did well enough to be released from the rehab center and finally go home on Saturday Jan 7th.  Unfortunately dad started having trouble catching his breath that week and on Thursday Jan 12th he was readmitted to the hospital.
One of the ways used to measure heart failure is to check for a peptide in your blood called pro-BNP. Dad's pro-NBP should be between 800-900.  His pro-BNP the night he was admitted was 10,000.  With four zeros.  No wonder dad was feeling so awful.  So they are trying to get that under control. They're also trying to get his blood pressure up.  It is so low right now that he's not allowed to stand up because they are worried he will pass out and hit his head.  It sounds like it's about trying to the right medications in the right dosages and the hospital is still figuring out the correct mix.
Run Goals
My goals for 2017 are grow all my toenails back in normal, run a fall marathon, and run a half marathon at or under 1:49:54.